A fire-breathing Yamaha XJ750 Maxim by Derek Kimes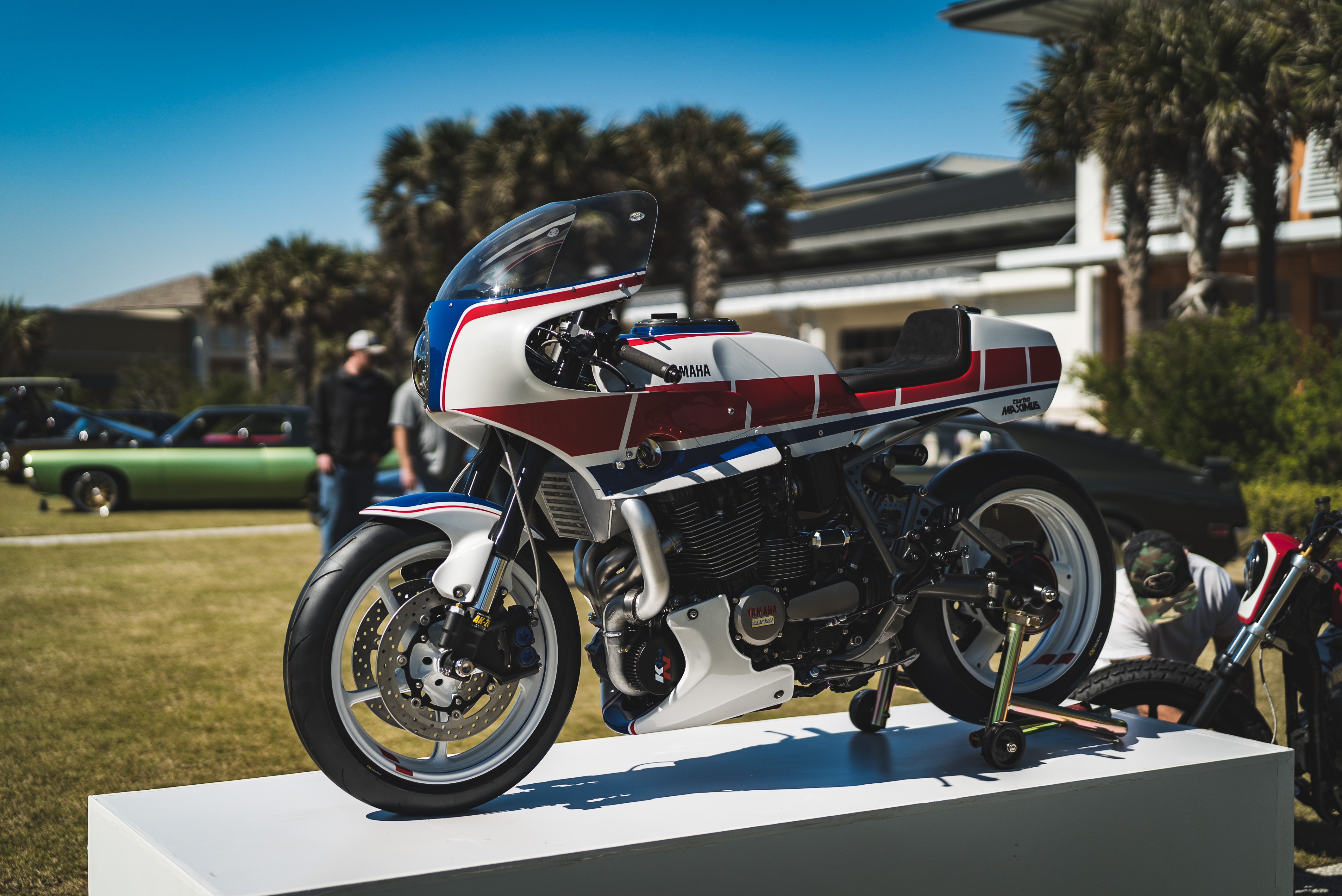 Motorcycles, even in stock trim, are inanimate objects that we often form special bonds with. To some, motorcycles serve a strictly utilitarian purpose, but when it comes to custom bikes, it's virtually impossible for the builder and the machine to not form a deep connection together. Often, the story of how a custom bike came to be is interesting and riddled with barrage of challenges and obstacles. But that's what makes it fun. Digging deep. Finding alternatives. Not giving up. Proving doubters wrong. Derek Kimes certainly did all of the above when he took his stock Yamaha XJ750 Maxim and turned it into the show stopper you see here today.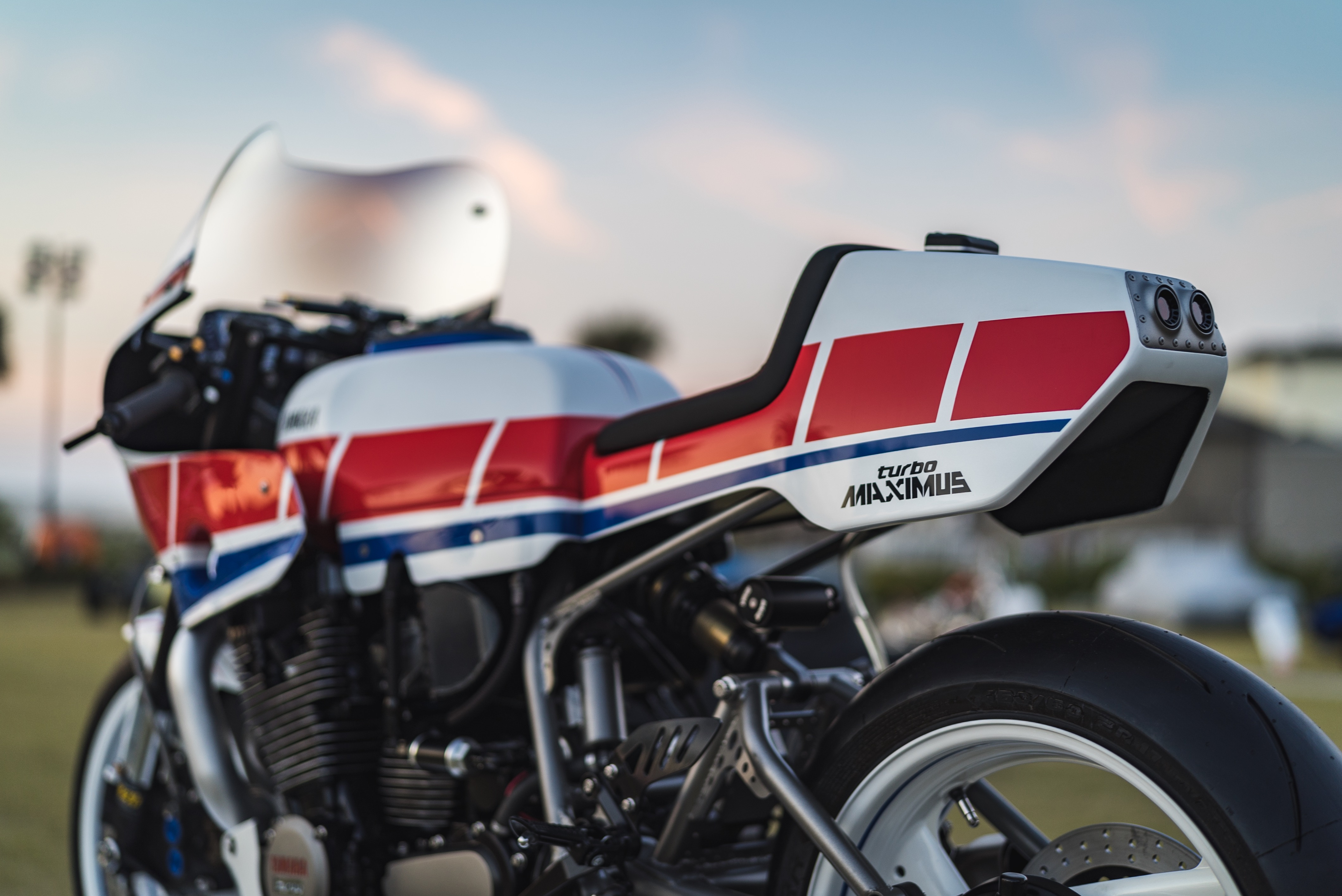 After serving 8 years in the US Navy, Kimes left sunny San Diego and moved to Atlanta to pursue an engineering degree. Being short on cash and and wanting a job where he could hone his hands-on skills, Kimes learned that Bryan Fuller's shop was nearby. This would be a dream opportunity but he didn't have any real fabrication background. He decided to throw out a long-shot email asking Fuller for a job. To his surprise, Fuller liked his story and eagerness to learn and gave him a chance. From that point on, Derek practically lived there, shop sweeping floors, taking out the trash and doing the necessary small tasks to help assist the guys at the shop.
"As I look back, I am so grateful that Bryan gave a guy with no real fabrication or welding background, but a hard work ethic and drive, a chance to prove himself at his shop. Without that chance, this bike would never have happened."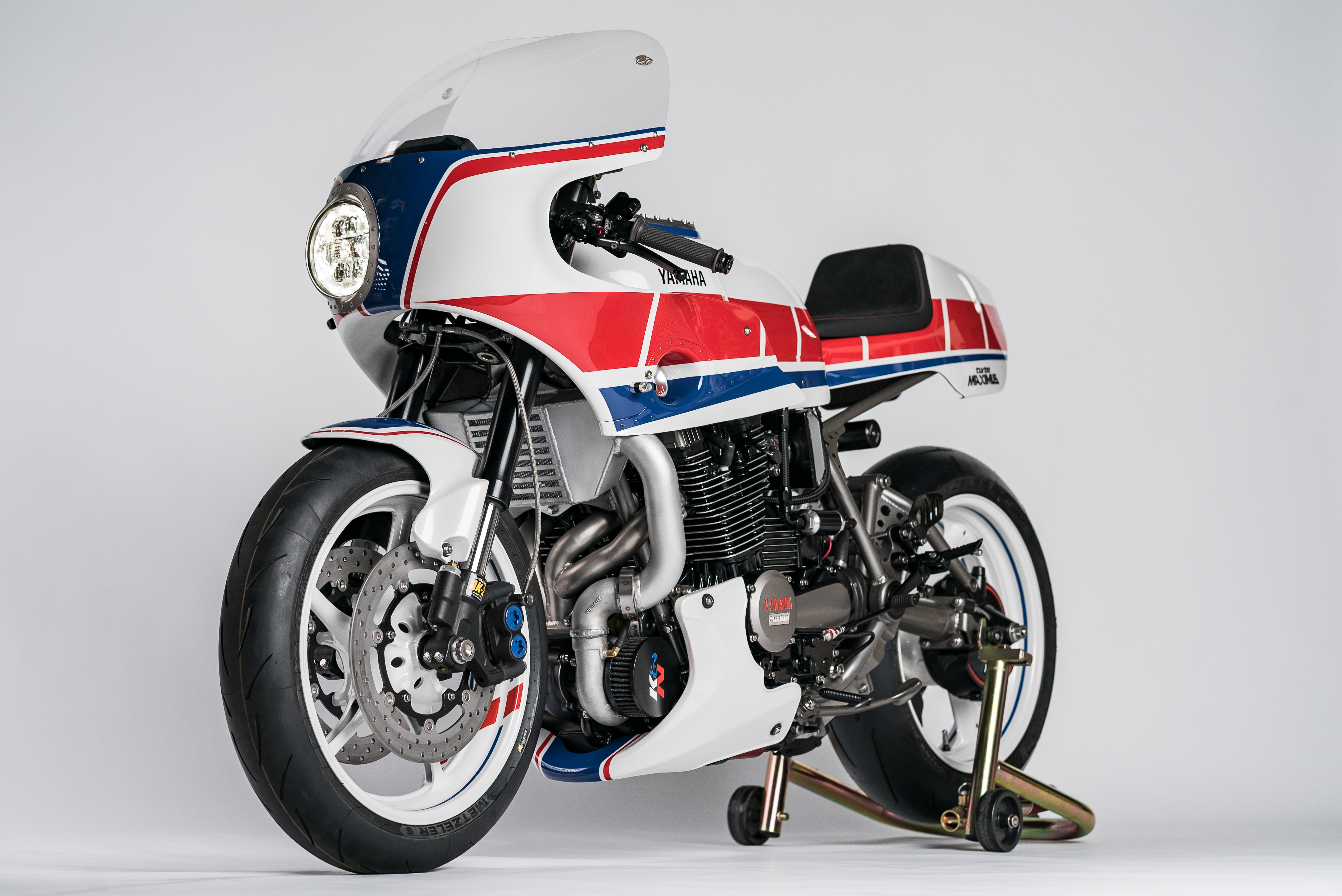 It wasn't just Fuller either. Other Fuller staff like Bryan Heidt and Wes Hines helped Derek learn the ropes – and apparently, it worked!
It might be hard to believe but this bike is the first – and only – bike Kimes has ever owned to date. Looking at a picture of a stock 1982 black Yamaha XJ750 Maxim, many people would miss the beauty that lies underneath it's frumpy exterior, but not Derek!
"I bought it used in complete stock form back in 2005. It is originally a 1982 black Yamaha XJ750 Maxim. As a stock bike, it ran well and I enjoyed riding it. But, I desired to make it better. As a XJ series owner and fan, I fell in love with the 1984 XJ750R (0U28) race bike that participated over in Japan in the 1984 Suzuka 8 Hours. It is the only XJ series bike Yamaha ever raced and it is so beautiful!"
While the bike certainly has its own unique appearance, you a lot of the design and style inspiration comes from in the 0U28.
"I wanted to challenge myself, not only from a fabrication standpoint, but from an engineering approach as well. I thought to myself, how would an OEM build this? I have learned to respect the amount of engineering that a manufacturer puts into a model it wants to sell. Trying to match the level of OEM quality parts is a very difficult task."
Wanting to see if he was up to the massive task of taking an old carbureted bike into a modern, fuel injected, boosted superbike, Derek made up his mind and decided he was going to make it happen! Some thought he was crazy, but that only further motivated him to make it happen and to prove them wrong.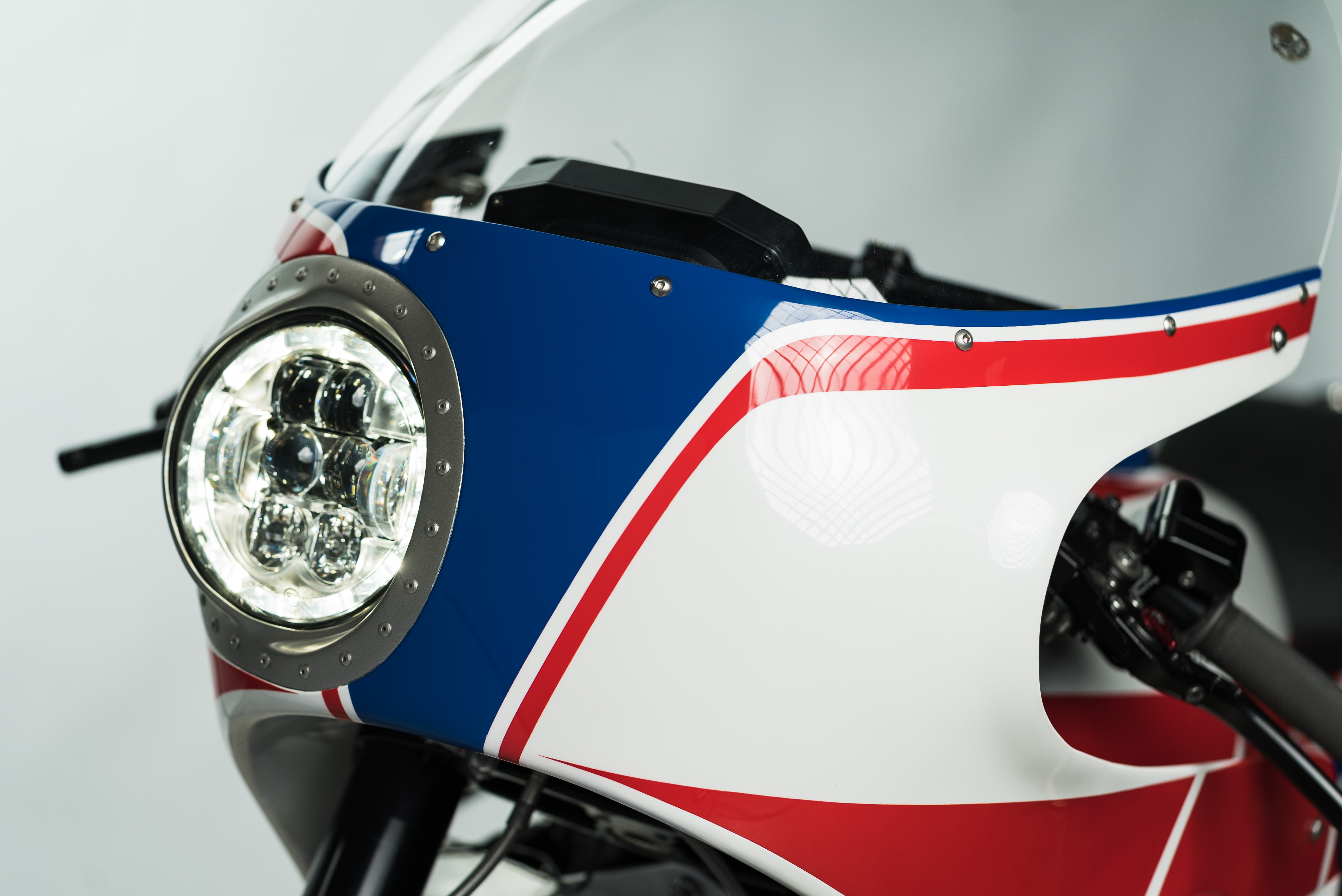 Converting from carburation to EFI was no easy task. There is no kit and no real guide out there to help you install one. Along with the new technology comes a slew of wires that need to be hidden from sight. Then there's the additional equipment like fuel pump, fuel filters, and a dozen or two of sensors that need to be added. Taking his time, Kimes was able route most the system hidden from the eye.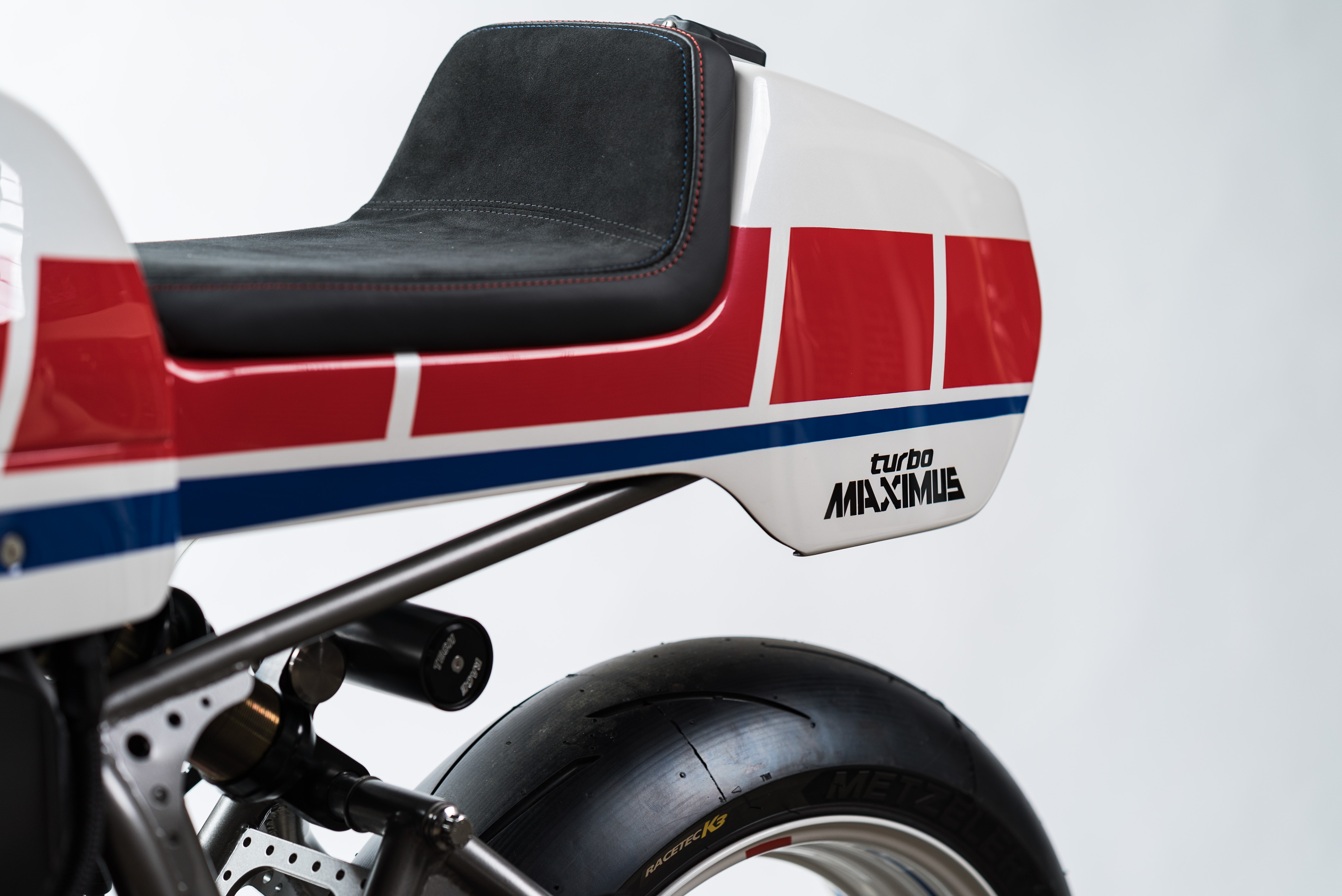 Using a MS3 PRO ECU by DIYAutoTune, it's possible to have complete control over the fuel and ignition system. The ECU also directly controls the turbo too. Wanting to be able to achieve a perfect tune, monitoring proper fuel ratio is key. One way of monitoring is through a EGT sensor. By measuring the temperature of the exhaust as it leaves the combustion chamber, you can tell based on temperature, whether you are lean or rich. "Typical applications use just one at the exhaust collector, but in a race environment, they use one per cylinder. I chose the latter. The data from the sensors is used by the ECU to make corrections on the fly to optimize the tune."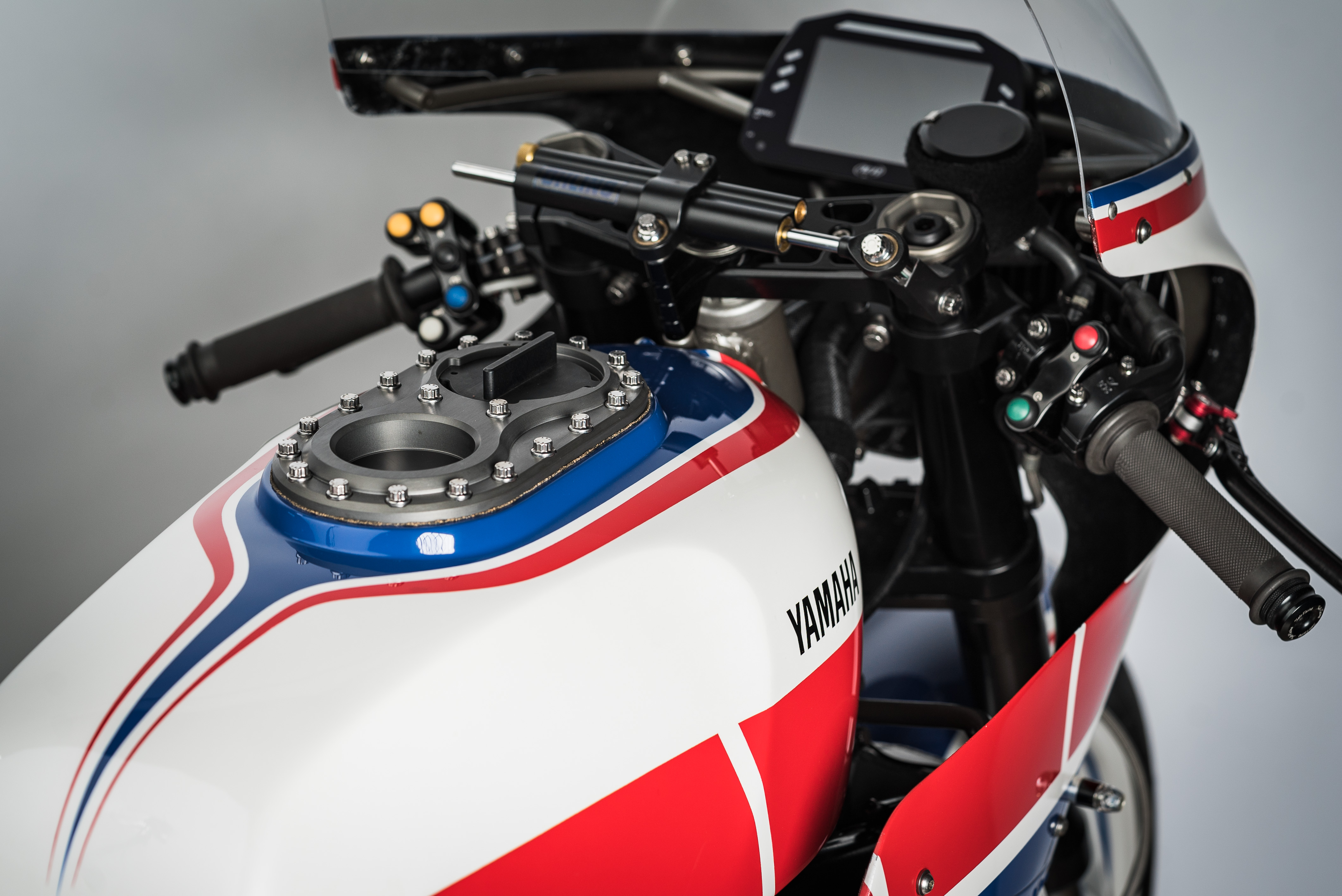 The turbo system was also a real challenge. His goal was to keep the turbo assembly as tight and integrated to the bike as possible. "I wanted it to look like the bike was designed originally to be turbocharged. You see so many turbo bikes with either the turbo hanging way out and or the charge tube is wrapped around the engine, an afterthought."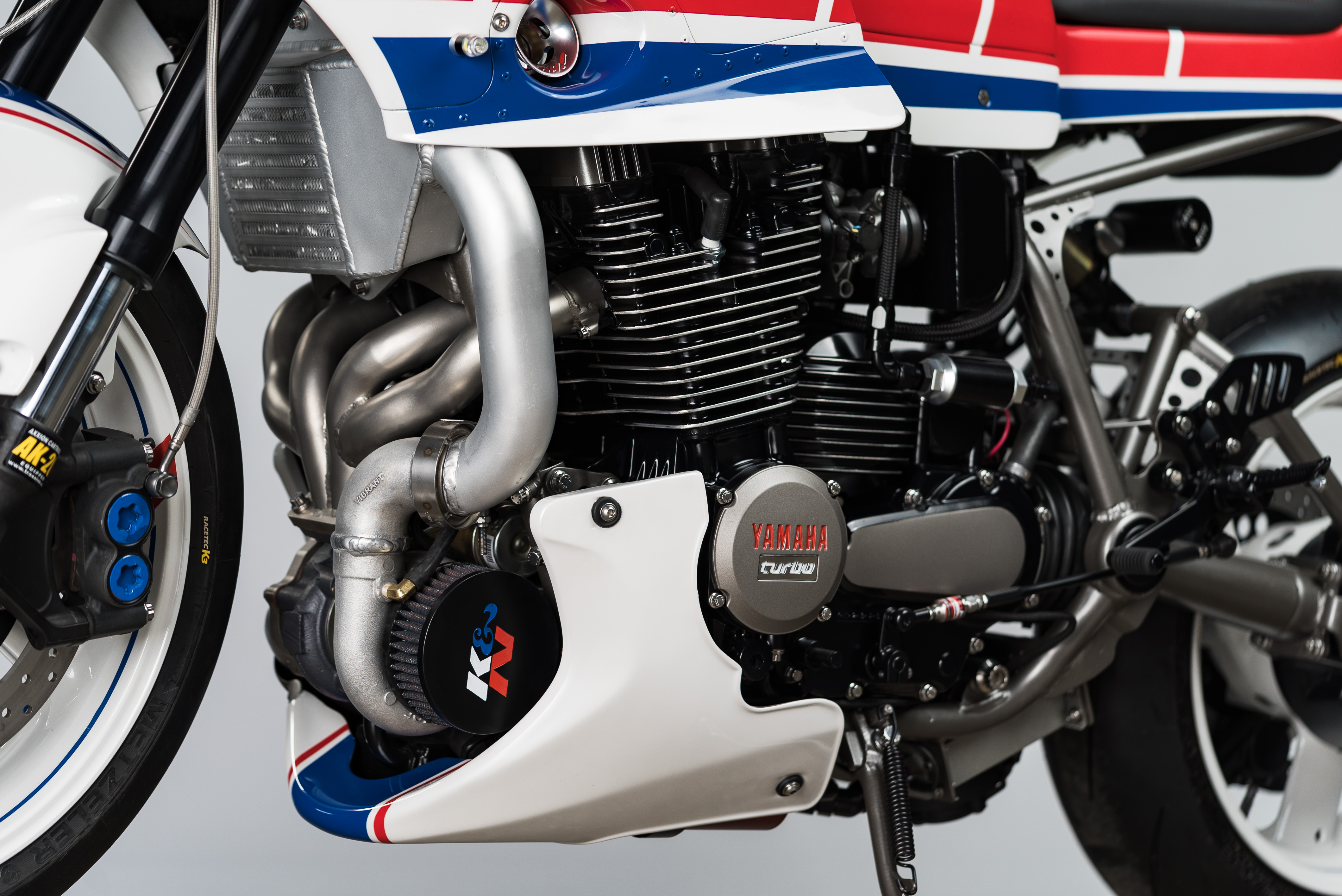 To avoid this, Kimes picked a turbo (Borg Warner S1BG) big enough to provide the targeted 200 HP (on E85), but small enough to tuck in between the frame and front wheel. In order oo hide the intake charge pipe, he cut a channel on the bottom right side of the tank so it could travel straight back from the intercooler hidden. Above the turbo, Derek custom fabricated Bell intercooler to cool the air down from compressing it.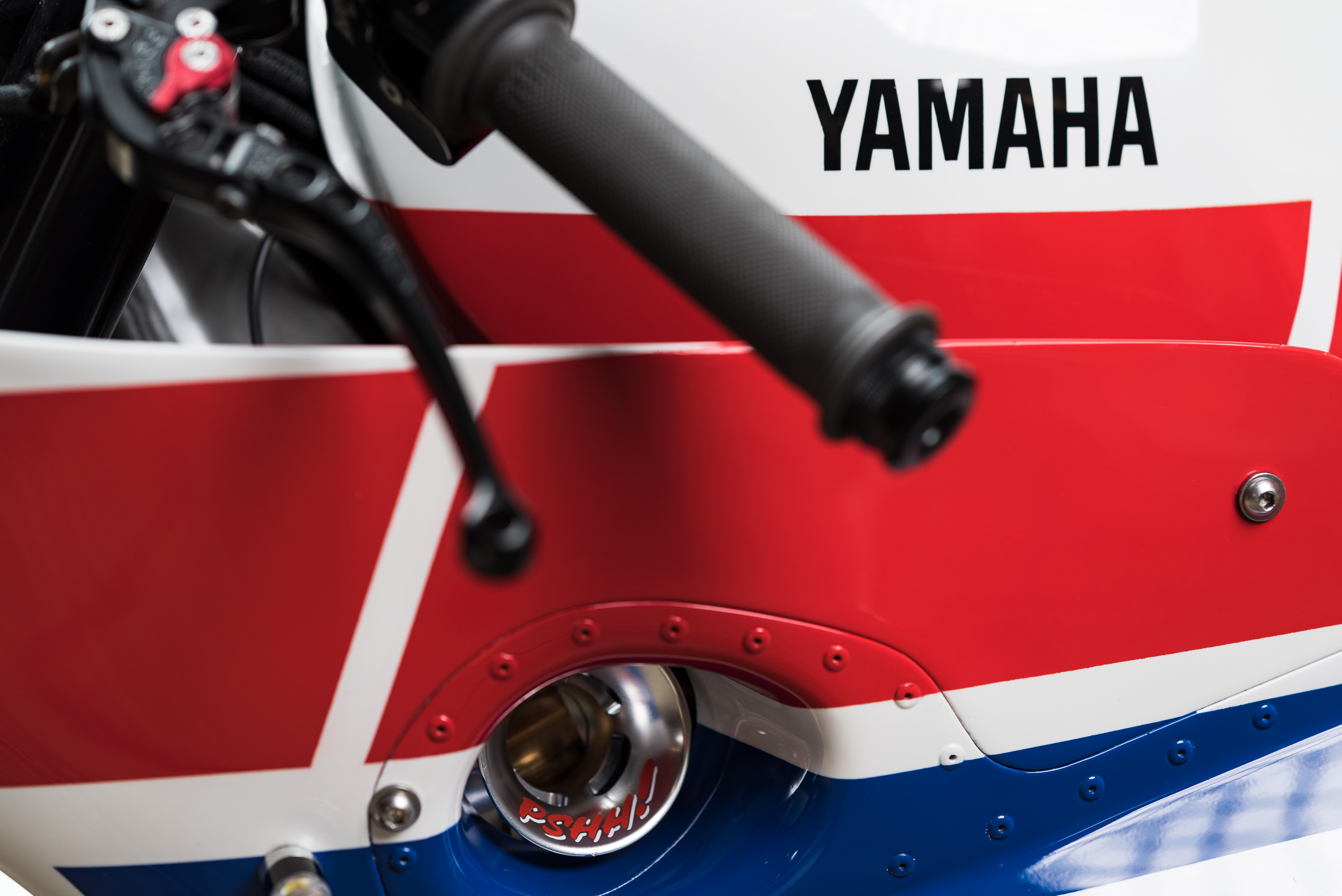 Naturally, one solution leads to another problem and now the oil cooler and oil filters needed to find new homes. The plan was to use a remote spin-on adapter and route the oil lines underneath the bike to the rear where he relocated the oil cooler just in front of the rear wheel. In 1983, Yamaha made a turbo XJ650 Seca. Internally, the Seca had a port for external scavenging, which is needed for a turbo. Something that is especially critical when the turbo is lower than the engine. This scavenging port on the oil pump allows me to suck the oil from the turbo back into the engine to avoid oil pooling. It was a direct swap of oil pumps from XJ650 turbo to the XJ900.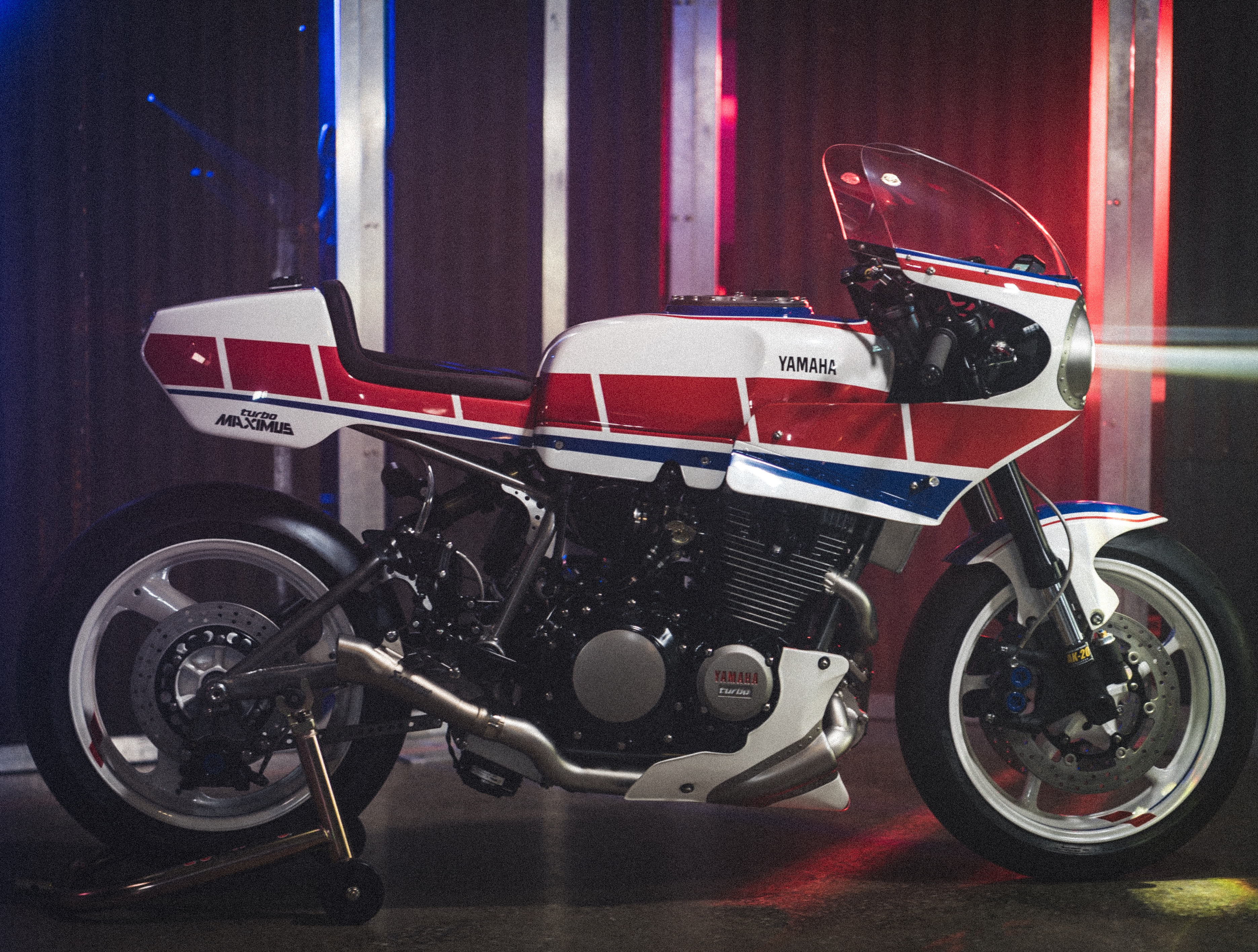 When Steve West first sent us some photos from the Forged Invitational of Kimes' Yamaha XJ750 Maxim, we assumed it was one of Fuller's builds. The fit and finish is amazing. The creativity and unique problem solving is equally impressive. They way he took a bike that most wouldn't ever consider for a simple build, let a lone for a build of this caliber, is pretty punk rock. And we like that! It's safe to say that we're fans of Mr. Kines' handiwork and we'll definitely be watching to see what Derek comes up with next.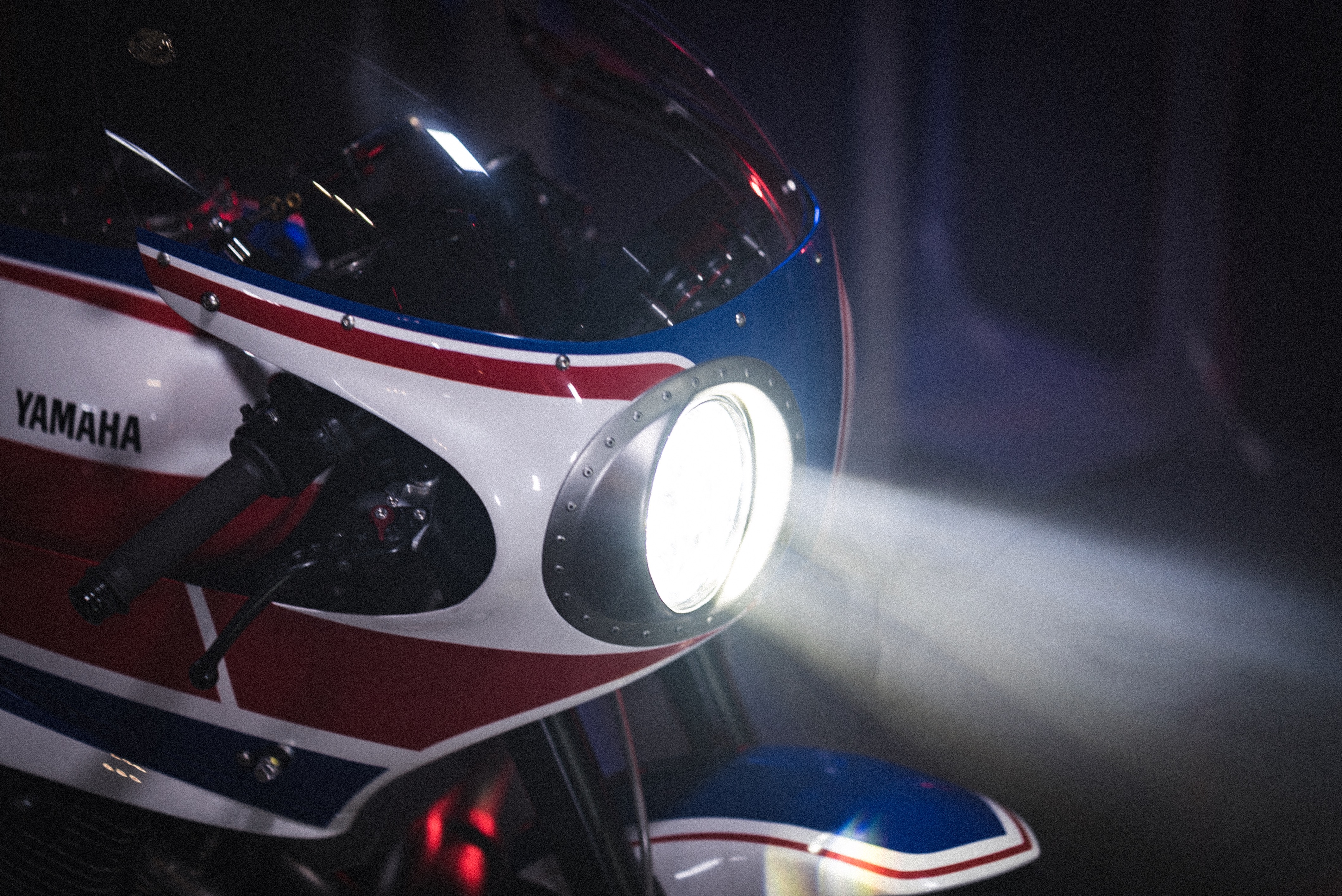 Build by Derek Kimes: Instagram
Photos by Steve West: Facebook | Instagram