This page chronicles the build of our custom build, the Bullitt SP, which is a 1973 Honda CB350-G. The content below is a summary charting the progress of the build, starting with the most recent working backwards. We hope you enjoy!
Tear it down and build it back up
We were pumped to have our Bullitt CB selected to be in the OG Moto Show. We were basically getting it prepped for the show and realized that it had gotten pretty beaten up over the last few years. Some of the powder coating was cracking, the fork boots were deteriorating…the list went on. It almost seemed easier to just tear it down, re-coat, repaint, and replace everything that needed it. So we did!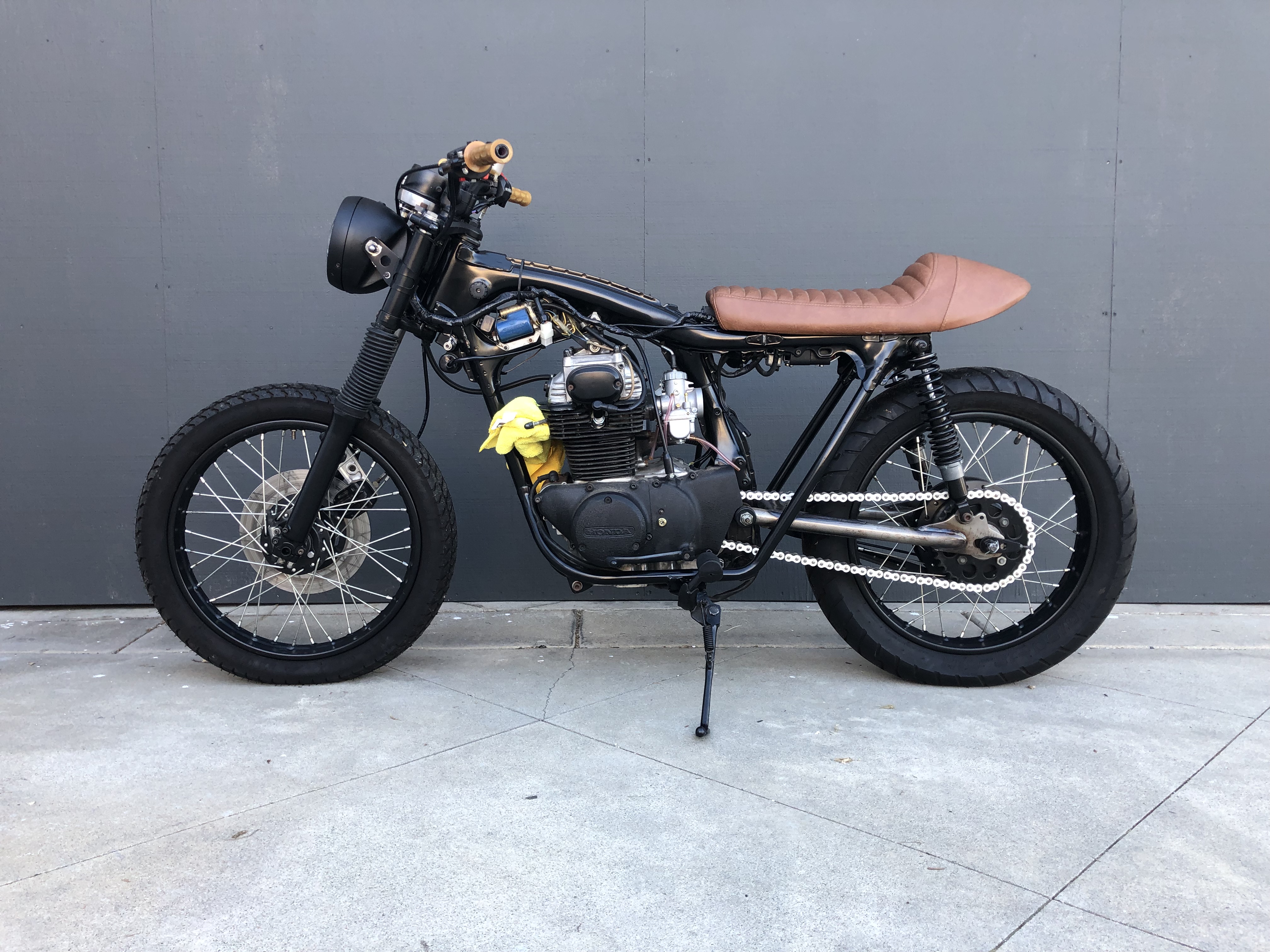 Love to see 'em naked, amiright? That freshly coated frame, crinkle coated engine cases, cleared swingarm look so good. OK, maybe the white chain was a bit too much but it coordinated with the tank. Probably won't do that again though.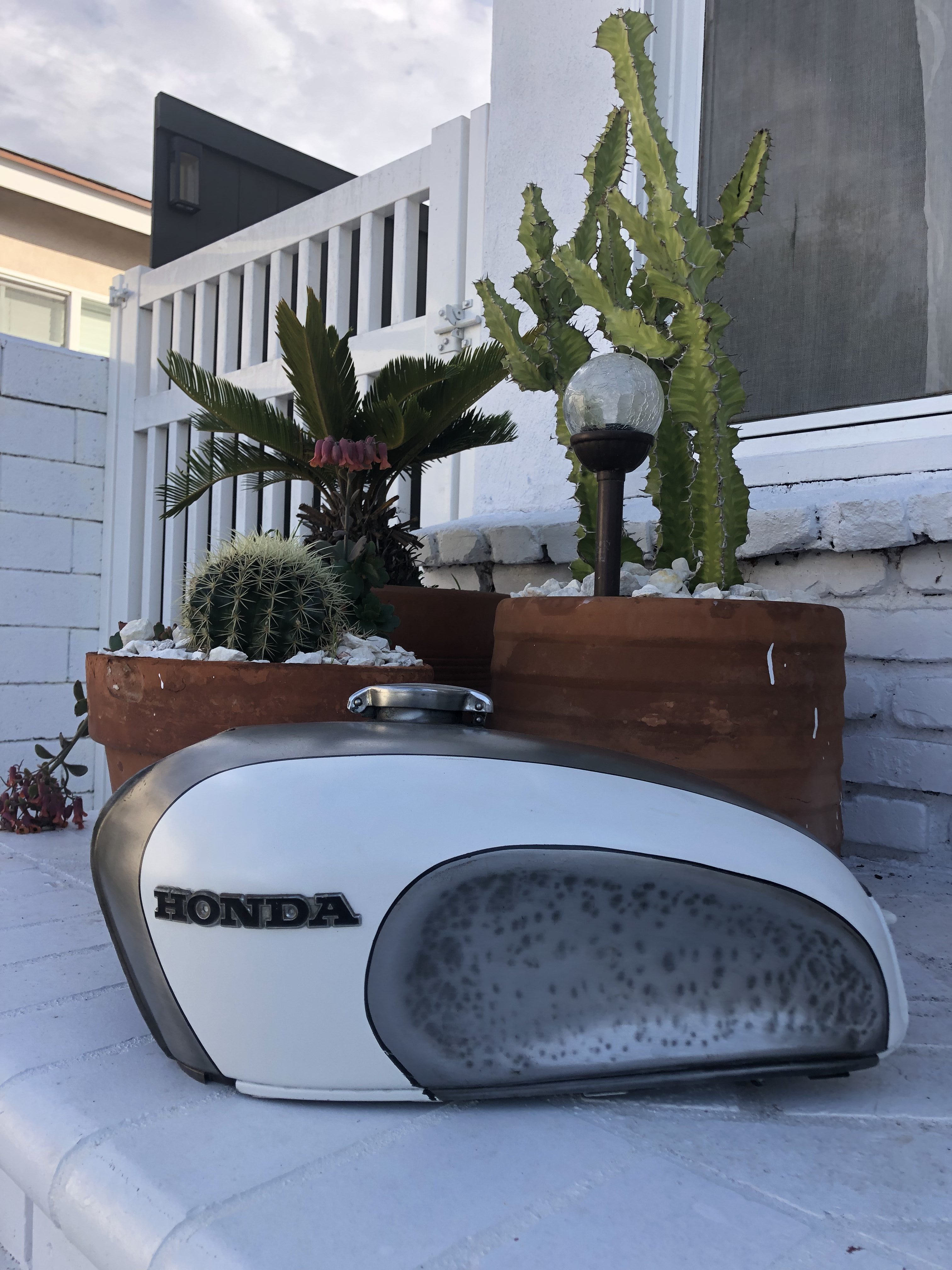 The original version of the tank. First time hand-hammering knee dents and pin striping. Came out ok, but didn't feel "pro" if you know what I mean.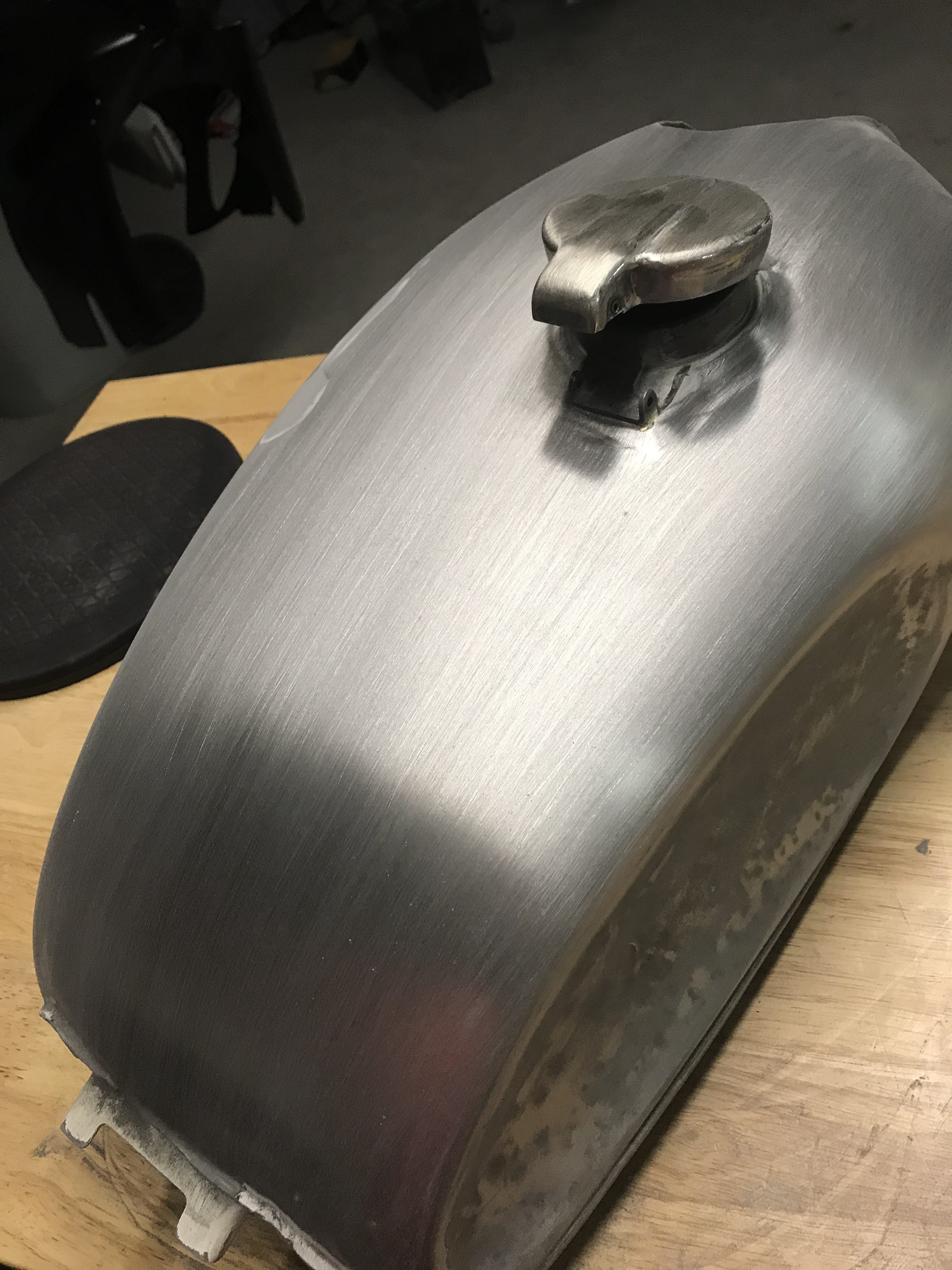 Stripping her back down bare.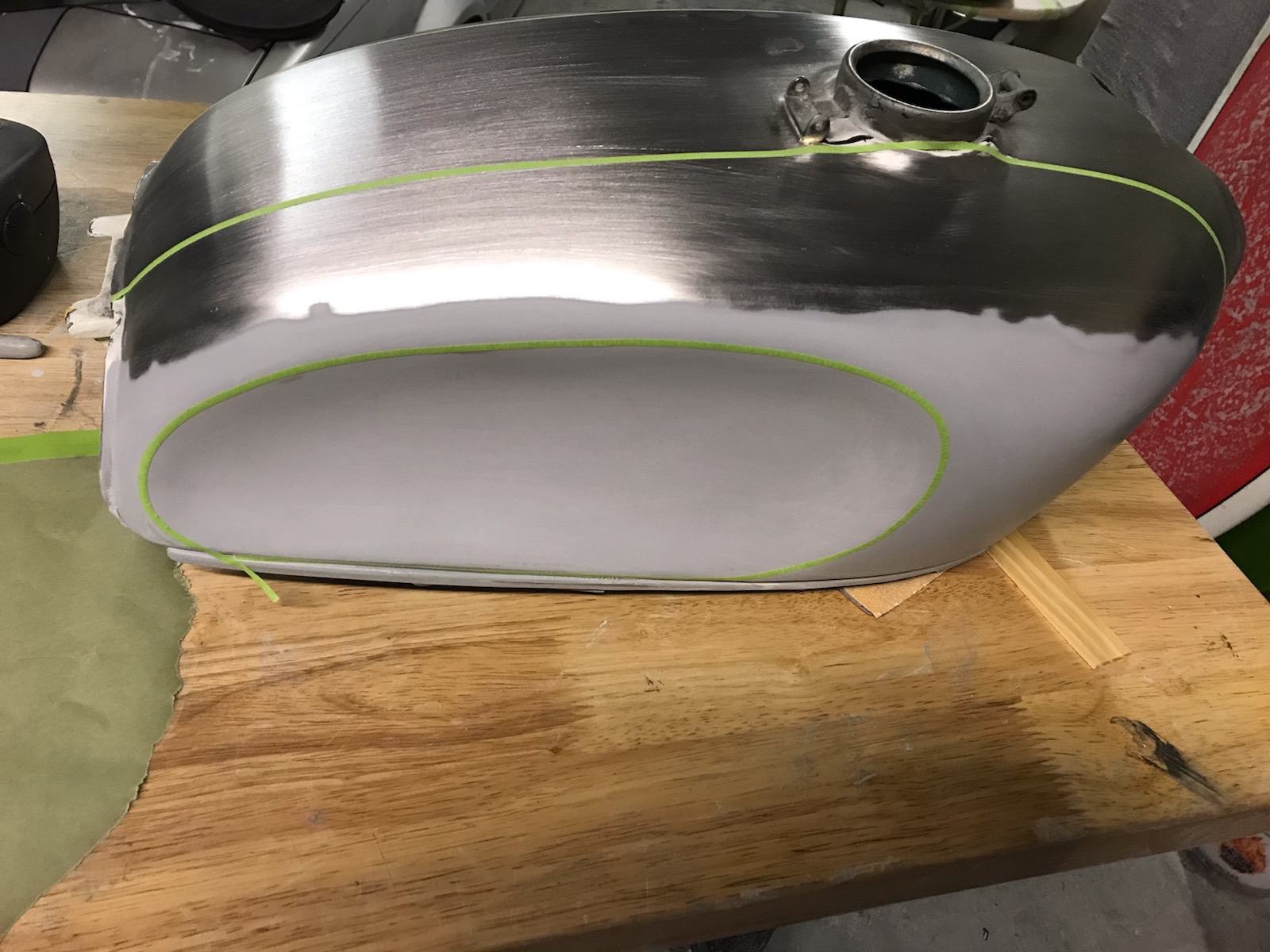 Decided to fill in and smooth out the knee dents.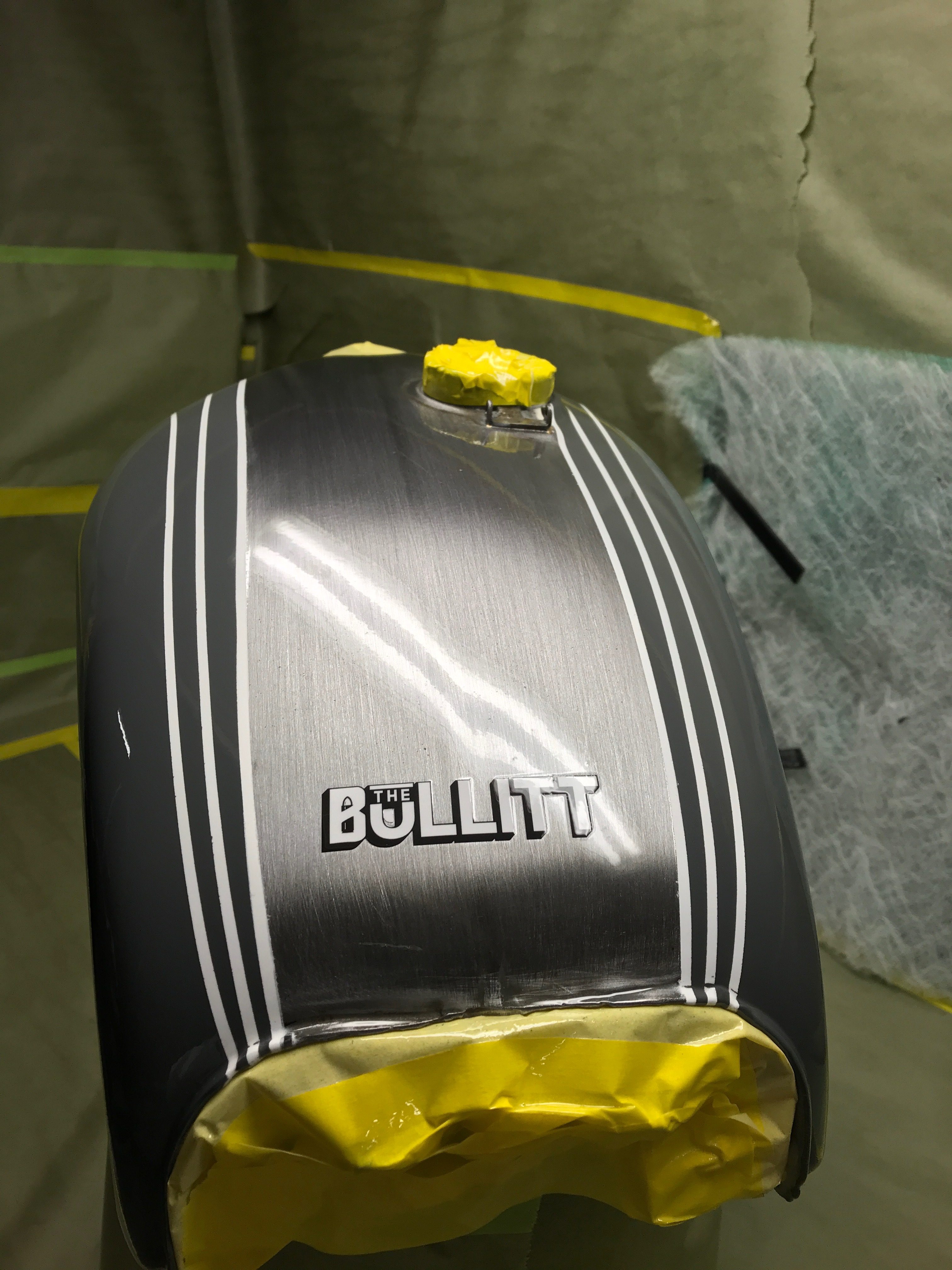 Had to add in a Bullitt touch.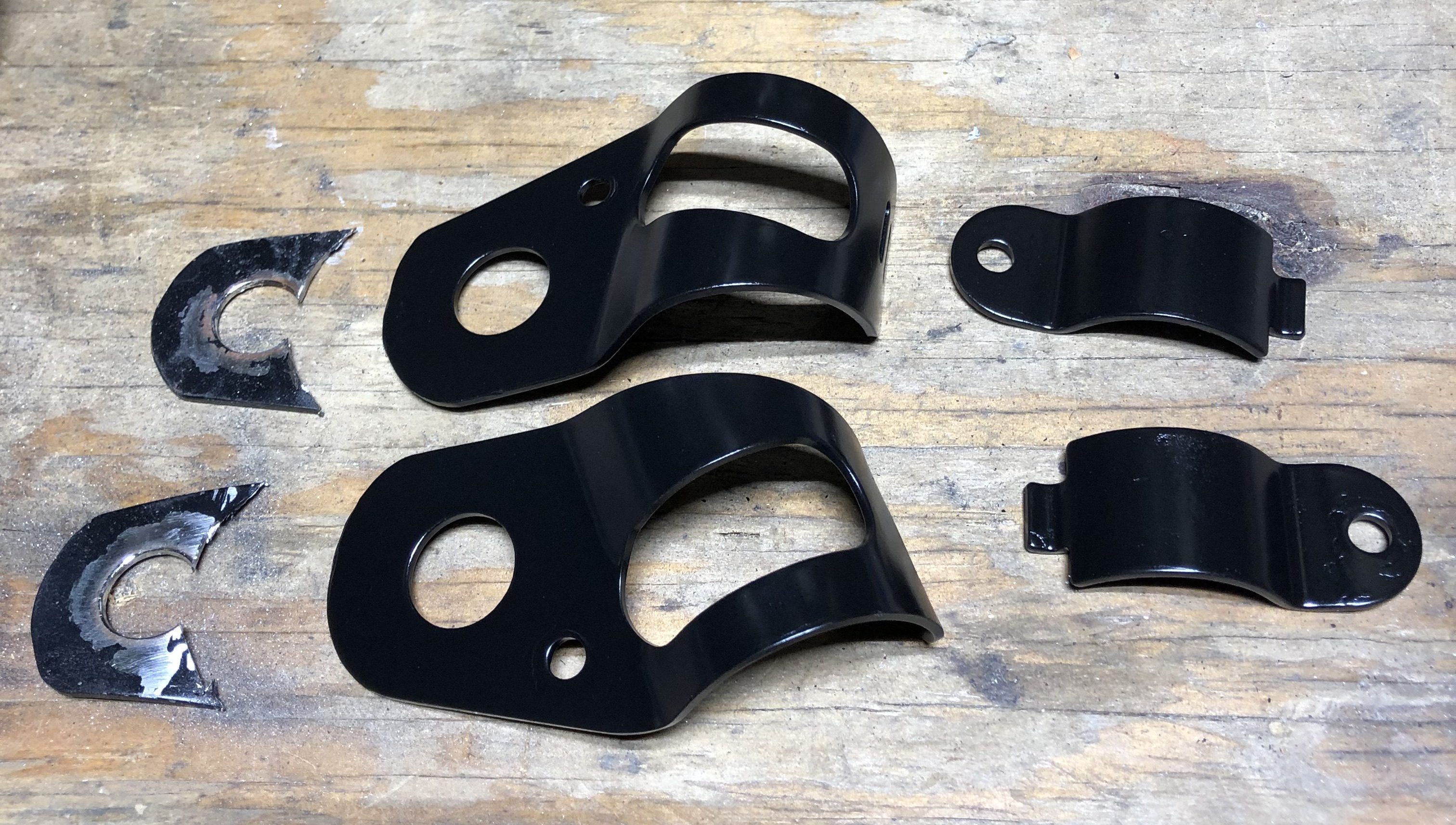 Shortened up the headlight ears to pull the headlight in closer to the forks.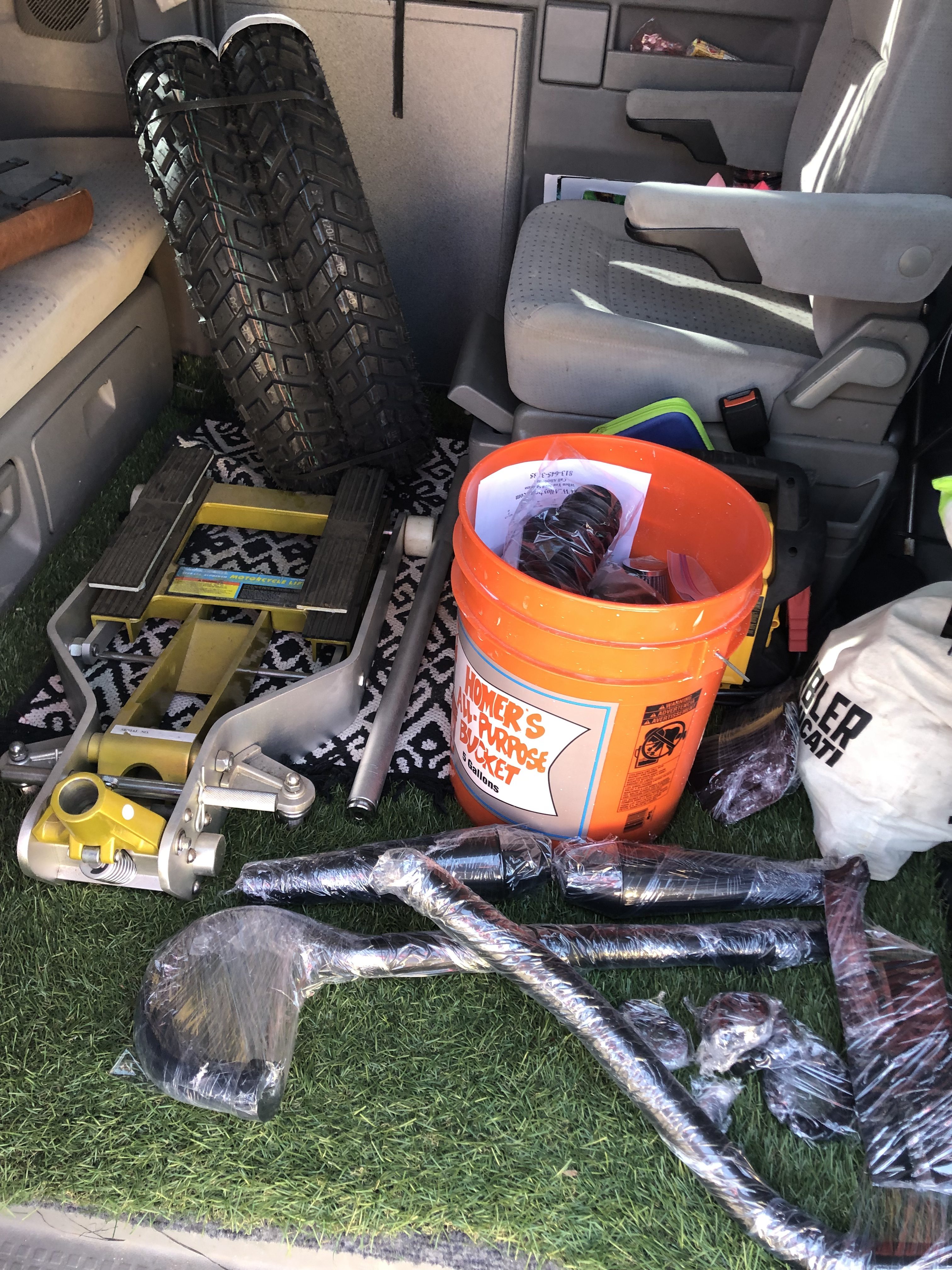 Adventure van loaded up with freshly coated parts and new shoes.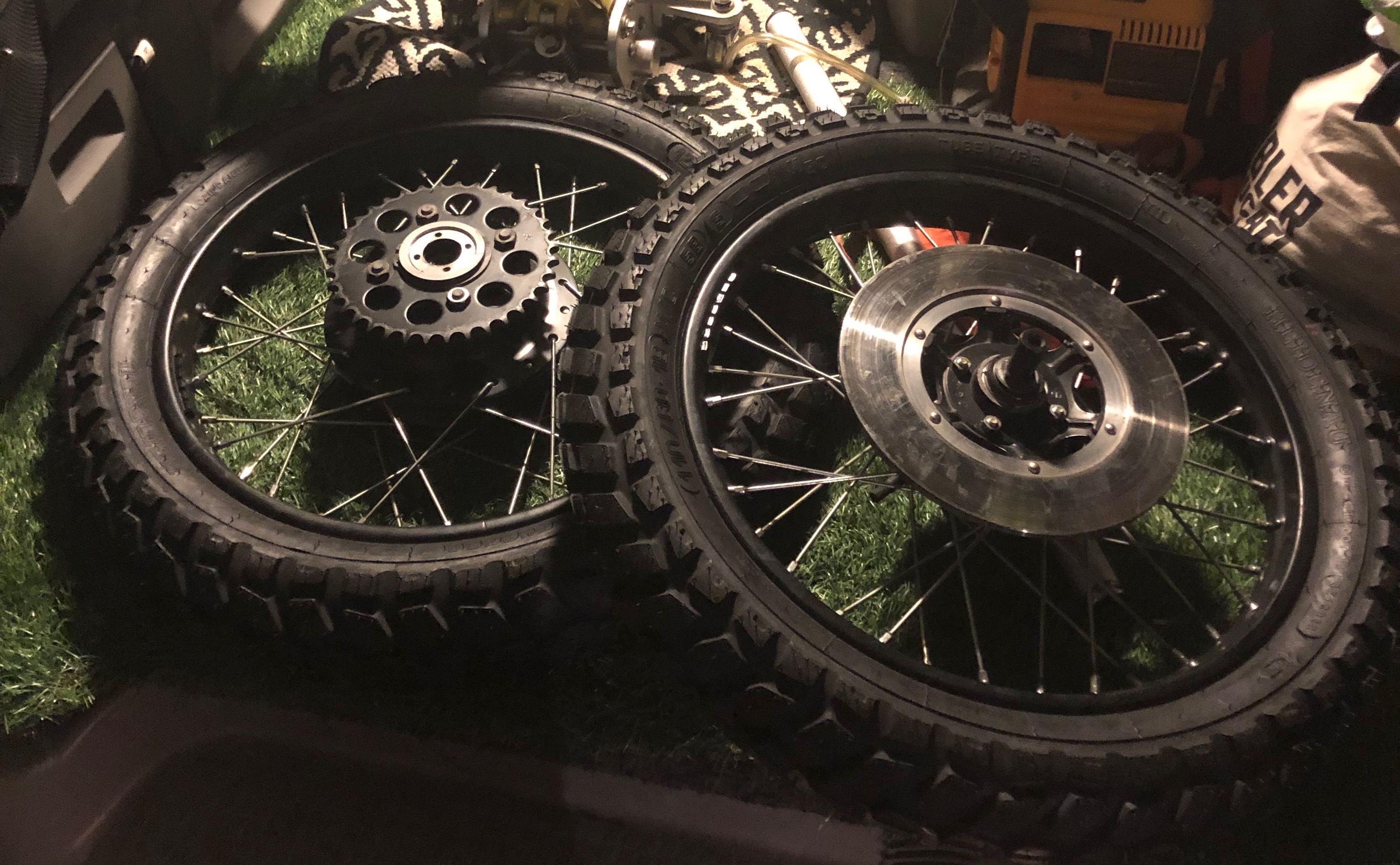 Third time's the charm! After 3 sets of tires, finally settled on some meaty Heidenau K60 Scout Tires. 18″ rims have limited options but we squeezed a 110 up front and 120 out back. They virtually look the same size on, which is what we were going for.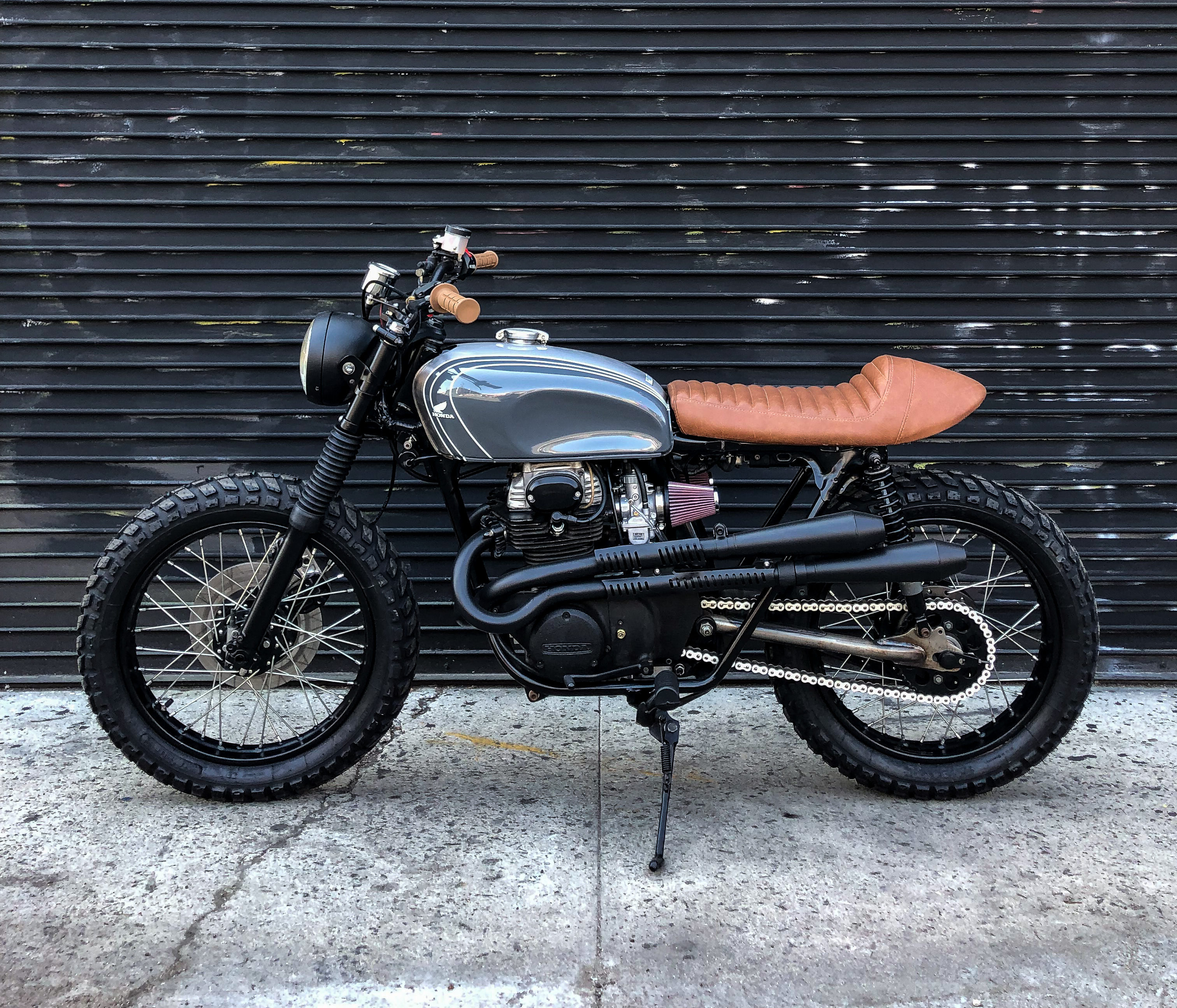 Got her back together just in time to make it up to LA for the 2019 OG Moto Show. I had custom decals made for the tank and clearly mismeasured. They are definitely smaller than I would have preferred but I had no time to redo them and just had to roll with it to meet the deadline. I might remake some larger ones and just lay them over the clear. Or we'll just see if the current size grows on me…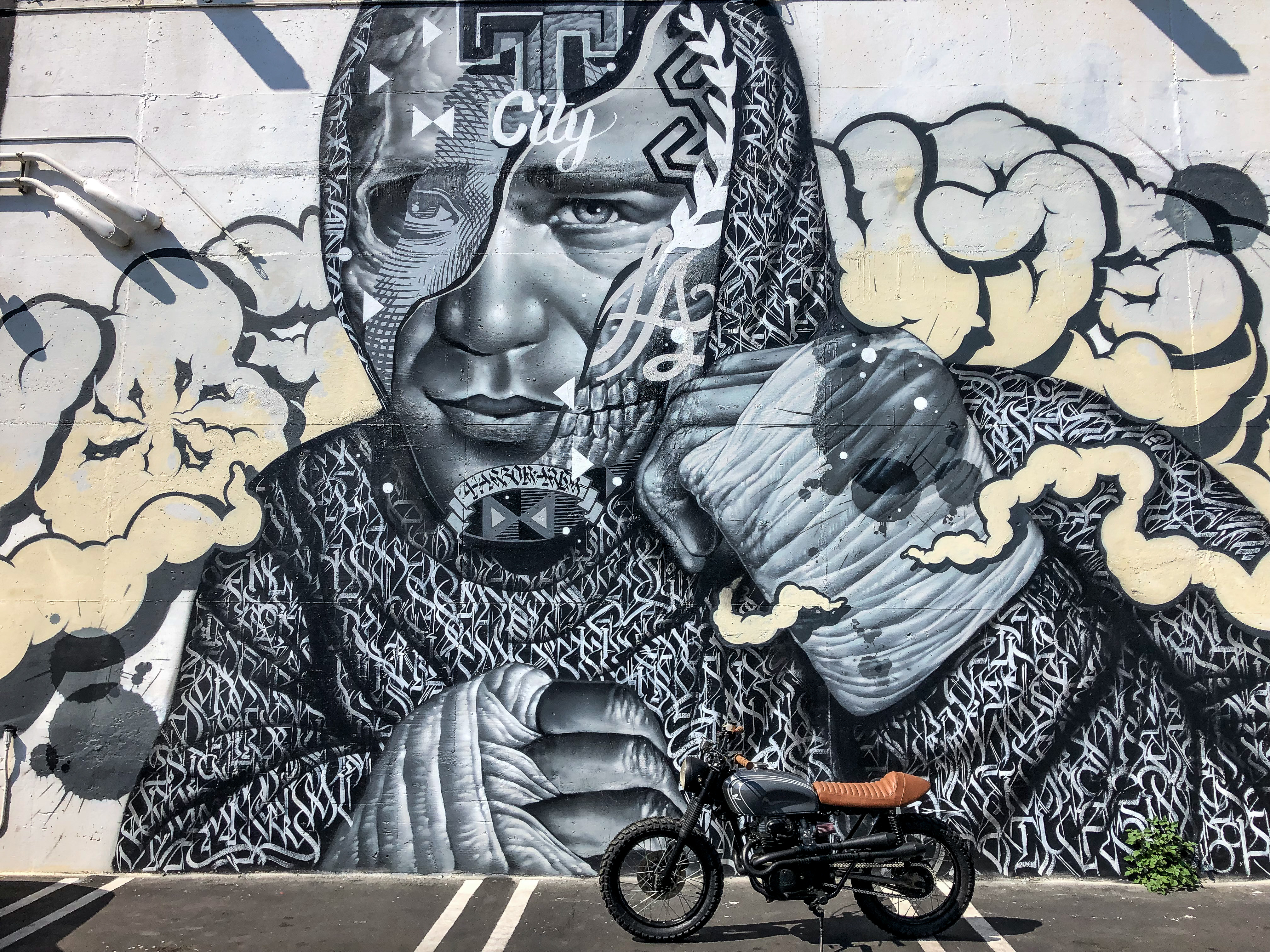 When there's killer wall murals outside the show, you definitely snag a shot!
The show and the deadline was the kick in the pants needed to give the old girl a makeover and to get it done. Up next, taking her out for a little scrambling and action shots. Stay tuned!
If you want to see the build page for the Bullitt CB, and see how far she came, check it out here.
Bullitt CB :: New Tank Badges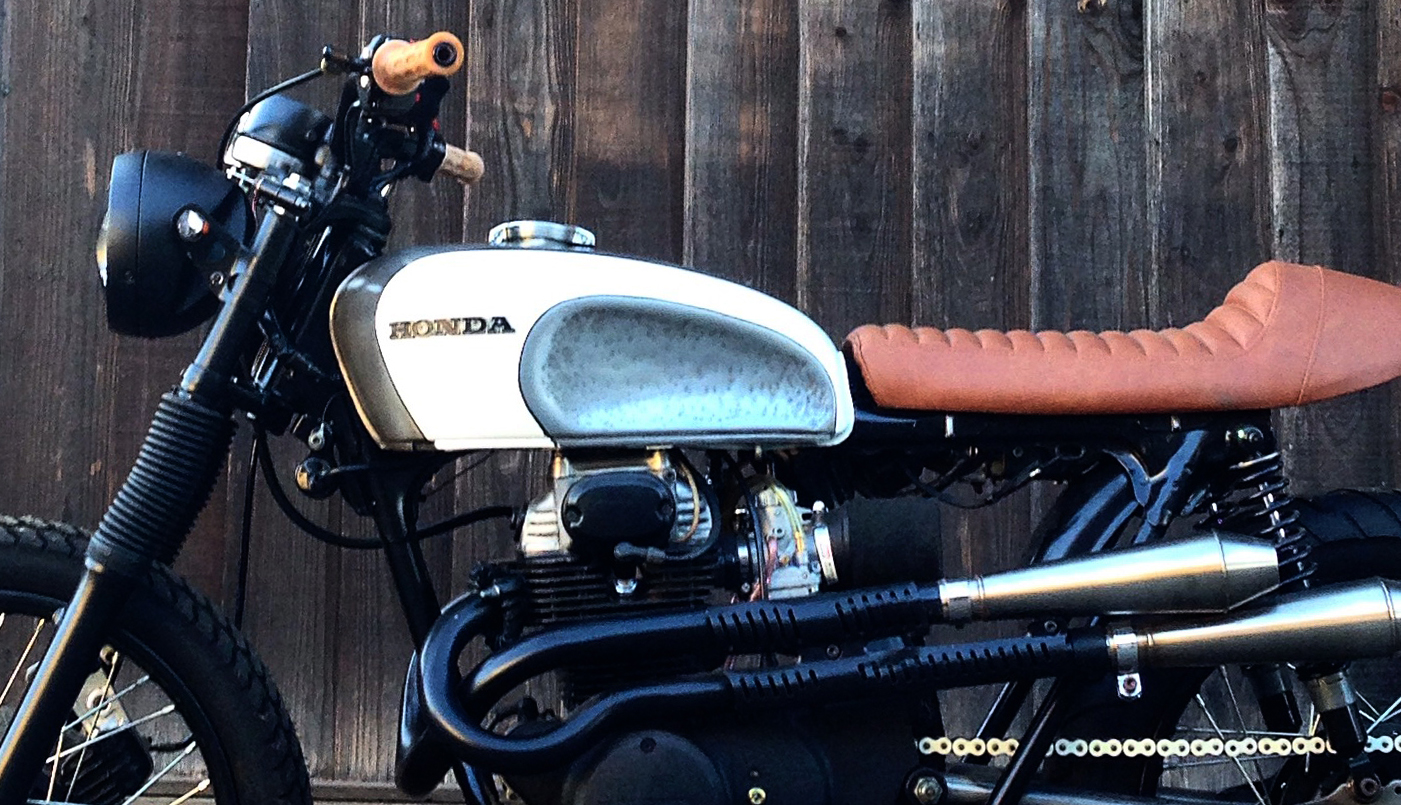 Got some old, worn badges and stuck them on the CB. It's amazing what a small update can do to the overall aesthetic. She's getting there!
Project Update :: Bullitt CB Scrambler
After 6 months of hibernation, the Bullitt CB is getting some attention. Stoked on the new seat from Dime City Cycles. Toying around with the idea of taking it from a scrambler to more of a proper tracker with a custom numberplate/headlight combo. Chime in and let us know your thoughts… Scrambler or Tracker?
Bullitt CB :: Almost there
The Bullitt CB was on a tear a few months but took a short winter hibernation. We introduced a baby Bullitt into the family, moved shop and are working tirelessly to get set back up again. That being said, we did make a lot of headway that we are happy to share. 
The Bullitt CB, affectionally known as 'Kira' around here, was completely broken down as you can see in the image below. We coated, painted, lubed or upgraded everything we could and put her back together, new and improved.
We detabbed the frame and swingarm and shortened Kira's rear end, opting for a semi-gloss black powder coat. The swingarm was clear coated and provides a nice balance with the raw metal from the tank. New Mikuni VM30 carbs and UNI cone filters help her push a full breath through the newly coated CL headers and mini reverse cones. 
The tail has been tidied up with a little homemade battery tray. Just the bare necessities are going back in, along with a small Lithium battery.
The seat pan was shortened and coated. The kickstand was lengthened to accommodate the taller Hagon shocks and the lower triple was cleaned up and detabbed.
We repainted the rim of the stock speedo but wanted to leave the vintage patina in the cracked gauge. We're toying with a smaller tach but still aren't sure we're gonna keep it. 
The garage should be back up and running soon and we can't wait to finish her and get her out on the road!
Bullitt CB :: Disassembled
We were getting close on the Bullitt CB – which really is now a CL – when we decided to fully disassemble and build it back up proper. There is really nothing left that hasn't been replaced, repainted or repaired. There's been some big improvements and a lot of time put into this old girl. 
Bullitt CB :: Now a CL
We've been working hard on the CB lately. The bike was getting close to being finished before we decided to pull the motor, hack up the frame and make this a proper build. The frame's being de-tabbed and looped and on its way to powder coat. The motor's been gone through and is getting dialed in. Basically, we took everything apart, replaced all hardware, scrubbed, cleaned and coated just about everything we could. 
Bullitt CB :: DIY Pin Striping
Not all of us have the know-how or stable hand of Kenny "Von Dutch" Howard, Ed Roth or  Skratch but still want pin striping on our own bikes and helmets.  I didn't want to pay anyone and just thought I'd mask off the area with pin striping tape and give it a go myself. 
That's what's been so fun with the Bullitt CB – just going for it on my own.  Never done this before, wasn't sure how it'd turn out but overall happy with the results. 
Have you ever tried something like this before?  
Shop Time :: Bullitt CB
Been working on the Bullitt CB – getting closer every day. Still need to tackle the wiring, loop the tail and get the custom seat finished up.  We swapped out all the hardware for black hex bolts, wrapped the headers, powder coated the springs and blacked out the shocks with epoxy paint. Can't wait to get this thing on the road!
Bullitt CB :: Fork Update
Thirty-nine years of rust and corrosion has taken it's toll on the Bullitt CB's forks. Originally the plan was to lightly grind down the rust and polish the uppers. Apparently I had underestimated the elements. As you can see in the pic below, even after a good grinding I realized that I wouldn't be able to get them back as clean as I wanted.  On to Plan B…
I decided to try a different approach – sleeves! I went down to my local Industrial Metal Supply, scoured the 'junk' pile and found some steel in the perfect diameter. I had them cut to size for a budget-breaking single dollar. Powder coated to match, created my own high-tech electrical tape collars for a snug fit and am ready to rock!
She's getting closer and closer to being road-ready. Next stop wiring. Wish me luck!!
Chipping away, day by day…

Starting to mock up the pieces for the Bullitt CB and it's finally starting to look like a bike again.  Planning to do all new wiring and am dreading it.  Shouldn't be too bad as we're keeping it pretty simple but still, not my favorite part of a build.  Stay tuned for more updates soon!
Custom CB Tank Paint
A little teaser of the DIY custom paint job I'm working on the Bullitt CB.  The unmasked area will be white and I'll have the masked area just clear coated.  You like?
Bullitt CB Progress
Making progress on the Bullitt CB…which is soon to become the Bullitt CL. After going the the Iron and Resin Hooligan Derby yesterday, this bike is begging to become more of a tracker!
DIY Knee Dents – stock CB350 tank
Getting closer every day. Still need to tackle the wiring, loop the tail and get the custom seat finished up. We swapped out all the hardware for black hex bolts, wrapped the headers, powder coated the springs and blacked out the shocks with epoxy paint. Can't wait to get this thing on the road!

I had my first go at hammering in my own knee dents on the project CB. After picking up a cheap nylon teardrop mallet and watching a quick youtube video it was time to have at it.
The first step after grabbing a cold one was to cut out a little paper template in the size I wanted – taking inspiration from the Bullitt OG's tank – and mocked it up on the tank. Can't say I wasn't at least a little hesitant to take that first swing but it really wasn't too bad once I started. 

I'm not quite finished yet, but pleased with the initial results. Thoughts?
Cafe Racer Project :: Bullitt CB
I'll be the first to admit she's more than rough around the corners right now.  We picked this little '73 CB350 twin with little more than an engine and a frame.  That's fine as we're planning to strip it bare and put back as little as necessary anyway.
Those of you who follow The Bullitt know we're doing a front end swap on the Bullitt OG.  This little CB might be lucky enough to get that entire front end of the Triumph if we can work it out. Just need to determine if we can press the CB stem into the Triumph lower tree and we'll be in business.
Stay tuned for more on the Bullitt CB.  Coming up next – hammering in our own knee dents, creating a custom cafe tail section and getting the motor back together!