This page chronicles the build of our custom build, the Bullitt SP, which is a 2015 Ducati Hypermotard SP. The content below is a summary charting the progress of the build, starting with the most recent working backwards. We hope you enjoy!
Hyper in the Hills, Ducati-style
After a break up, we've probably all been guilty of looking up an old ex from time to time. Well, we're no different and were looking at old pics of our beloved Bullitt SP. While flipping through the archives, we came across some photos that don't appear to have ever made it to the light of day. Sometimes with exes, that's a good thing, but in this case she's still got all her clothes on…
These photos were taken in the Santa Cruz mountains near the famous Alice's Restaurant. Such good riding up there. Lately, with all the rain, lots of these roads have been closed. Aside from the rare heavy weather, the riding is simply amazing as long as you mind all the blind driveways. Damn, we miss the riding up there and miss the bike. This is harder than I thought…
Great bike, great riding, and great memories. No regrets. Just missing you bae. Hope all is well.
Been loving the Hyper SP and getting out on it every chance possible. When we first installed the Ternignoni full race system, we decided to pull the air box and add cone filters. Even with the Termi upmap, the new intake solution had created a flat spot in the power delivery around 6k rpm. Rather than going for a custom tune, we opted to just reinstall the airbox and let the Ducati breathe as it was intended. MUCH better.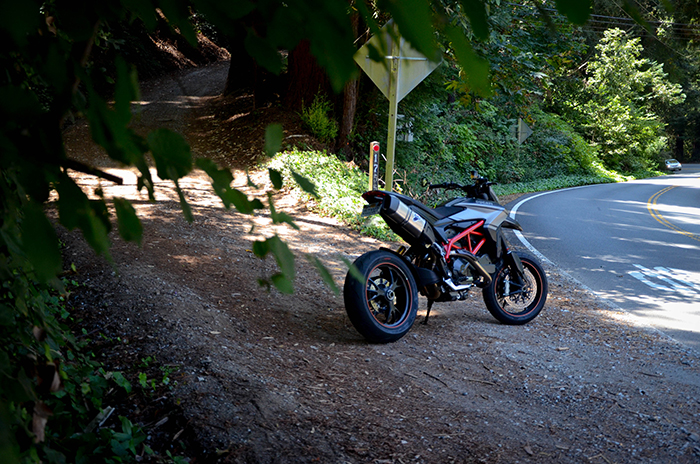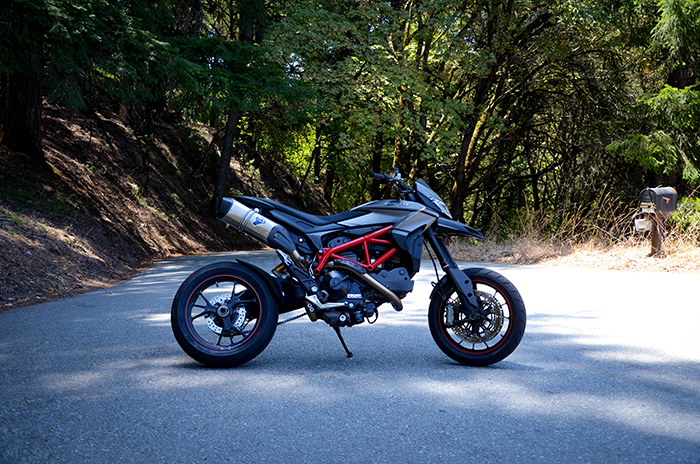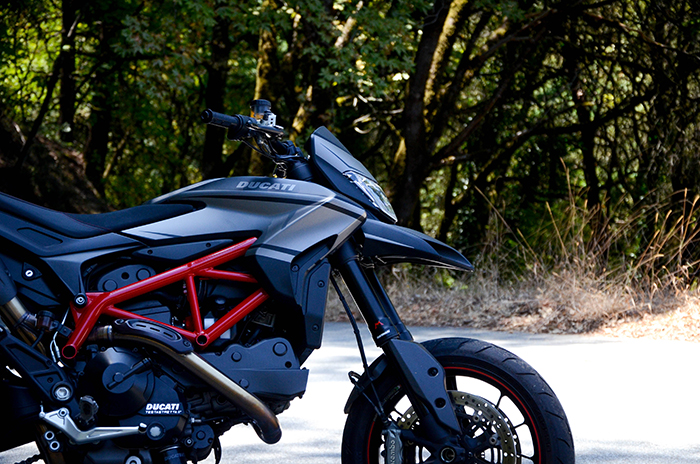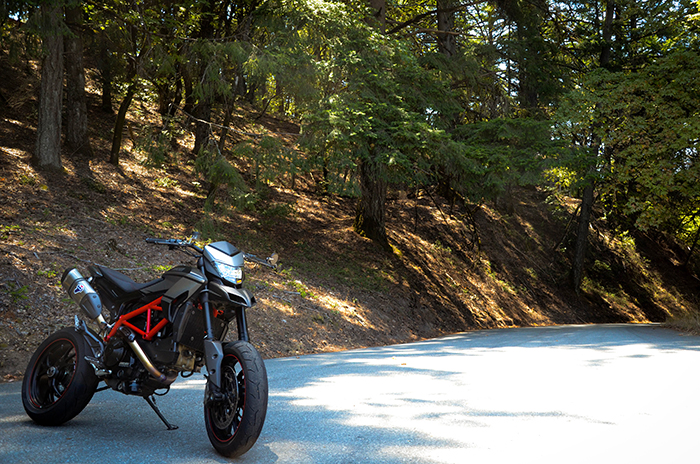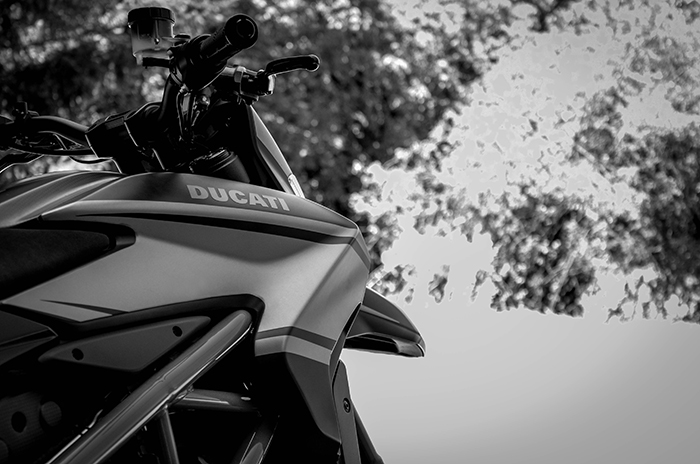 Snap-On LED Turn Signals by New Rage Cycles
Having a mild hatred for bulky blinkers, we're constantly on the lookout for minimalist solutions. New Rage Cycles offers a pretty discreet kit, with their Snap-On Front LED Turn Signals. They're CNC machined from polycarbonate and, you guessed it, snap directly onto a range of fork tubes sizes for a pretty low-pro look. Not being fully satisfied there, we opted to murder them out for an more inconspicuous look.
Having already installed the blinkers on the bike – and being a bit lazy – we cleverly masked off the blinkers while keeping them on-bike and used an automotive lens tinting spray to smoke them out. After a couple coats of VHT's 'Nite-Shades' and we were good to go. It was our first time using the spray and have got to say, the stuff worked amazingly well with the blinkers!
The blinkers are now all but invisible and still glow bright as hell through the coating. As mentioned in our earlier post on NRC's Fender Eliminator, these things flash seriously bright!
We had already installed the dual-load equalizer that NRC offers so all flashing was at normal speeds. Install was easy and they've worked well without any trouble whatsoever. What do you guys think, do they distract from the overall aesthetic?
Bullitt SP :: Airbox update
After talking with some local Ducati master techs, they explained that the 4-valve Ducs don't need to breathe the same way a 2-valve would. If we were going to race this bike and were trying to squeeze out every last little bit of power, the custom map would be the way to go. Considering the Bullitt SP is a work horse, a commuter, and a weekend ripper, we wanted it reliable, and opted for the stock airbox.
The bike feels much happier and we're truly enjoying the new exhaust. This bike is fun in just about any condition!
After months of running an insanely loud little GP-styled exhaust that was louder than the loudest Harley, it was so amazing to hear what this bike was meant to sound like. The Termignoni full race system, with the included up-map, is amazing! It makes the bike smoother all around and has a much better top-end pull. The most noticeable change surprisingly during deceleration. The sound is pure music and makes engine braking less harsh.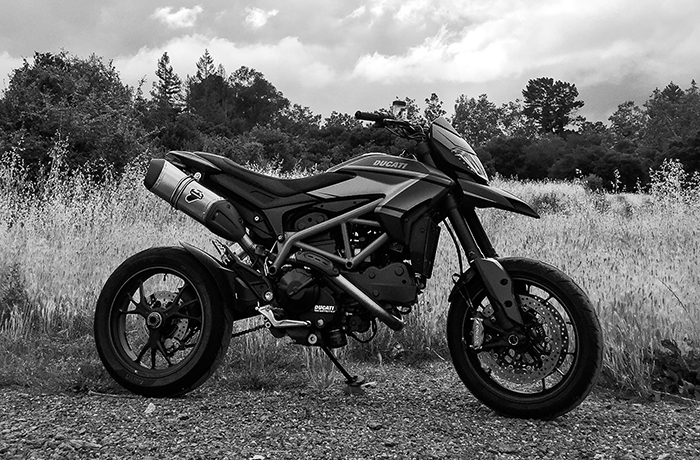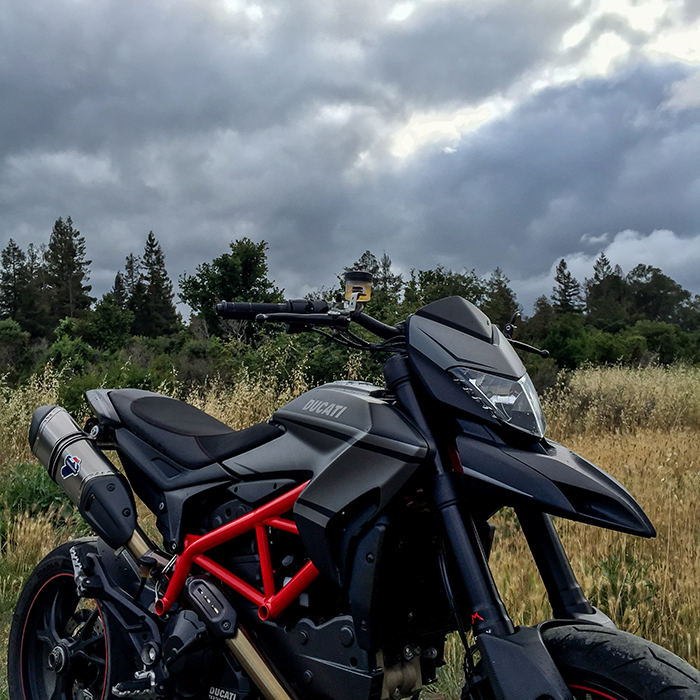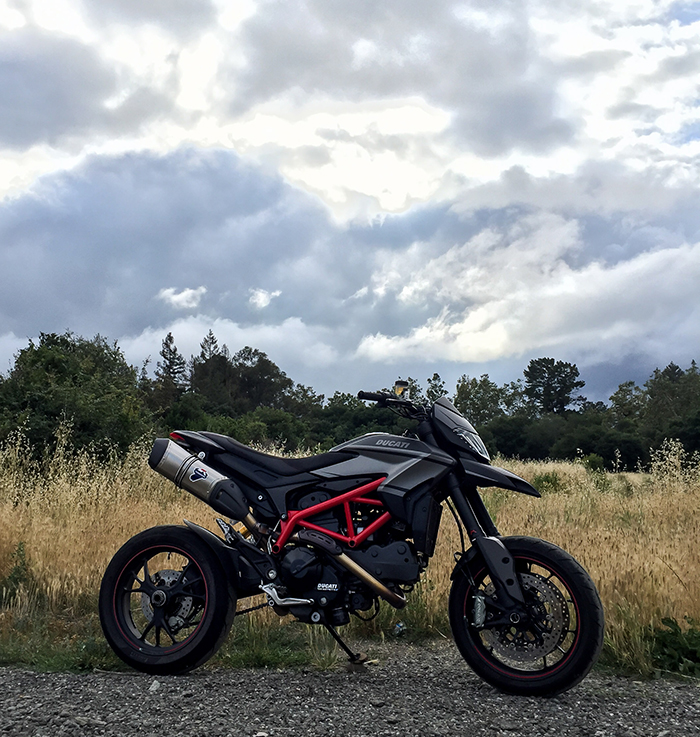 Termignoni Full Race System + airbox delete
While pulling off body work and removing all the necessary parts we hit a little snag. There was one bolt at the front of the airbox that was tucked near the neck of the frame and proved to be…difficult. After pulling the whole front end off, and basically getting this bike down to a frame and motor, we decided we might as well remove the airbox all together and add in some UNI pod filters. Let's let this baby really breathe!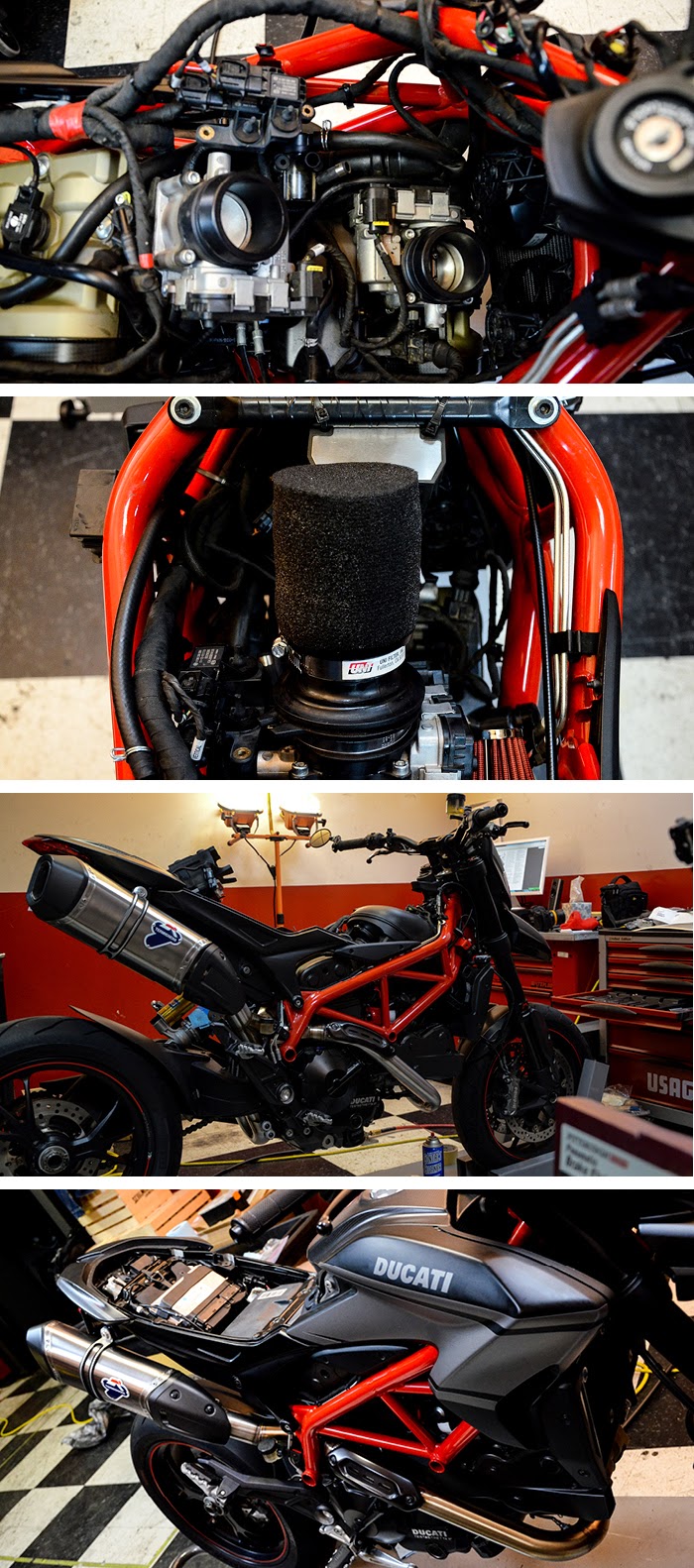 We hit another snag trying to get the UNI's to sit on the manifolds. After a few curse words and scratching our heads for a bit we realized that by pulling the snorkels out of the airbox and fitting them on the manifolds first, the filters slipped right on. Viola! Great improvements overall. Highly recommended mod to any Hyper out there.
Here's a dark and somewhat shaky cell phone clip snapped moments after we finished. At least you'll get the idea…
Product Review :: New Rage Cycles Fender Eliminator
Removing the factory license plate bracket and bulky turn signals and upgrading to something more sleek is one of the easiest way to change the look of your motorcycle. There are plenty of options out there to slim down your license plate hanger, with less options out there for slim/minimal turn signals. New Rage Cycles has some slick fender eliminator kits out there with some very subtle, yet effective (read bright as hell) blinkers.
New Rage Cycles produces products for most makes and models and after seeing their kit installed on a buddy's Ducati 899 Panigale, we decided to give their Ducati Hypermotard Fender Eliminator Kit a try for our very own Bullitt SP. Their Hyper kits work on the standard Hypermotard, the Hyperstrada and the Hyper SP.
New Rage Cycles fender eliminator, Ducati HypermotardWiring was painless. We opted to install their optional Dual Load Equalizer which worked perfectly.
The overall process was pretty straight-forward and we were able to get it done in one evening. The blinkers tuck right up against the tail and mostly disappear until you need them. CNC machined from polycarbonate, using 1mm LEDs, these things are seriously bright.
Overall, we couldn't be happier with the system. Fit and function were both beyond what we expected. Installation was a breeze and price points are more than fair for the quality.
Next up we may lightly 'smoke' the blinkers to see if we can get them to really disappear. We've also got some of NRC's snap-on front LED signals that we're excited to give a try. Stay tuned…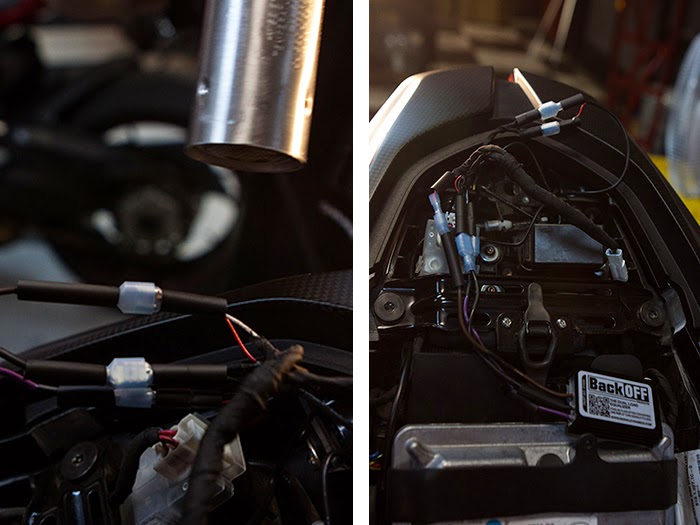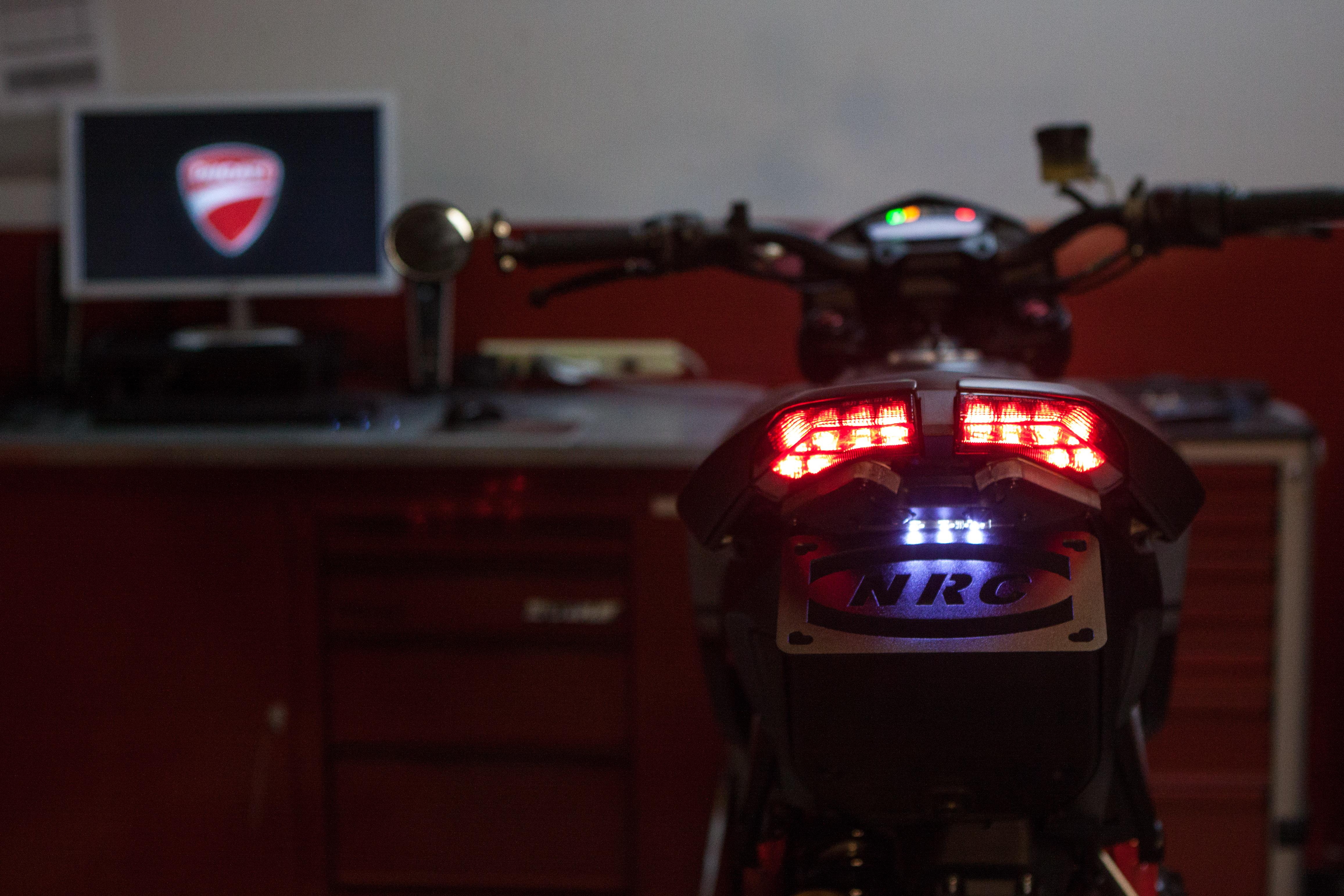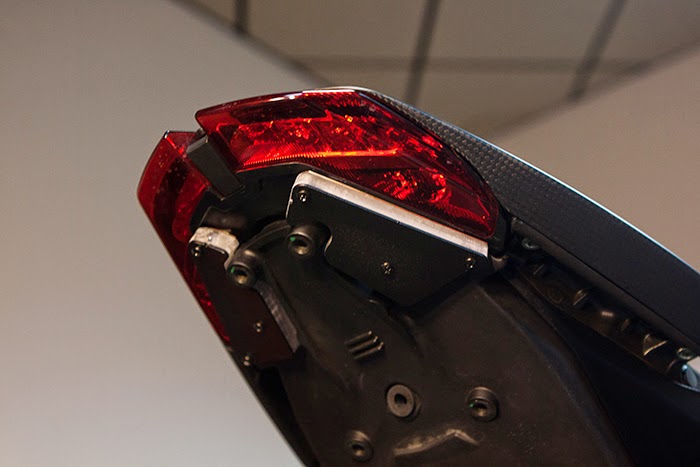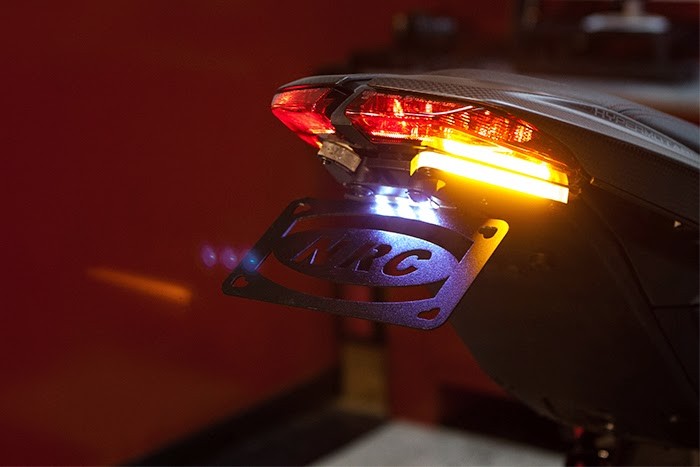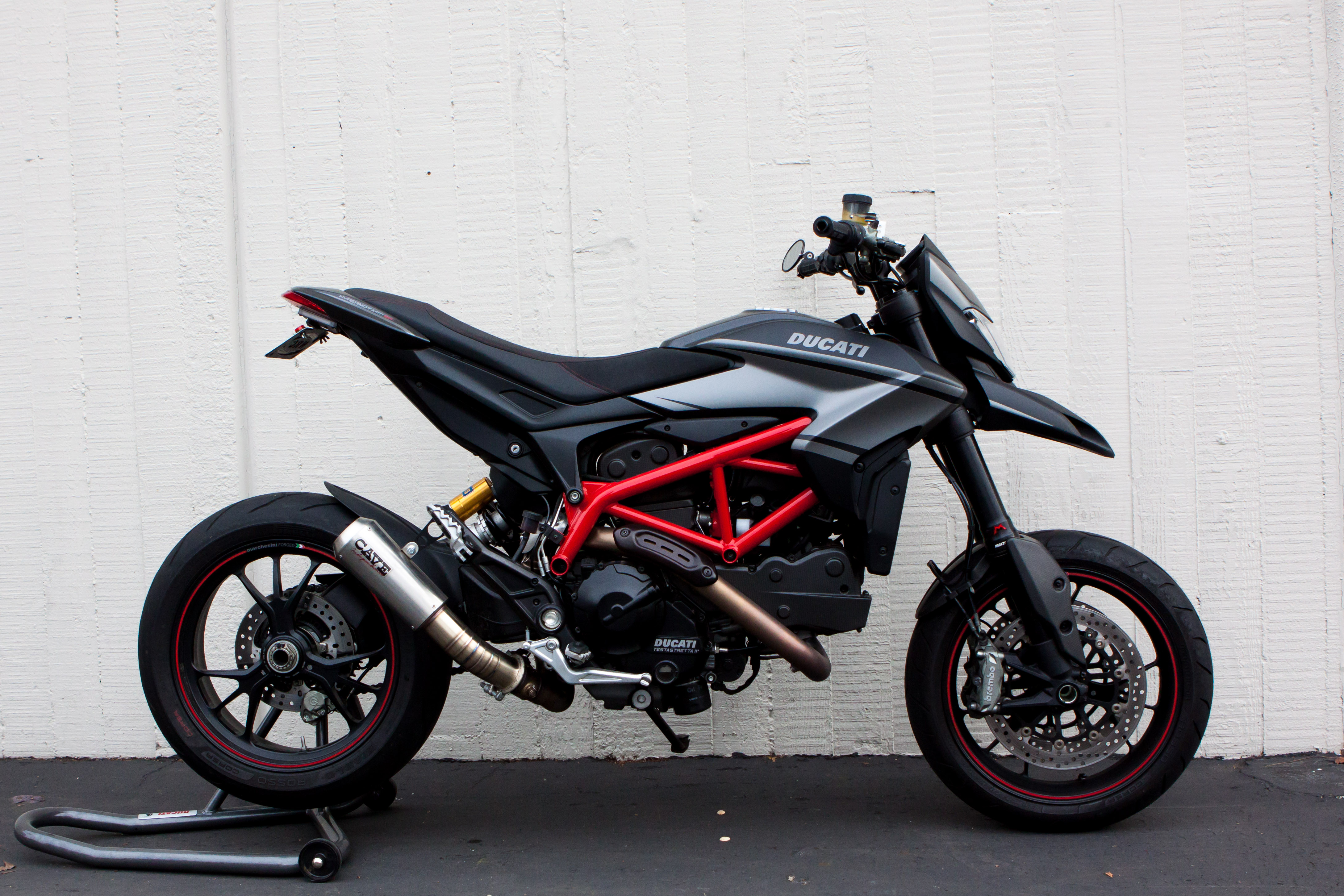 Bullitt SP :: New Look
Never quite being content with the previous look of the new Bullitt SP, we were looking for a change…something fresh. Days later after coming to this realization, at the 2014 Wold Ducati Week in Misano, Ducati revealed the new livery for the 2015 Ducati Hypermotard SP, and we loved it. Using a mix of new and old (the color scheme is an homage to the old Ducati 848 Corse colors), we were able to come up with a look we could be excited about.
Big thanks to Scott at SR Sign Design for the great work and fast turnaround on the new graphics!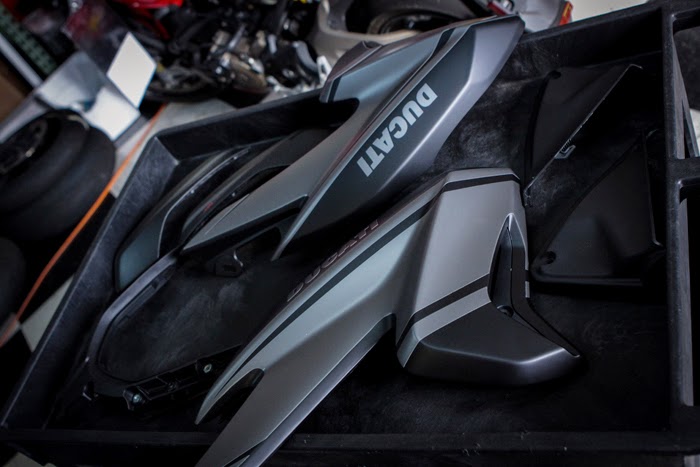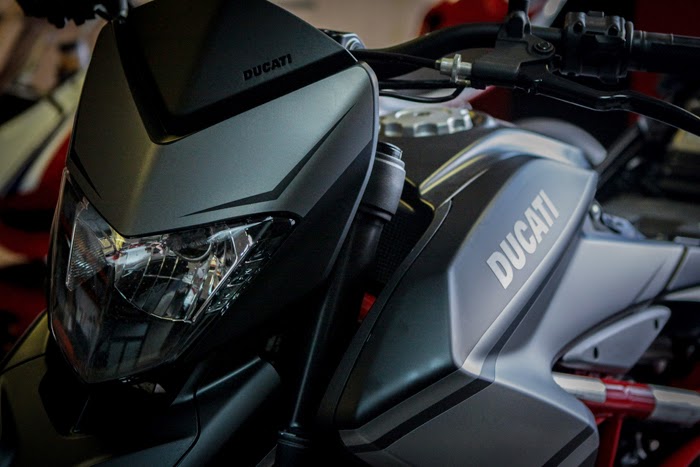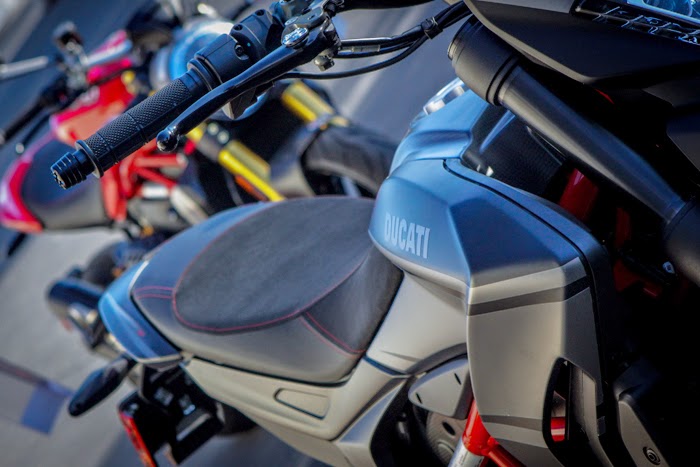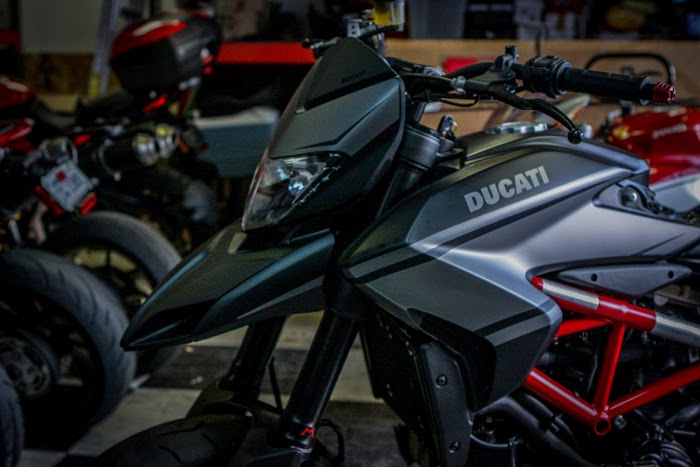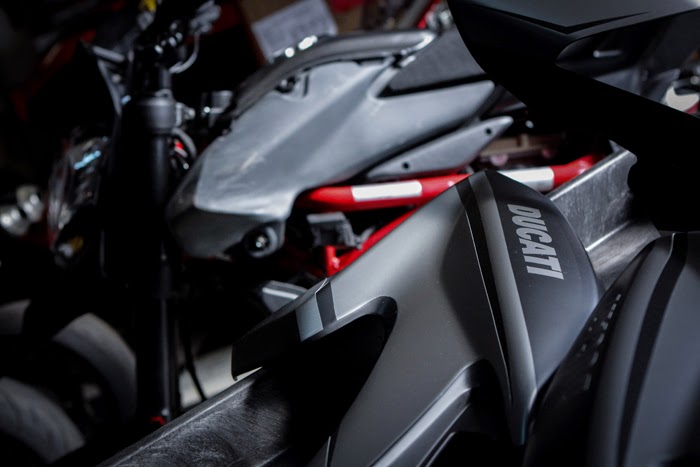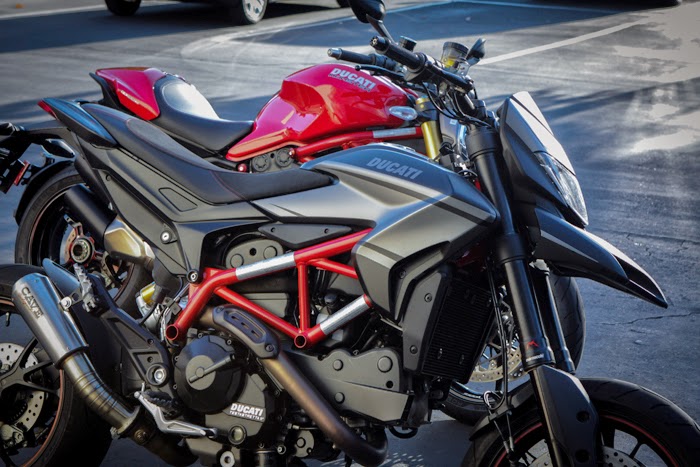 Bullitt SP :: Welcome to the Family
Well, well, well…what do we have here? A sexy little Italian that is equally happy on one wheel as it is on two? Yep. A complete hooligan bike that begs you to take your corners with a leg out, hop all curbs, and turn every speed bump into launch ramps? Yes sir! When the chance to own one of these amazing machines presented itself, I had to go for it. Please help me welcome the Bullitt SP into the family.
Growing up riding a dirtbike, the upright stance of a motard just feels right. Having ridden bikes like the Suzuki DRZ400 before on the freeway, I assumed all would feel somewhat wobbly and underpowered at freeway speeds. Boy was I wrong!
The white 'Ducati Corse' livery is stunning in its stock form but I'm sure many of you here can relate, there's no way I can leave a machine stock. The first move made was to pull the rear shock and sub-frame and send them out for powder. We went with a high-gloss black for the Öhlins rear coil and a matte black for the subframe.
From there, we pulled all of the white bodywork and dressed the new girl in Ducati's matte black bodywork. Not wanting the bike to be mistaken for the standard Hypermotard, we applied the SP decals over the black bodywork.
The Hyper SP is a blast to ride at all speeds. Constantly riding naked standards and cafe racers, the lack of wind protection is not an issue here. With three riding modes to choose from, an available 110hp, 50 mm Marzocchi front forks, fully adjustable Öhlins rear shock and Brembo brakes, the Bullitt SP is a force to be reckoned with.