This page chronicles the build of our very first custom build, the Bullitt OG, which is a 2005 Triumph Bonneville Black. The build actually birthed the blog! We started the whole thing as a simple way to chart the progress of the Bullitt OG, with our original tagline being; 'From a standard cruiser to a cafe racer'. The content below is a summary charting the progress of the build, starting with the most recent working backwards. We hope you enjoy!
Lost photos :: Bullitt OG
We were going back through photos of the Bullitt OG the other day and came across a photo set that never saw the light of day. Initially confused as to why, we then remembered this was right before the sale of the bike, and right before we met Richard Le, who admittedly took far better photos of the old girl.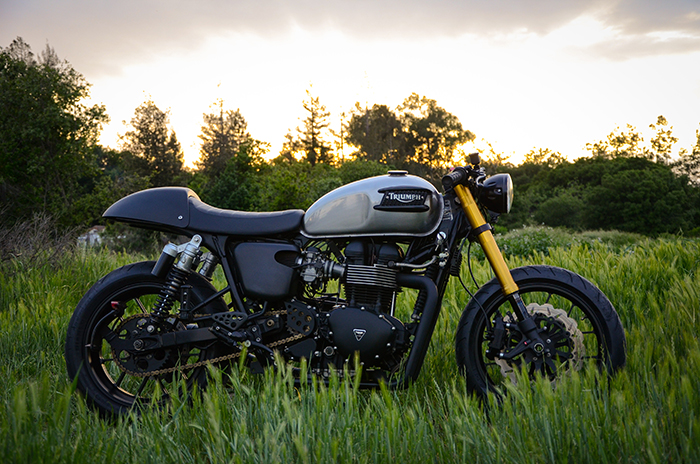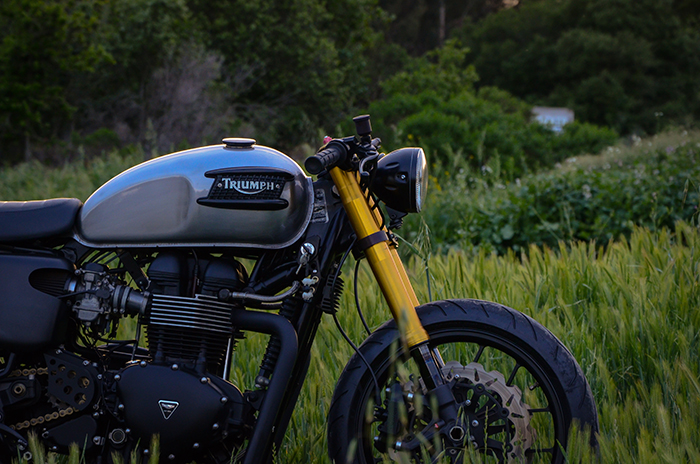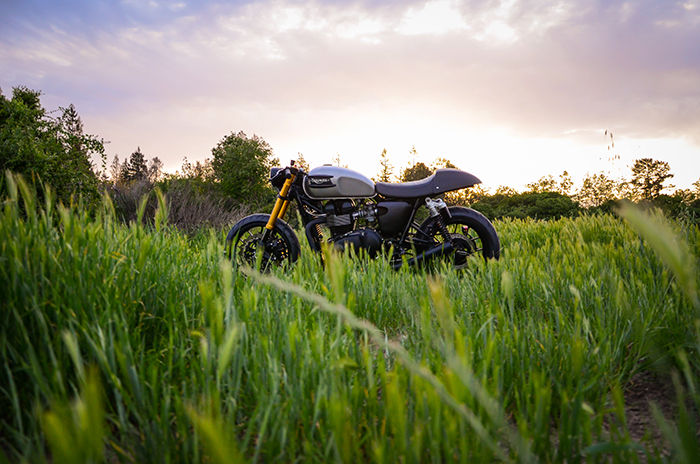 These particular photos were an end of day, "let's see if we can make something happen," type of shoot. Taken at the base of the Santa Cruz mountains in Saratoga, CA, the sun seemed to want to play with us that day.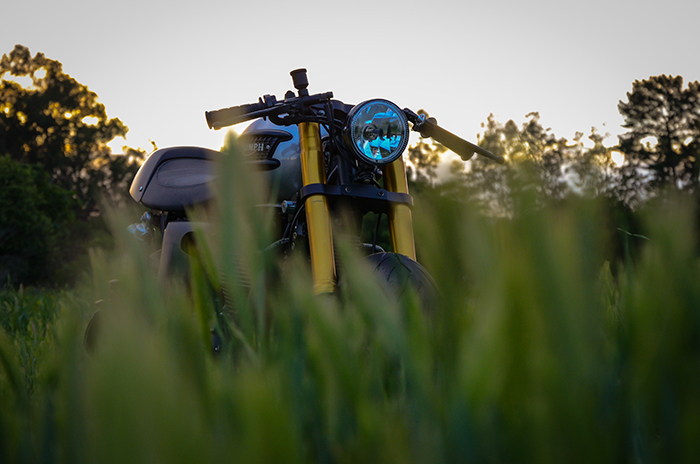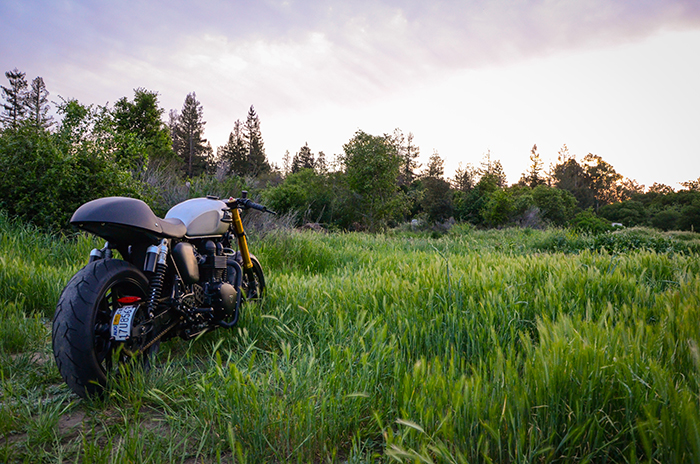 Riding out under light rain, the sky eventually turned from dark to light, then from purple to pink, and the grass lit up in a vibrant green during the process.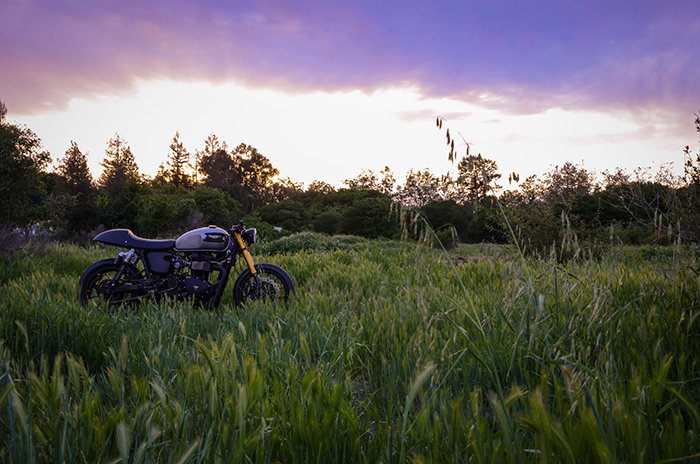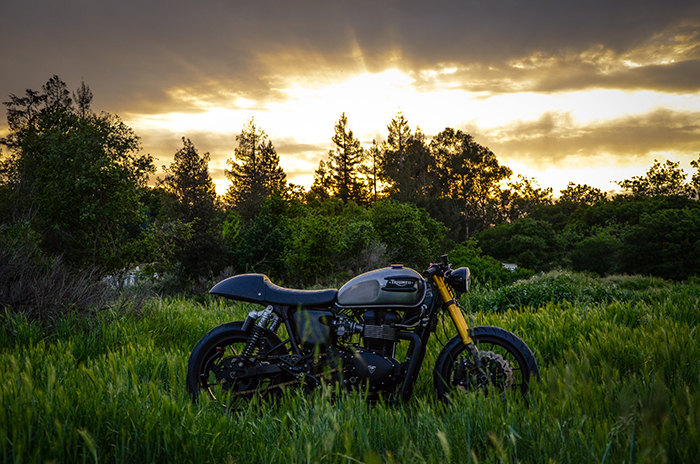 Triumph by the sea
Seeing these photos, it's easy to reminisce get a little sad that she's gone forever. One motto we have around the shop is that every bike that leaves, just makes room for another project, more memories, and we refuse to regret passing the torch to a new owner. That's what it's all about. Building a fun bike, then eventually, sharing the fun with the next guy.
There's no doubt we still miss having the Bullitt OG around and were definitely sad to see her go. We had lots of fun with her over the years; plenty of late nights and bloody knuckles wrenching and no shortage of good rides and good times with her too! As we prepped her ready for sale a few months back, we took her out for one last joy ride through the Santa Cruz mountains, cruised the coastline and even stopped for a few photos. Now that our beloved Bullitt OG is gone, at least we have these photos to look back and remember our last great ride together!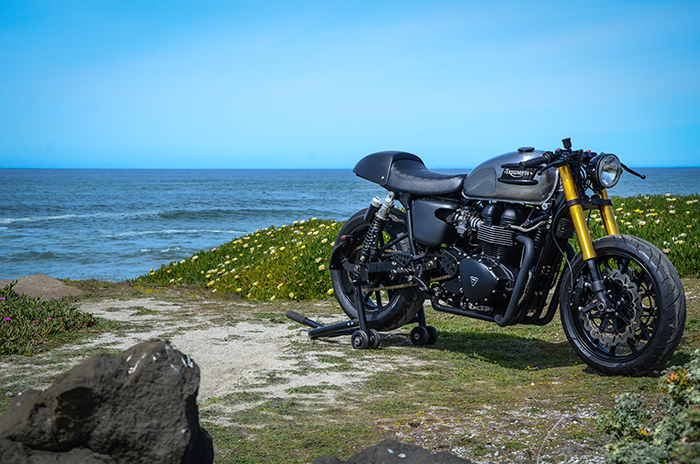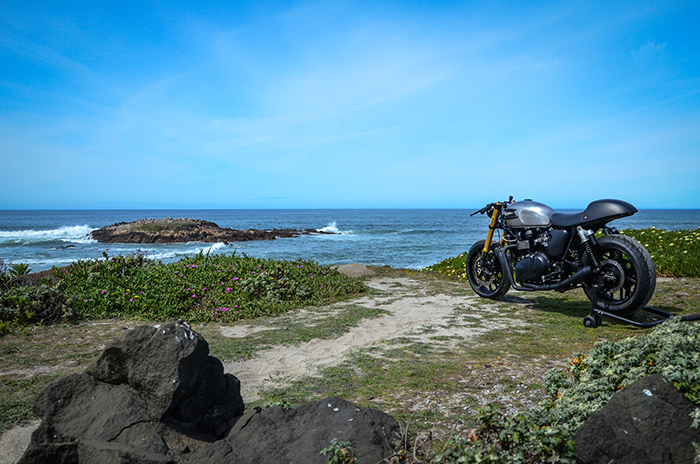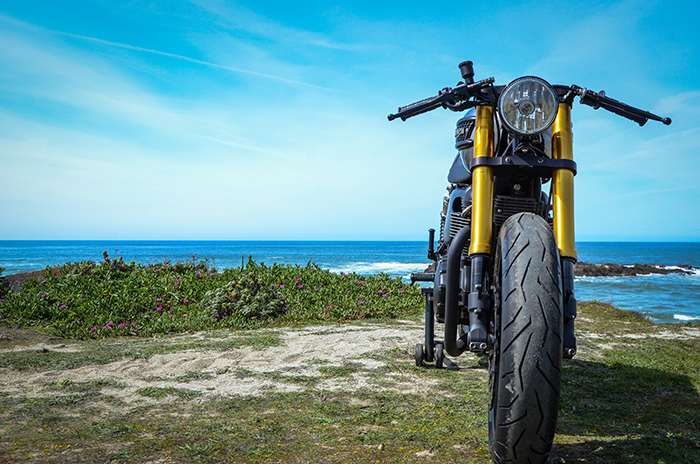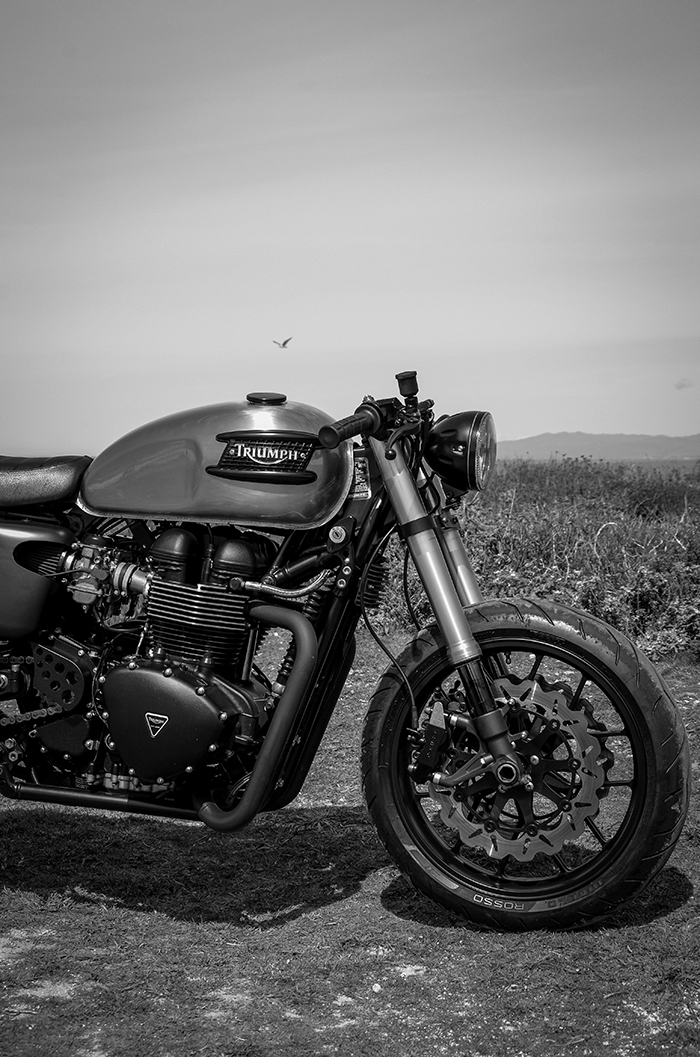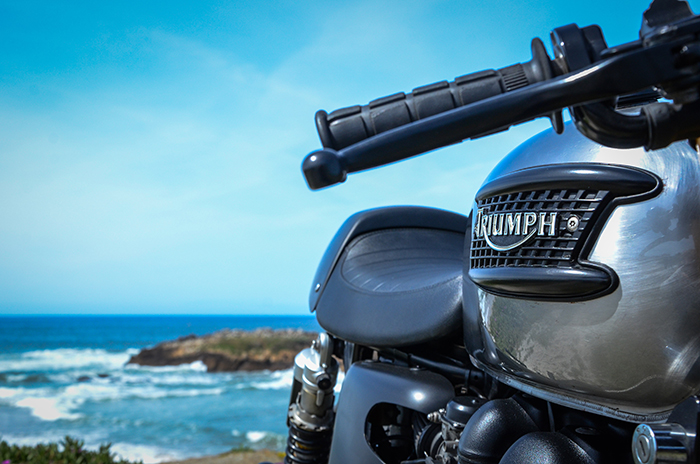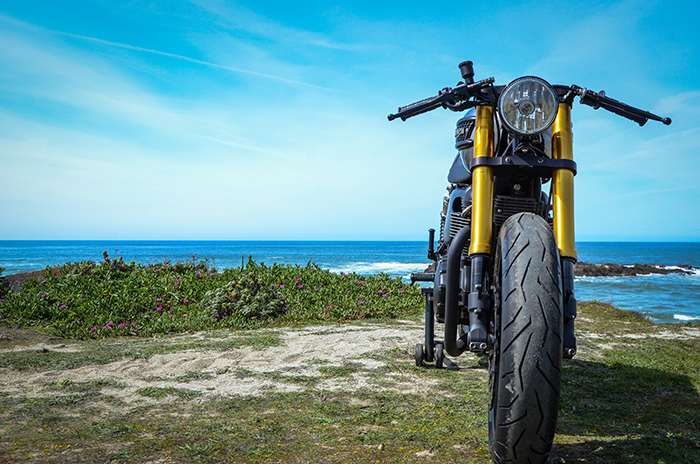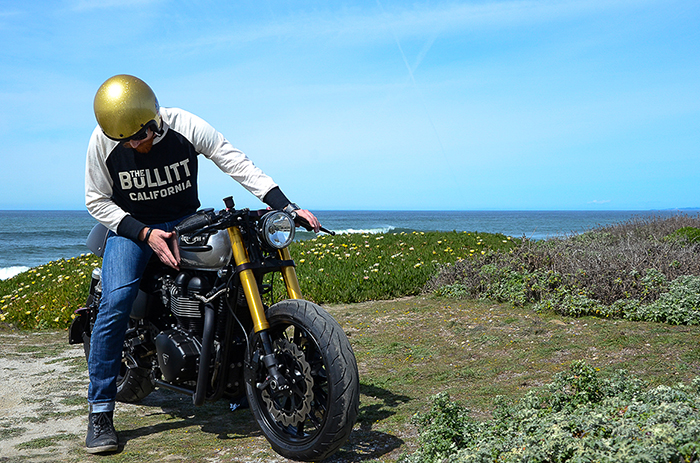 The Bullitt OG x Richard Le Photo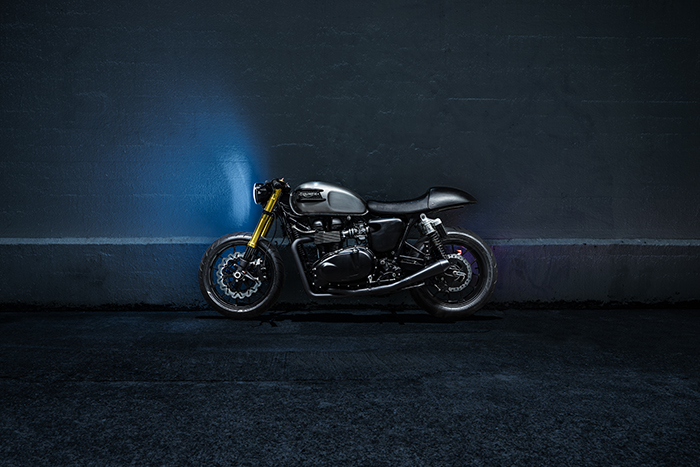 We were stoked to stumble across photographer Richard Le's work and were even more pumped when he agreed to shoot our custom Triumph, the Bullitt OG. Richard does the bulk of his work with cars and this was actually only the second bike he's shot before. Judging from these killer photos, it seems pretty clear that he's having no problems adjusting to shooting bikes.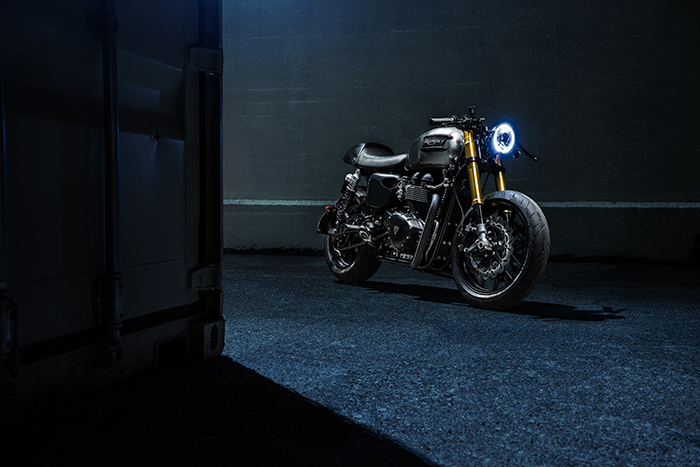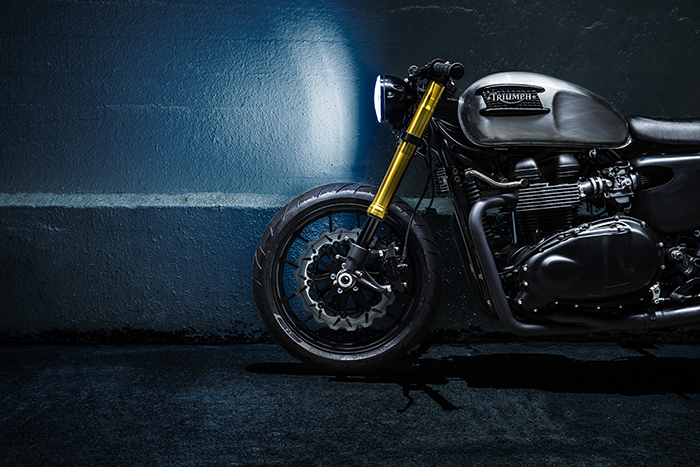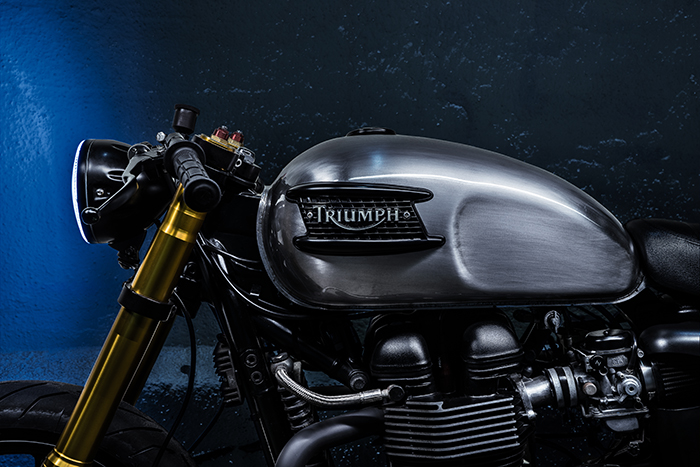 We headed up to Treasure Island in San Francisco and found a big dark wall facing the Bay Bridge and proceeded to 'light paint' the bike. I helped work the remote trigger on the camera while Richard ran around the bike with a flash taking long exposures. He took multiple passes to get the light just where he wanted it.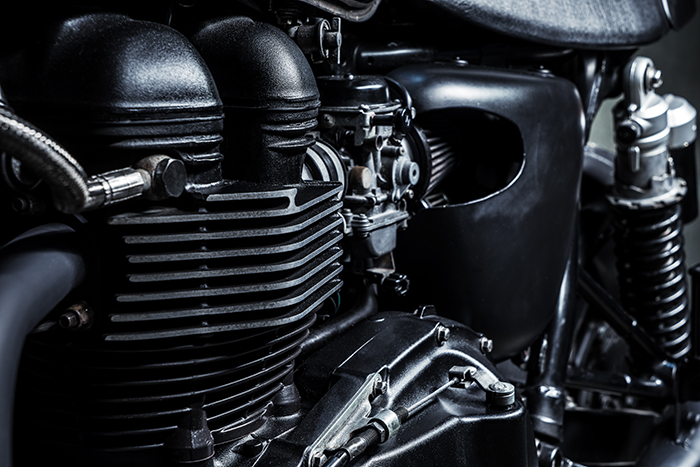 It seems that Pipeburn, wasn't the one ones who dug Richard's dark, dramatic photos. Our bike, and these photos in particular, were featured by Triumph Australia, and by popular Instagram profiles like @caferacersofinstagram and @black_list, who has 2 million followers! Obviously we think our build is pretty cool, but getting them photographed in a unique and killer way was beyond cool. We loved getting the chance to work with Richard and will definitely be calling on him for more shoots in the future.
Richard Le Photography: Web |  Facebook | Instagram
Bullitt OG takes 3rd in Pipeburn's 2015 Bike of the Year top 10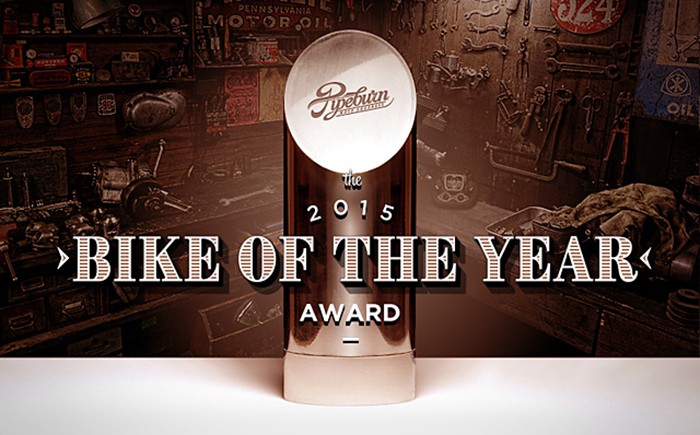 We were more than honored to be featured on Pipeburn last August but were absolutely blown away to learn that our very own Bullitt OG took the No. 3 spot on their '2015 Bike of the Year' Awards. In order to determine results, the Pipburn crew revisited every bike they shared throughout the year (approximately 180 posts) to count and re-read comments, tally Facebook likes and whip out their trusty "awesome-o-meter" to come up with their top 10 bikes for 2015.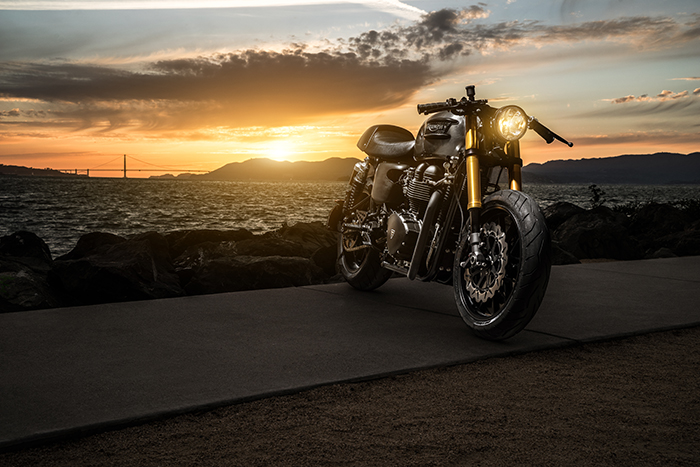 We were totally stoked to get a full write up in Pipeburn, one of the biggest custom motorcycle sites in the world currently. In that post, the editor states;
"Now, we all have our opinions and right now this is mine; I believe this is the best looking Bonnie ever built, bar none."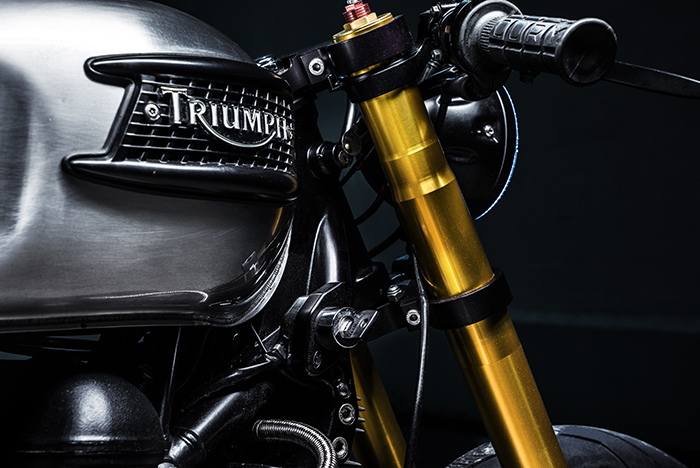 It was fantastic exposure and a more than generous statement. Check out Pipeburn's write up here.
For sale :: Bullitt OG Custom Triumph cafe racer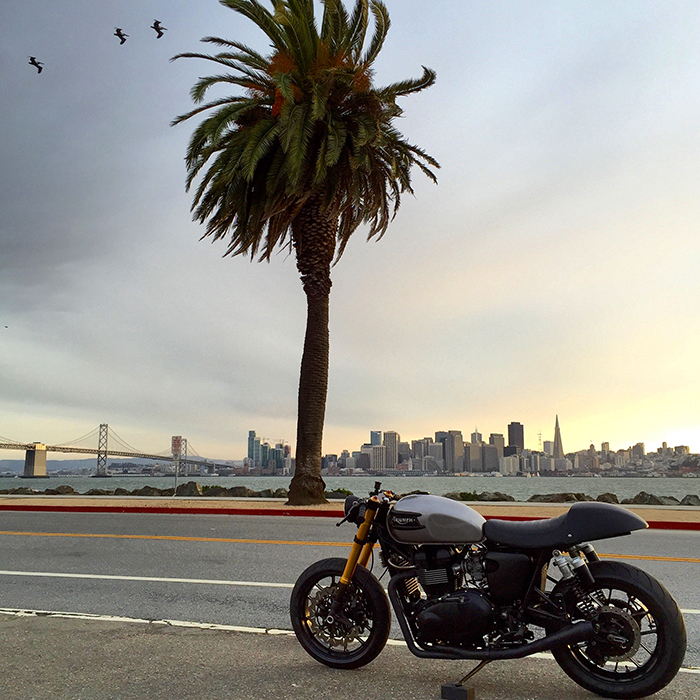 The day has finally come, The Bullitt OG is on Marin Speed Shop's showroom floor and is looking for a new forever home. This was a bike that we figured we'd never let go of, but we just have too many builds in the works to hang on to it any longer. Gotta make room in the garage and let this amazing bike find a new home.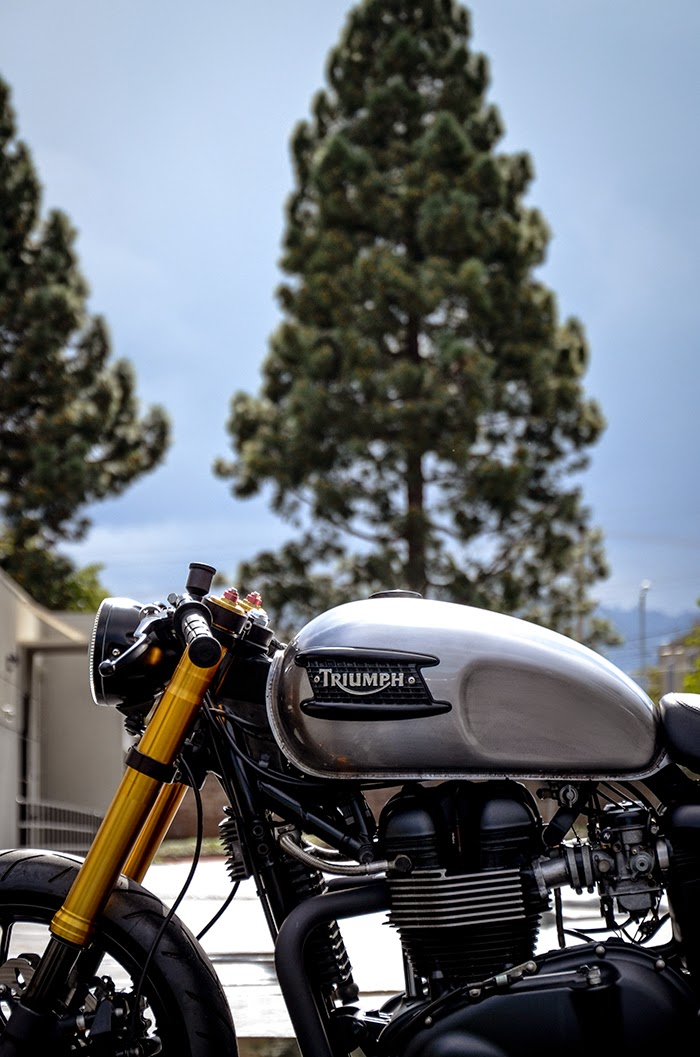 The Bullitt OG specs
2005 Triumph Bonneville Black
5-3/4 Halo headlight (LED ring)
Suzuki GSXR 1000 front forks
Suzuki GSXR1000 clip-on handlebars
Dual Galfer wave rotors
Blacked out Carrozzeria Aluminum racing wheels (3.50/6.00×17)
Custom bearings and spacers for Carrozzeria wheels
Pirelli Diablo Rosso Corse II tires (120×17 / 180×17)
Custom fabricated triple clamps
Upgraded steering head bearings
Custom front brake lines
Custom painted tank (stripped bare and clear coated)
Joker ignition relocation bracket
Custom hidden ignition button
Thruxton seat and custom matte black rear cowl
British Customs hydraulic brake reservoir
British Customs 2-into-1 exhaust
British Customs airbox removal kit
British Customs license plate relocation kit
Cateye rear taillight
British Customs front sprocket cover
K&N cone air filters
British Customs rectifier relocation bracket
KYB ZRX1200 rear shocks with blacked out piggybacks
Gold D.I.D. O-ring chain
19 tooth front sprocket
Upgraded 'Superlight' rear sprocket
Blacked out Classic Triumph tank badges
Blacked out gas cap
Blacked out carburetor caps
Blacked out heal guard
Blacked out Thruxton rear set and passenger pegs
Blacked out brake and shift foot levers
Custom side covers
Blacked out rear disk brake
Triumph knee pads
Oury grips
Blacked out levers
Bullitt OG :: Finishing Touches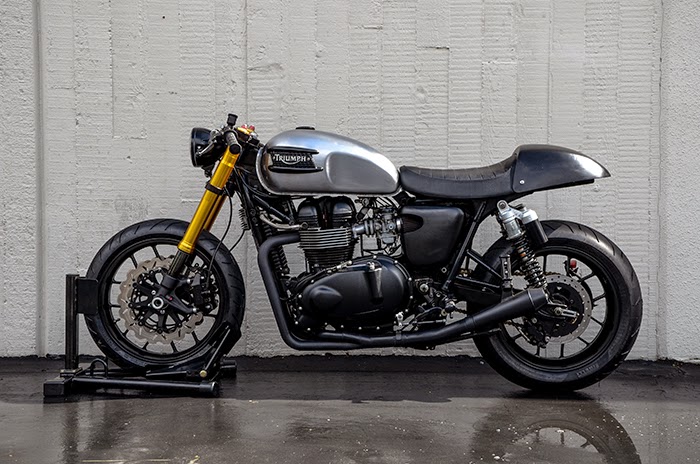 We've been busy putting the finishing touches on the Bullitt OG and getting her set for sale. With the bike all clean, a fresh coat of clear on the tank and the new ceramic-coated exhaust looking good, we figured it was due time to snap a few photos of the old girl.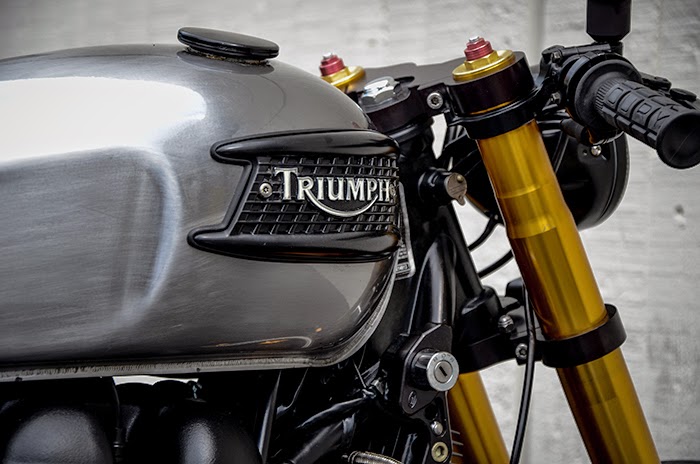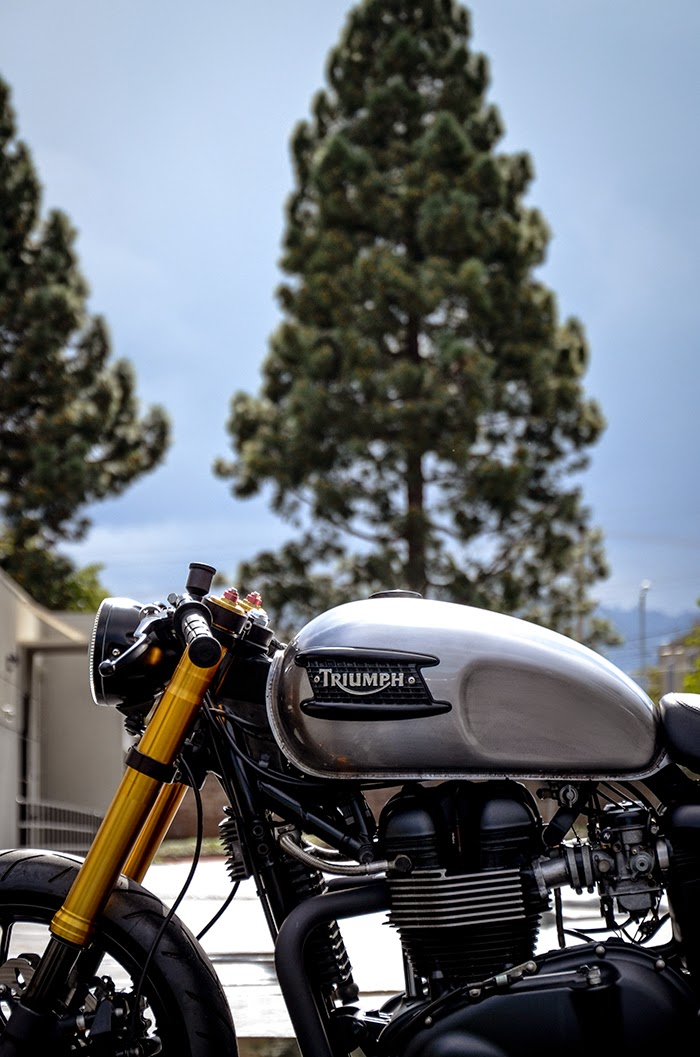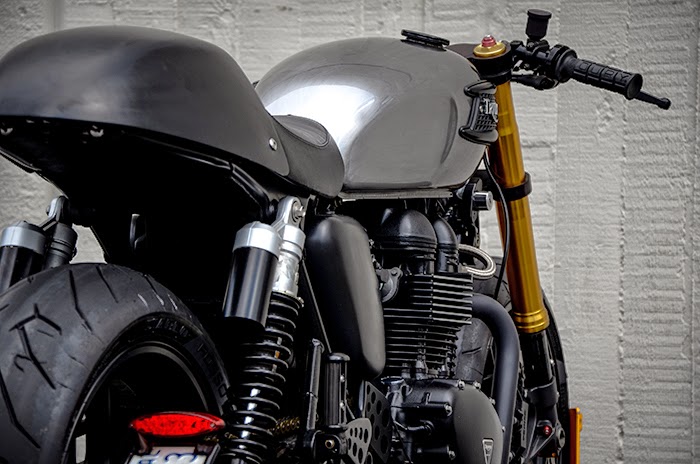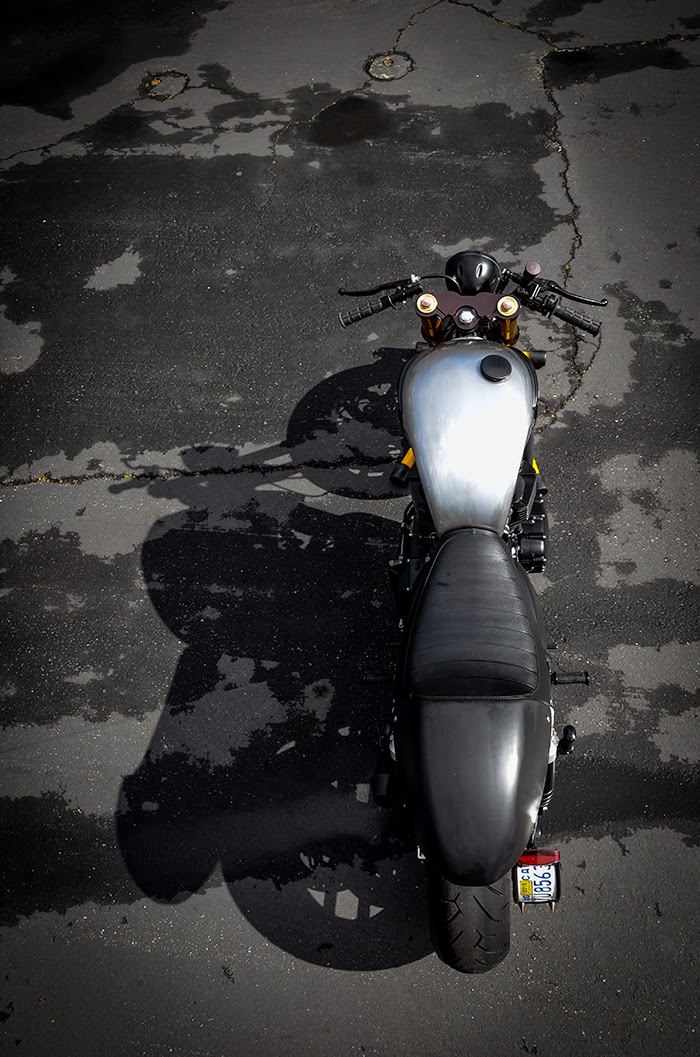 The Bullitt OG has headed off for sale at Marin Speed Shop in San Rafael, CA. If anyone is interested in buying the bike now, please send a note to pat@thebullitt.com. Willing and able to ship to the right person.
Bullitt OG :: Better and Badder
While winter here in California doesn't require us to store our bikes like our brothers buried in the snow, between surf sessions and year-round riding we still take the time to maintain our machines. What started off as a little planned maintenance turned into a full tear down with lots of rebuilding, repainting, recoating and more!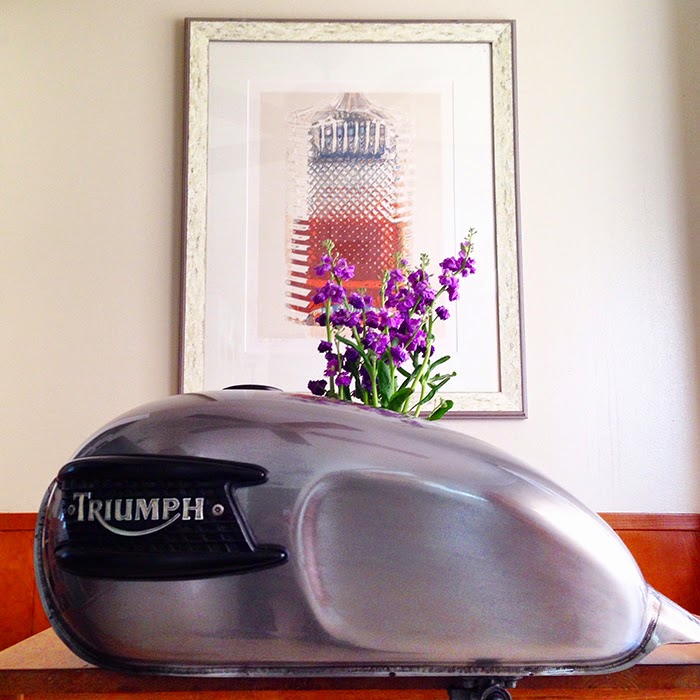 The paint on our tank was starting to some some wear so we decided it was time for a new coat of paint. Last go, we did a matte clear and we thought we'd change it up with a gloss coat. Almost seems criminal to put the knee pads back on!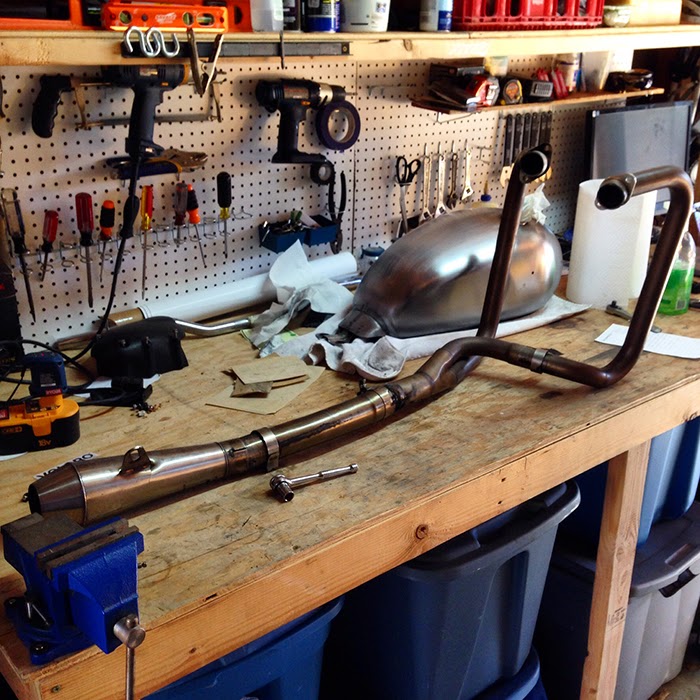 Once the bike was stripped down, we decided the exhaust might look good black. We opted for a matte black ceramic finish and are happy with the overall result.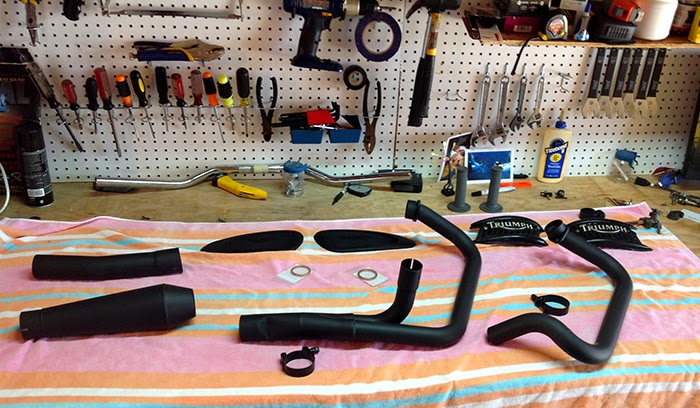 Our Avon Distazia's were pretty worn down so we opted for a new set of Pirelli Diablo Rosso Corse II. So far they're working out great!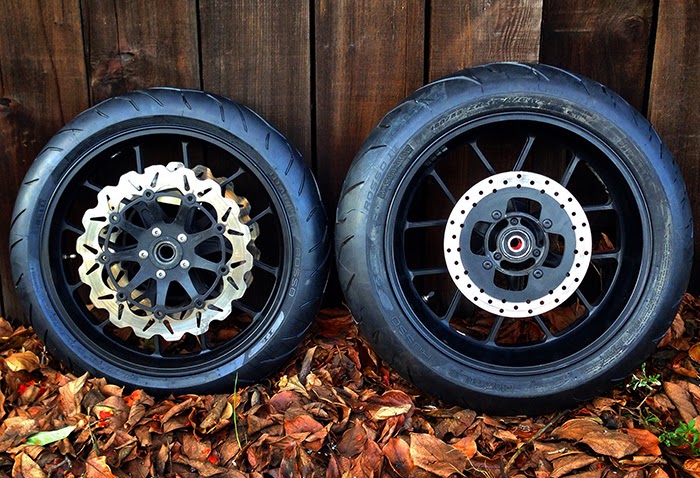 This bike is looking and riding better than ever before. Having said that, it may be time to go our separate ways.
Moto Art by the Left Handed Graphic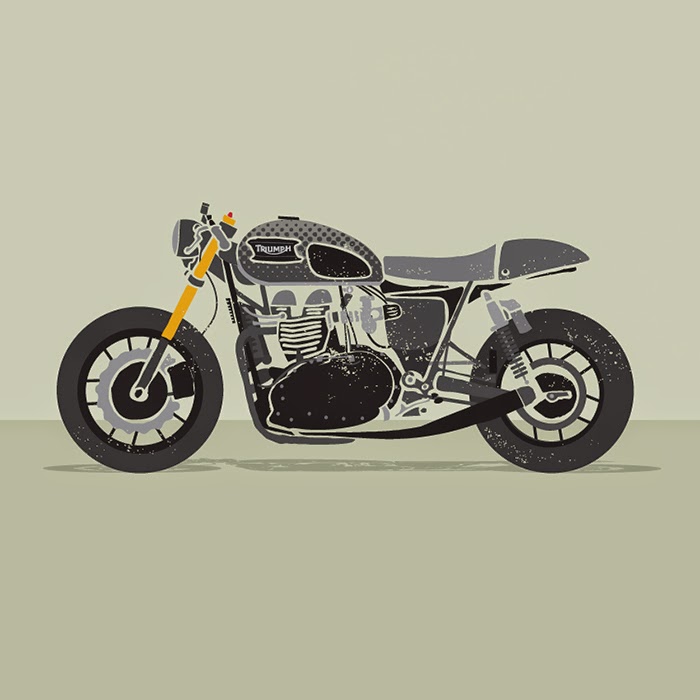 Pretty amazing to see the Bullitt OG illustrated by Spanish Visual Designer Jose Luis Garcia, aka the Left Handed Graphic. See more from Jose here.
Bullitt OG :: Status Update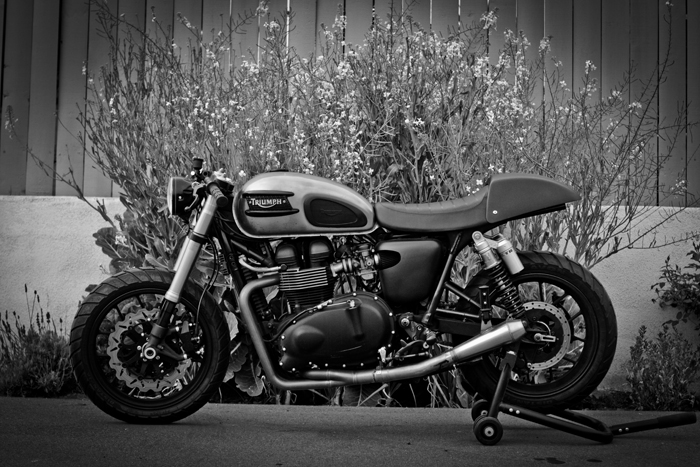 This old girl has been taking a back seat to the CB build lately.  She's still not finished, but probably never will be… Finally cleaned her off and took a few snaps.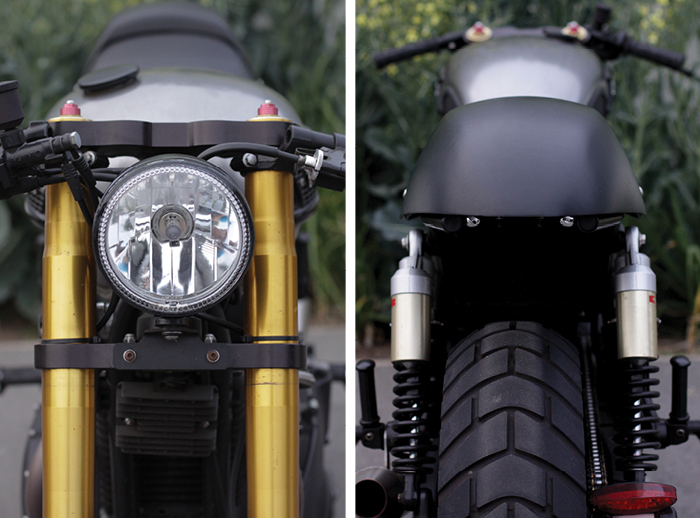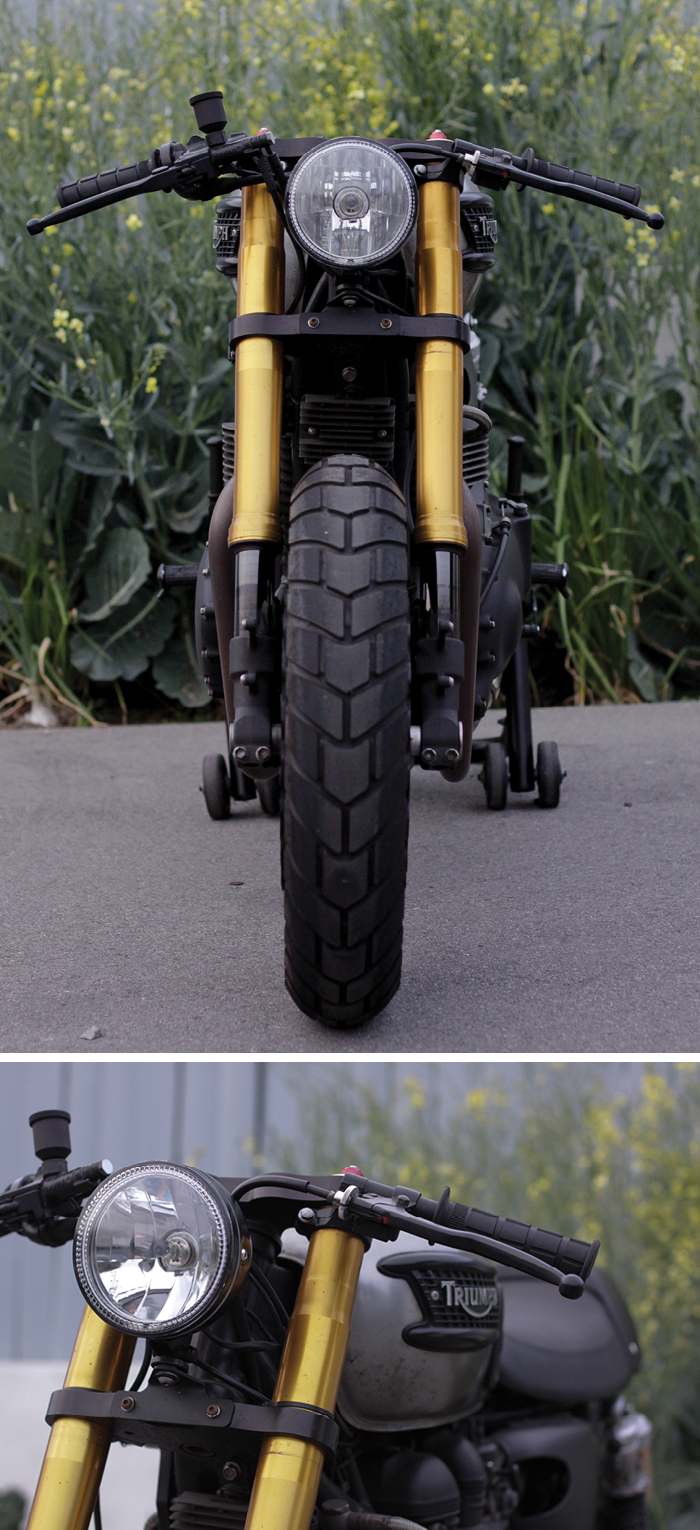 Though I'm still not loving the gold forks as much as I hoped, I'm still stoked on the overall transformation.
The responsiveness of the front end is much better, and is much stiffer. The Carrozzeria aluminum wheels are great. There's no way this would have been possible without British Customs' support. We're developing a kit that will allow individuals to be able to swap out the stock forks for inverted sets with minimal effort. Aesthetically I am still figuring it out, but am enjoying the ride.
Bullitt OG :: Side Cover Hack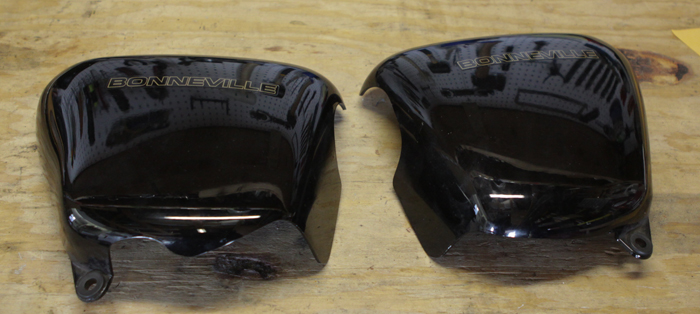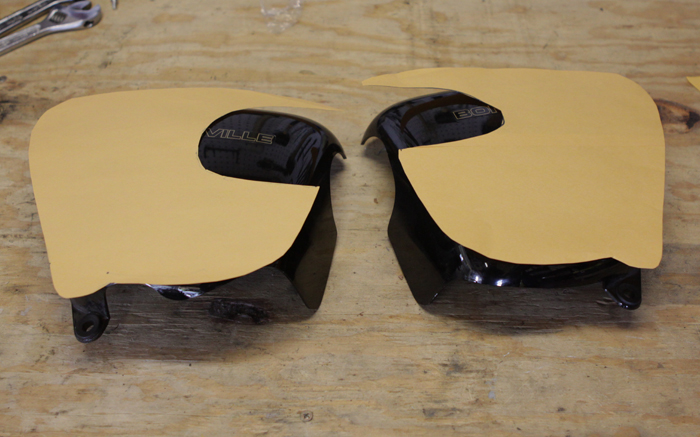 The Bullitt OG hasn't had side covers for a number of years.  I like the look of the pod filters but haven't yet taken the time to tidy up the tail, get an Li battery and make it look the way it should.  They were just sitting on the shelf collecting dust and one afternoon I decided to pull 'em out and started hacking. Swing and a miss or base run? I'm still not sure…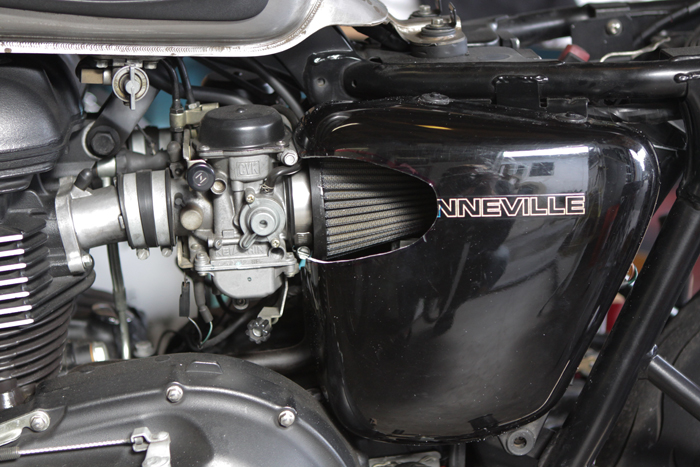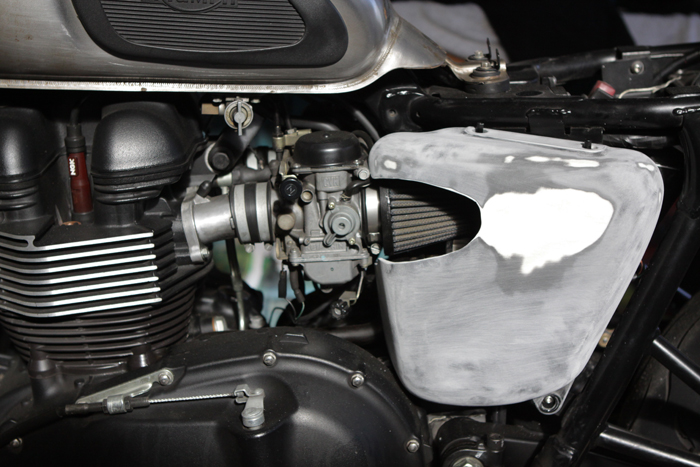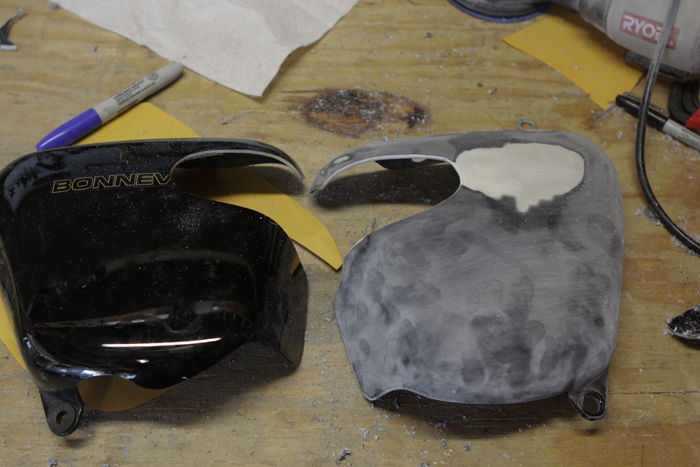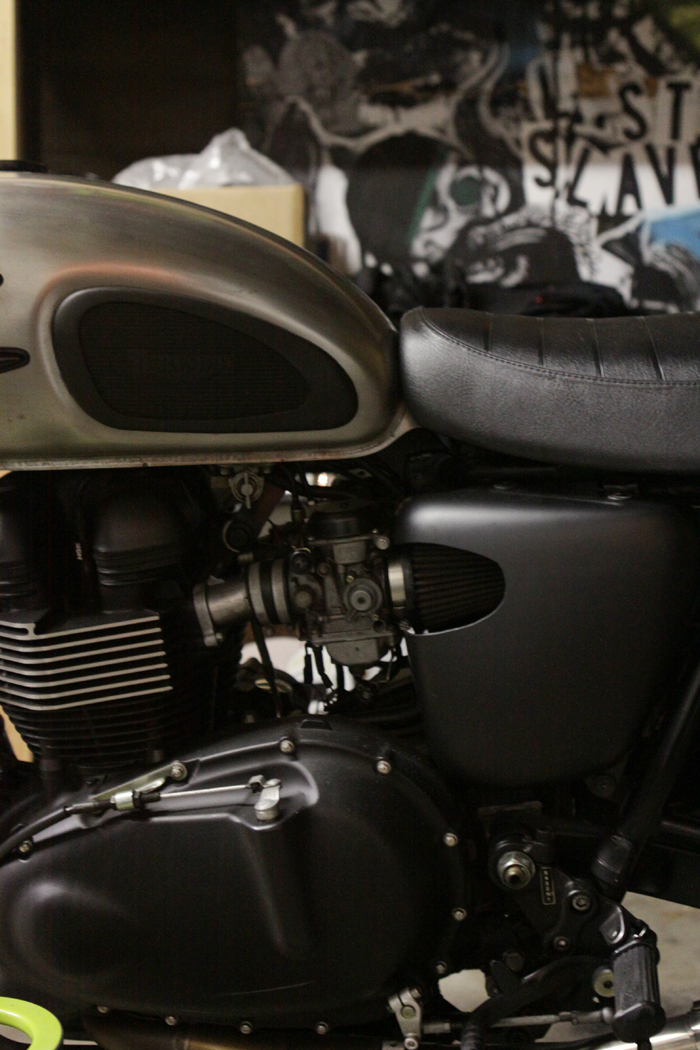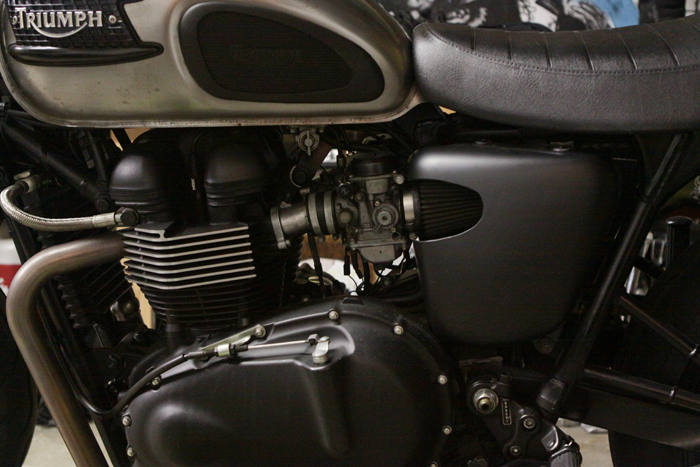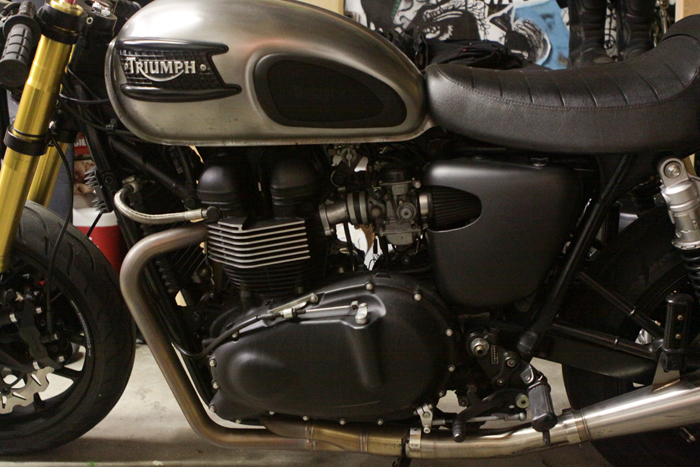 Opinions Needed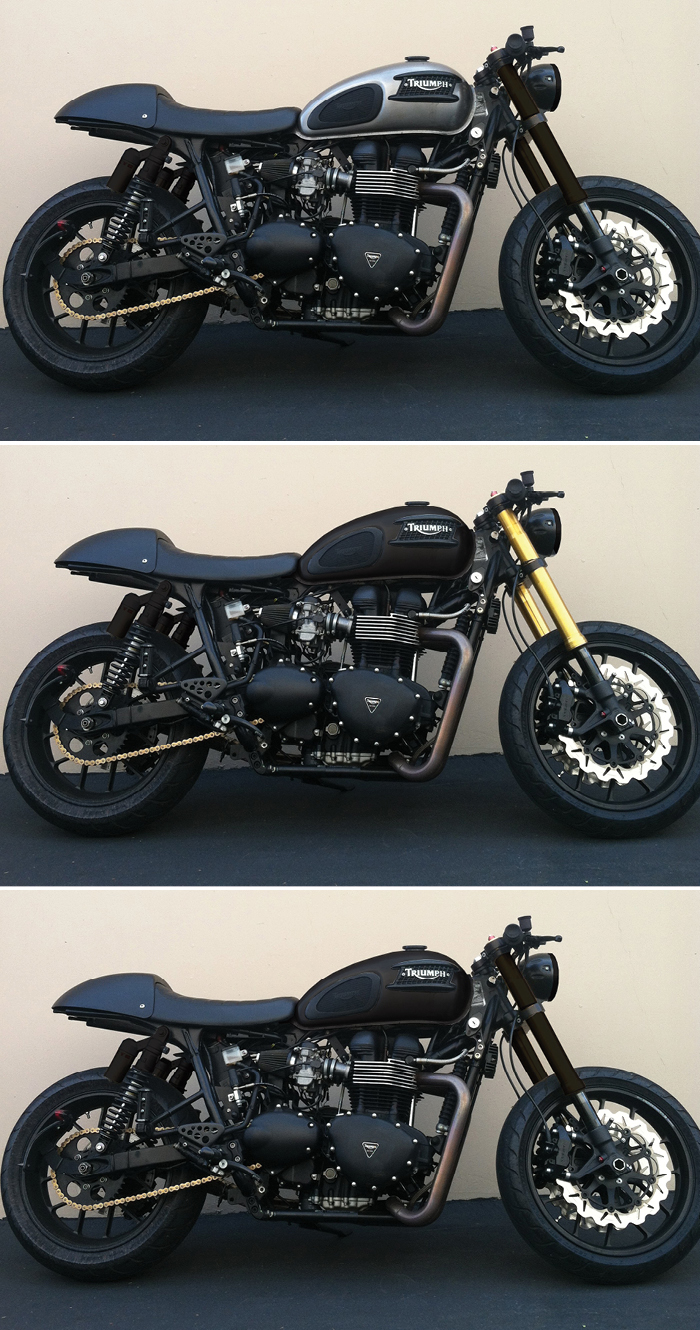 Photoshop mock-up; top, middle or bottom?
OG Bullitt…almost there
Getting closer: The Bullitt OG headed to a So Cal bike show with BC tank and tail.
Been out of town all last week with Cycle World on their Adventure Challenge with Honda. In the meantime, Jason at BC helped button up the rear wheel. We played dress up and threw on some BC tins for the Venice Vintage Rally. After seeing her with the black tank, I think I've decided she's going back to black. What do you think?
British Customs 2-into-1 Exhaust Update
Just wanted to drop an update on the British Customs' 2-into-1 exhaust which I've been meaning to do for a long time. 
Due to ground clearance concerns BC decided to pull their low exit version of this pipe and converted existing low exit owners to the high exit option. Admittedly I thought I didn't want to make the change initially but have grown to love the set up. The exhaust continues to look and sound great and is definitely Bullitt Approved!!
Bullitt OG Update :: Fork Mock-up Take II

Made some progress with the new forks over at British Customs recently.  We pressed the stock Bonneville stem out of the stock tree and pressed it into the new custom BC lower tree.  This way were are able to use stock bearings, etc.  Easy swap!
Decided to go with the aluminum wheels because they were a straight swap.  I was sure I wanted to keep wire wheels but I'll give 'em a shot.  I think they'll look much better powder-coated black and wrapped with dual rotors for sure!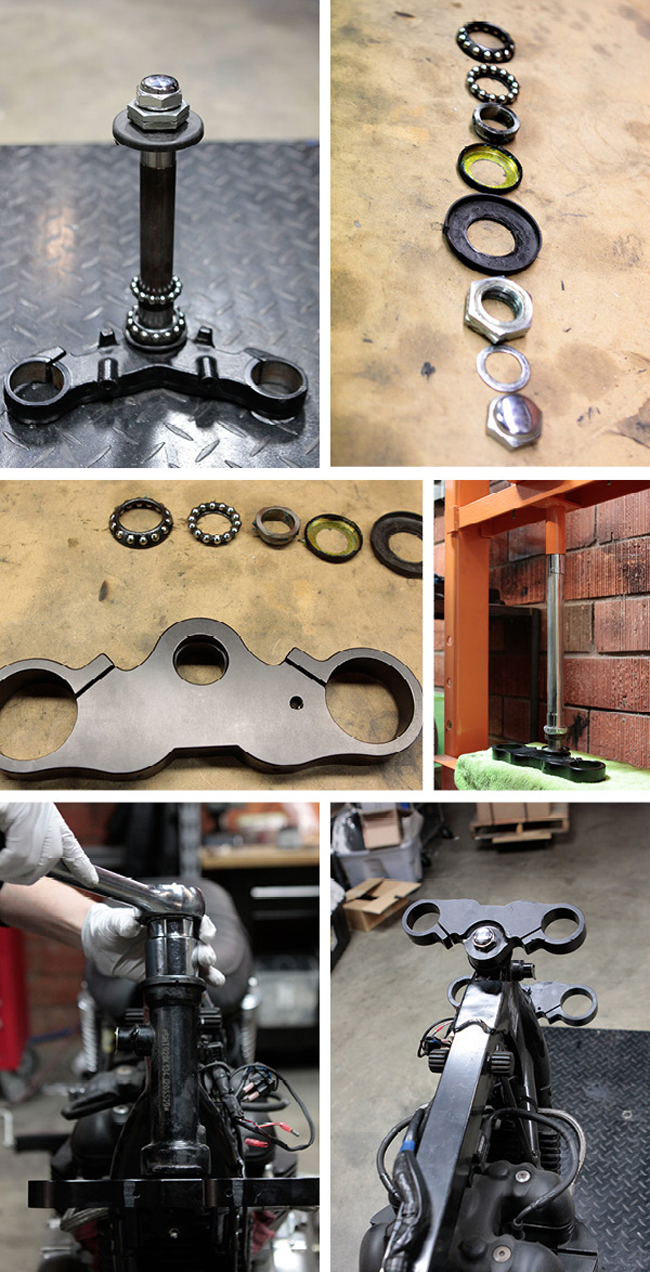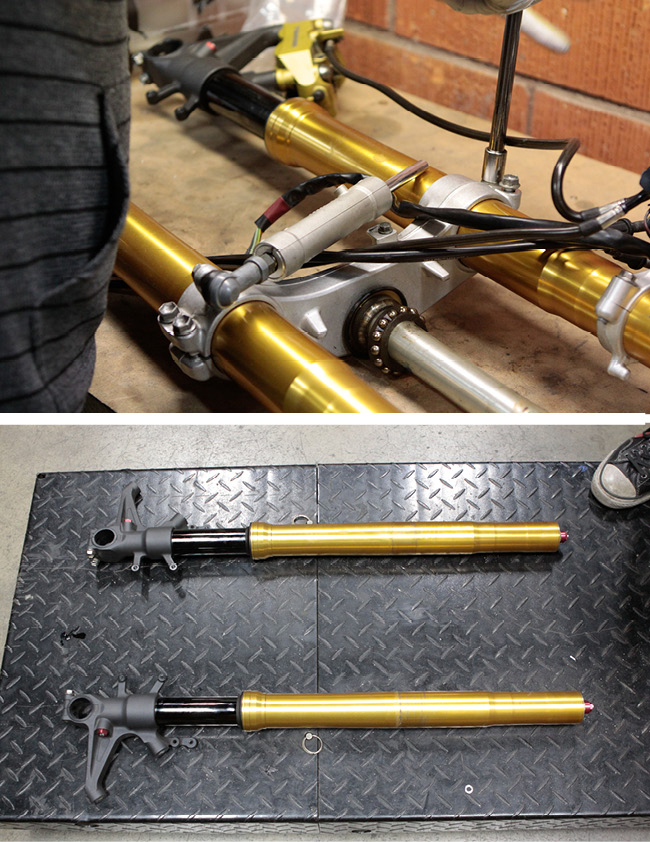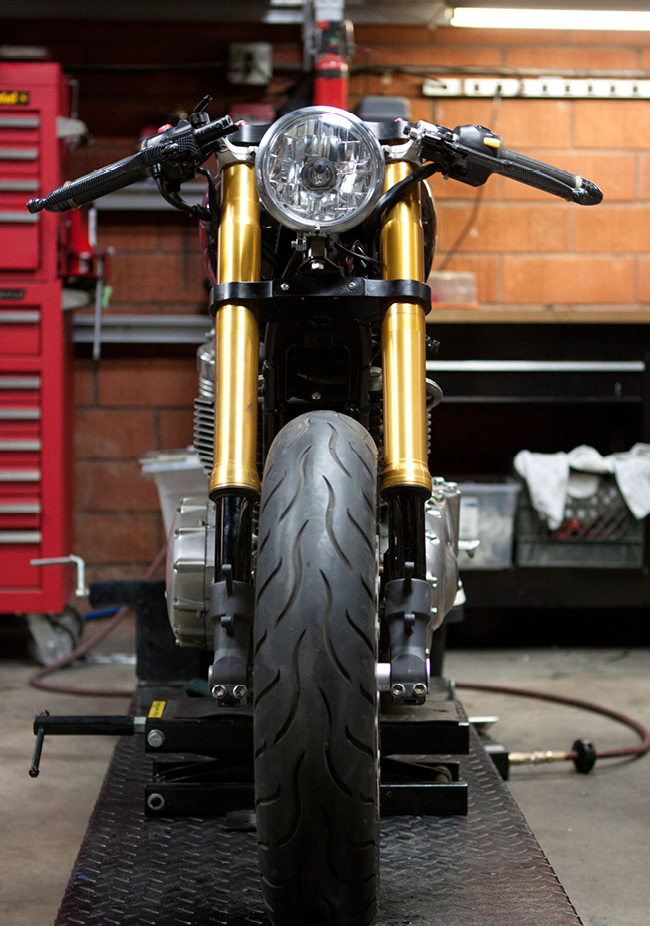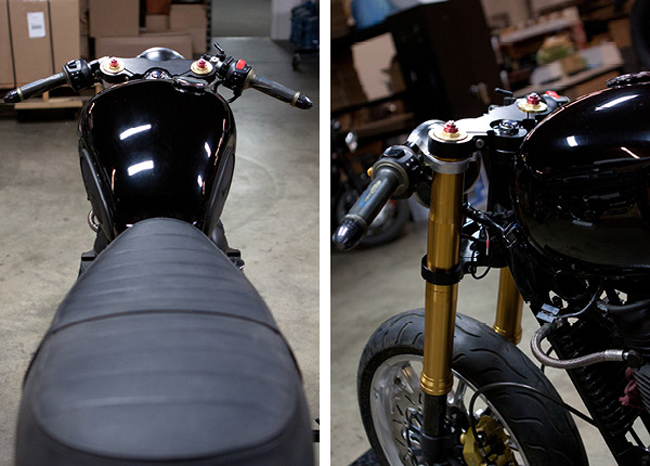 Sneak Peek :: Bullitt OG Inverted Front End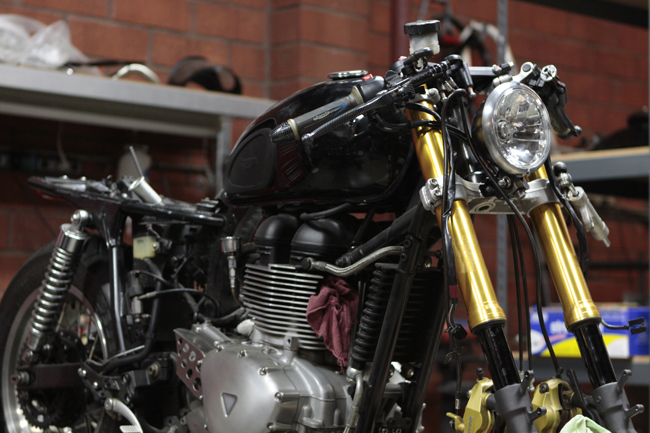 The Bullitt OG is getting a facelift and we're working out the details.  I stopped over at British Customs again and did a little mock up on a spare Bonnie they had available.  It's great to have a local shop that's into my projects.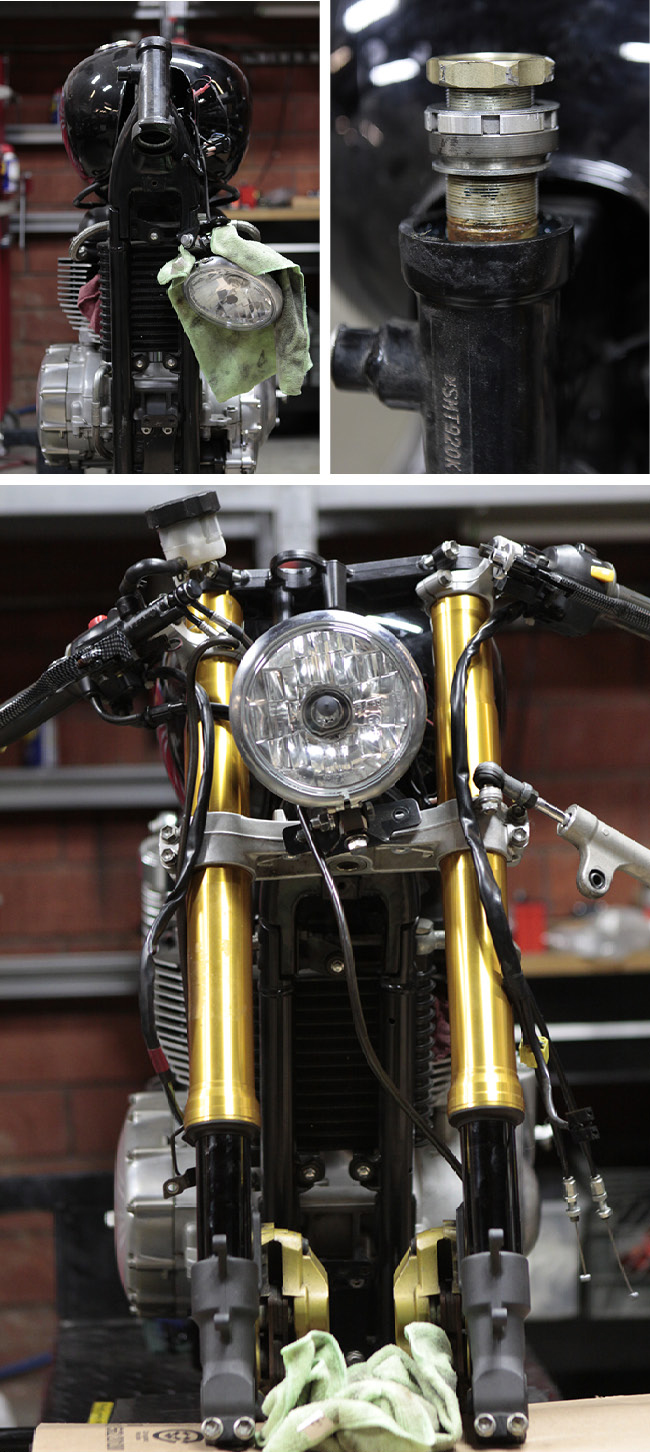 Next step is wheels. Been tossing around the idea of going with some Carrozzeria forged wheels or rigging up a custom spoked front with dual rotors – either in all black of course. What's your opinion?
British Customs Top Triple Trees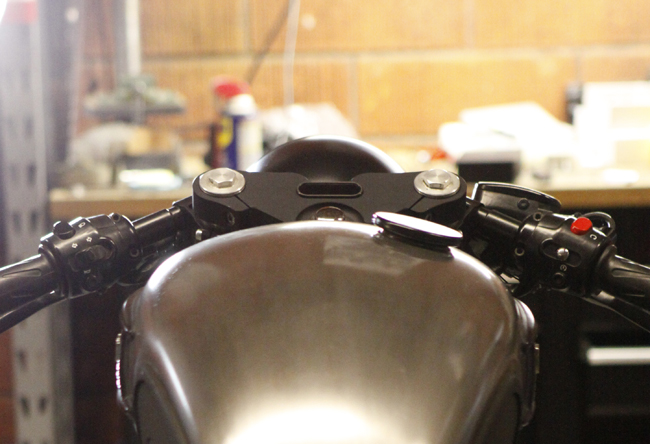 We've been working with British Customs again, this time messing around with their custom triple trees. They're coming out with three different top trees – one with holes for mounting a gauge bracket, one completely clean, and one with a hole for a Modogadget 'Motoscope Mini' (pictured above).  And it couldn't have come soon enough.  Finally we get to retire that old, cracked speedo on our bike.
New black rims!
The Bullitt finally got some new black shoes courtesy of BA Moto.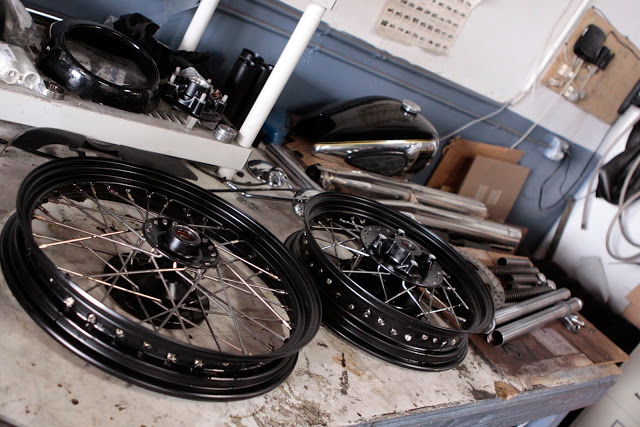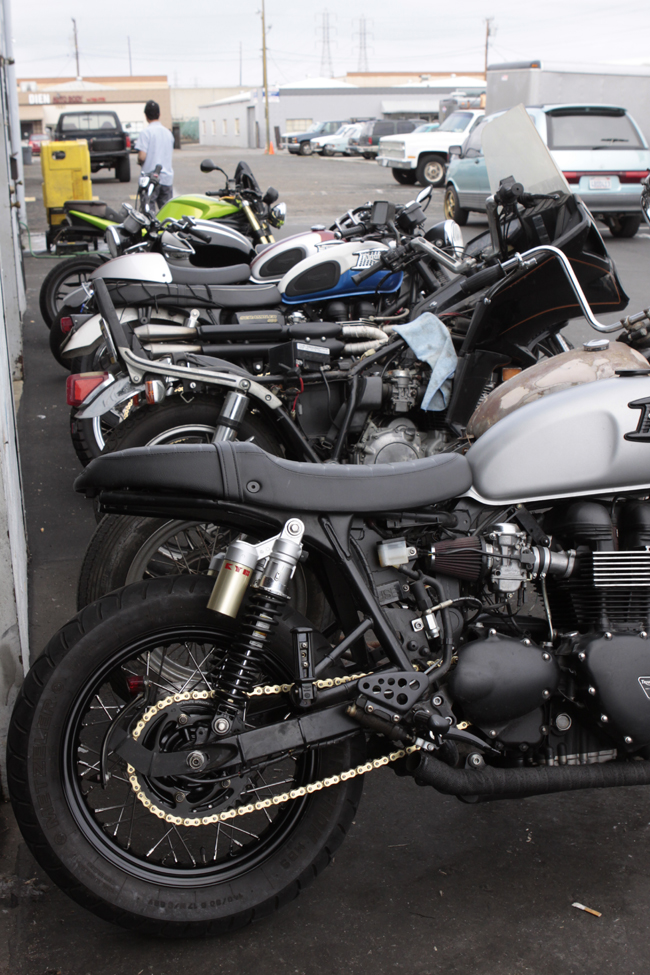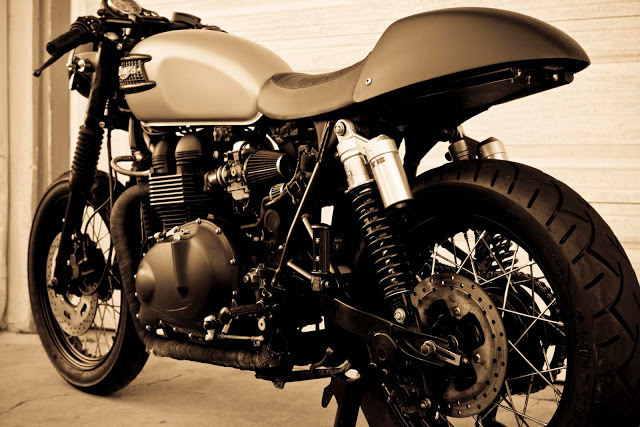 Chrome don't get ya home
The guys at
Newport Mesa Powder Coating
do great work for a very reasonable price. Definitely give them a shout if you have anything that needs a new coat.
I had chemically stripped my my spare tank down to bare metal and was just going to clear coat it myself.  After talking to the guys at NMPC we ended up having them powder coat it in "alloy silver" and then throw a matte clear coat over it. Pretty happy with the results.
Prepping for powder coating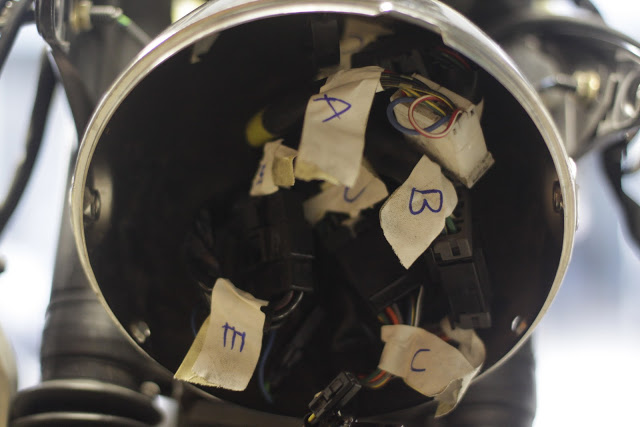 Can't wait to get it all back together…
New Tank – Part I
New tank, getting the chemical stripping treatment.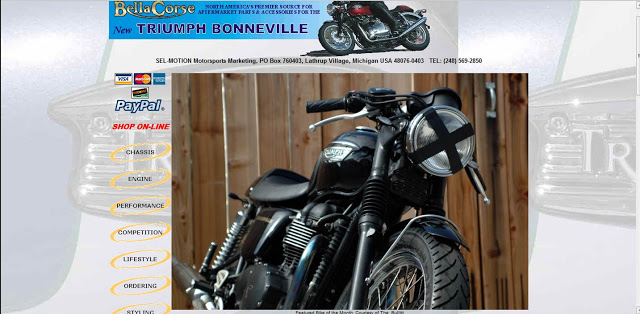 Pretty awesome to see the the Bullitt OG was featured on BellaCorse.com as the bike of the month.  August 2010
Amazing what a simple tail light can do
Finally got around to getting a couple pics of this…..
Airbox delete
Messed around at the BA-Moto HQ and finally got around to installing British Custom's air box removal kit…
Bullitt OG :: Bonneville to Thruxton
As this bike has come together in pieces, naturally not everything fits together, aesthetically speaking. The bike itself is having a bit of an identity crisis. "Am I a Bonneville? Am I a Thruxton?"…the bike might reflect. The answer is, no one really knows anymore.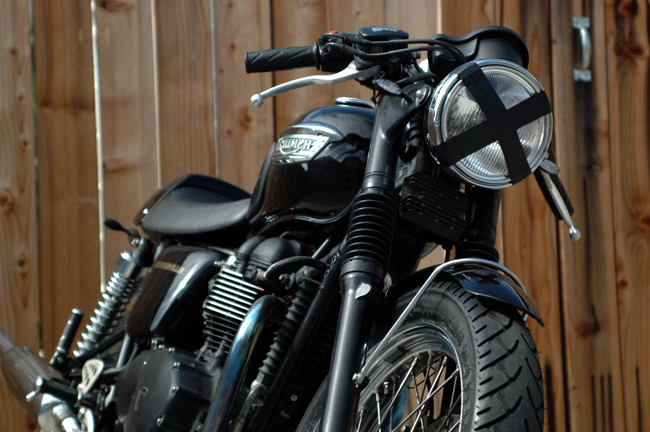 The previous owner added that chrome strip down the tank which is reminiscent of the classic Triumphs with a tank seam. I kind of like it, and kind of want it gone at the same time. My fear there is that it will pull off the clear coat as it has been on there for a few years I imagine. I originally hated the checked stripes that came on the seat cowl I purchased off someone…and now it's starting to grow on me. I'd like to swap out the exhaust for something a little more "racer"…but for now, I'm good. I'm trying to learn to just be satisfied with what I've got….but that might be a moot point. Once the "project" is over, I'm sure I'll be off to my next bike.
Here is the FEK installed:

What a difference a fender makes. I am very happy with the decision to pull it:
Header Wrap
Finally went ahead with it and wrapped the headers. Getting the headers off was easy but getting everything all back on and lined up with that cross-over took a few tries. I dipped the wrap in water before wrapping them to help get a tighter wrap which not only worked well, but it made for some cool photos when I warmed it up. All that water driving out of the wrap made it look like my engine was on fire…
Wiring fun with the Bullitt OG
After setting up the LEDs in the front, I gave them a test…. we're all blinking at once…shit! I figured I had crossed a wire somewhere which must be the cause of the blinking. After exhausting every wiring possibility I realized that the flasher relay worked perfectly when I had only two LEDs installed but with all four, something else was going to be needed.
I got some inline resistors from NewBonnneville.com and spliced them into the wiring harness in the rear. Apparently this is necessary to properly dissipate the appropriate amount of electricity. We drilled a couple of tiny holes into an appropriate point on the frame and zip-tied the relays where they would have minimal contact. They can get as hot as bulbs and melt stuff if the blinkers are left on.
Thruxton Bars

So I finally got the bars I had been waiting for…. Triumph just released the 2009 Thruxton replacement bars from the factory and I got the first pair sent to my dealership. I think they made a drastic improvement to the aesthetic, however those blinkers are still a major eyesore. One thing at a time I suppose.
Weekend updates:
New bars
Adjustment to the rearsets for better shifting
Black "racing" tape over the headlight
The inspiration behind the tape over the headlight was originally from a magazine I read on cafe-racers. I was thinking to myself that I should try it out but when I saw another Black Bonnie with the taped-up light, I knew I loved it. They just look so much tougher like that. When someone asked me what that's for, I replied that it comes from track riding. When on a track they make you remove most removable stuff and tape-up the headlight. Well, that's what I'm going with anyways…
New Thruxton seat, cowl and rear shocks
This bike is becoming more and more a Thruxton….and I love it.  I came across a guy who had replaced some stock components with some aftermarket bits.  He was just selling the seat/cowl combo but after hearing that I was building a cafe racer he threw in his stock Thruxton shocks too.  My bike is almost completely Thruxton….a Bruxton?…I think I like it.
The last thing I need to do is decide on whether or not to keep the racing stripes on the tail and add them to the tank, or to drop the stripes all together.  My instincts draw me to go black, black, black.  I'm probably headed for the dark side……
Thruxton rearsets
Amidst my mind-numbing and constant craigslist searches, I finally found a golden nugget: An older gentleman had posted a wanted ad, asking someone to trade their standard Bonneville footpegs (like mine) for the Thruxton pair. The Thruxton is the already cafe'd model of the Triumph Bonneville, coming stock with more aggressive rearsets. These allow for a more tucked body position, great for going fast, but can be less comfortable for all around riding. This guy didn't own a car…his bike was his car. So, I stumbled across a mod that was a free $500 addition I was planning on doing anyway.
By adding the rearsets, there is an additional linkage for the clutch that has been giving me a little trouble getting back into first. I'm sure it's only a matter of giving/taking a little slack in or out to remedy that. Forgot to get a good pic of them now that they're on, but I did manage to snap a photo of my bike wearing the Thruxton owner's rear cowl. I can't wait to add one of those as well. Next move will be getting rid of the those ridiculously wide clubman bars and getting rid of the mickey mouse blinkers. I've got the 2009 Thruxton bars on order and will slap them on as soon as they come. I can hardly wait…..
BellaCorse Mini Fender – a swing and a miss
I ordered a mini fender from a website, BellaCorse.com, and thought I had my fender eliminator needs all figured out. After getting it, taking off the stock fender and mocking the new one up, I decided I didn't like it. It's now been returned and I have a custom FEK in its way. I'm going for the LED blinkers and have to figure out how a flasher relay works.
Here is the mocked up mini fender. I just couldn't get on board. I've seen other people who have done a decent job with this fender and I was way excited to get this mounted but seeing it in person it just looked cheesy. It's a plastic dirtbike/supermoto universal fender that can work with a Triumph. It left a big hole under the seat, not covering all the original area from the fender. I'm anxious to get the ugly fender and massive blinkers gone…I am…but I just wasn't feeling it.
The bike, as purchased in 2008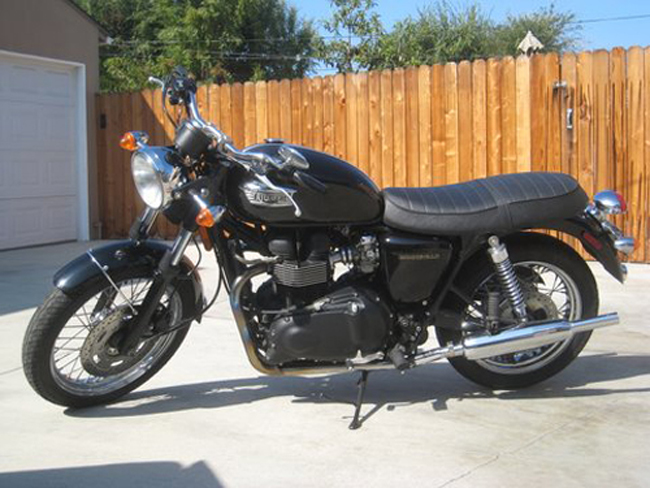 The Bullitt's first post

So, this is my first attempt at anything even resembling a blog. My intentions were to start an online art portfolio of sorts, but we'll see where this thing leads me. My other thought was to make this a blog charting the progress of my new bike, a Triumph Bonneville. I will be taking this bike from a standard cruiser and converting it into a cafe racer. It'll be interesting to see what happens, and realistically, this could be my one and only post. – Dated 12/19/08