Transforming a D16 into a tracker
The RSD Desmo Tracker has been one of our favorite builds to ever roll out of the Roland Sands Design garage in Los Alamitos, CA. Built back in 2011, it doesn't feel like it's aged a day. There's so much about this bike to be appreciated, but first and foremost, the fact that Roland and crew tackled a bike that was already beautiful and the definitely of high-performance, and transformed it to something completely different without somehow bastardizing its original incarnation.
For those of you unfamiliar with the Ducati Desmosedici RR, it's Ducati's limited production road-legal version of their Desmosedici MotoGP racebike. To true Ducati enthusiasts, or Ducatisti, this bike is a unicorn. Tearing into one, more so, tearing one apart would be blasphemous. Which is exactly why RSD had to do it.

For as radically different the bike's overall stance and aesthetic look, there were very few modifications to the frame and engine. A few bodywork tabs here and there, but overall what you see is what was behind the glossy red fairings of the stock D16.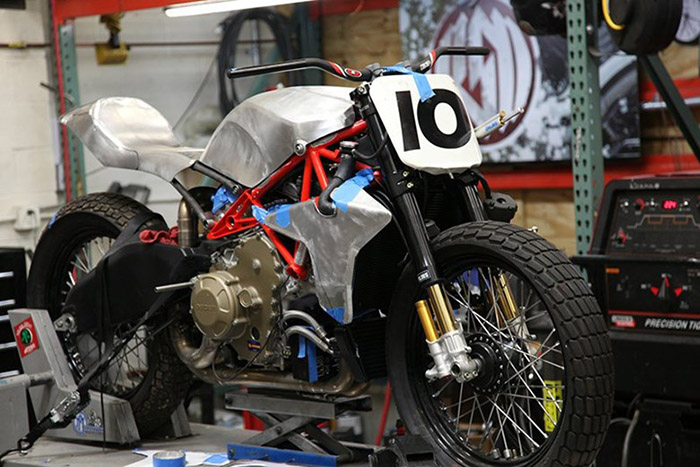 While RSD left quite a bit alone in terms of frame and engine, still the level of customization was pretty extreme. Modifications include an aluminum hand-made body mounted to the original frame. Fabricated cromoly subframe and swingarm, dirttrack specific suspension settings coupled with new dirt track triple clamps, 19 inch Performance Machine Flat track wheels and Goodyear tires give the Tracker its aggressive stance. Titanium pipes with courted cross over's allow the exhaust to exit at an incredible pitch. Paint is by Chris Woods at Airtrix in Santa Barbra. Aside from paint, all modifications were performed at Roland Sands Design.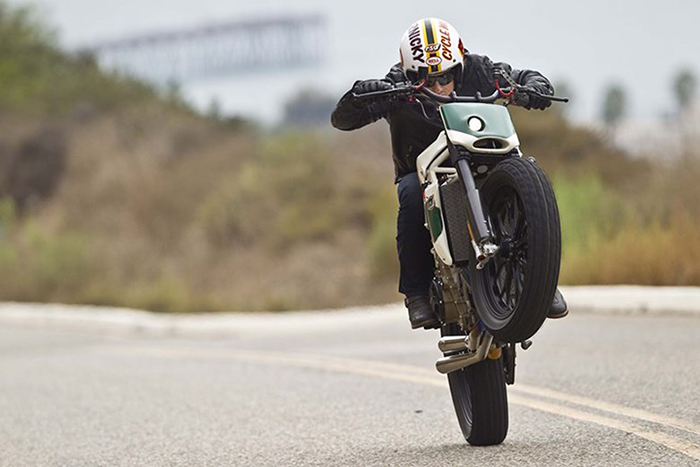 Cycle World's Mark Cernicky giving the RSD Tracker a go. Image: Jeff Allen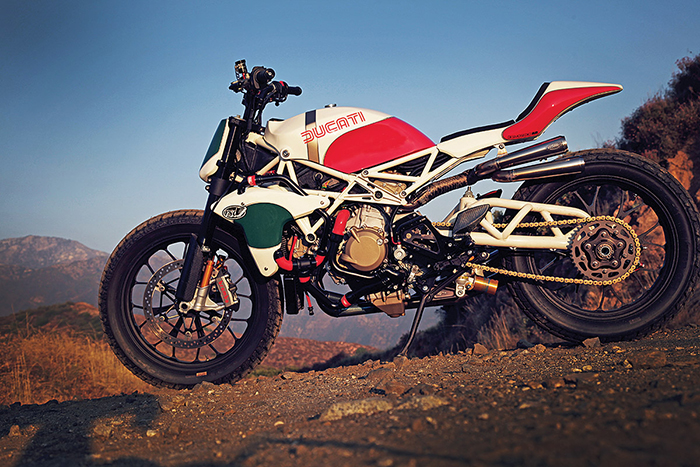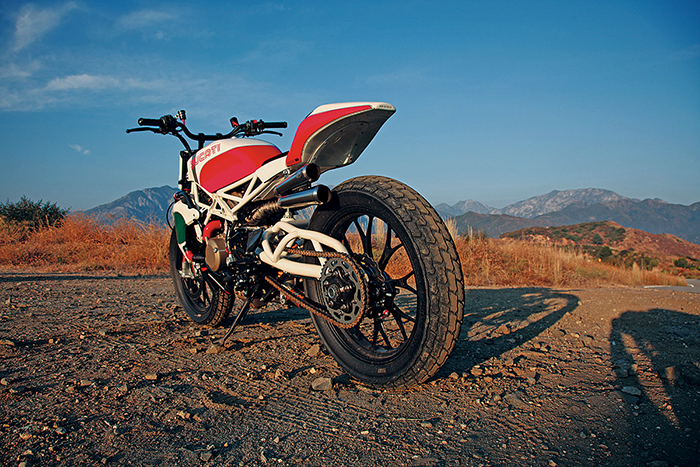 Whoever was writing for RSD at the time did a fantastic job and we want to share the text as they wrote it;
"The Desmo continues on her path to another existence. A path scattered with gravel, clay and dirt. Computer driven telemetry and laptops have been traded in for tire groovers and rawhide mallets. She accepts her fate gracefully. At her heart lies a deep desire to scream at the better part of 18,000 RPM. She shall be given the opportunity to satisfy her desires, but on another field of battle. Perhaps the there is a mile or two of flat dirt somewhere in her future with enough grip to put her to the test. Wheeling, sliding and begging for just a little more track, just a little wider exit. God bless the brave soul who dares to test her limits."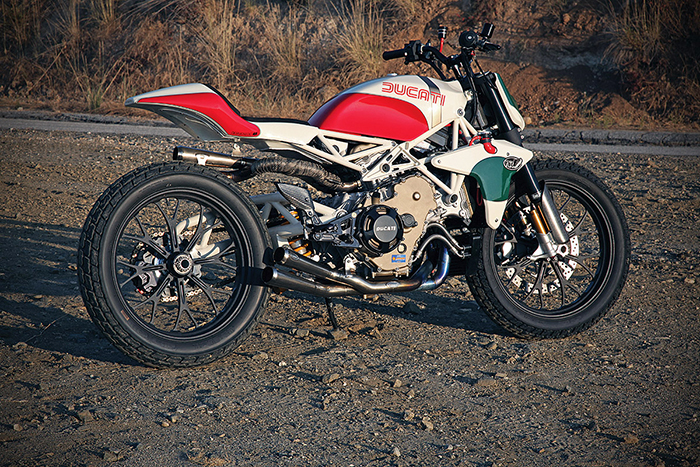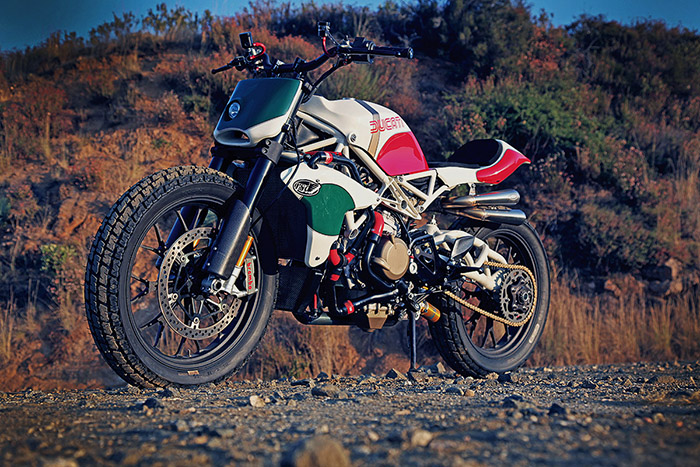 As noted, we've loved the RSD Desmo Tracker since 2011; we even have a huge poster of it hanging in the Bullitt garage! After watching the Cycle World video again, it's clear that Roland has a deep respect for the bike and his respect definitely shines through in the finished piece.
Roland Sands Design: Web | Facebook | Instagram
All images via Roland Sands Design unless noted otherwise