A 300cc Tracker from Taiwan
Taiwan-based Rough Crafts has been featured here numerous times. They're typically black, sleek, with tons of "go-fast" components and a street focus. So when we saw that Winston Yeh – the man behind the brand – had put out a custom Honda CRF300L, it surely got our attention. Honda updated their CRF250L dual sport machine to the larger CRF300L bringing a solid balance between size, weight, power and handling. Traditionally marketed as an off-road bike, Winston envisioned something a little more his style with the machine and produced yet another black, speed loving machine – this time with a street tracker vibe dubbed the "Urban Half Mile".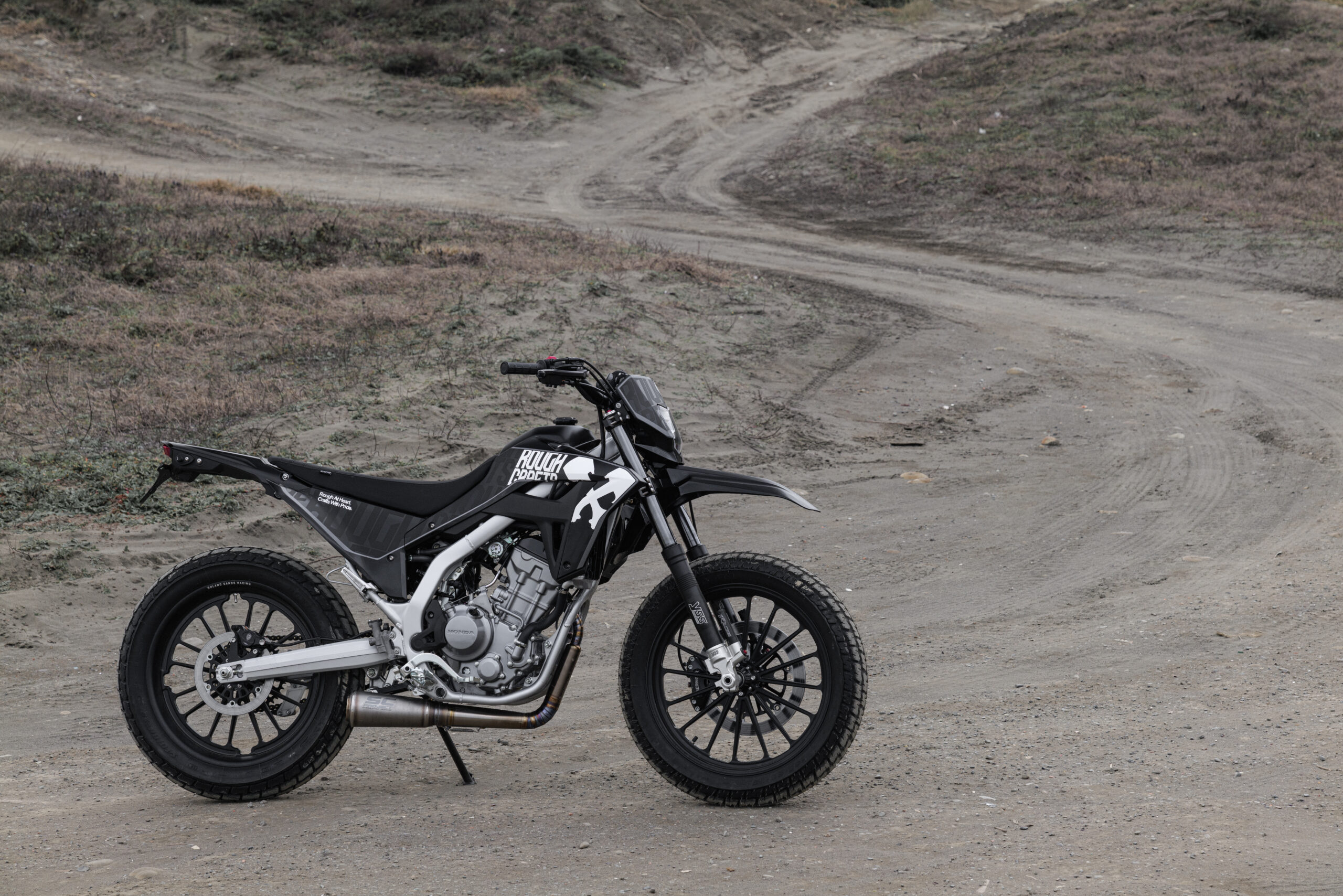 Yeh confesses he's been obsessed with the street tracker style for some time and admits its appeared so many times in their builds and sometimes even when the build itself is not really that particular style, some tracker influences still slip through.
Growing up in a tight city full of bikes and scooters, with the Japanese custom culture to start with, it's very hard not to be in love with these types of builds that are nimble through traffic, has an upright riding position and nice flat handle bars. – Winston Yeh
When Honda launched CRF300L back at 2020, its light weight, affordability and fun nature made a huge impact in Taiwan and many other South Asian countries. Thailand-based YSS Suspension saw an opportunity and made it a target model and put out many options suspension kits for it to become either a fun enduro machine or Supermoto, in a very short order.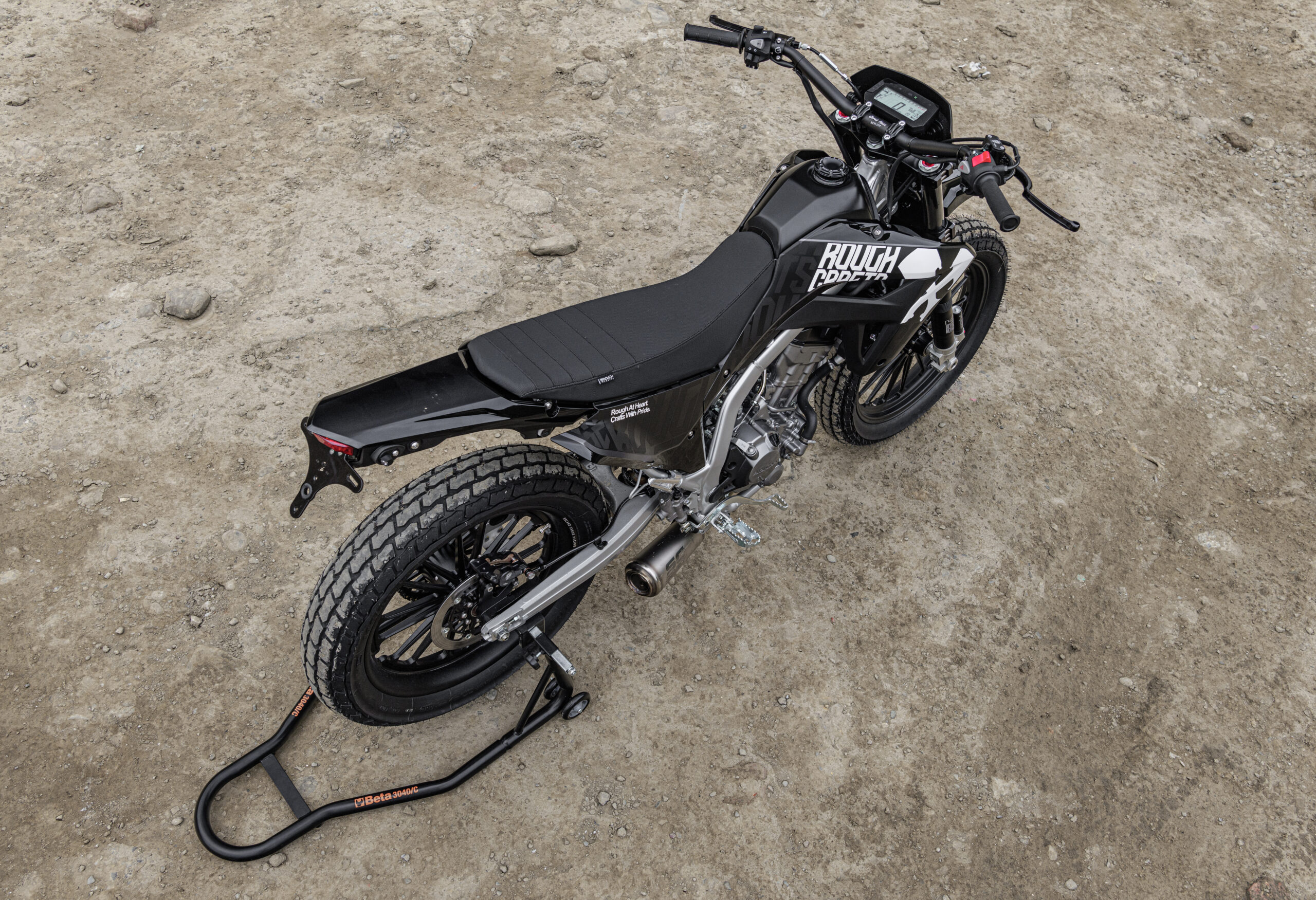 Wanting to use the super popular model to showcase their products, YSS Suspension Taiwan commissioned Rough Crafts for a build, but rather than going for the more obvious enduro or supermoto, Yeh chose to go Street Tracker!
To have a bike that originally equipped with upside down forks to change to traditional forks might seems odd, but I can't seem to get rid of the image of those legendary flat track race machines all have traditional forks, plus YSS Suspension got this super cool KG308S forks that comes with radial caliper mounts, fully adjustable and that front equipped reservoir is just very tasty looking.
After studying of how to make the stance right, Winston designed a drop tree to make the front a little taller than the YSS forks. YSS also supplied their top-of-the-line G-Racing rear shock for Supermoto (which is already shorter), then he also add a lowering linkage to get the stance right. Then the team at YSS Suspension Taiwan fully re-tuned both front and rear suspensions so it's balanced and ready to rip.
For exhaust, SC-Project provided a full titanium S1GP silencer and Yeh made a pie-cut down sweep titanium header for it. With the removal of the left side tool box as well, the CRF300L a appears much lighter with no cutting at all.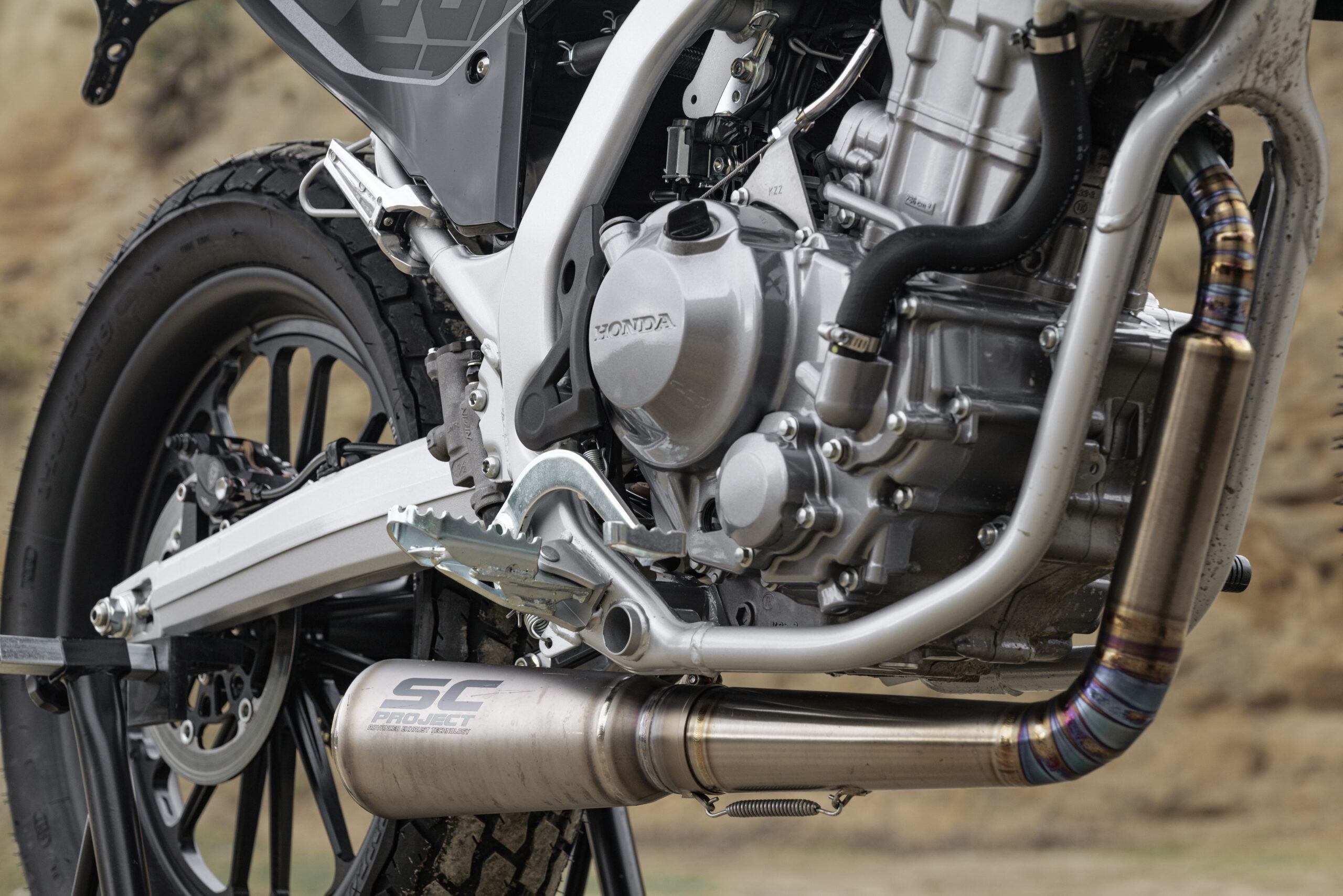 He wanted to keep the bike street legal so the stock headlight/mask was put back with custom brackets so it's a lot tighter to the forks (with the ignition removed), and the tail tidy kit was provided by 2 Loud Custom, with their Rough Crafts X Koso ION LED lights, and a full custom graphic by MTR Custom Wrapping, the fun Rough Crafts Urban Half Mile was born!!
Rough Crafts: Web | Facebook | Instagram  || Photos by R* Camera