Dream Wilder
That's what Ducati is telling us we can do now that they've launched their new Dakar-inspired DesertX motorcycle. "Exploration. Fun. Performance. And a great desire to take and leave towards the horizon."  These all sound like great things and we've been itching for a true off-road capable Ducati ever since the original Scrambler Icon came out.
DesertX is the first modern Ducati with 21″ front wheel and 18″ rear, long stroke suspension and a new frame designed specifically for off-road exploration. The bike just recently broke cover and we have some specs, details and images to share.
Off-road chassis
21 "front and 18" rear wheels, long stroke suspension, generous ground clearance (9.8 in) and an off-road frame designed and tested to withstand the toughest conditions.
Ergonomics optimized for every condition
Ergonomics and aerodynamic study give life to a motorcycle that has off-road as a natural territory and at the same time remains comfortable, easy and safe for urban commuting and long travels.
Advanced electronics, dedicated to versatility
The versatility of DesertX is also reflected in the Riding Modes: there's 6 of them, with Enduro and Rally dedicated specifically to the off-road riding experience.
Lightweight engine tuned for off-road use
DesertX is equipped with the latest evolution of the 937 cc Testastretta 11th desmo, lighter by 3.7 lb compared to the previous generation and equipped with a new gear ratio to ensure the best off-road behavior.
Chassis
DesertX was developed for the most demanding off-road, and therefore has all the essential contents for this type of use: spoked wheels, 21 " at the front and 18 " at the rear and generous ground clearance. Thanks to the various homologations obtained, DesertX has various types of tires available, up to those dedicated to the off-road world.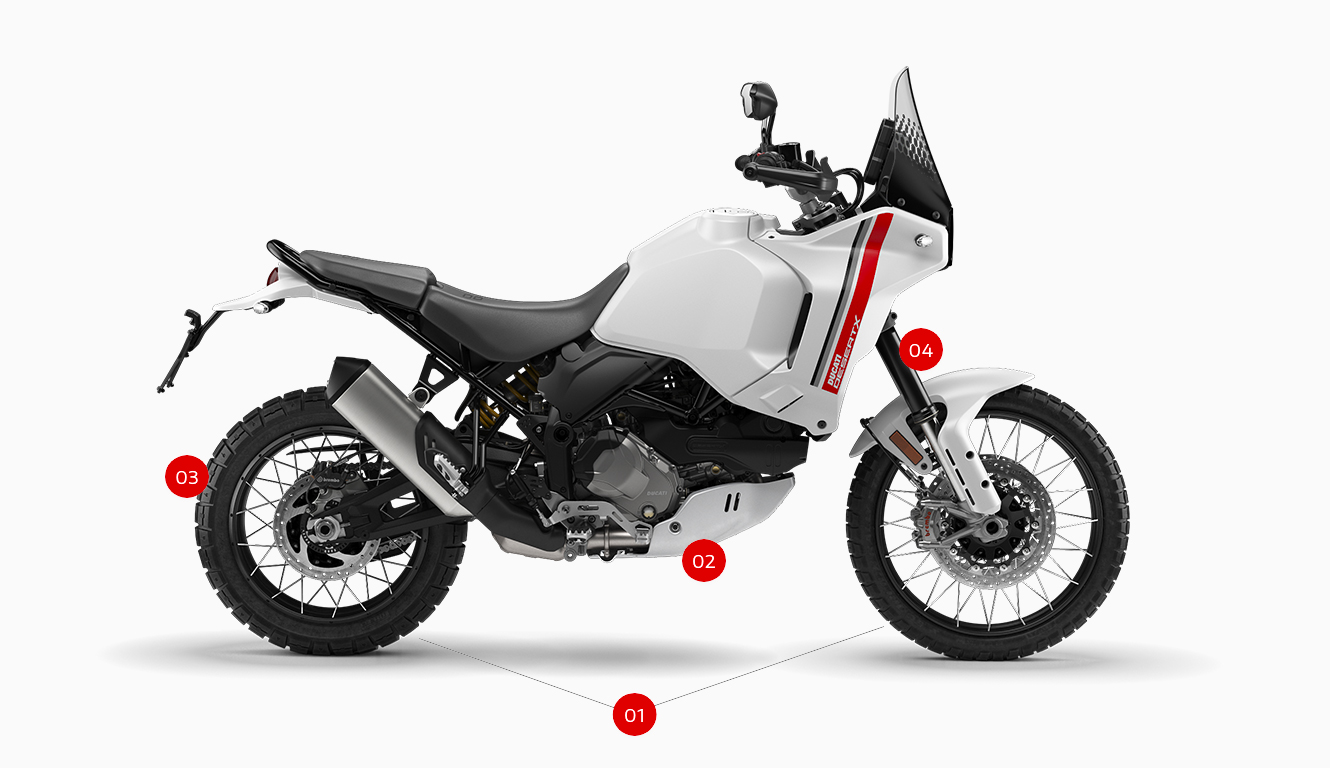 21″/18″ wheel combination

DesertX is equipped with the iconic wheel combination for the enduro segment: spoked wheels, 21" at the front and 18" at the rear. Ready to easily tackle any type of obstacle and asphalt.

Generous ground clearance

A fundamental feature for off-road use, DesertX has a ground clearance of 9.8 in, which is particularly favorable for more extreme off-road riding.

Wide choice of tires

The DesertX is equipped with Pirelli Scorpion Rally STR tubeless tires that combine greater reliability and safety in case of puncture with easier repair. Thanks to the different approvals obtained, there is a wide choice of alternative tires.

Kayaba long stroke suspension

The 1.8 in upside-down fork and fully adjustable single shock absorber were developed with the Japanese brand Kayaba, a successful producer in the off-road world.
Engine
The new DesertX is equipped with the latest evolution of the water-cooled 937 cc Desmodromic 11° Testastretta engine with 110 horsepower and 67.5 lb-ft of torque.
It's Ducati's well-known twin cylinder already running on many of their other models: very manageable and smooth at low revs, but with a torque that is always ready and able to release all the Ducati character with a great extension.
3.7 lb lighter
The new version of the Testastretta 11 ° introduces important improvements over the previous generation, which have led to an overall weight saving of 3.7 lb.
Reliable in different uses
Reliable and also designed for touring use, the engine has very long maintenance intervals, with oil change every 9000 miles and valve clearance check every 18,500 miles.
Off-Road Tuned Wide gear ratio
The work on the DesertX gearshift also involved the ratios, which were shortened overall on all gears up to fifth, in particular first and second, to ensure the best off-road behavior, while maintaining a long sixth gear for greater efficiency at high speed.
State of the art electronics
DesertX, like all Ducatis, has advanced electronic equipment aimed at safety and performance in all conditions.
MSRP in America will be $16,795. To learn more about the new Ducati DesertX, head on over to the Ducati website here.