A Tribute to the 70's Southern California Chopper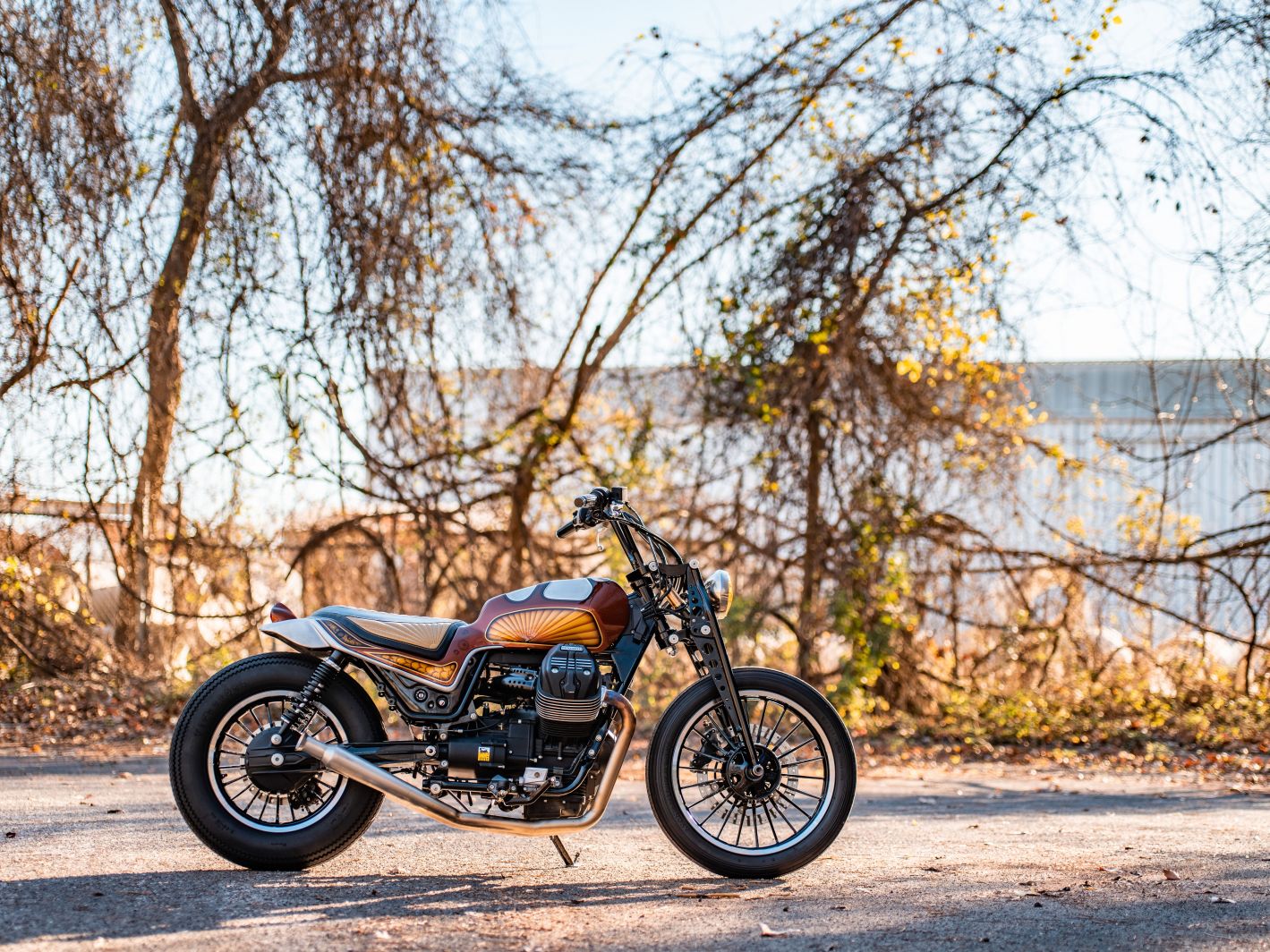 Moto Guzzi launched the new V9 platform a few years back when I was working for the brand. The larger capacity engine was a welcome addition but the V9 styling just didn't strike the same chord with enthusiasts that the V7 did (and still does). We were hoping the V9 would help increase sales, but again, it didn't. I came up with the idea of working with some rad customizers and promised to get international press. Surprisingly, the upper brass OK'd the project and I was off to the races. When I was selecting builders, one of the criteria I had was only to work with shops that already had love and appreciation for Guzzi. I selected Craig Rodsmith, Hugo Eccles of Untitled Motorcycles, Bruce McQuiston of Moto Studio and Revival Cycles. All of these individuals/shops loved Moto Guzzi.
Builders had to submit their basic plans and were not allowed to use V7 tanks. When Revival Cycles hit me back and said they were building a unibody chopper/bobber, I thought they were messing with me. I wanted to make sure they weren't disparaging the brand, but if they were really taking a crack at it for real, I was open to it. It was hard to explain, and hard to picture with back-of-napkin sketches, but I knew they were legit builders and could pull it off if they really went for it. Safe to say they did. As typical for a Revival Cycles build, the attention to detail and overall craftsmanship was super tight. Never thought I'd say this, but this is a bike I'd personally love to own. Well done boys!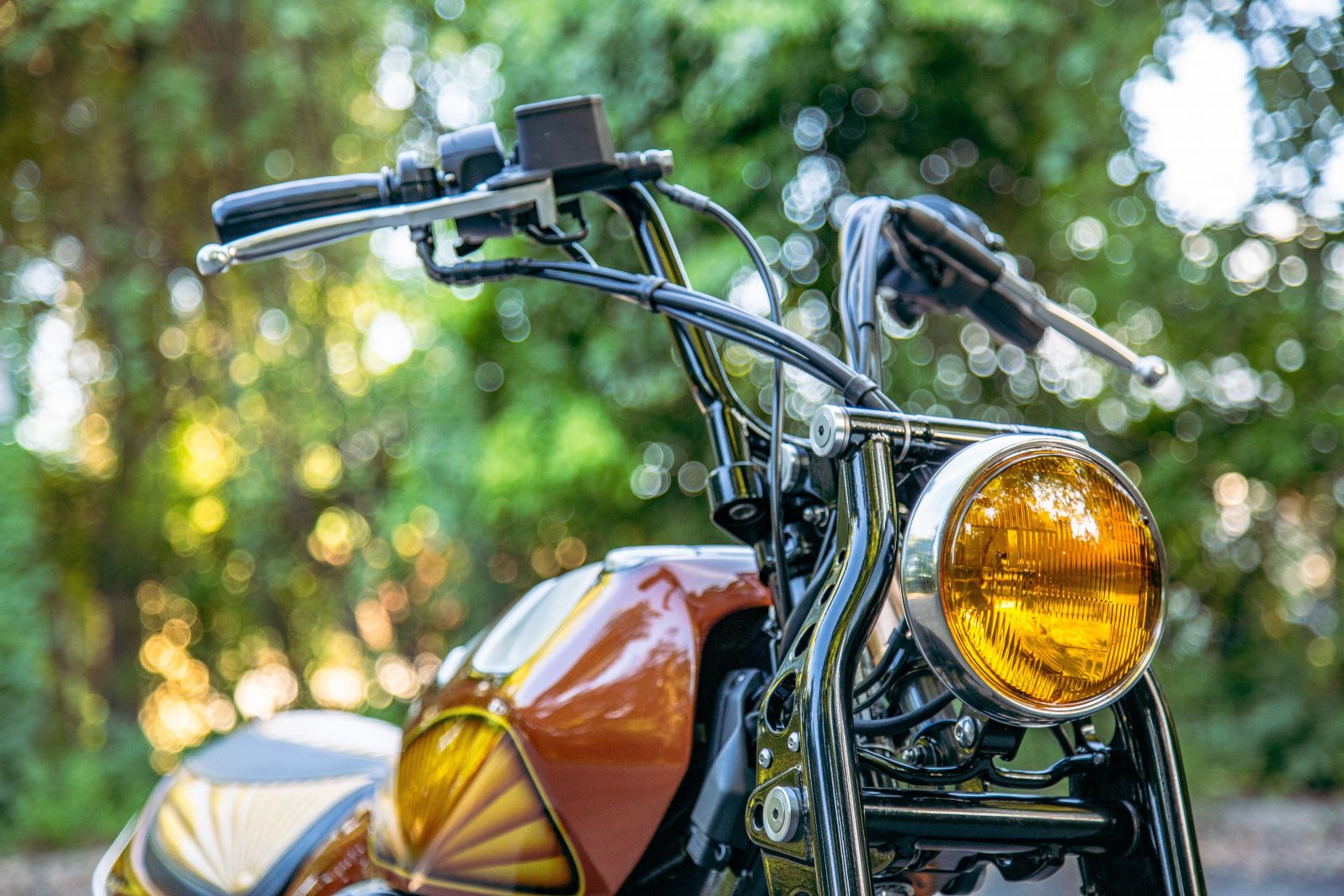 The rest of the copy is what we published on the Moto Guzzi website:
With its naked appeal and 90° transverse 853cc v-twin engine heads protruding from its sides, the Moto Guzzi V9 provides a slick platform for customization. With these thoughts in mind, we launched the Moto Guzzi V9 Pro Build Project last year, which built upon the two attributes that every motorcycle from the Eagle brand represents: individuality and uniqueness.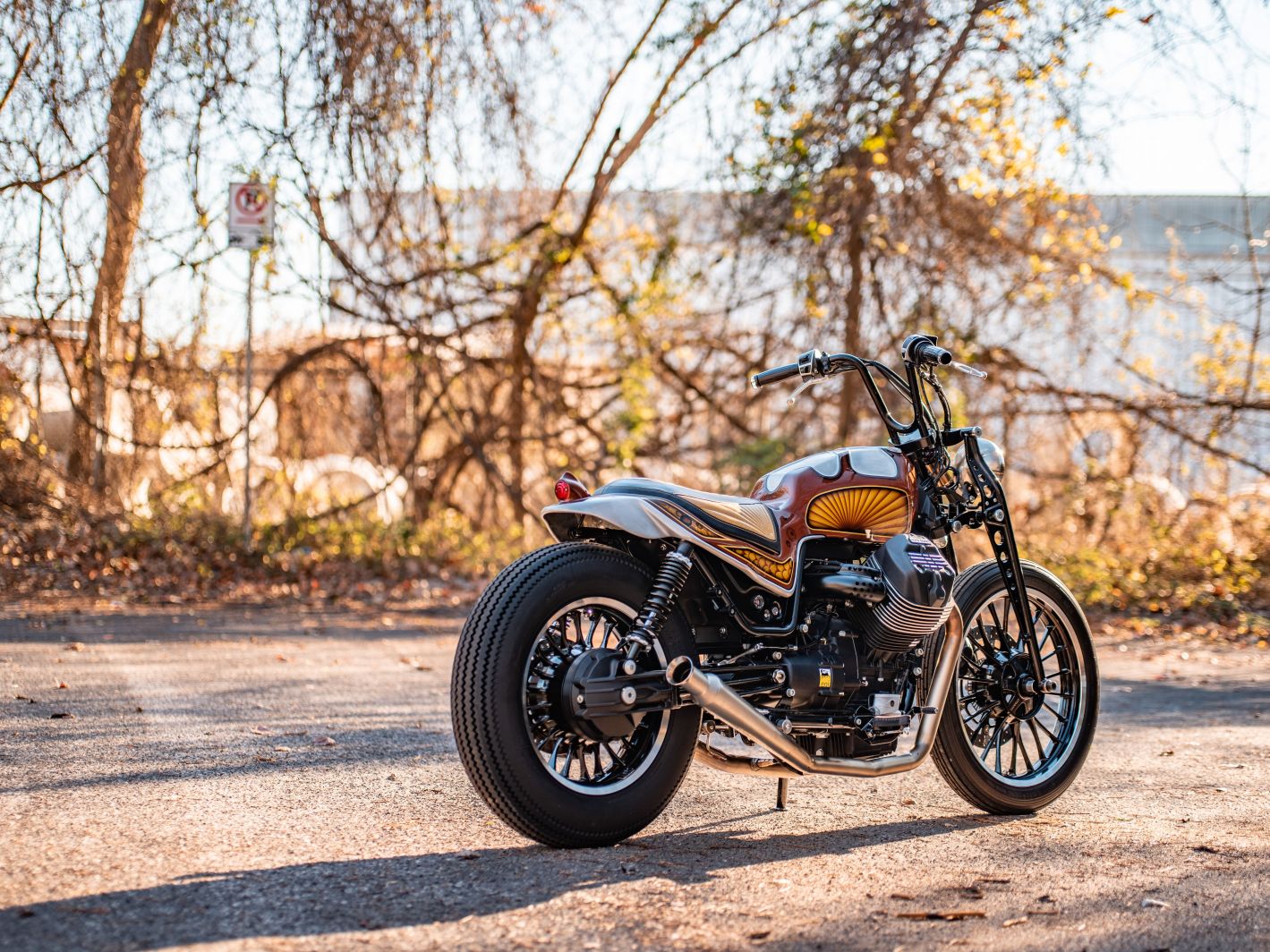 We chose four builders who had a passion for the Moto Guzzi brand. One of them was Revival Cycles – the Austin-based custom shop that also hosts The Handbuilt Motorcycle Show during MotoGP's stateside round. And the Revival crew took a far different approach over its wrenching compatriots.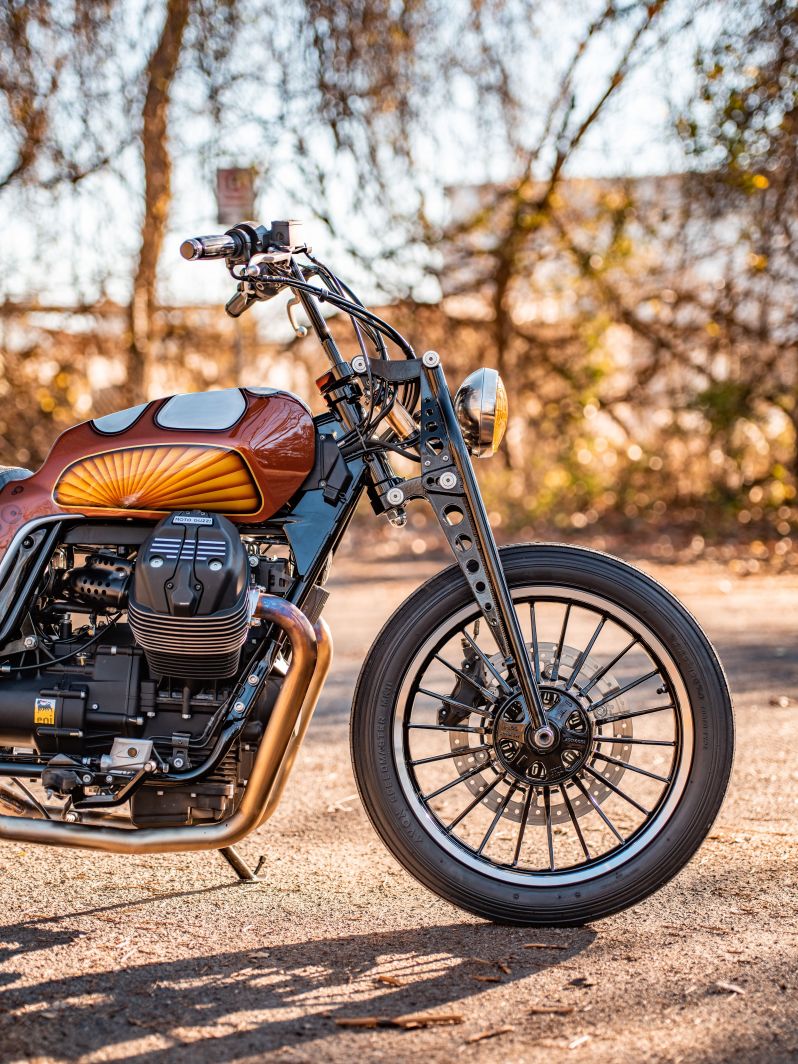 Revival's goal? Build a totally unique bobber. Not just any bobber, but one that pays homage to the 1970's Southern California chopper/bobber scene. This is a very unusual build in the world of custom Moto Guzzis, and it took much planning, along with hours of trial and error testing. The energy it took – from locating and sorting out the beautiful girder front end to numerous seat cover designs to get it just right – was well worth it in the end.
It's worthiness was especially apparent for gearheads and Moto Guzzistis alike at this year's The Handbuilt Show. This is where Revival unveiled their unique bike, and the crowd loved it, many gawking over the all-aluminum bodywork that's integrates the gas tank with the seat pan, side covers and tail section. Multiple hours were spent laying out the wire frame to get the overall body shape and proportions just right before the heavy work began.
The paint is just as unique as the bodywork; it's finished with metallic paint that replicates sunrises, and this theme continues into the seat's pleated gold metallic vinyl.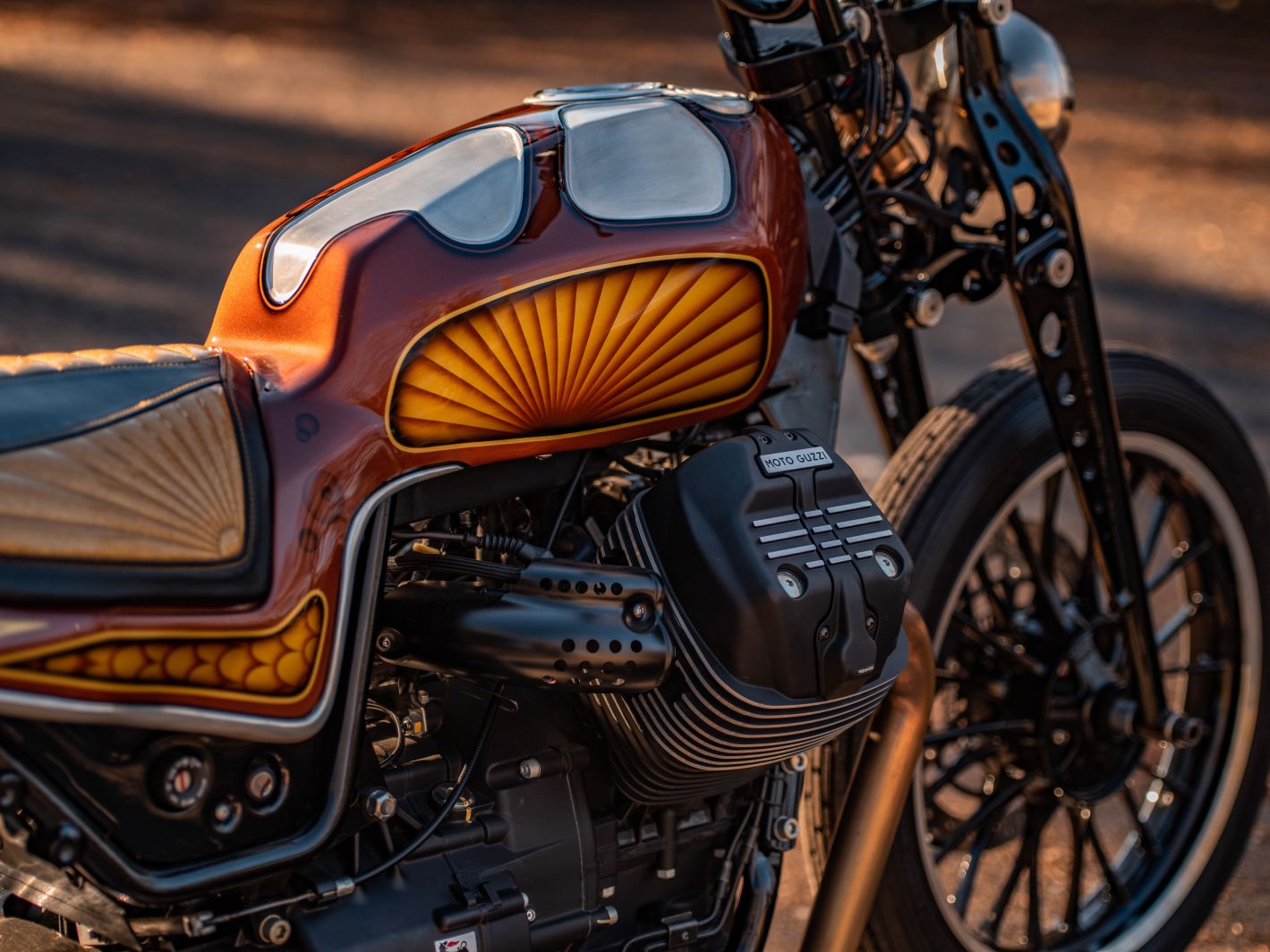 Other highlights include the ⅞" ape hangers; the speedometer laid inside the bodywork; a custom exhaust system; and singular headlight that delivers a classic 70's look and feel. And in true 70's style, the bike rolls on a Avon Speedmaster tire up front and a Firestone outback.
To retain the original Moto Guzzi V9's personality, Revival didn't go crazy building up the engine; rather, the Revival V9 uses the stock air-and-oil-cooled powerplant, which arrives with aluminum cylinder heads, cylinders, pistons, and one-piece Marelli electronic fuel injection system, along with the bike's six-speed transmission and shaft final drive.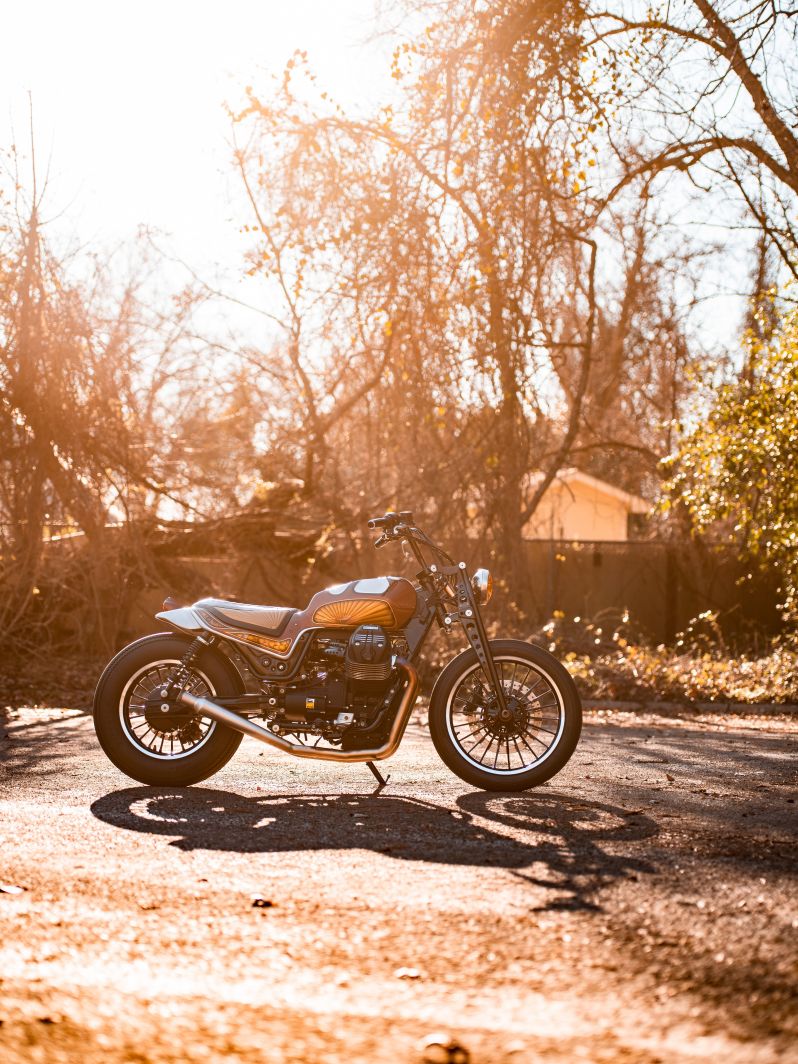 The V9 Pro Build build was led by Andy James, who is the lead fabricator at Revival Cycles.
Well done Revival. We can't wait to see your next Moto Guzzi build.