A stunning turbocharged Moto Guzzi
Craig Rodsmith is a man that needs to introduction these days. The Aussie native relocated to Chicago, IL (God knows why) and has been churning out stunning builds on American soil for years. We first got to know him when we were blown away by his 1969 Moto Guzzi Ambassador dustbin at the 2017 Handbuilt Motorcycle Show. He came back in 2018 with another mind-blowing Moto Guzzi, this time utilizing Guzzi's modern V9 platform. He took the mild standard and cranked the volume up to 11.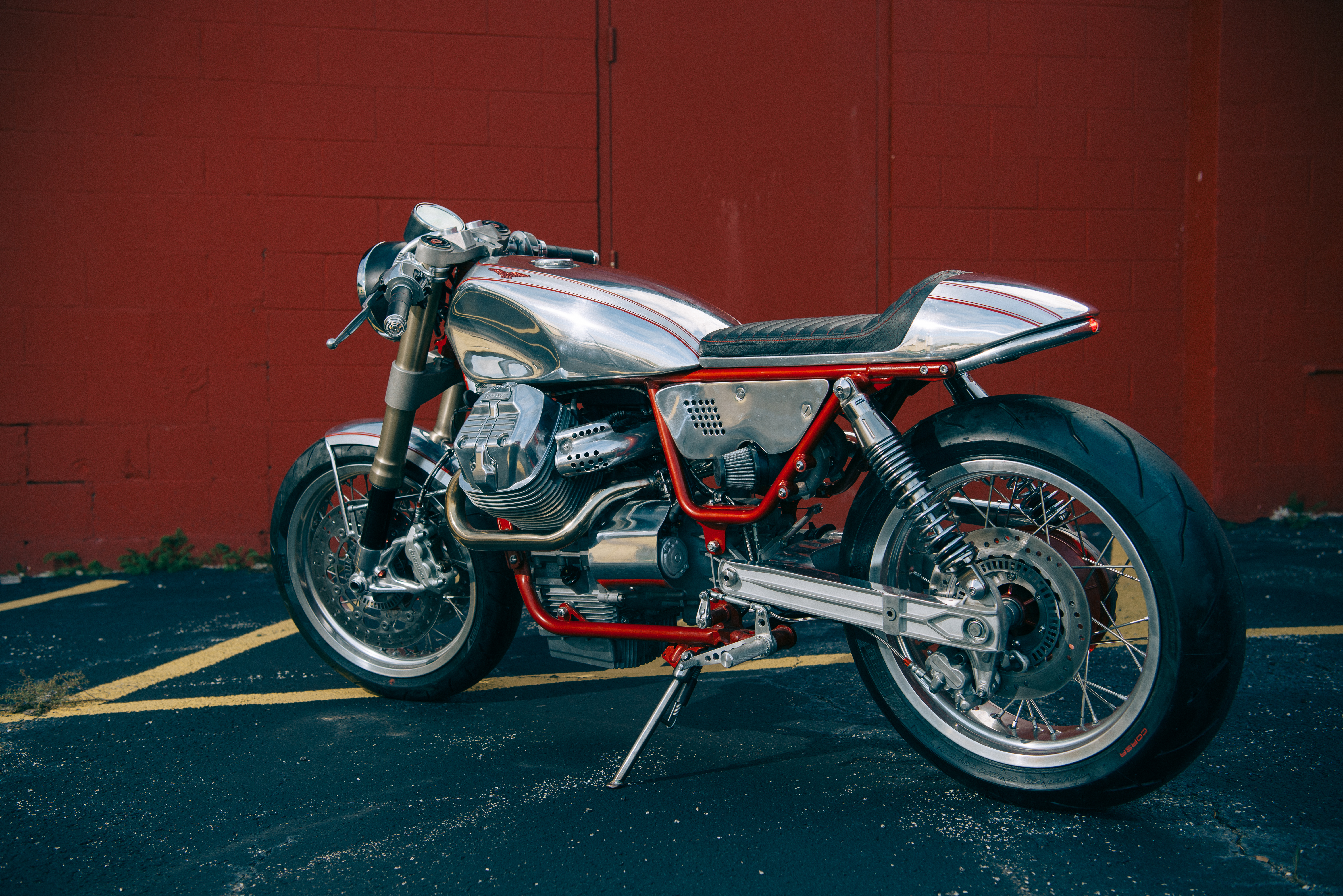 Craig Rodsmith brings the "Punk Rock" attitude to the motorcycle industry. Rodsmith Handmade Customs motorcycles have been tearing up the roads of North America and around the globe for the past 25 years. Craig is a master builder, fabricator, painter, designer and owner of Rodsmith Motorcycles just north of Chicago in Lake County, Illinois. Craig was born in Melbourne, Australia. As a kid he customized anything he could get his hands on. He started with his '57 BSA when he was 12 years old. Rodsmith has extensive, hands-on experience in bodywork, paint, fabrication, mechanical, electrical and has built all kinds of masterpieces from bikes to cars, traditional to radical. As of 2019 Craig now has three custom masterpieces at The Haas Moto Museum in Dallas, Texas.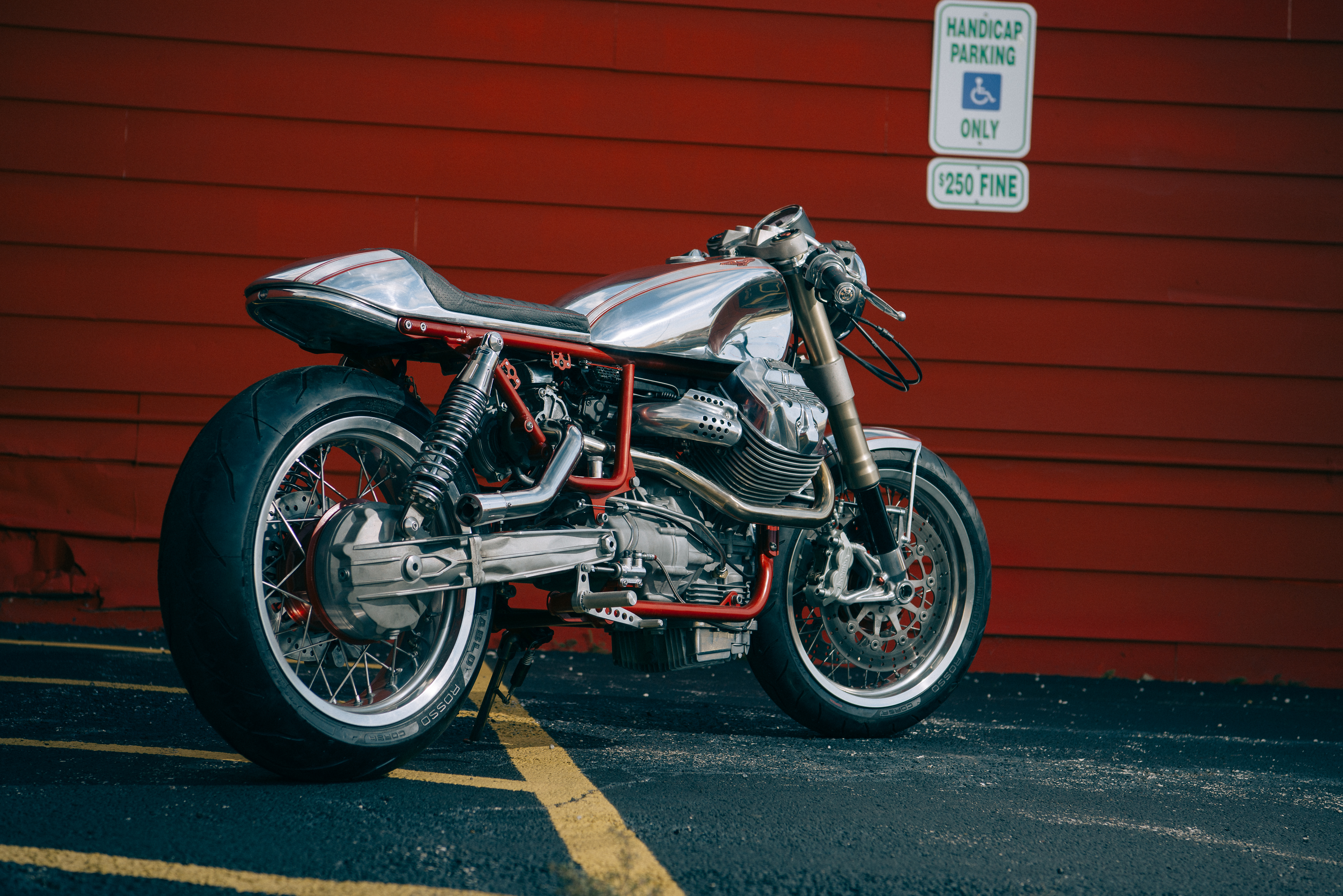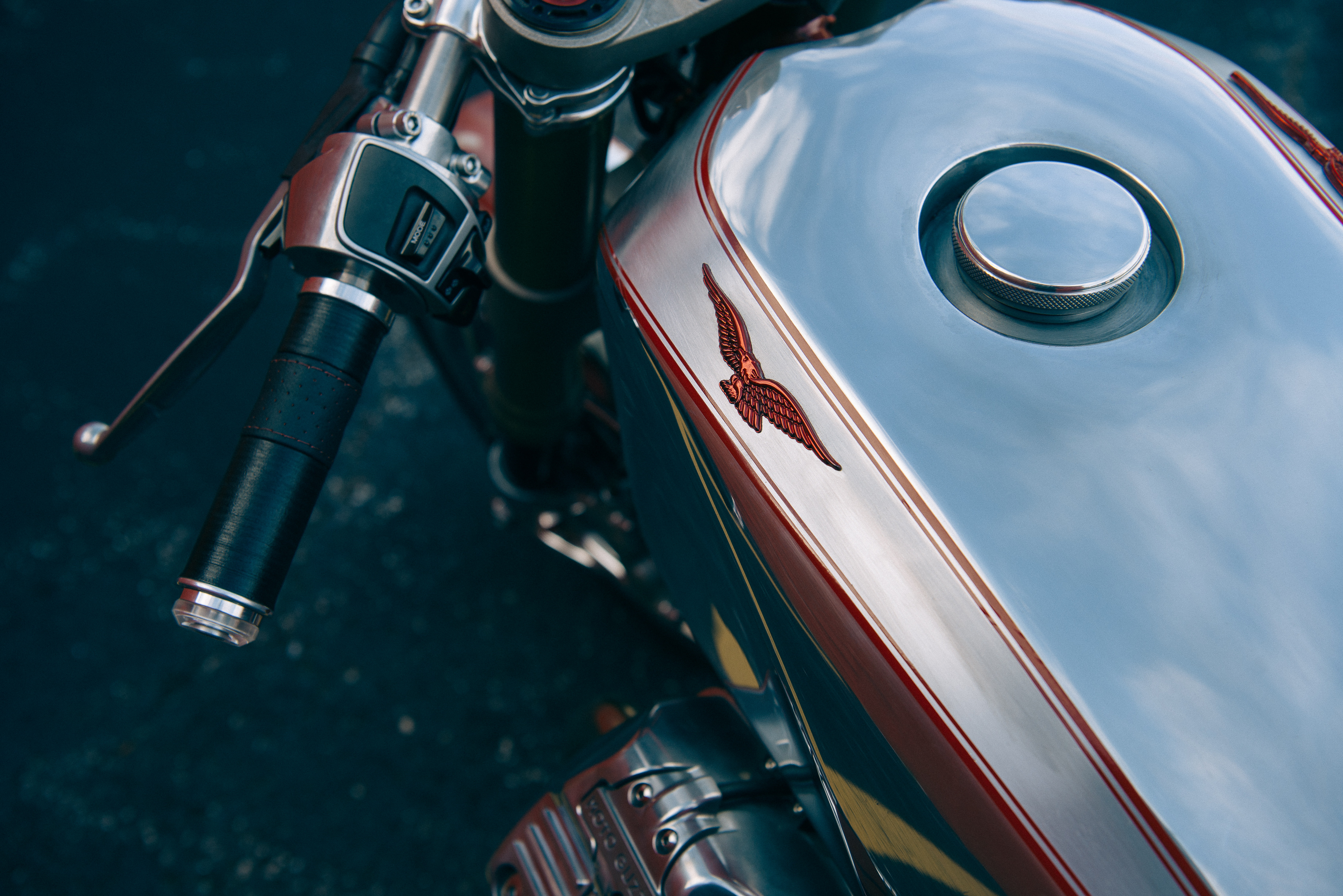 For this particular build, Rodsmith was commissioned by Moto Guzzi Americas along with 3 other top builders in the country. Craig brought his usual raw aesthetics and left no part of the bike untouched. The handmade aluminum tank stands out and Craig managed to keep the visual lines of the V9, with the prominent sharp line running down the top of the tank.
Rodsmith stripped the stock black off the engine cases. It was  not a quick or easy process but the result was clearly worth the effort. It makes the engine look more classic…and more "Rodsmith" at the same time.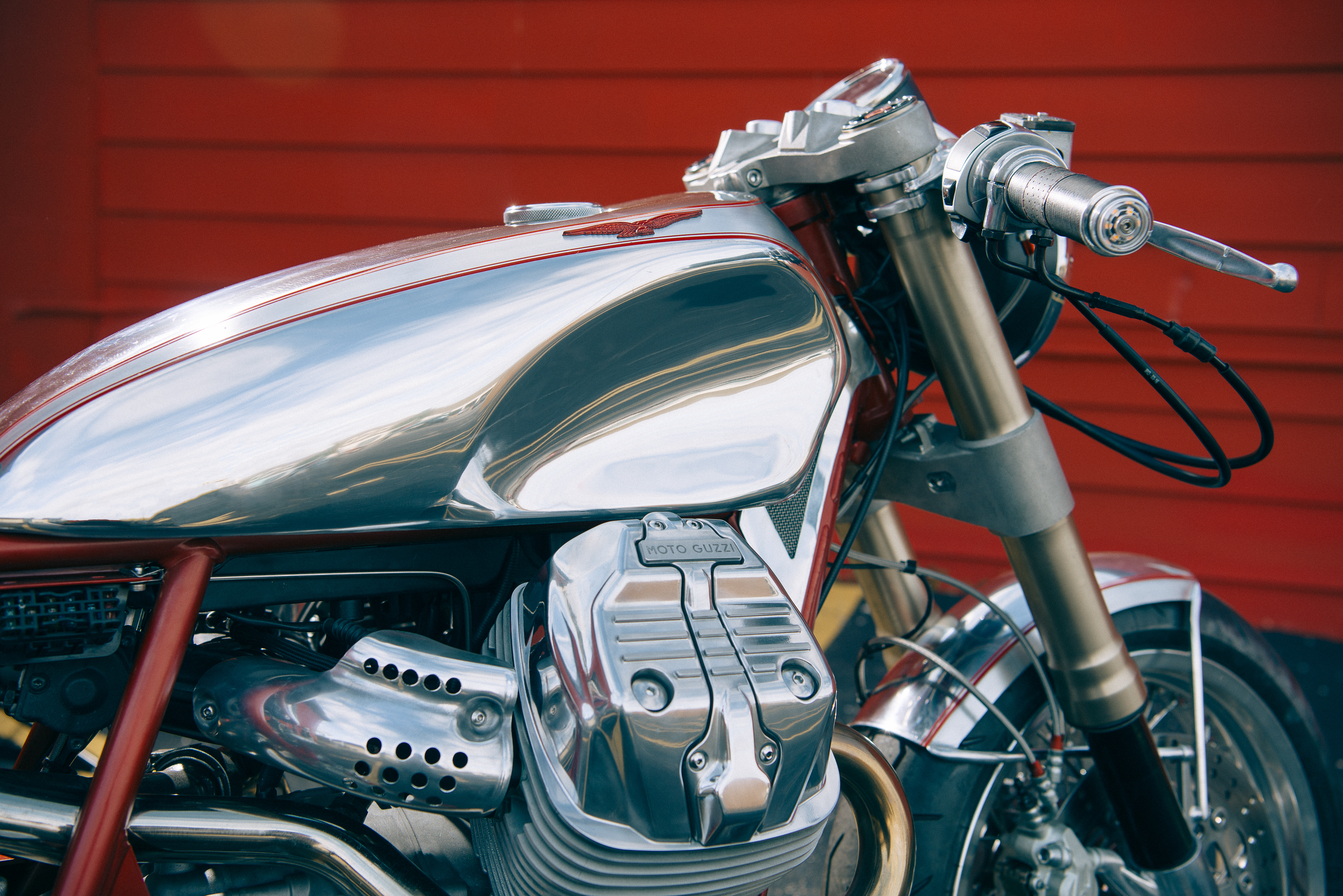 Inverted 50mm Marzocchi off a Ducati were utilized up front, adding performance and grit. Aluminum Excel rims with stainless spokes and Rodsmith-modified OEM hubs have the V9 rolling in classic style. Dual 320mm floating rotors, 4-piston Brembo calipers upfront provide stopping power and are joined with a single 260mm rotor, 2-piston Brembo caliper out back.
The black stock frame was detabbed and coated in a stunning red. Matching red pinstriping across the beautifully crafted aluminum bodywork tie it all together.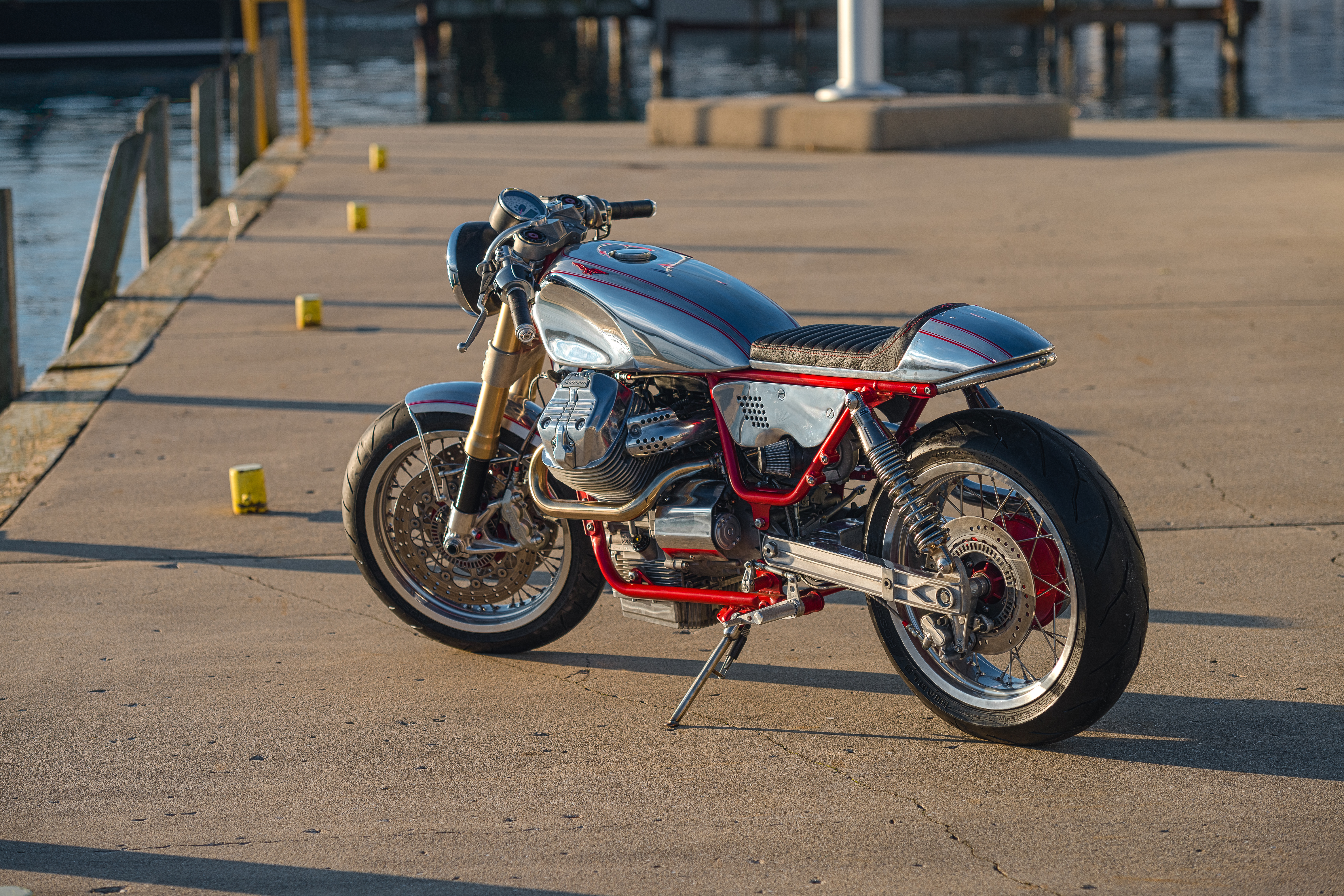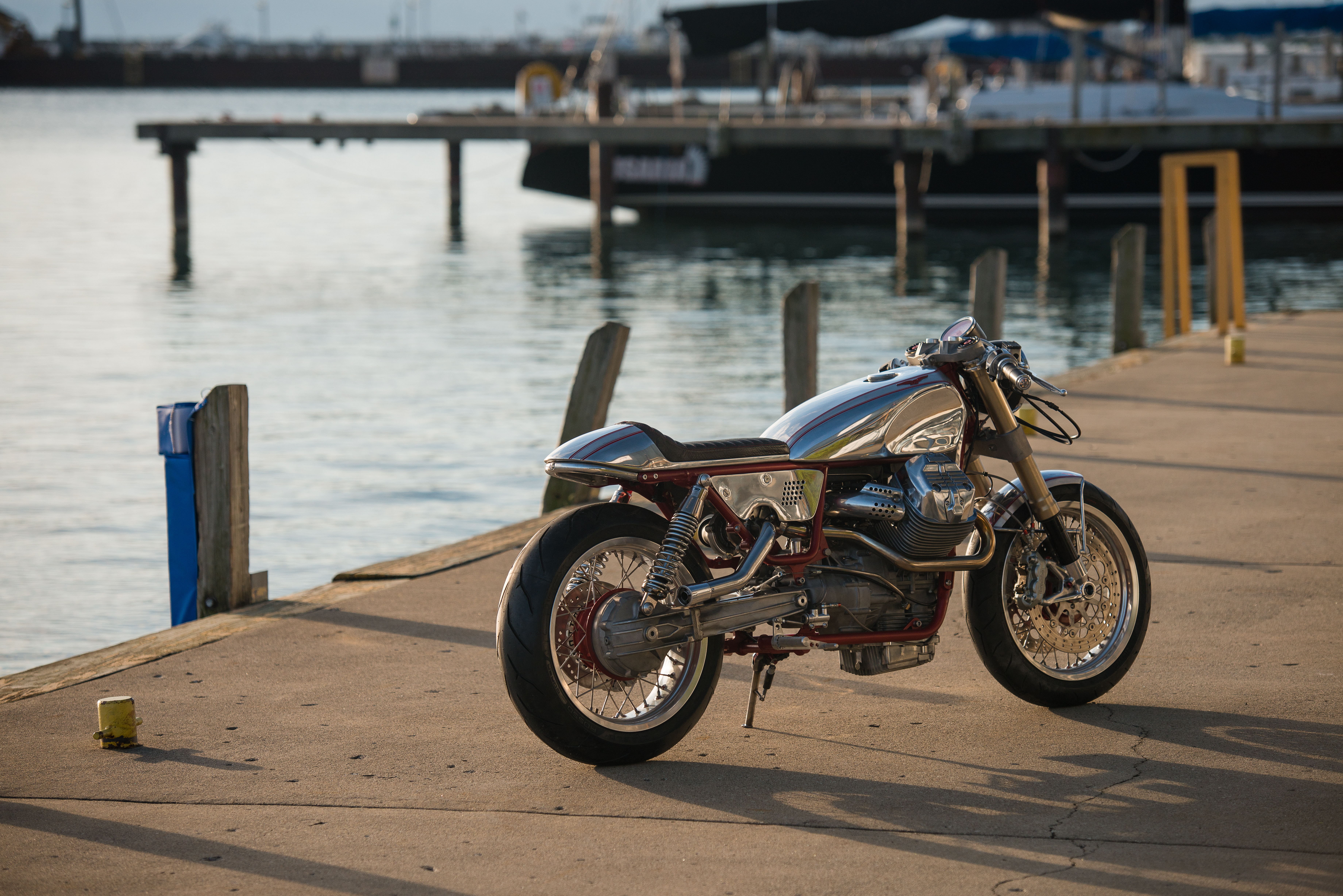 Oh, by the way…did we mention that this baby is turbo charged? Well, duh! Rodsmith had the audacity to drop a Garrett T15 turbocharger into the unsuspecting 865cc air-cooled transverse V-twin. And bless him for doing so.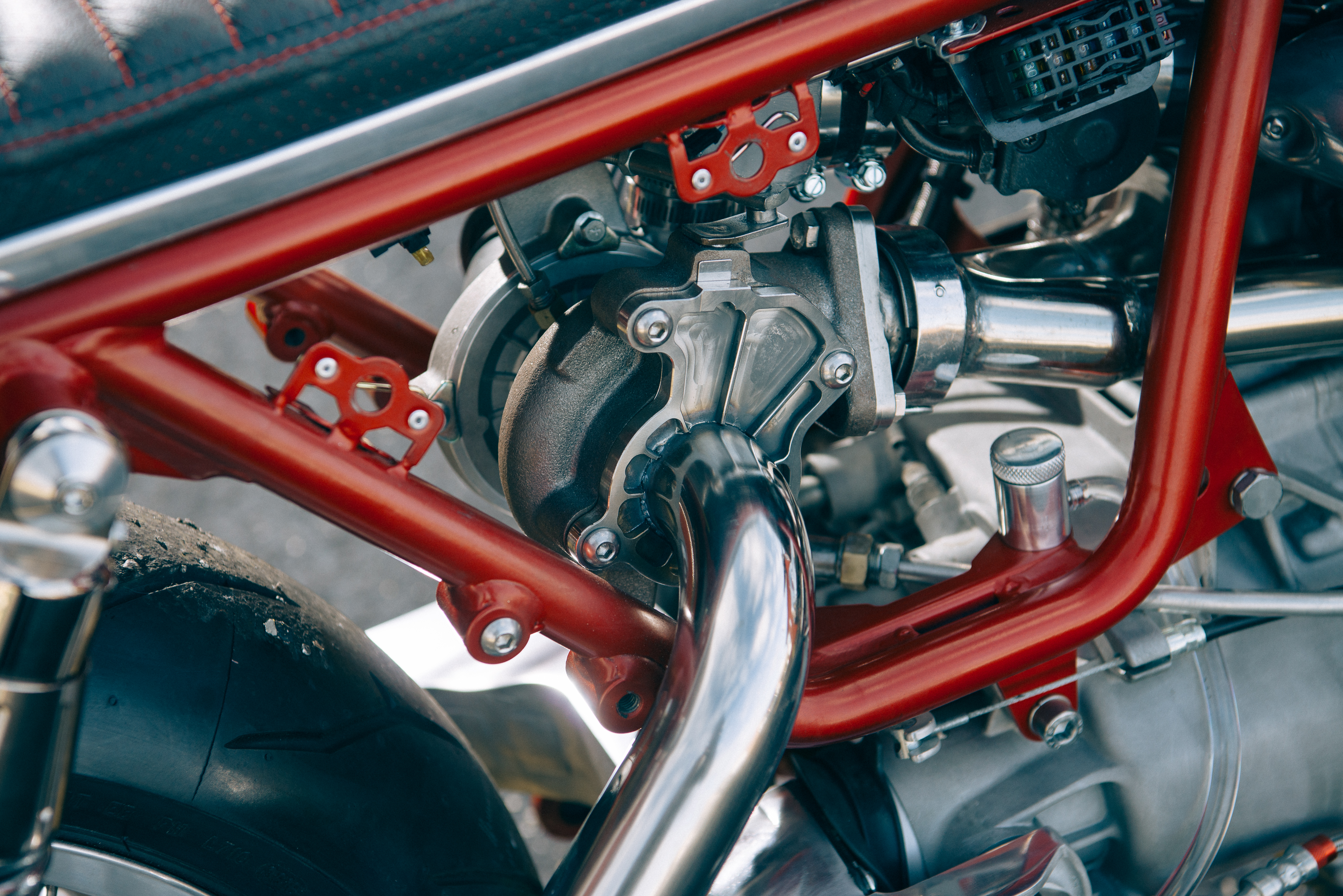 Rodsmith Turbo Moto Guzzi V9 Custom Specs:
●       Model: 2017 Moto Guzzi V9 Roamer
●       Engine: 865cc air-cooled transverse V-twin with Garrett T15 turbocharger
●       Air Intake: Aluminum intake plenum by Rodsmith
●       Exhaust: Custom stainless steel system by Rodsmith
●       Transmission: OEM, six-speed
●       Fuel Tank: Hand-crafted aluminum by Rodsmith
●       Frame: OEM, detabbed and powdercoated
●       Front Fork: Inverted 50mm Marzocchi
●       Shocks: Custom by Supershox
●       Brakes (Front): Dual 320mm floating rotors, 4-piston Brembo calipers
●       Brakes (Rear): single 260mm rotor, 2-piston Brembo caliper
●       Wheels: Aluminum Excel rims with stainless spokes and Rodsmith-modified OEM hubs, 17 x 3.5 front; 17 x 5 rear
●       Tires: F/R: Pirelli Diablo Corsa, 120/70-R17 / 160/60-R17
●       Handgrips: Aluminum and leather
●       Headlight: OEM
●       Taillight: LED
●       Rear Sets: Slipstream Cycle Works
●       Turn Signals: Speed of Cheese Racing
●       Seat: Perforated leather upholstery stitched by JBseatz
Photo credit: Grant Schwingle