Keeping it weird in Austin
Walking down the boulevard on a sticky-warm April evening in Austin, TX, electric scooters zip by as drunk college-types sloppily navigate towards their next watering hole, we finally see the sign: The Handbuilt Motorcycle Show at the Austin American-Statesman. We've made it. Inside the walls of this now defunct newspaper facility is one of the largest, if not THE largest, custom motorcycle shows in the world is taking place. We flash our laser cut aluminum "all access" badges with amazingly detailed BMW boxer engines jetting off the sides, get a nod from an oversized doorman, and walk in. The excitement builds.
To our left we can see the Roland Sands Design Super Hooligan National Championship (SHNC) set up in the parking lot but this is no dirt oval. Not this weekend. This is a TT set-up, hooligan style. There are wooden jumps set up going over grassy gaps from one parking row to the next, hairpin turns, and there's no dirt in sight. Just plain old unforgiving asphalt and some hard plastic barriers. This is not a place for the faint of heart. As we walk past the temporary racetrack, the smell of food trucks and spilt beer take over the senses.
First things first, it's time for a drink. We peruse the selections and find a number of signature cocktails available along with plenty of beers on draft. Opting for a whiskey-based libation, we lube up, and head into the massive hanger-like building. This is not my first time here, no, I've been to every Handbuilt Show since it's inception in 2014, but this year already feels different. It somehow feels more special.
The Handbuilt Motorcycle Show has always an eclectic mix of bikes, but this year felt even more all over the place, in the possible best way. Mixed in between world class custom builds like Revival Cycle's very own titanium-caged BMW Birdcage, Craig Rodsmith's front wheel drive art deco masterpiece, Cristian Sosa's 1950 Panhead, Walt Siegel's bevel Ducati racer there was a mix of everything under the sun. Meticulously and carefully placed in between these master builds, were bikes that would otherwise not have a place in a custom motorcycle show. A fully restored Honda mini bike, a stretched-out chopper trike, an electric superbike, a mini Indian and everything in between.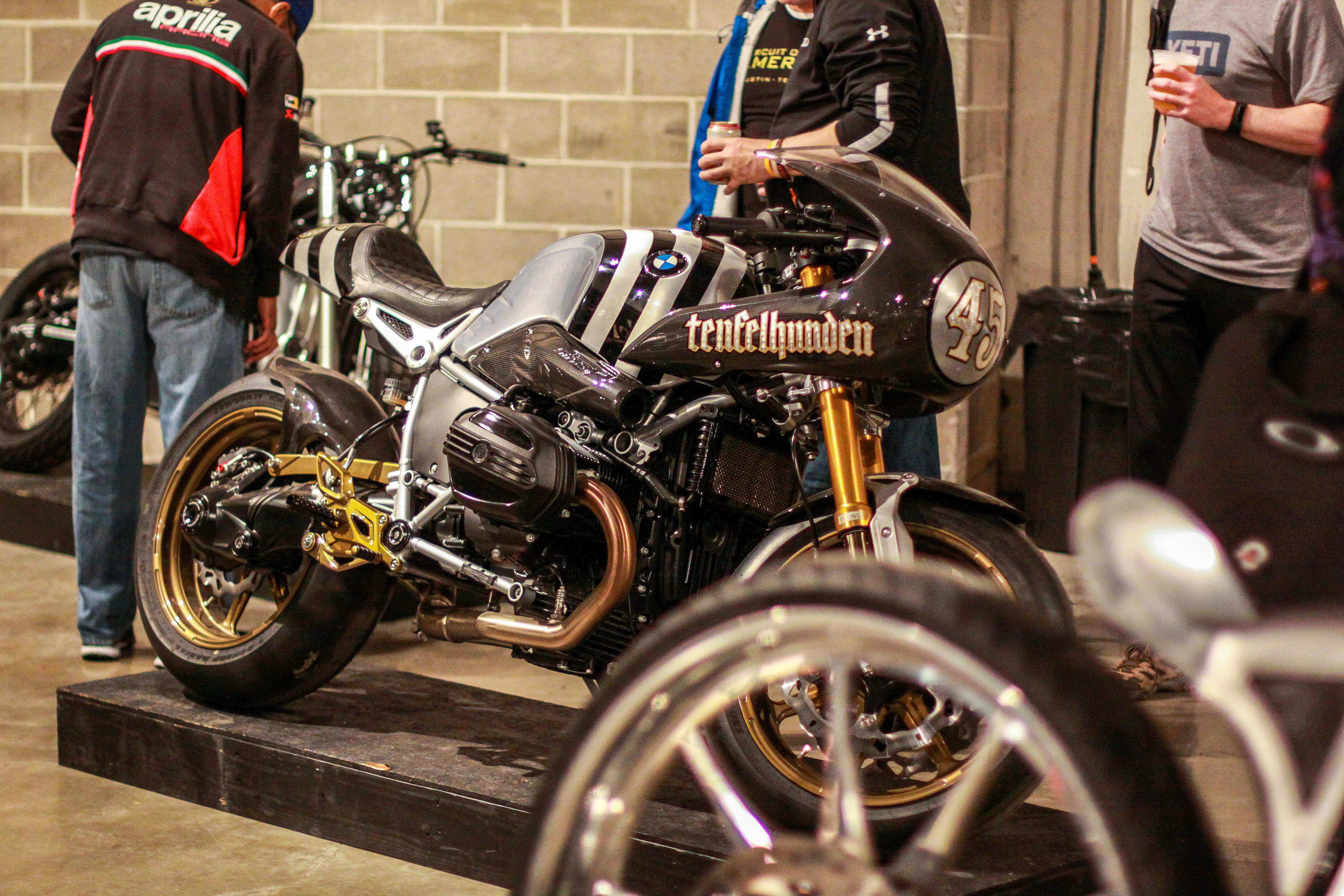 We bump into Alan Stulberg, owner of Revival Cycles and the man behind The Handbuilt Motorcycle Show, and ask him a few questions about how the show came to be. It wasn't until MotoGP rolled into town to the nearby Circuit of the Americas in 2014 that the idea came to mind. Knowing all these motorcycle nuts would be in town, and also knowing the racetracks aren't open at night, the Handbuilt Motorcycle Show quickly went from an idea to reality. "We knew we had to do it ourselves, before someone else did and f*cked it up," explained Stulberg.
And f*ck it up, they did not. They show has grown into a "who's who" in the custom build scene and many of the builders themselves are milling about, striking up conversation and just casually mingling. No egos. No entourages. Just good old fashion motorcycle porn, everywhere.
Walking outside, the sun has long been down. The crowd continues to swell and the line for the refreshments and food just gets longer. Chairs have now filled in the main courtyard in front of the SHNC track and projected on the wall is Gareth Robert's Oil in the Blood documentary on motorcycle community and the people behind them. Maybe it's the drinks kicking in, or maybe it's the spirit of the event, but everyone seems to be getting along and all I can see is smiles for miles. The event is open until midnight and we, along with most, stay until closing. Only then do we slowly file out, heading to the nearest Texan watering hole.
Saturday morning comes early but for those of us not racing to the Circuit of the Americas to catch MotoGP qualifying can nurse last night's hangover a little bit before heading back to the Statesman. Hard rain and strong winds rock the side of the hotel, where I comfortably sip a warm coffee and feel a little bad for the rain soaked crowds surely huddling under tents, fearing the unpredictable Texan wind could turn it up another notch. Back to my warm coffee.
It doesn't take long before the clouds part and the sun starts to beat down and dry things up. A quick walk across the street and we're back at The Handbuilt Motorcycle Show where the RSD Super Hooligans are having their safety meeting. The schedule got pushed back slightly, but weather appear to have cleared and the fun can soon begin. The track looks as unforgiving as it did last night, only now, seeing the massive 1200cc Indian machines tearing through the short track it makes me wonder how crazy these dudes really have to be. It'd be one thing to navigate the little course solo, but an entirely different scenario to go bar-to-bar with fellow hooligans.
The practice and qualifying sessions have been going off for some time now and I was stoked to see a mix of riders out there. Young and old, male and female, factory riders and super casual dudes. OK, maybe there is a spot for me here after all. Because, damn, that shit looks fun! Sneaking in for another circuit of drooling over the bikes indoors, then I get a badass tintype photo compliments of Progressive. All I had to do was give them all my info and get an insurance quote…still worth it, I'd say!
Back to the action, I arrive just in time for the main SHNC round. The four men in this event are; Joe Kopp on a British Custom's Triumph, Frankie Garcia on a Scrambler Ducati, Jordan Graham on his Indian 1200 and Andy Dibrino on a newly converted KTM 690. Pretty rad to see 4 different manufactures in it. Kopp gets the hole shot and holds onto first place going into turn one. Passing on this short track is not easy and while the racing was close, passes were minimal. Seeing these dudes launch over the grass, land in the flats and crank into a tight left turn was killer. The crowds around the track were shoulder to shoulder and stayed that way until the end. DiBrino on his new KTM had set up his chain himself with too much tension and on the second to last lap dropped his chain. End result was Kopp taking the win, Garcia in second, and Graham in third. It was all laughs and high fives in the end, and Graham sent us all off with a proper burnout.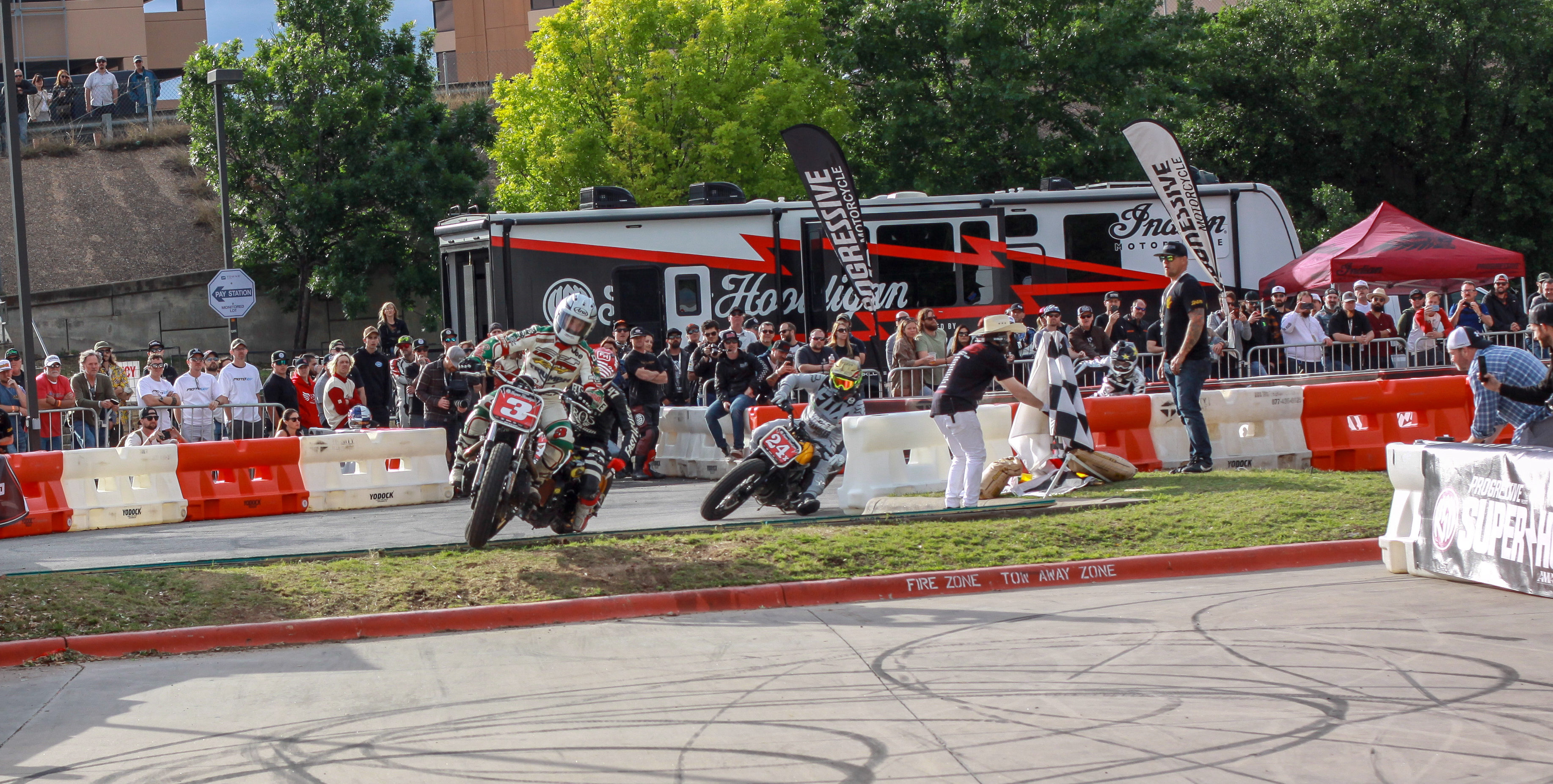 Back inside to make sure I didn't miss any killer custom builds. There are so many standouts, it's almost hard to take them all in at once. Ever been to the Barber Museum? Yeah, it's kinda like that. OK, that Justin Kott Beamer…didn't get a good look at that bike earlier. Moto Mucci's little KTM ripper…would smash. Oh, Jeff Palhegyi's TZ750 by the Progressive booth? Hell yes! That killer Bonneville tracker by Paul Hartman in the front left corner? Almost missed that sexy beast. One of the bikes that looked the most fun to ride to me was Gregor Helenda's Dakar-style BMW. Raw aluminum bodywork with dual tanks…everything about it looks ready to go to work.
I took a little more time to soak in the Haas Motorcycle Museum section. Each bike here is worthy of headlining a show. There's Rodsmith's amazing front-wheel drive machine dubbed, "The Killer". Got to chat with him a bit, which is always fun. Fuller's new build was otherworldly, in a good way. He has such amazing craftsmanship, always. Walt Siegel has been a favorite builder of mine for years and his 70's bevel Ducati racer, complete with silver metal flake paint was a stunner. Too many bikes to list, but I did post my Top 14 to Ultimate Motorcycling.
OK, the drinks are starting kick in. Hours upon hours of walking and talking. It might be time to call it but there are still more bikes oogle and details to pine over. At least we have Sunday to come back for more, that is if Saturday's hangover allows it. It's nearly midnight again, the show is closing but the party in Austin certainly doesn't stop then. The young college atmosphere here in Austin will crank the energy up long past midnight, and we want it.
For custom motorcycle lovers, the Handbuilt Motorcycle Show is one of those "must see" shows. And not just once. Each year offers something new and is filled with passionate moto nerds, just like you and me. I already look forward to next year, and hopefully meeting you there. Let's connect. Let's support the up and comers. Let's have a damn good time and build bikes. That's what it's all about in the end, isn't it?