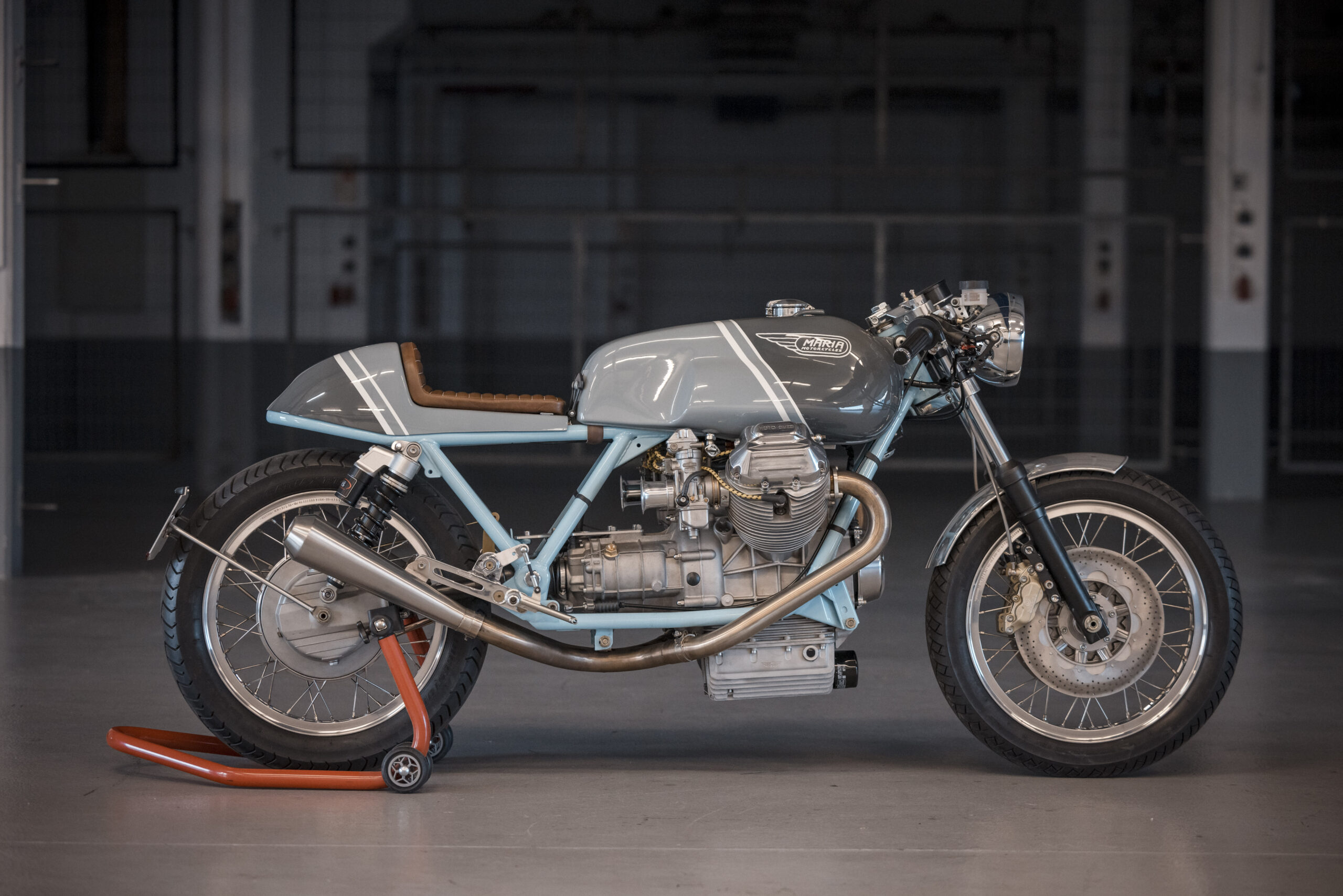 From Le Mans to Estoril
There's just something about a custom Moto Guzzi. Having worked for the marquee and been to the factory in Mandello del Lario on numerous occasions, it's impossible to not get "lost in the emotions" as the Italians would say. There is undeniable heritage and passion for the brand. And to think that every flipping Guzzi to ever roll down the road came out of that factory on the side of Lake Como is too cool!
That story can't be faked, bought, or easily replicated. Early Isle of Man wins. Endurance racing wins. First wind tunnel aerodynamic testing for motorcycles. Many, many firsts and so much history. Clearly I have some love for the brand too. When I first laid eyes on this gorgeous Le Mans MK1 from Maria Riding Company, I had to reach out. I exchanged some emails with Luis Correia, CEO and Co-Founder of the Portuguese firm and he kindly send me some photos and details of this lovely machine. The rest of the story are their words, their photos. Enjoy! – Pat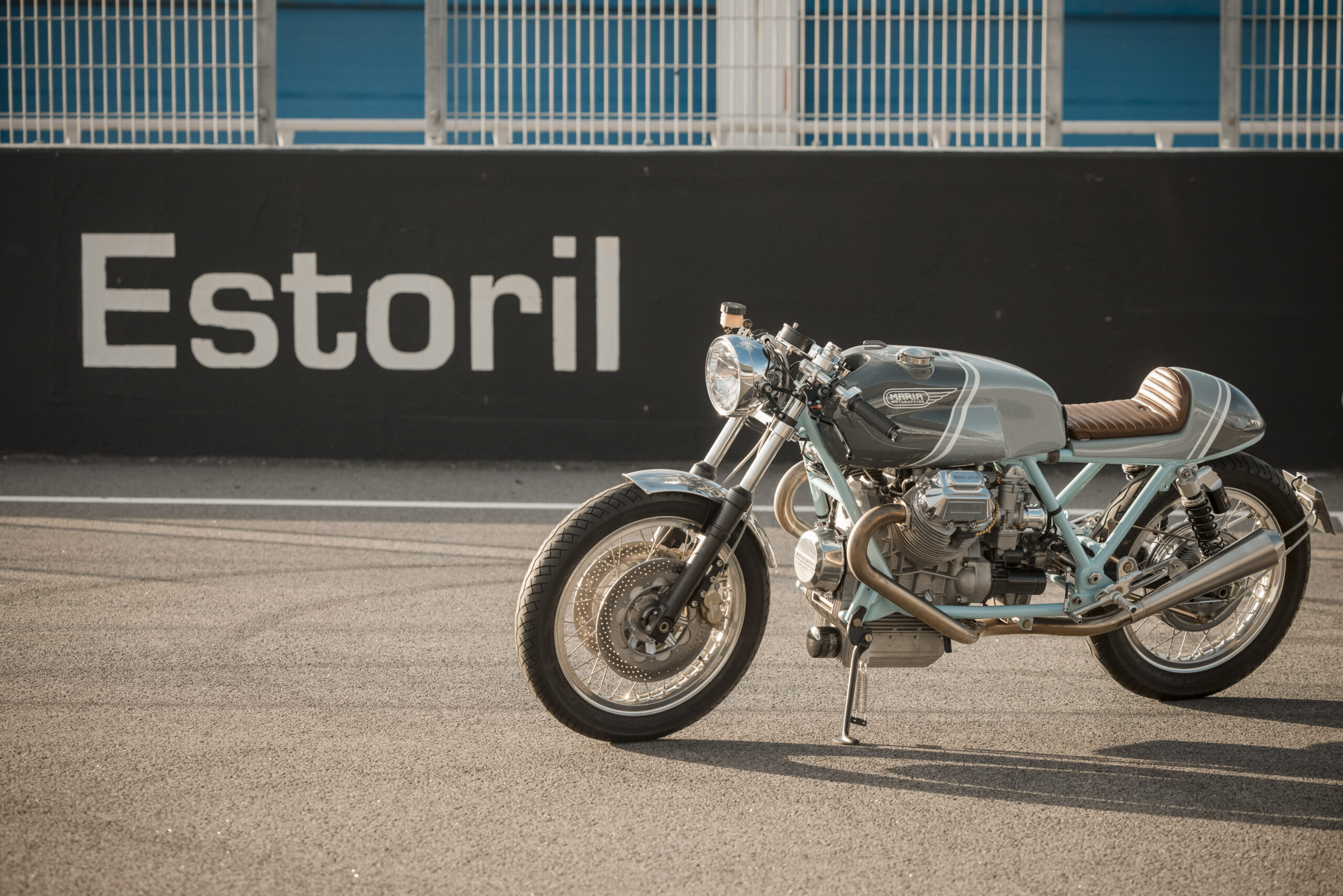 This is a long story about a bike, which, unlike everything we've done so far, was a lengthy and complex process, jam-packed with stories and hurdles that we fought to overcome.
It all started when a French customer got in touch with us in late 2013 to order a motorcycle. He had been quite enthusiastic about our Italian Sniper project, focused on a Ducati SS750 we had recently made.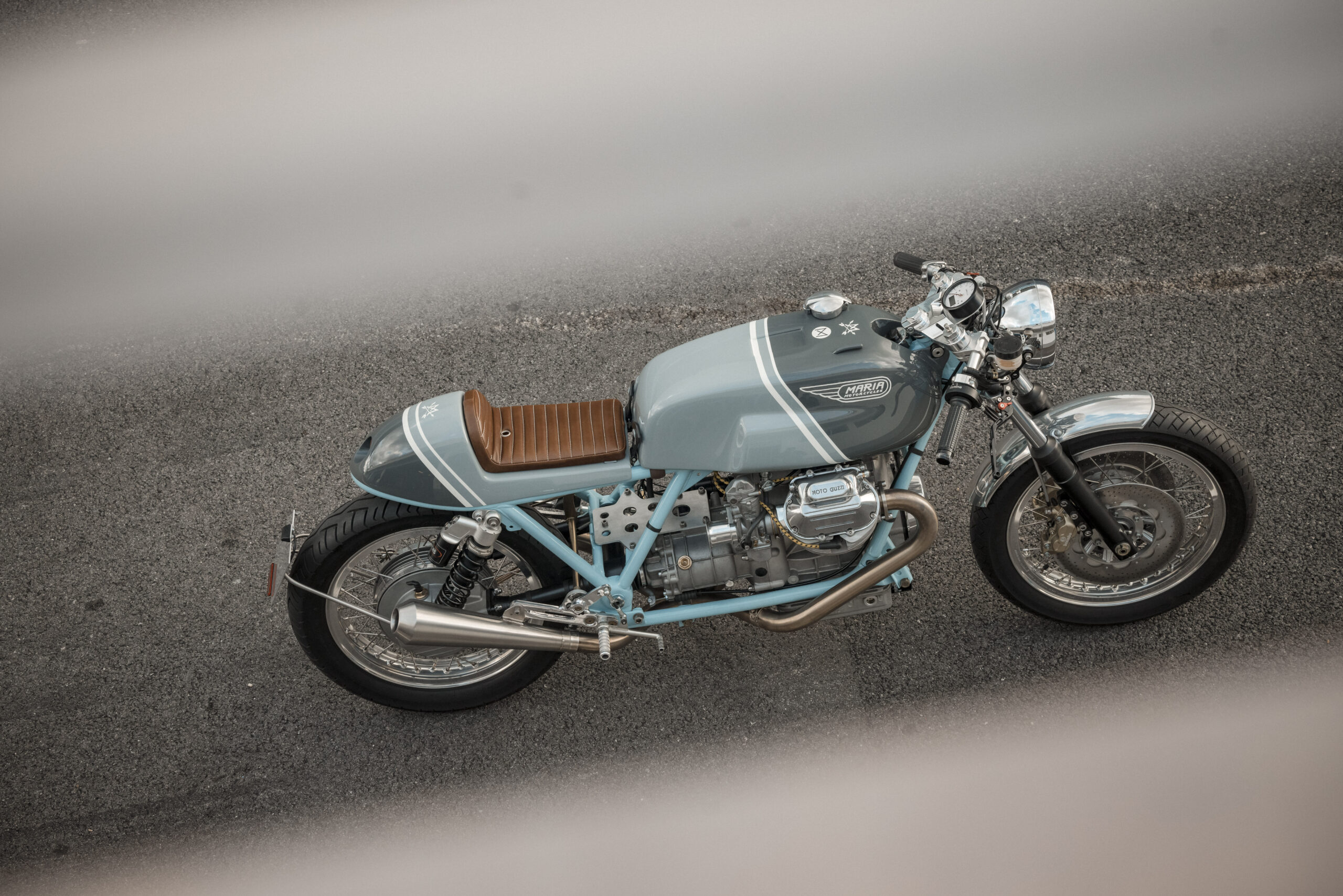 At the time, we discussed different possibilities and, instead of a Ducati, we proposed to build a Moto Guzzi. It would be a much more exclusive and different bike. Our proposal had as its epicenter the Le Mans MK1 model, a motorcycle whose history is associated with classic racing and which already had plenty of commercial value back in the day.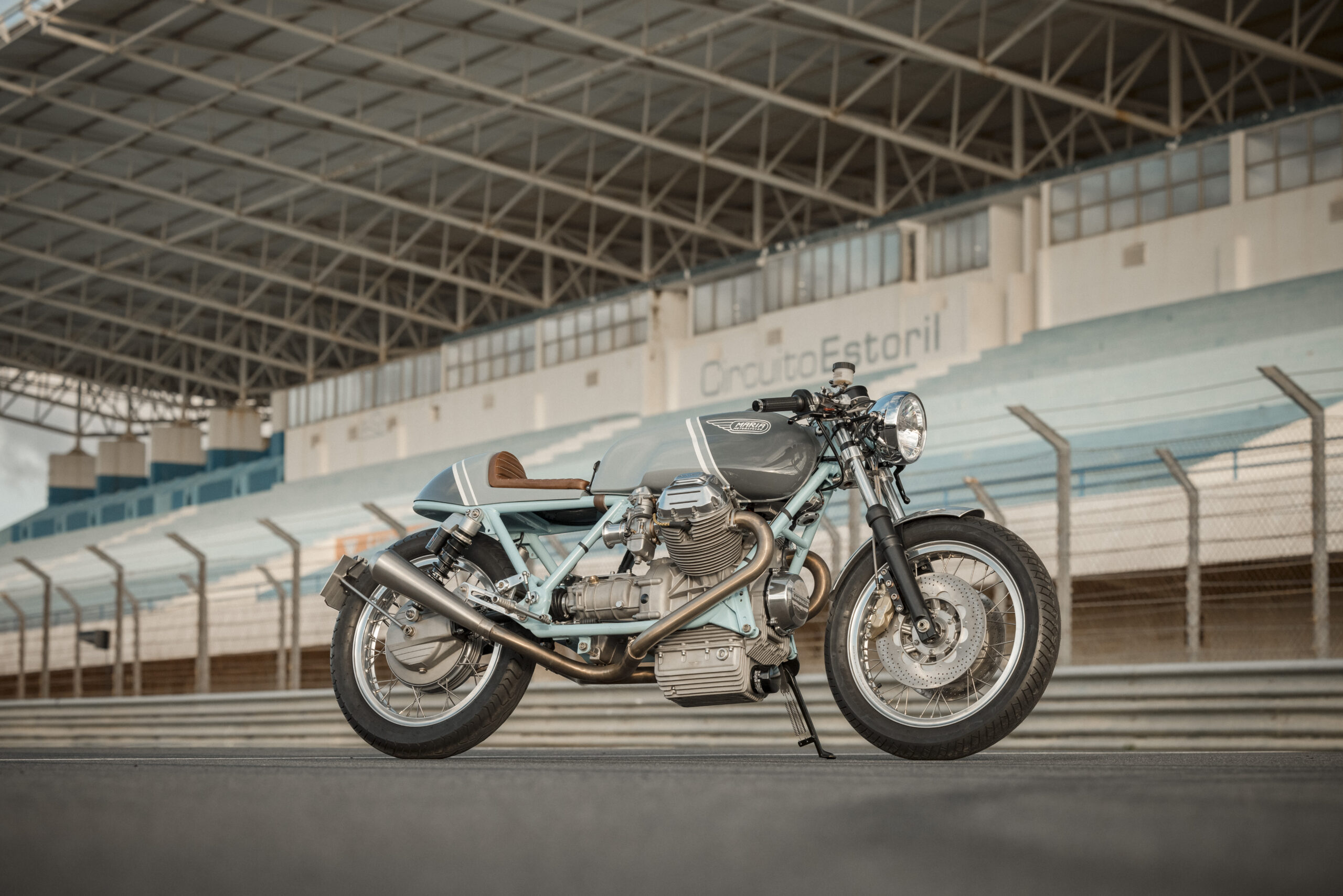 Our client liked the idea very much and we started the project. The problem was to find the base motorcycle. However, after both parties did some research, our client found a bike in Belgium which already had some modifications. Although we always prefer base bikes to be as original as possible, we accepted it, as there were few bikes with this model, and our client had to go ahead with the purchase.
The bike was bought and sent to Portugal to start the project.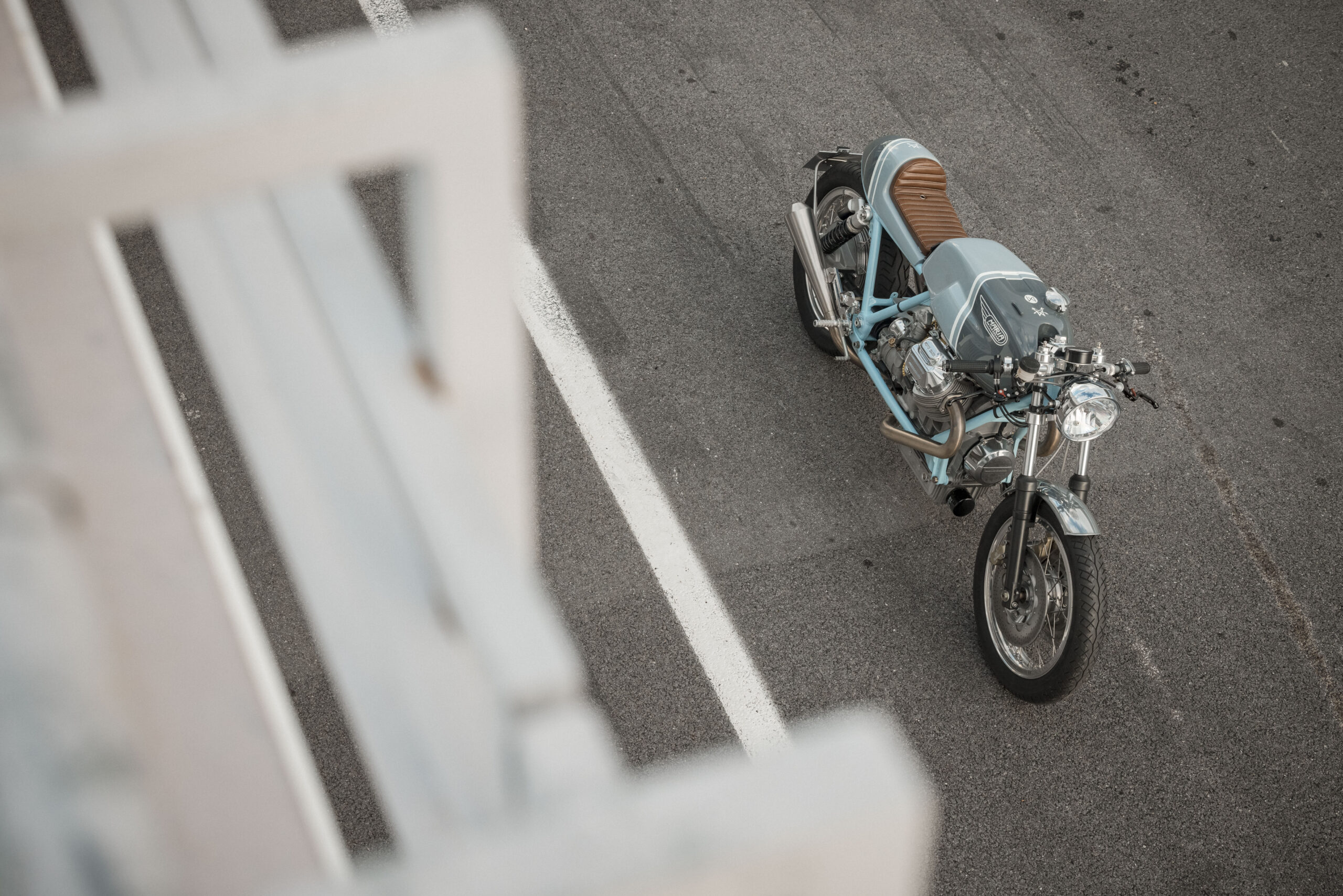 We still received the client in our studio to talk a little bit more about several concepts and ideas. After everyone felt comfortable about the way forward, we started working on it.
When we got the bike, we noticed that it was quite modified. Too much to our liking. Nothing on it was original anymore. In fact, the bike had already taken part in classic tournaments with its previous owner. It had different wheels, tank, rear end, front suspension, engine… Everything had been altered or modified, completely defacing the basis of the original Le Mans.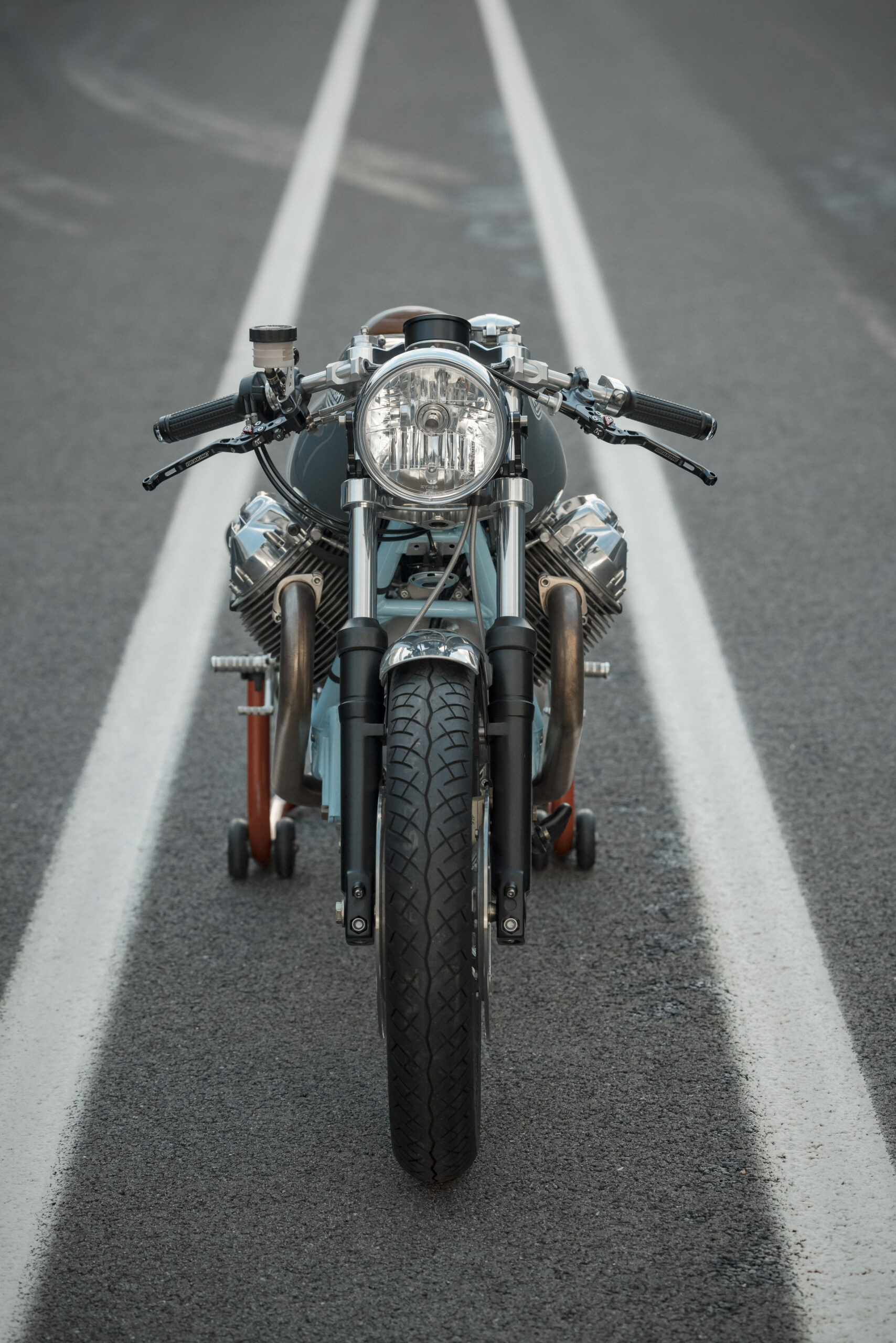 The goal of this project was to build a motorcycle inspired by racing, with a classic approach, without visually emphasizing the use of recent or modern parts. For this, and with the base we had, there was only one solution. Take all the screws apart, decide what we were going to take advantage of or purchase, and then build what was missing for our design.