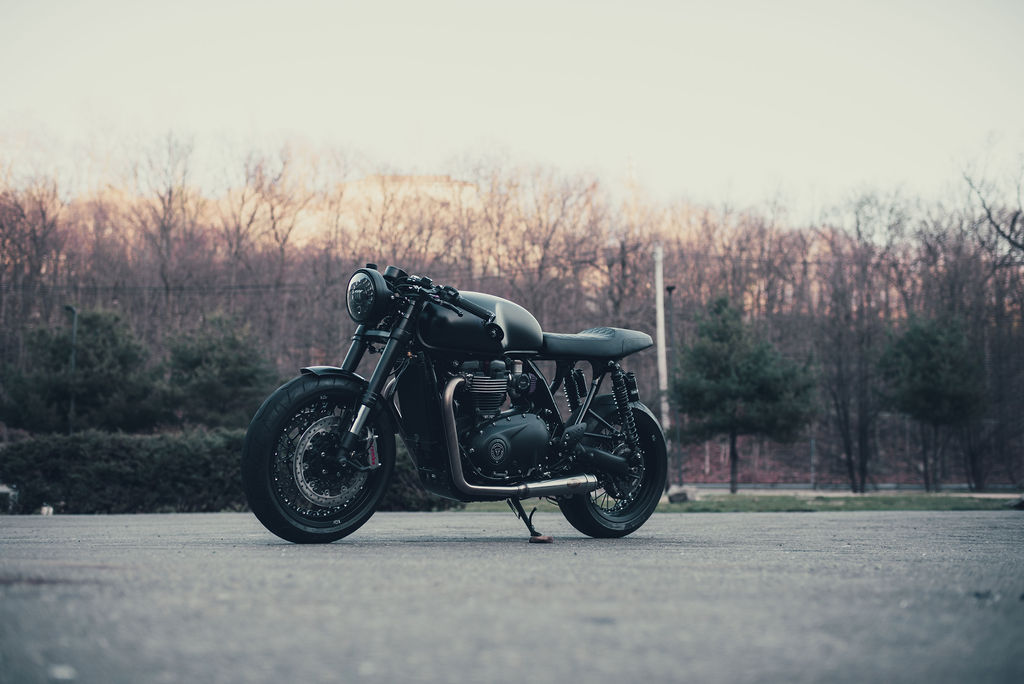 The Pandemic Special, please.
The Triumph Thruxton has a soft spot in my heart. In fact, I have more than once felt like we had the original Triumph Thruxton R with our Bullitt OG. The whole idea of the cafe racer came from the idea of taking current (for the time) street bikes and pulling off anything that didn't add horsepower or performance. That said, builders of cafe racers sought the best components; frames  (like the famed Norton featherbed), upgraded brakes, wheels, exhaust and the best suspension of the time. If those same gents were building their cafe racers today, they certainly would be utilizing upside forks. That was my mindset with the OG – a bike I had envisioned over a decade ago. I knew I had to have USD forks off a modern sportbike, upgraded brakes and planned to remove everything else. A lot has changed with the Triumph range since our humble 2005 bike. Flash forward to the year 2020, and stuck in a global pandemic, our friends at A&J Cycles decided to take advantage of the forced downtime and built a Triumph Thruxton R with the A&J spin, and I'm in love.
I hit up Brian Ballard at A&J Cycles and told him I had to share this killer build. He graciously shared some stellar images and details on the build.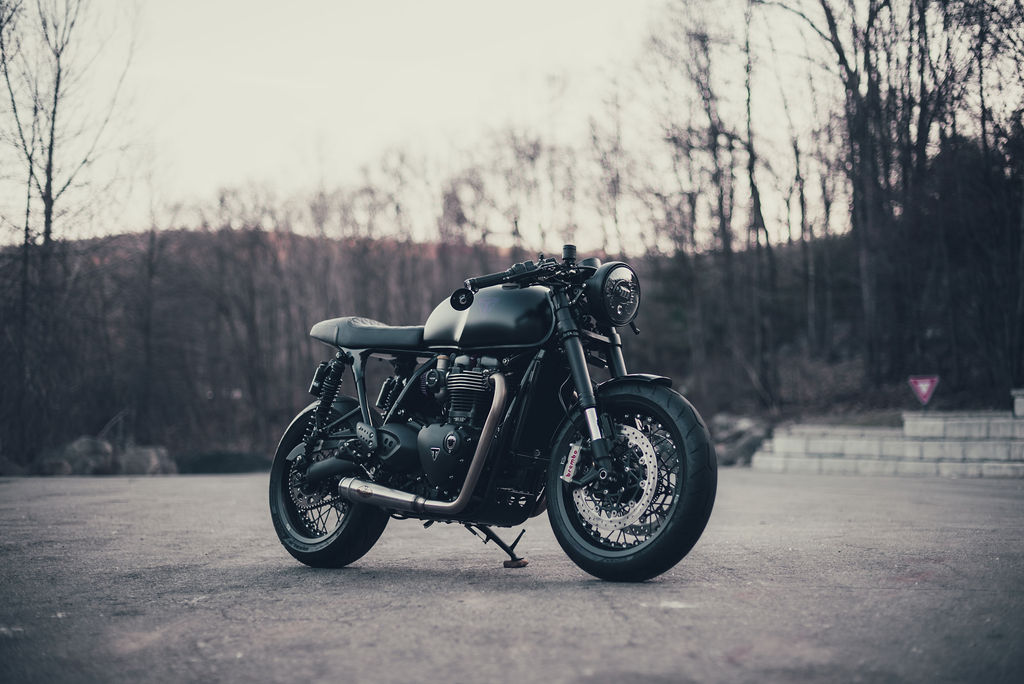 Located just thirty minutes outside of New York City, sits A&J Cycles, a motorcycle shop which prides itself on being a one-stop shop for Triumph enthusiasts. The staff at A&J Cycles, all friends that work together on nights and weekends, have full-time day jobs which translate well to the overall skillset of the shop as a whole and only adds to their ability to cast a wide reaching net when it comes to custom builds or upgrades for both small and large projects. While some projects are highly custom, the primary objective of their builds is to emphasize what can be done to one's everyday ride with a collection of high end components that work well together, both aesthetically and from a performance standpoint.
This 2017 Thruxton R was purchased used by our custom Matt and shipped directly to our shop. A few emails and spreadsheets were exchanged the build parameters were set.  With a few delays along the way due to some personal health issues and Covid 19 shutdowns, we aptly named the bike the Covid R.
BIKE SPECIFICATIONS:
We enlisted our resident painter and fabricator, Dave Adamski from SlagKustom, to assist with the the build. Dave relocated the battery under the engine with a trick skid plate/tray and integrated a new license plate bracket into the backside of the main cradle. A new electronics tray was welded in place too.  Fish Brothers Upholstery worked their magic on the seat. The tank was painted matte black with a mystic (think 90s mustang) Triumph logo. The rest of bike's components received a healthy dose of powdercoating from TRG Coating (Stockholm, New Jersey).
To enhance the bike's overall performance, the air box was ditched in its entirety in favor of pod filters from DNA Filters. We replaced the exhaust with a complete system from Zard and the ecu was programmed with a custom tune from DNK Tuneworks to maximize the new components.
The newfound power is put to the ground with a set of Kineo wheels. We upgraded the suspension to incorporate the Ohlins blackline TR965 shocks and an Ohlins blackline steering damper.
To accommodate the new Chronoclassic dark tachometer by Motogadget, we machined the stock top clamp and made a mounting bracket. The gauge was wired using the Vis-T module from Peak Mod. To improve visibility, we installed an adaptive 2 headlight from Motodemic which we were able to tuck closer to the trees with their low profile headlight bucket and brackets. We upgraded the turn signals to LED offerings from Motogadget and Kellermann.
To complete the overall aesthetics of the bike, we installed a Brembo RCS 19 Master Cylinder with Pazzo levers, fluid tanks from Rizoma and m.spy mirrors from Motogadget. We were able to establish a more aggressive riding position by installing LSL rearsets.
With a bike dripping in sexy components, styling and performance are both on point. The bike feels both vintage and modern at the same time. Even with top-of-the-line parts and a bit of pizzazz, the bike doesn't feel like it's begging for attention. This is balance. This is the shit that keeps me loving the custom motorcycle scene more and more over the years. Well done, lads!
A&J Cycles: Web | Facebook | Instagram  ||  Photos by: Antonio Carusone