A KTM 250 EXC-F cafe racer?
We've been following the evolution of Nigel Petrie's 2008 KTM 250 EXC-F for years now. Petrie, an Ozzie auto drifter and two wheel enthusiast, has taken this bike from an enduro, to Supermoto, to cafe racer, and now to the pretty slick little tracker you see here today.   

After some time running the bike as a cafe, Petrie got a taste of the flat track bug and decided to reinvent the bike as a proper flat track racer.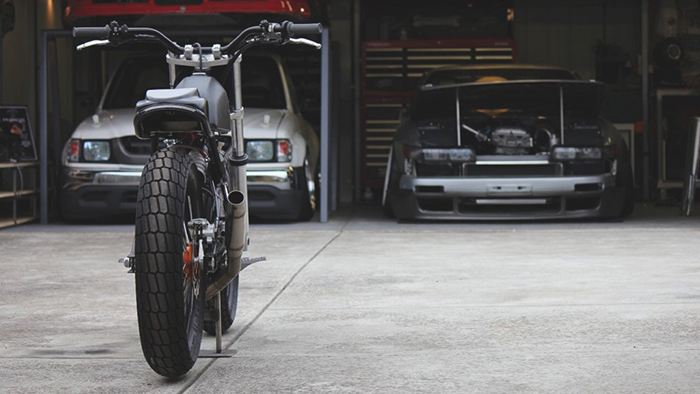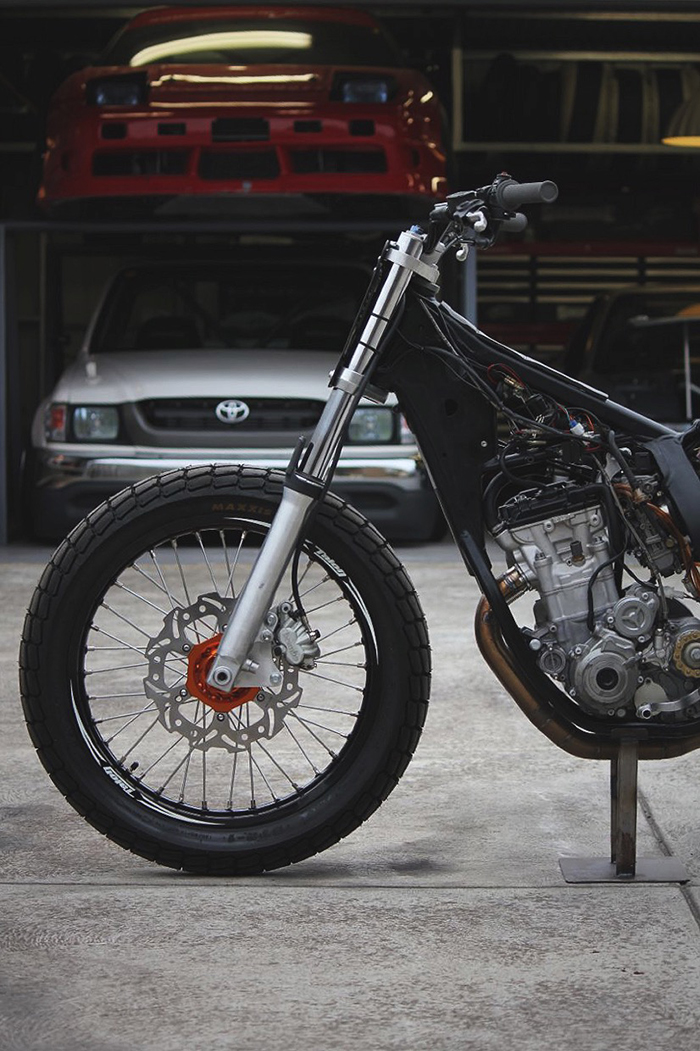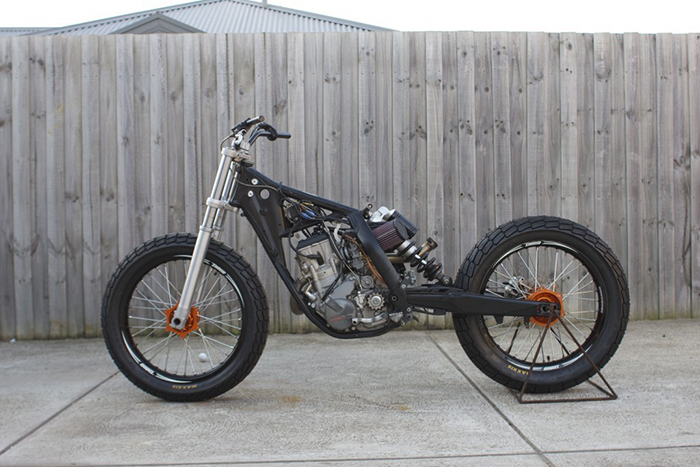 Realizing the wheelbase of the KTM was a few inches too long (57″) when compared to what the pros use on their race bikes (54-55″), he just decided to build his own complete rear end. That's what's so impressive to me about this guy; he just makes whatever he needs.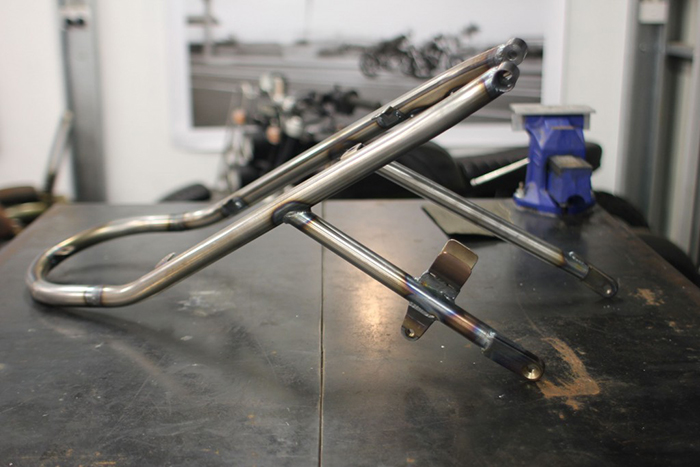 With the new rear end complete, and a set of tracker tires, some $34 'touring' handlebars and a new tank, the bike wast starting to look the business. Nigel didn't stop there.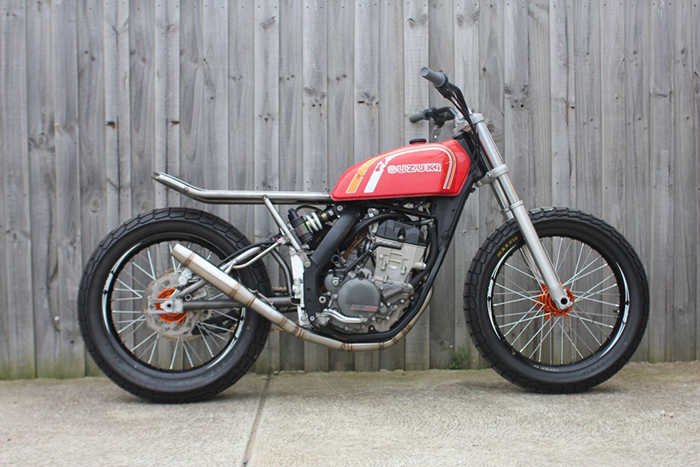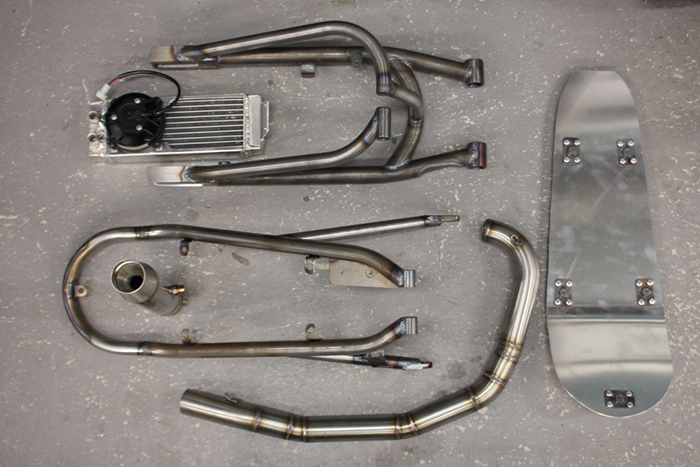 He designed a radiator using a thermo fan and mounted it behind the gearbox, out of the way and filling in the negative space where the old swing arm sat. It's a dual flow piece, in one side and out the other, and he utilized the stock core to make the tanks and incorporated the fan mounts into the side plates. Nicely done sir!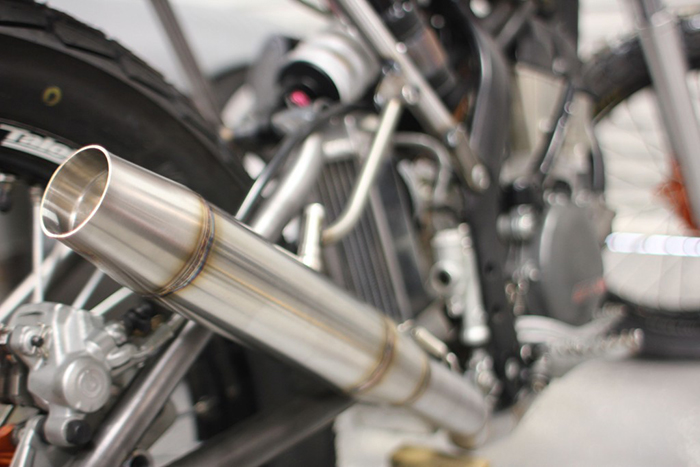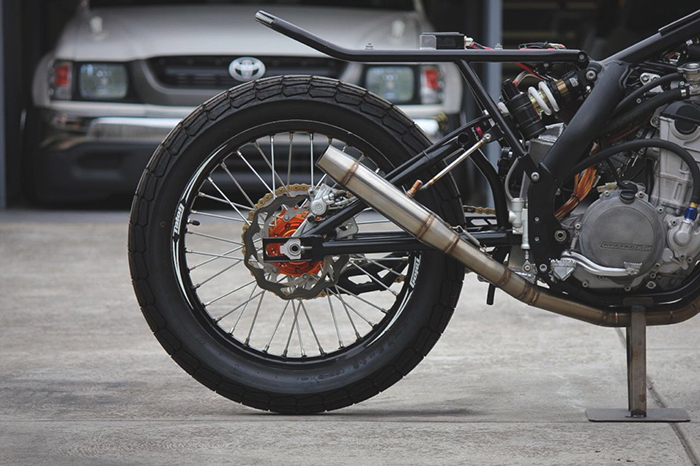 The entire exhaust system is handmade by Nigel. He utilized 1-3/4″ header pipe that runs all the way under the motor and then into a stainless muffler. He's got plenty of practice making exhausts with all the auto work he does and he states that making the muffler is one of the easiest things for him to make.
So Petrie had proven to himself that he can built a totally trackable bike, and had some fun in the dirt, getting faster and faster at every left turn but was afraid he seized the engine one day at the track. He's got a good post on the dirt track adventures here.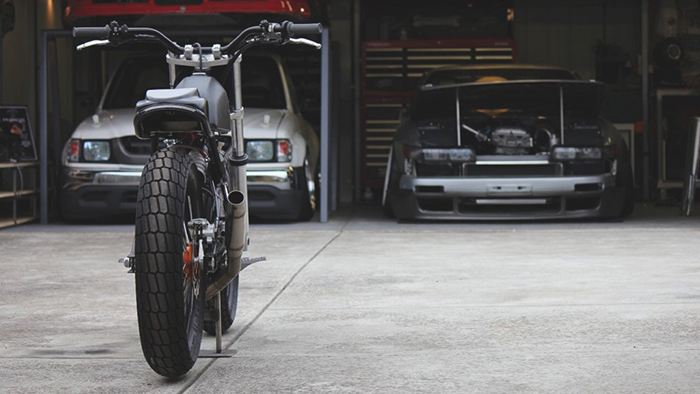 The bike has been pushed to the side of the garage, and forgotten about for some time. It wasn't until the Geelong Revival 'motoring festival' came into town, Petrie decided to rework the bike into a blacked-out street-going tracker, complete with headlight, tail light, blinkers, and good old front brakes.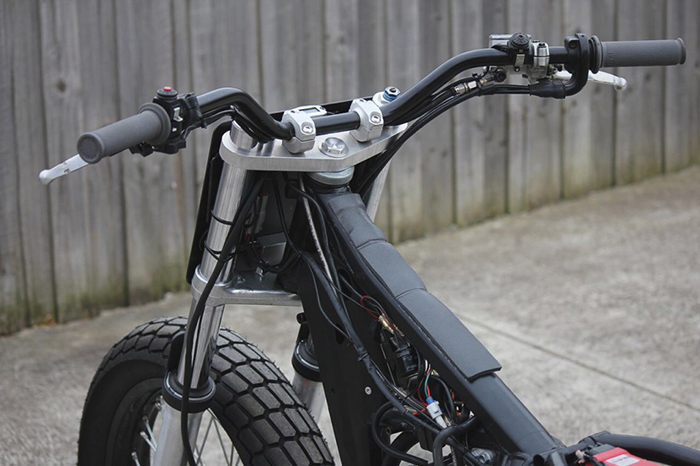 After working through some engine issues, the front suspension was addressed. The $100 front end he threw on for flat track were mushy and swapped out for a set of 43mm 2001 Yamaha R6 forks that he shaved down and made a new top triple clamp for.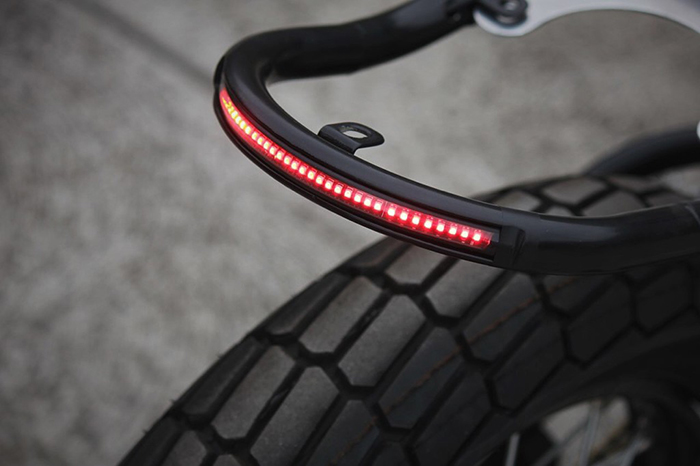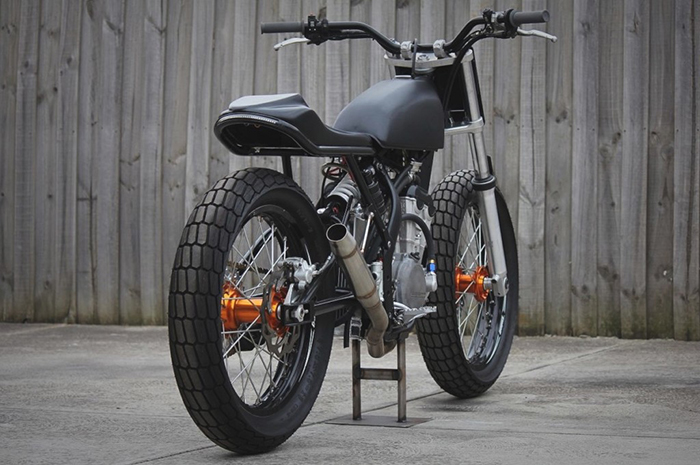 Under the fiberglass seat pan sits a tail light with integrated brake light and indicators, underneath this is a quick release number plate that can be fit and refit depending on how legal he wants to be.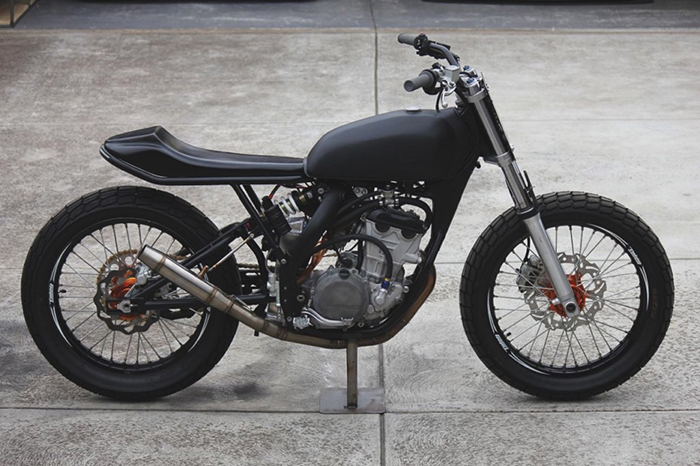 Having seen this bike set up so many different ways, it's hard to decide which I my favorite. I almost always prefer the murdered look but something about the partially unfinished tracker set up with the old Kawi tank just looks so good to me.
Utmost respect to Nigel and his ability to just build whatever he needs. Keep on kicking ass over there mate, and we'll keep on watching the progress from out here in Cali.