What did he have in that pipe?
Robbie Maddison is a badass, but you already knew that. Whether he's jumping onto the Arc de Triomphe in Vegas, launching off a K120 Nordic Ski long jump in Utah, or backflipping the Tower Bridge in London, Maddo does it big. When his newest video dropped today, we thought the internet was going to break. For nearly two years Robbie has been focused on making surfing on his motorcycle a reality. It might sound crazy, but when you line up a dude that can do just about anything on a motorcycle with a good resources and the same production team that put together his Air.Craft video, anything is possible. His efforts paid off in Tahiti, where he made history, riding the world famous waves at Teahupoo and Papara via dirtbike.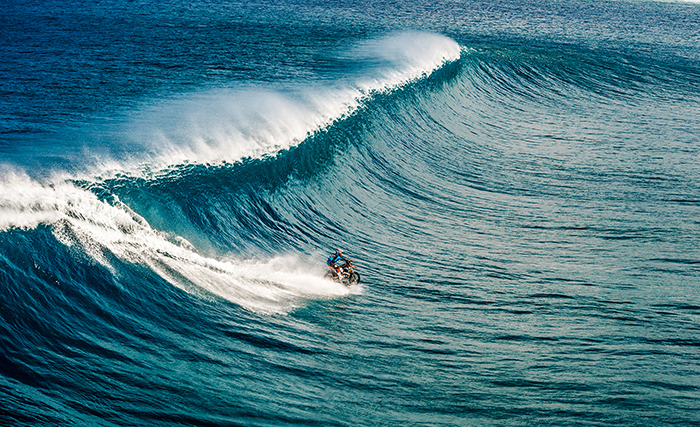 From his helmet to motocross boots, Maddison was dressed for the dirt when he took his a KTM 250 SX dirtbike (he opted for the two-stroke after some testing a few options as the two-stoke simplified the teardown and rebuilding process in the event of a "crash") into the unchartered saltwater terrain of the Pacific Ocean in French Polynesia. Mad respect to this guy for his innovation and gargantuan balls. We can only image what'll comes next from Maddo.