Zero miles…really?
Ducati SportClassics are hard to come by these days, and their value has only gone up since production halted. The Paul Smart LE (Limited Edition) was only made in 2006 so their numbers are far fewer. I've dreamt of having my own someday but came to terms with the idea of having to 'build' one using a more common model as the foundation. The thought if finding one new, or unused, seemed impossible. Well, that's what we thought until stumbling across an ad for what appears to be a brand spanking new 
PS1000LE 
for sale!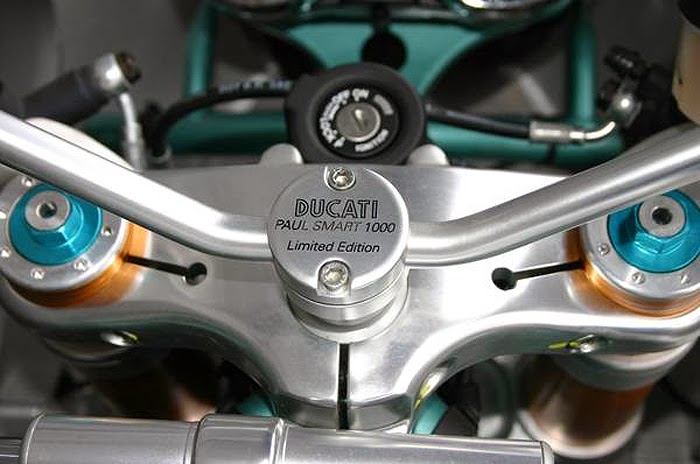 There seems to be a unicorn in our presence. While scouring good ol' Craigslist for bikes abd parts – a daily occurrence here – we stumbled across what seems to be a completely virgin 2006 Ducati Paul Smart 1000 LE. The Paul Smart SportClassic pictured here is said to be under MSA from Fast by Ferracci in Pennsylvania.

Never been titled, never seen a drop of fuel and just recently harvested from the crate. Can it be? If so, does anyone have $30k to lend me?! 


 

A little background on the Ducati Paul Smart 1000LE:

The Ducati Paul Smart
 1000LE (sometimes abbreviated as PS1000LE) is a retro styled "naked" sportbike built by Ducati in 2006 to commemorate Paul Smart's win at the Imola 200 (km) race in 1972, a win that helped define Ducati's future approach to racing. The bike is styled in the fashion of the Ducati 750 Imola Desmo race bike that Paul Smart rode to victory, and the 1974 750 SuperSport it originally inspired. It is one of the Sport Classic series designed by Pierre Terblanche.
The PS1000LE is powered by an 992 cc L-twin cylinder, 2-valves per cylinder desmodromic, air-cooled engine with Marelli injectors on a 45 mm throttle body connected to a 6-speed transmission. Power output is 92 hp (67.7 kW) at 8000 rpm while torque peaks at 67.3 ft·lb at 6000 rpm. Exhaust gasses are directed to twin mufflers mounted high on the right side of the rear wheel.
The chassis consists of a tubular steel trellis. For the suspension, an Ohlins 43mm upside-down fully adjustable fork is used for the front while a fully adjustable monoshock also from Ohlins is mounted on the left side of the rear wheel. Total wheelbase is 1425 mm (56.1 in).