A Triumph Thruxton with a (steam)punk attitude
Benji's Cafe Racer has made a name for themselves building custom parts for mostly Japanese bikes like the Honda CB series. In recent years they've branched out and built some bikes outside of their norm, a favorite of ours being a Ducati 'Monster Tracker'. BCR started wrenching on a Triumph Thruxton as well and started producing parts for the Hinkley machines with items such as a Euro headlight bucket, velocity stacks, clip-ons, seats and the like. Not being satisfied with a 'bolt-on' custom, owner Benjie Flipprboi, decided to build a complete custom Triumph cafe with a twist…a steampunk twist.
Using a 2008 Triumph Thruxton as a base, he stripped it down to a basic frame and motor with the intention of custom fabricating just about everything that went back onto the bike. Wanting an industrial feel, Flipprboi handcrafted the bodywork and tank from polished aluminum adding personality and flair all over the place. The front cowl with the claw-gills, offset yellow headlight and plexiglass mini windscreen really puts the punk in steampunk.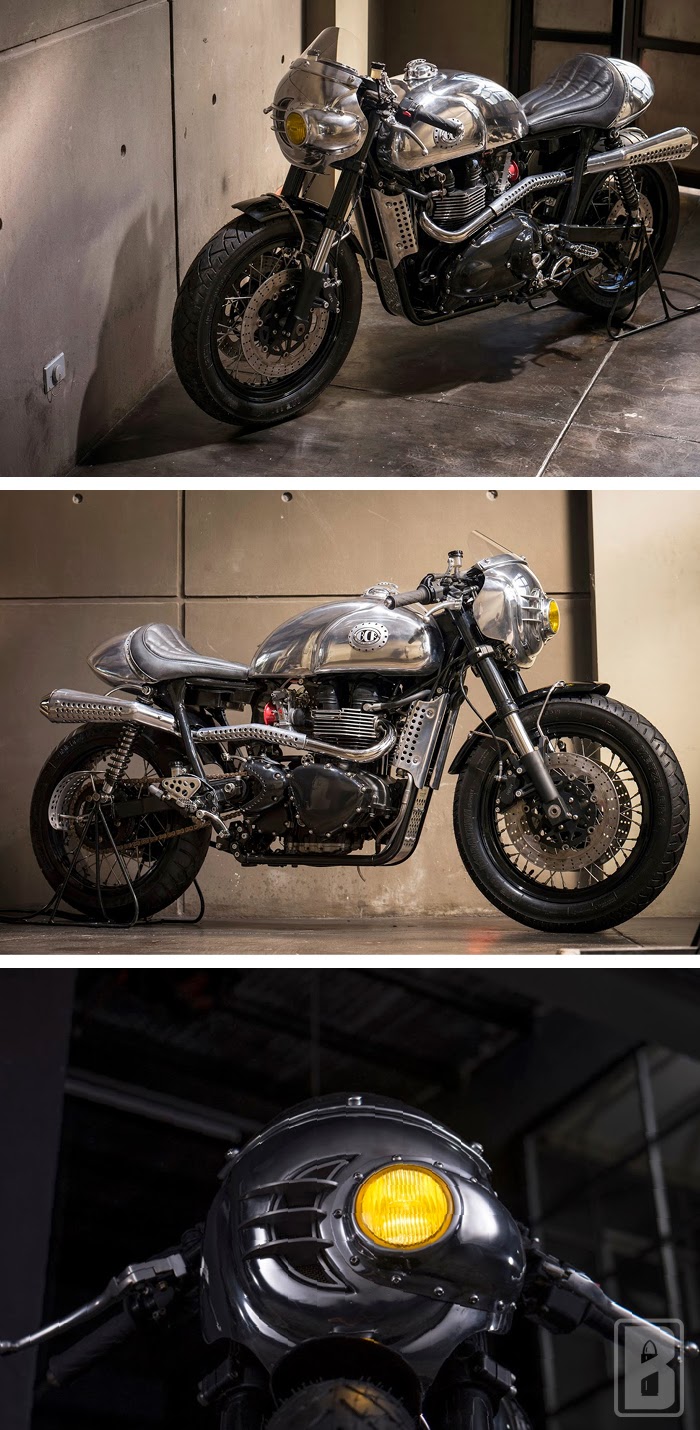 As we know first-hand from the OG Bullitt, swapping out the stock forks for a set of USD forks is no simple task. BCR snagged a pair of early 2000s CBR1000RR forks and machined a new steering stem and changed the steering bearings. A 40-hole Harley Davidson front hub was laced up and fitted with with custom spacers and axle. They opted to use the CBR brakes and calipers.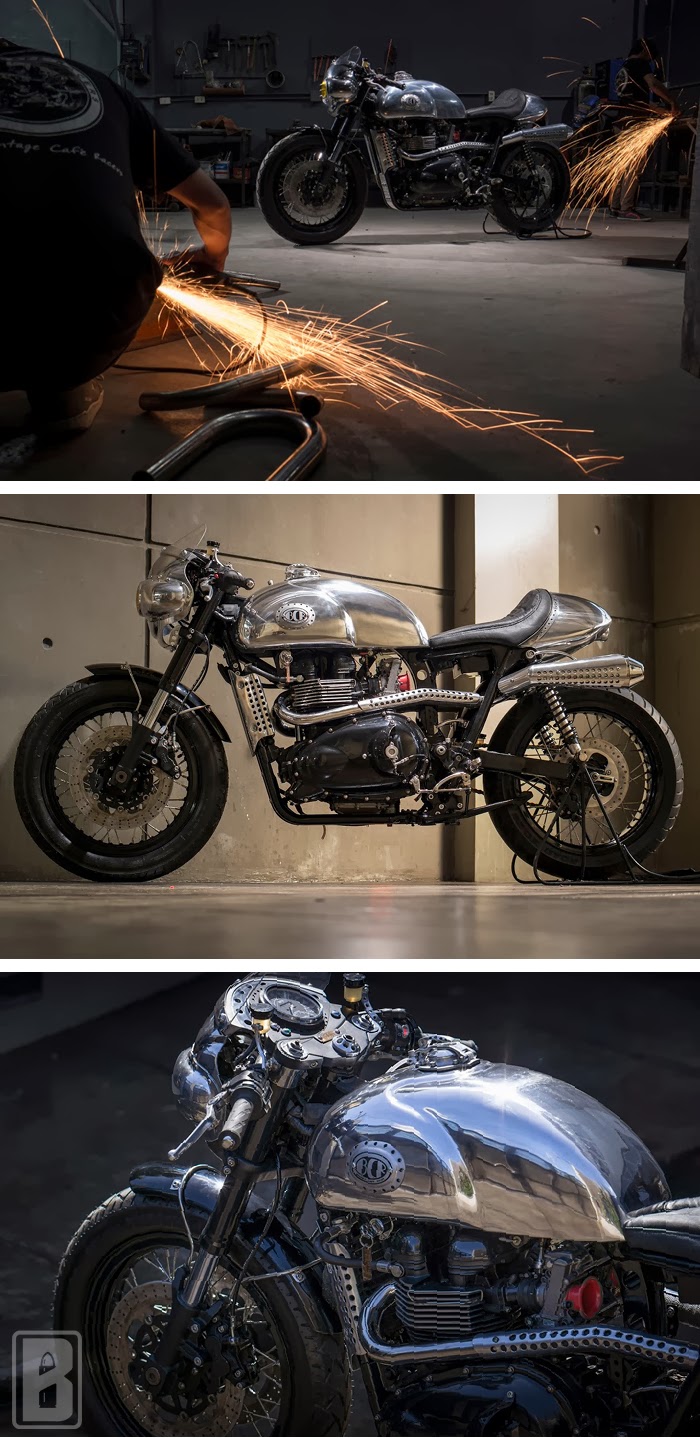 Stock upper trees were tidied up and embellished with a industrial dash consisting of a used HD speedo/tach combo gauge, stock Triumph lights and gobs of 'speedholes'. BCR fabbed up a set of clip-ons for the steampunk racer as well. Another cool but possibly overlooked upgrade made was converting the bike to all hydraulic hand controls – eliminating the stock clutch cable for a hydraulic clutch system from a Ducati 900SS.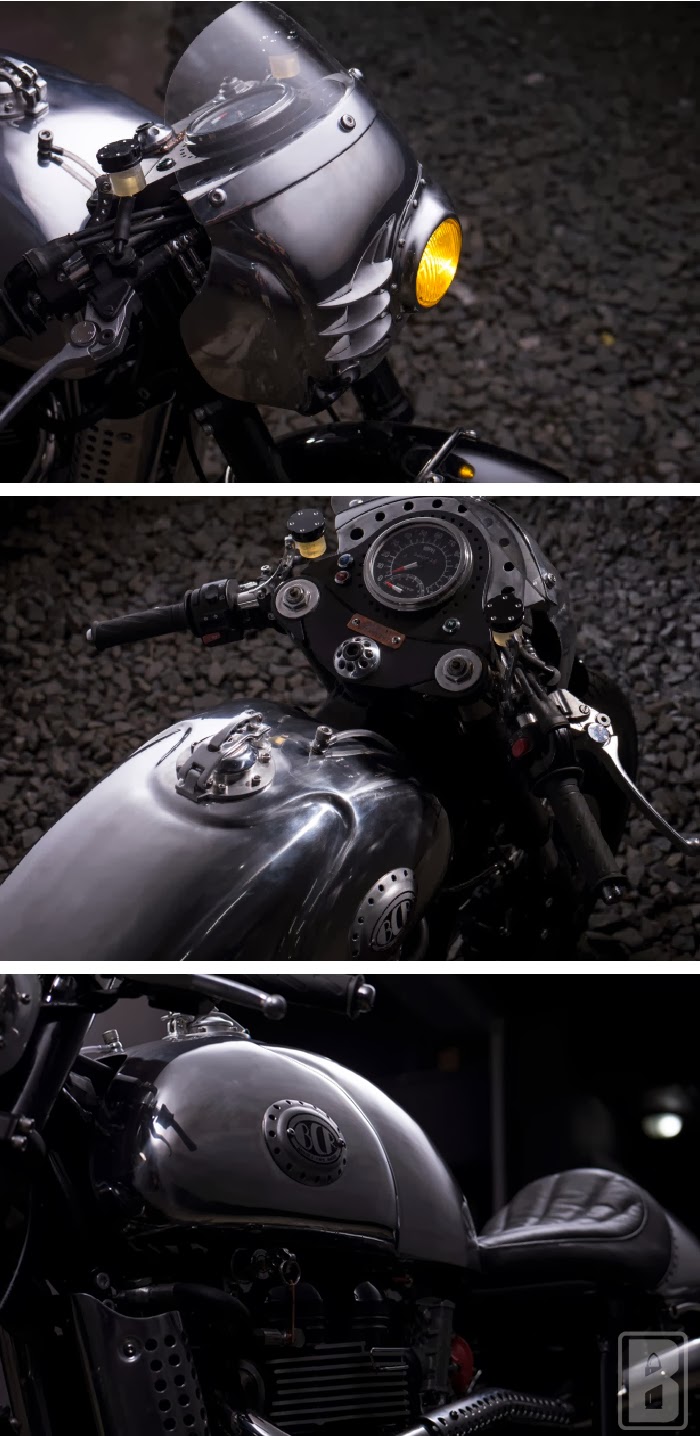 The aluminum tank design on this bike is totally new and original, including the gas cap and hand-hammered tank badge. The tail is wide, yet clean and completes the look with the custom high-exit exhaust flanking each side. Like on other custom BCR exhausts they tuck the pipes inwards, giving the riders' legs clearance from the scalding hot pipes, before truing back out to allowing the oval-shaped reverse megaphones room to breathe.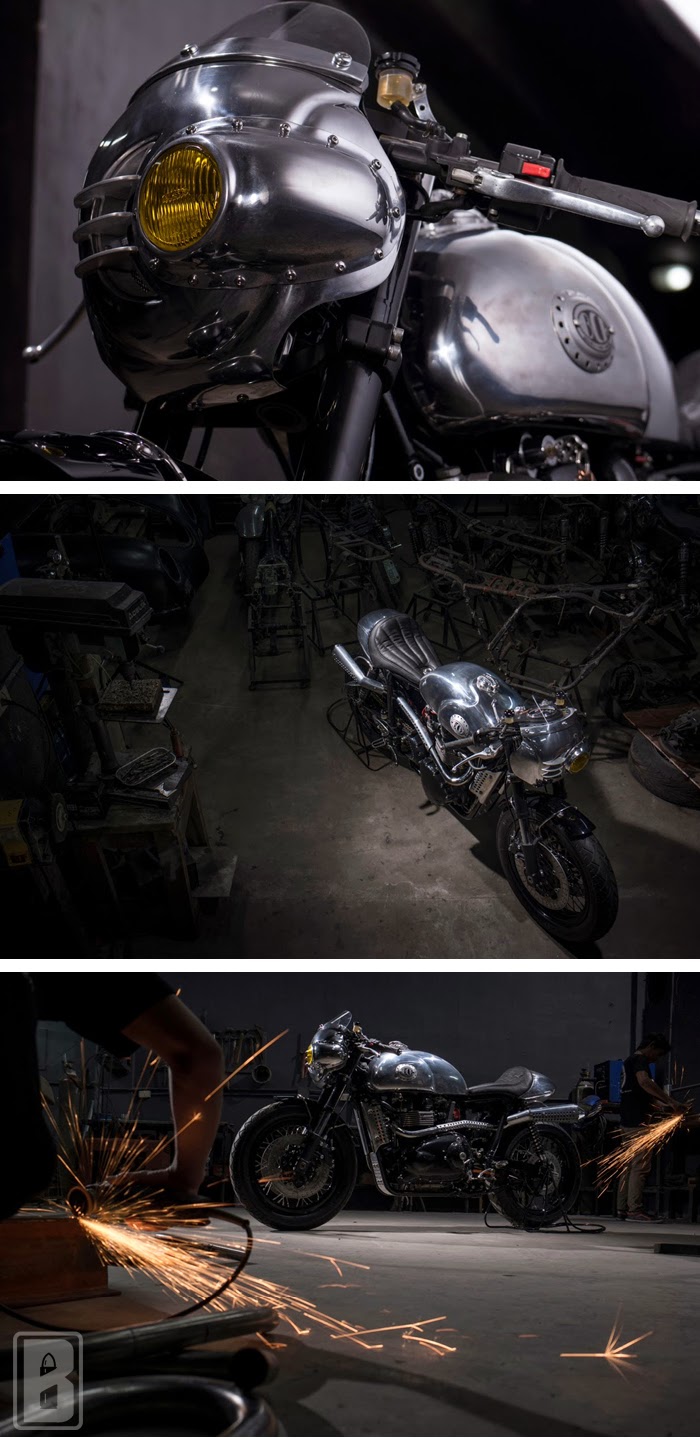 Other one-off handmade parts on this bike are MX inspired stainless pegs and foot controls, heat shields for the oil cooler, skid plate, oil filler cap, license plate bracket, and even the key. Yep, with a bike with this much attention to detail, how could they leave something as subtle as the key out? It had to be done!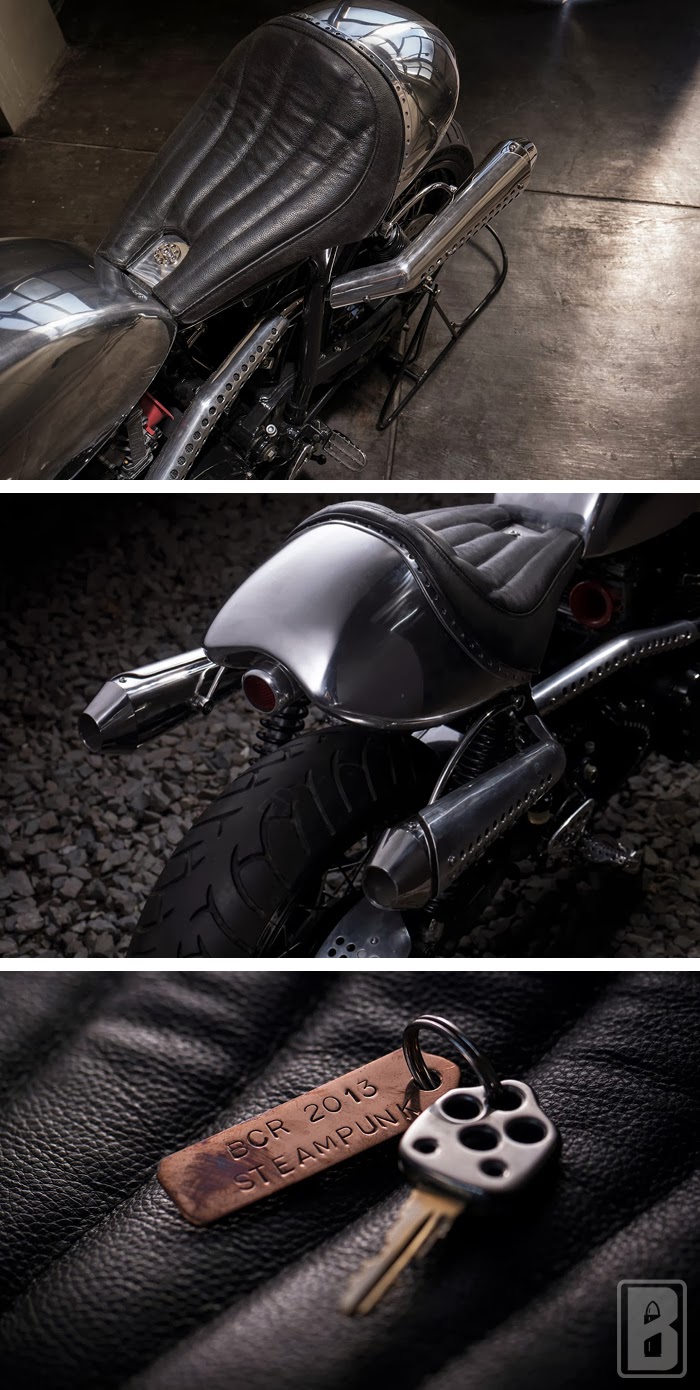 This steampunk racer was a great chance for BCR to show the world that they can build some serious customs. We can just stare at these pictures for hours, inspecting every detail. With a bike that definitely has more than the required 15 pieces of flair it still somehow doesn't come off pretentious or overdone. With so many custom cafe racers out there, especially Triumph's Modern Classics, it's refreshing to see someone with so much talent and drive get after it and turn out and amazing one-off bike. Hats off to you guys, this one is definitely Bullitt approved!!