This clean cafe is ready to race
You ever have a bike you sold, yet over the years regret? I'm sure most of us have a few but there's always one that really stings. For me, our original Bullitt OG is that bike. Memories of the front end swap. Getting forged wheels to fit. New spacers here. New lines there. The work felt endless… But over the years, the pain and frustration fades and the good memories remain. Someone who knows the feeling is Andrew from Trident Cycles. I've been following their work for for some time, and absolutely loved watching their stunning blue Triumph Thruxton R take shape. It's strikingly familiar to the OG…but admittedly, even more race-ready. When I saw Trident share that they were selling their build I had to reach out for the details. I'm happy to share the specs and details here on one side, but on the other, I just want to buy it for myself.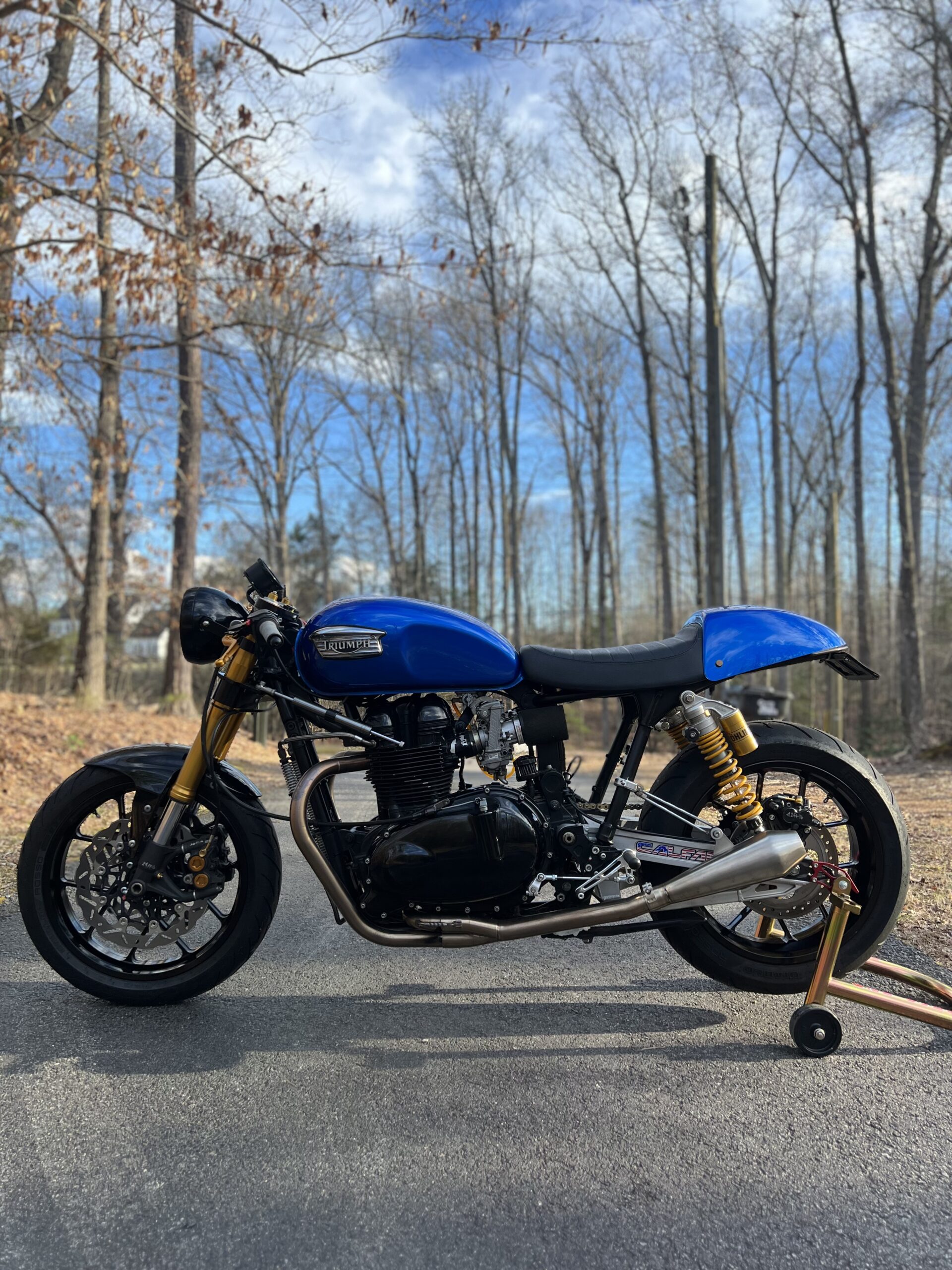 Bike Specs
2005 Triumph Thruxton R
2001 988cc Motor Built By Triumph Performance USA – 94HP
Motor has an estimated 20k miles and is not original to the motorcycle. Will provide original crankcase with sale
Keihin FCR39 Carbs
British Customs 2-1 Exhaust
TPUSA Igniter
Front Forks from a 2006 Triumph Daytona 675 w/ .90kg KTech springs. Forks refreshed within last 500 miles (Jan 2022)
Daytona 675 Triple Tree by Free Spirits
Braking SK2 Wave Rotors w/Matching (Track) Pads
Brembo Mastercylinder from Yamaha R6
Yamaha R6 Front Brake Calipers
LSL Steering Damper
Carrozzeria Wheels
Discacciati Rearsets – Modified to run GP Shift. Will also provide original shift lever to convert back to standard shift
Koso Tachometer – Magnetic Speedometer pickup is not wired in
MotogpWerks/Calfab Braced Swingarm w/chain guard
520 Chain Conversion
Maintenance in last 500 Miles
New Pirelli Tires
Oil Change
Valve Adjustment (Jan 2022)
Spark Plugs (Jan 2022)
Carb Clean and replacement of dried o-rings (Jan 2022)
Front Rotors (May 2022)
Brake Pads front and rear (May 2022)
Wheel Bearings Front and Rear (May 2022)
Headstock Bearings (May 2022)
First $9k takes it, which is a freaking STEAL for what you're getting, Trust me, I've built one close and know how much blood, sweat, tears, and dollars he poured into this bike. If I wasn't in the middle of multiple projects, I'd snag it for myself. Hit me up at if interested, and I'll be happy to make in intro.
And just a few pics of Andrew putting her through her paces. Damn she looks fun!