Welcome back to Behind The Bars, The Bullitt's celebration of the humans behind the machines we love. We've definitely been overdue for another feature and boy do we have a good one for you today! Before we get into it, if you need a little refresher on what BtB is, last year over a bourbon or two, we decided it would be fun to profile some of the people who inspire us, challenge our point of view, or are just general badasses that make the motorcycle industry even more special.
Today, we have an insanely talented Italian artist, Gianpaolo "Gianpa" Bertoncin to share. And while the name Gianpa might not ring a bell, if you're active in the moto space online, you've likely come across the name The Junkers by now. Well, that's Gianpaolo's brainchild/business. It's hard to not make comparisons to Ryan Roadkill, as both artists are amazing and both take a tongue-in-cheek approach to motorcycle art. And I just happen to love both, so…comparison made. Sue me. Like Roadkill, Gianpa's very technically talented, but clearly doesn't take himself — or his subject matter — too seriously. So without further ado…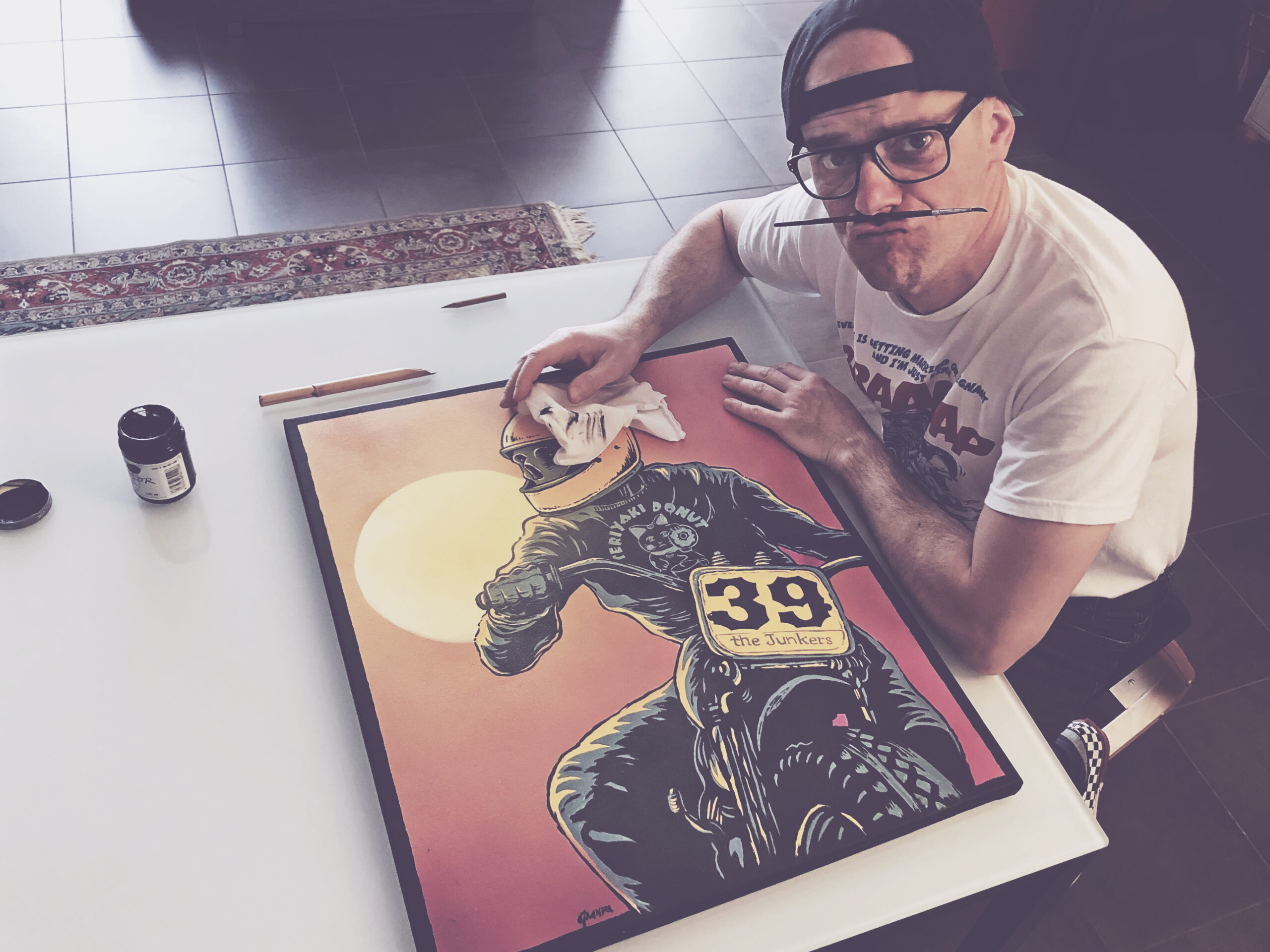 Name: Gianpaolo "Gianpa" Bertoncin
Company: The Junkers
Tell us a little about yourself. Maybe a fun fact or something not commonly known.
I had been drawing since I was a child. A few years ago this thing has become my full time job. My work is inspired and influenced by movies, underground and pop culture, books, comics, cartoons, skateboard culture… A cocktail of all these. I'm 90% digital but I love to draw with and on everything. A fun fact? One day the Hell's Angels legal department contacted me because I drew a little boy popping a wheelie on his bicycle and the words "My dad was an Hells Angel". I was inspired by an old b/w picture of a kid wearing a t-shirt with that writing on it. I thought it was funny. They didn't…
Where are you from, and where do you live now?
I'm from Rome (Italy), I live in Rome. So be kind to my English.
What do you do for a living?
I draw.
What was the first bike you bought and why did you buy it?
My very first bike was a two stroke 125cc Gilera. Fast as fuck. Something like 170 km/h… I was 17. I still don't know how I didn't kill myself on that thing. When you're young you think speed is important, that's why I bought it. Before that I had only ridden one bike (of my sister Laura).
What one person has influenced your interest in these machines – what about them helped form your ideas on this sport?
Mario, my father. No doubt. Almost everything I know about this two-wheeled world I owe to him. Many years ago he had a motorcycle shop downtown here in Rome. He definitely infected me with this holy fever since I was a kid. Now he is no longer with us… He would be the perfect pal with whom to compare myself and share ideas. Drawing motorcycles is a bit like he's still here. It's a thread that still unites us. I mean, I like to think so.
Bertoncin's Dad and Mom at the Vallelunga circuit, near Rome.
Same day, Dad testing the Italjet Vampire.
You get to design your dream moto vacation for you and three buds, all expenses paid. Where do you go and why?
I would go to Vietnam. I really like plants, animals and nature in general… There's a lot of this stuff there. So yes, Vietnam and a couple of scramblers.
What's a life lesson you learned from motorcycles?
If you still have fuel in the tank, you're not lost yet.
Have motorcycles helped you discover some aspect of your personality and/or have they helped you understand your purpose?
You need a lot of patience and passion with bikes. Plus a vein of madness. I understand I'm applying all this things in my life. For better or worse…
You have $10k and one hour to buy a bike…. Go.
Some time ago I had the pleasure of testing an electric dirt bike. Bloody funny! It would take me 5 minutes to buy it online. And maybe in the remaining 55 minutes I'd regret it.
When you're not wrenching or riding, what else keeps you busy these days?
Drawing, watching a bunch of movies, drawing, walking with my dog, drawing, watering plants and mowing the grass, drawing. I'm a pretty boring person for some people…
Gear is a big part of this sport, what is one thing you cannot live without when riding?
Gloves. In summer and winter. I have to protect my hands to keep… drawing.
Name a designer (or individual), not in the moto space, that influences your work.
No idea…
If you were going to purchase a new bike off the showroom floor today, what would it be?
If I had to purchase a bike today, I think I would take a Speed Triple 1200 (maybe I already said, I love 3 cylinders).

If you could only have one bike for the rest of your life, what would it be?
A bike for the rest of my life… difficult choice!! Ok let's think big, a Panigale V4R.

What was the first bike you loved, or lusted over?
I think that the first bike I lusted over was a VFR 750 R RC30, I was just a kid at the time.

Any previous builds or projects that you're proud of, or surprised with public perception?
No one in particular… More than everything I am proud to receive commissions from almost all over the world. This fact always leaves me surprised and stoked.
Any cool projects/builds you're currently working on?
I'm writing a book about my experiences in this world, obviously with a lot of illustrations. I think It will be ready to be printed within the next twenty or thirty years. Ok, to be honest I think it will never become real.
What's next for you? What project has your attention?
A bunch of things and projects on the horizon. Anyway, I have interest in any innovative project that deviates from the "flow". So, maybe, the biggest project is to create a "container" (exhibition? event? show? magazine? don't know..) that collects projects, creations, ideas and stuff never seen before. "Wherever the crowd goes, run the other way".
You're editing your own moto video – footage of you riding with best friends. What song opens the video?

We're in this industry because it brings us joy. What was your most joyous day on a motorcycle to date?
No one in particular… I enjoy them all!
Extra Credit #1 – This industry is small, so give a shout out to a few people who are doing something unique, interesting or worth copying.
Aldo Ballerini (he can "feel" the bike and writes about it with grace). Sebastien of Age of Glory garments (he works hard, has a vision and believes in what he does).
Extra Credit #2 – Please nominate one additional personal that you think we should feature in "Behind the Bars". Bonus points for females.
Francis Von Tuto (Hand made customs bikes by an Italian gentleman)… I think he can tell you a couple of nice things and experiences!
The Junkers: Instagram | Facebook | Web
Anything important we forgot to ask, or anything else you want to add?
I just want to thank you for your interest. This keeps me going on… I really appreciate it…
Here's a few more killer moto art pieces by The Junkers: