Chatting with Ryan Roadkill
Ryan Roadkill is an artist hailing from the north east of England. Fueled by punk rock and black coffee, Roadkill explores the fragility of subcultures in a fast paced modern world and the gradual erosion of rebellion in a climate of constant surveillance. Often portrayed through anti-hero characters and the theme of speed, his work weaves turbulently through the pitfalls of anxious pop culture… at 100mph. We, and seemingly the rest of the motorcycle community, have been taking notice of his work. We tracked him down and found a few minutes where he could put the pen down and have a quick chat. Ryan was kind enough to oblige and give us a little insight into what makes him tick.
Pat Flynn: Can you tell us a little about yourself? Where you live, do you have a family, etc.
Ryan Quickfall: I live in Newcastle Upon Tyne in the northeast of England with my wife, two cats and a badly behaved dog. It's about 3.5 hrs train, 5 hrs drive or 45mins flight from London.
Your IG name is @ryanroadkill. Where did the "roadkill" part come from?
Roadkill the name itself and the idea behind it I'm honestly not even sure now. It is a name I've used since about 2000. Printing a few tees for mates under that name, I sort of sidelined it until I got on instagram and had to think of a name. It seemed right to pick it back up. I think it's funny that people ask me if Roadkill is my real surname. Often its easier for them to accept than my real one!
How long have you been an artist as your sole gig?
Earning a living solely from my artwork I think about 6 to 6 and a half years now. Thats a good point because obviously you are an artist or creative way before you start to make a living from it.
What others jobs did you have before you went full time with your art?
I've worked for my parents out of college selling and fitting high pressure hydraulic systems. Then I took a job as a designer. Then went freelance, struggled for a while and ended off part time in a cafe while working on client jobs. It can take a long time to become confident in pricing your work and I really put my low pricing on why I could commit to creating art full-time in the early days.
Your work seems pretty heavily tied to the motorcycle community. How did that connection come about?
Yes, I am heavily tied to motorcycles and the community around them. Mainly because that is my passion and a constant source of inspiration. But also because you do one piece of work well for someone and they recommend you. Word of mouth is a powerful resource for a freelancer. Before you know it you are snowballing work in the motorcycle scene.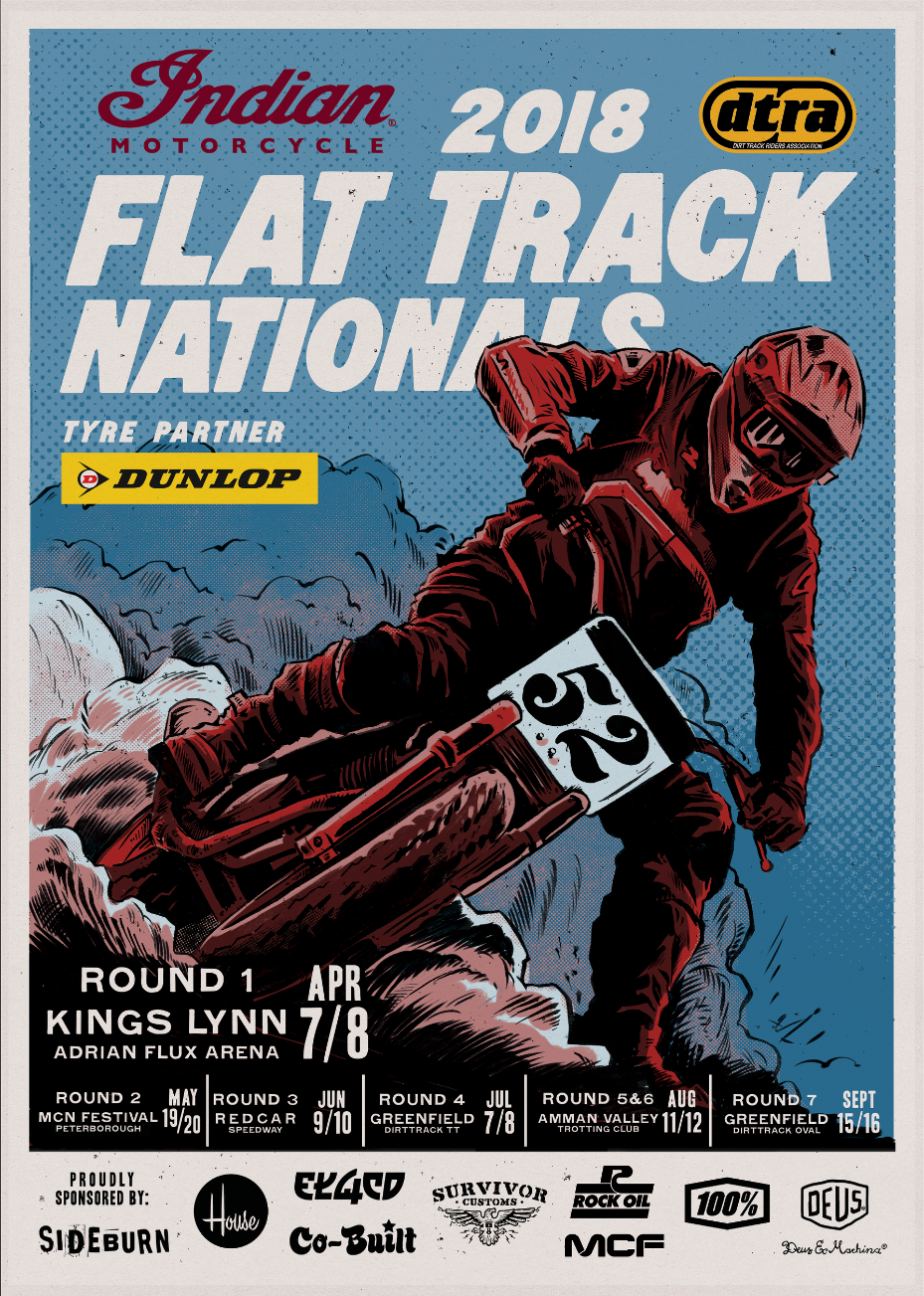 What are some of your favorite pieces you've done?
I really enjoyed and am proud of the piece I did for Rebels Alliance MC in London. It was a pretty large wall space in a very prominent location. It was daunting but you have to say yes to this stuff and push yourself or you don't progress. I am enjoying the direction my new work is taking too, looking at reimagining characters form history as throttle junkie bike addicts. Sounds weird, is a bit.
Any new big projects in the works you can tell us about?
Biggest stuff would be planning a show somewhere. It's a long road to produce enough work for a show when you're splitting your time between client work and personal work. So it may take a while to put a body of work together for a solo show. But that is certainly the plan this year.
A lot of your art features the undead. Tell us about what that means to you.
The human skeleton structure is pretty amazing. Theres a mystery about it, if I portray a character as a skeleton it's pretty badass. It's dark but can be humorous. But really I think the biggest draw to the undead character is there is no sex, race or social status to them. They are everyone and I think this is a similarity to the motorcycle. In my experience of riding on road and racing, there are characters from all walks of life and all pay brackets. Nobody is better than anyone else when you are on a bike or with bikers/racers. The motorcycle levels the playing field. And I like this similarity between my undead characters and the motorcycle.
Yes, I am heavily tied to motorcycles and the community around them. Mainly because that is my passion and a constant source of inspiration.
– Raodkill
What are your favorite mediums to create in?
My go to formula for creating work and a signature of my style is to sketch out an idea. Flesh that out through more pencil sketches till I get to a point I am happy. From there I will use a brush and ink to create that comic-esque bold black line work that I feature in all of my works.
Now a little more about you and motorcycling:
If you were going to purchase a new bike off the showroom floor today, what would it be?
Hmm hard question because there are so many. Ive been doing some trail riding lately and I'm a bit hooked. So possibly something like a KTM EXC or a Honda XR. I think my days of riding fast sports bikes on the road are over.
If you could only have one bike for the rest of your life, what would it be?
Thats the impossible question isn't it? I think an XR600 would be awesome. A well rounded package of being able to do some road miles while giving you the potential to do some awesome offload adventures.
What was the first bike you loved, or lusted over?
Hmmm hard one again. Probably a Honda RC51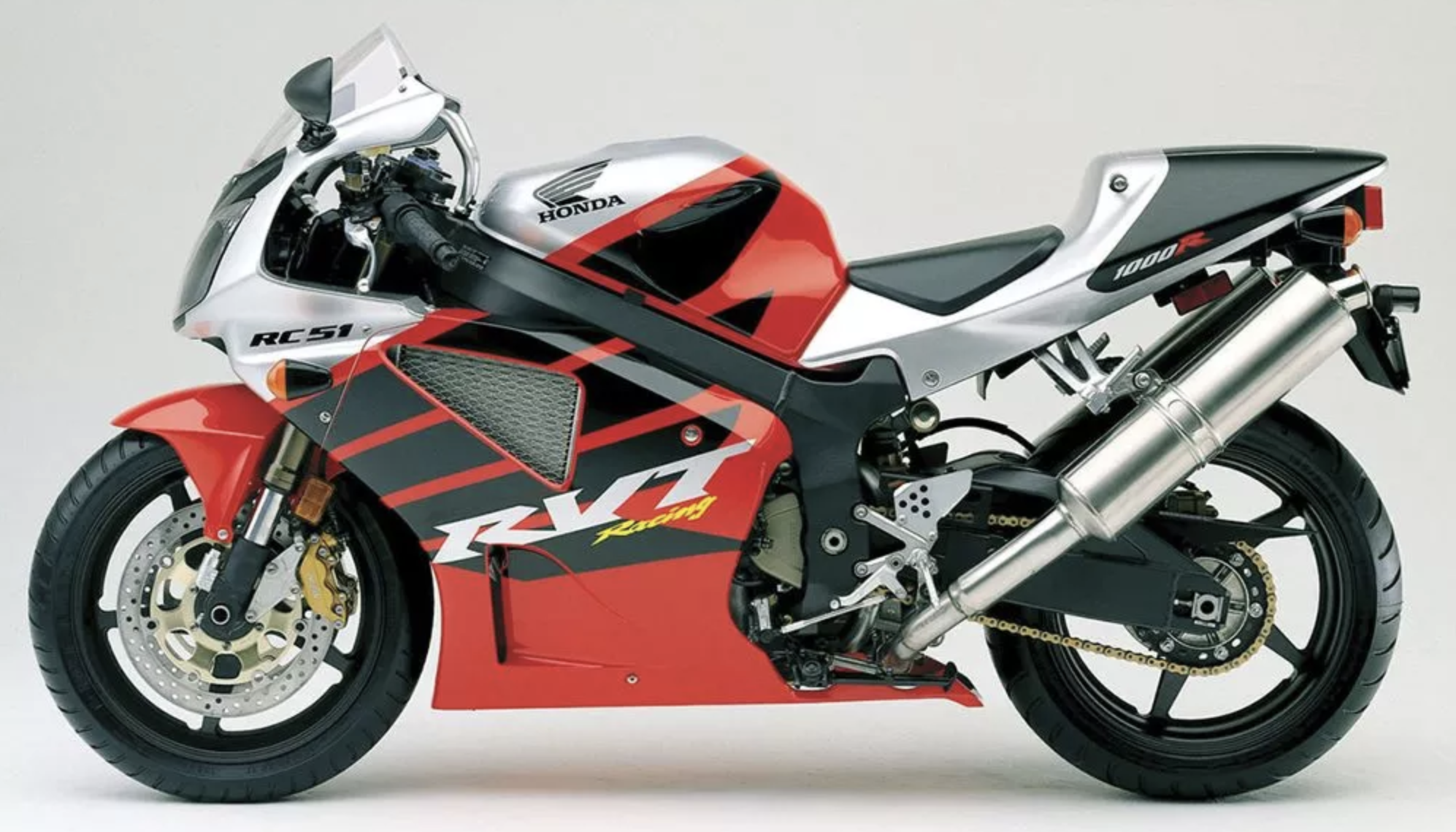 What was the first motorcycle you owned?
When I passed my test I got a Honda NC30. It was great, small but confidence building!
What do you think is the most beautiful production bike ever built?
I think the Ducati Desmosedici RR was incredible at the time. It also looks great now. I think they did an amazing job of producing a bike that really gets better with age on the 916 too.
Do you have an all-time favorite build or builder?
I have no idea. Off the top of my head I think Racefit in the UK are doing some really great builds and products. Then my mate Survivor Customs who built my race bike, he is also doing some great stuff. Building flat track frames and bikes.
If you could attend any past motorcycle event in history, what would it be?
I think probably any of the WSB season from 2002 watching Edwards and Honda take the championship from Ducati.
Have you ever had a bad motorcycling accident?
Yes unfortunately I had a bad crash on my Yamaha R6 years back. A high side in the wet on diesel ended off with me badly breaking my left arm. I went in the air and landed arms out, bones sticking out and a hand completely out of place. That was a bit of a bummer to be honest. I had a few operations to repair the arm and a shock when I was told it was a possible amputation scenario! Fortunately thanks to the incredible work from the NHS here they saved my arm and I was riding 8 weeks later!
Have you ever raced on two wheels?
Yes, well I try to. I race dirt track in the DTRA here in the UK. It's a superb championship with some of the best people. Novices to pros. I am strictly in the novice category, but I would encourage anyone thinking about it to get a long and get involved!
What do you think is the next big trend or movement in the custom motorcycle world?
I think this a lot, I would say 70/80s muscle and super bikes, z1000 gsx1000 …. Big motors and brutish styling! Check out the Racefit stuff I mentioned earlier. I also see loads of potential for well though out off road inspired builds. I think the Dakar is very popular and I can foresee that influence coming through in bike builds in the future.
If you had 4 completely free days, what would you do with your time?
Get on with my bloody show stuff!
Ryan Quickfall: Online | Facebook | Instagram
Just to give you a better taste, here are a few of our favorite pieces from Roadkill:
Life at 1000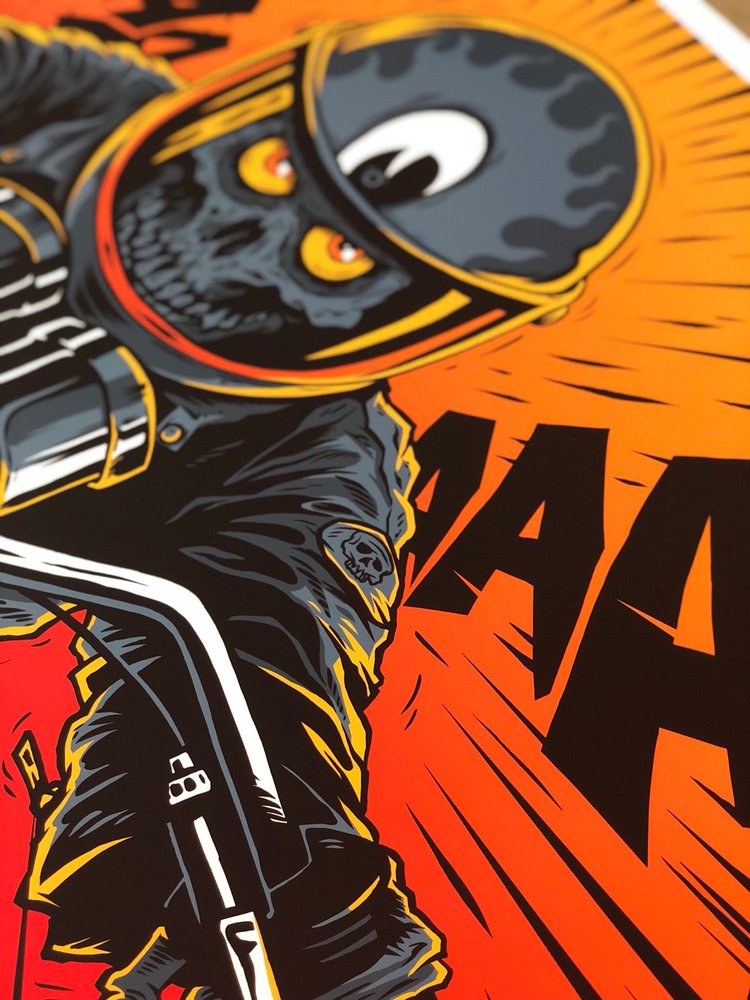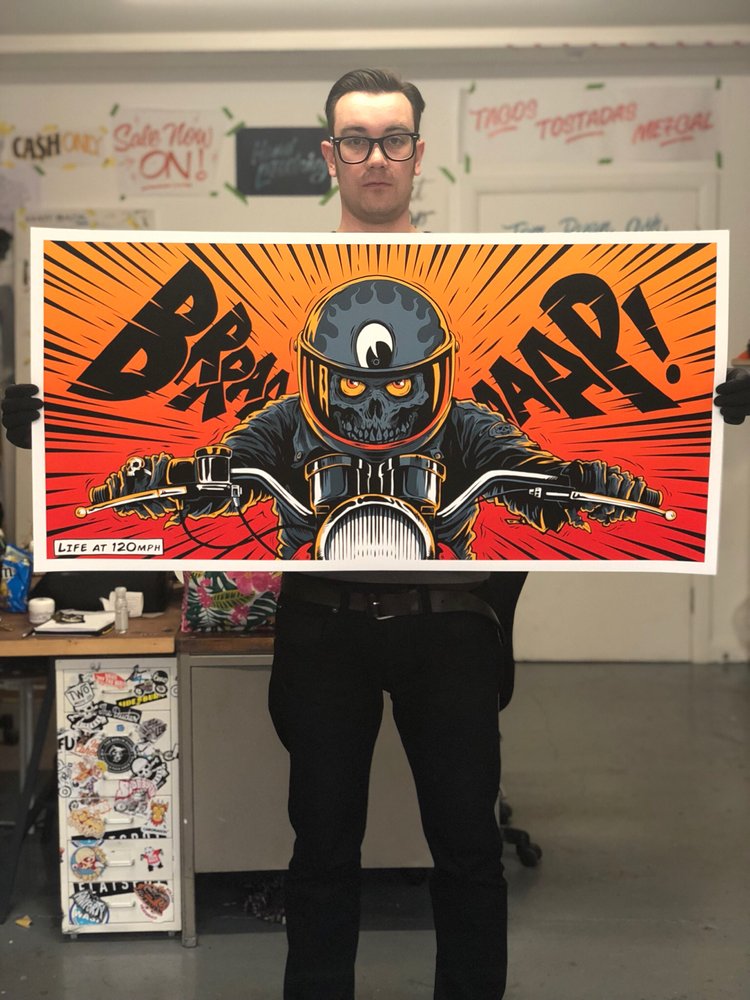 Midnight Tracker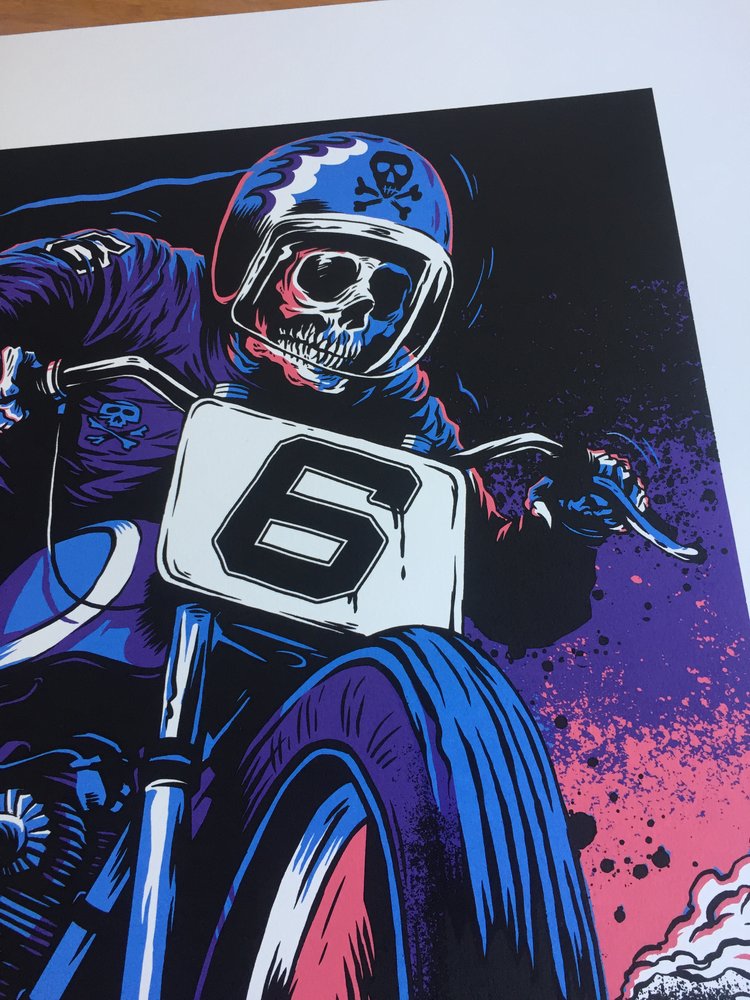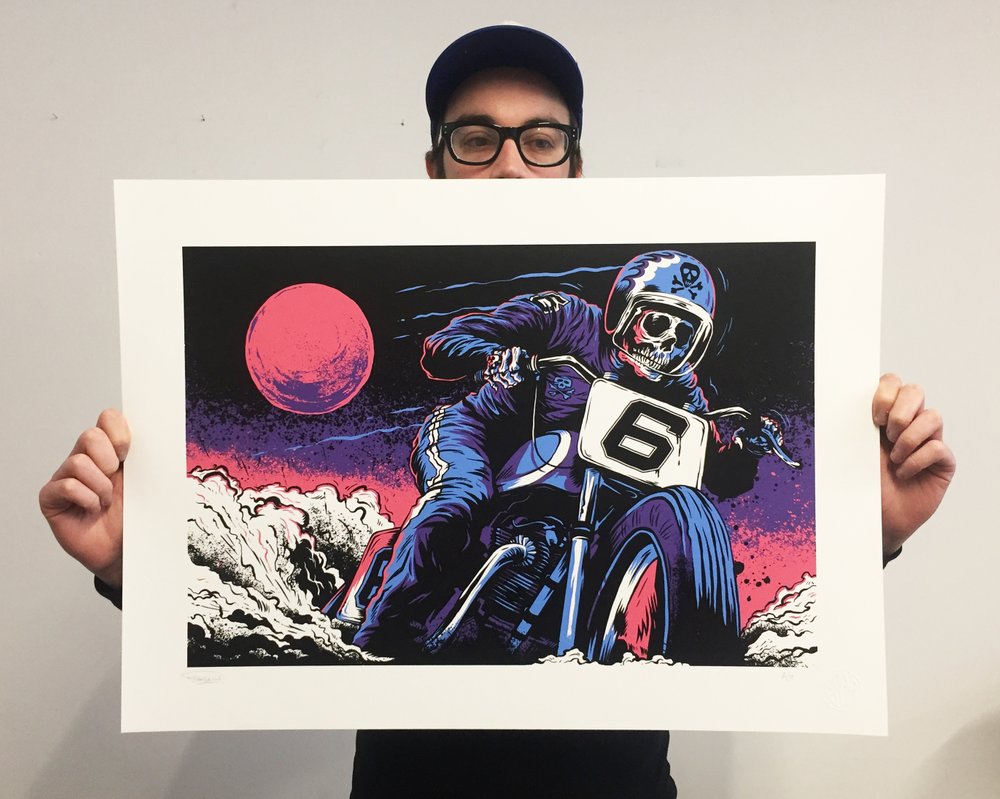 Demon Hillclimber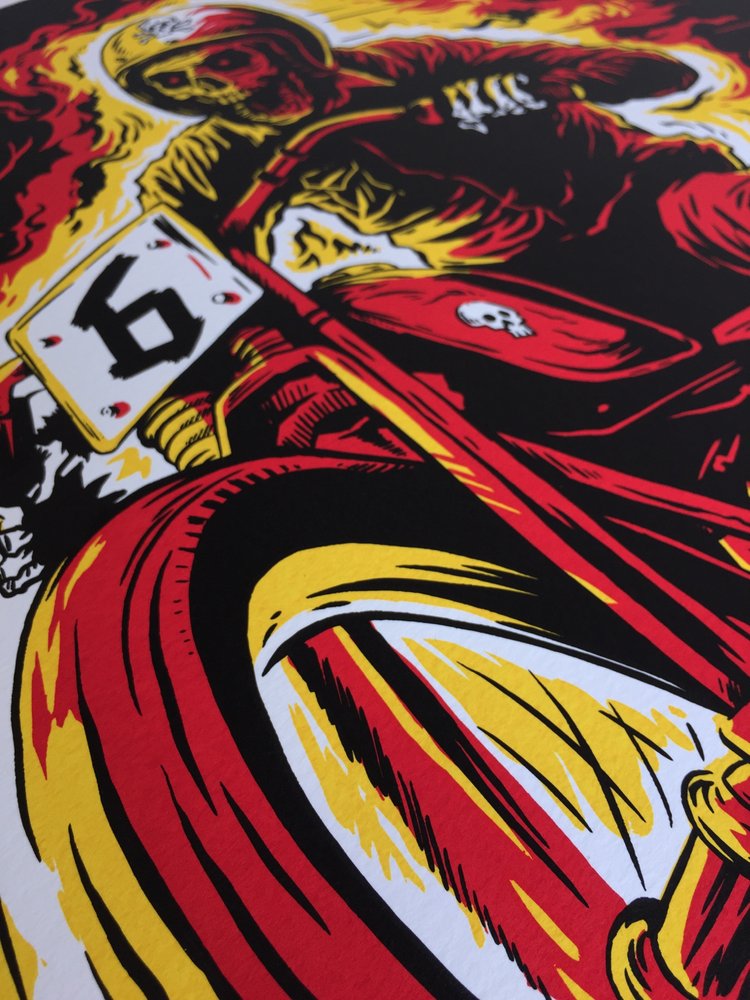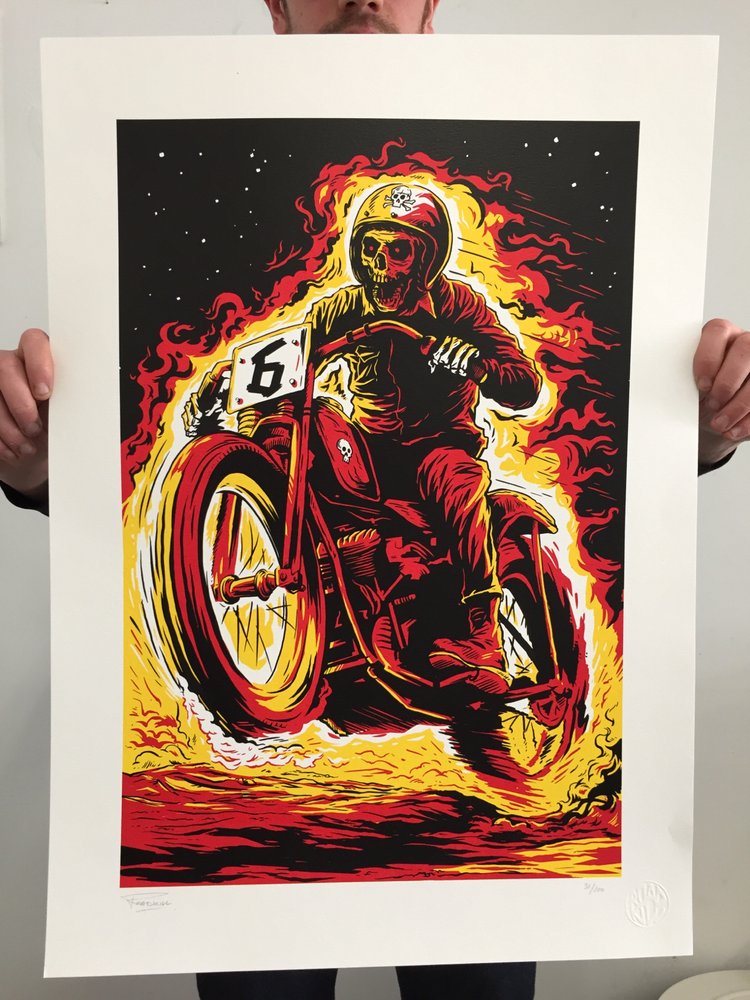 Death Rider