A throwback take on a modern Monster
Pepo Rosell is a name you might not all recognize immediately, but if you're into custom motorcycles, you know his work. For 13 years, Pepo worked under the name of Radical Ducati. In 2014 he closed the doors to Radical Ducati and we were gutted. After a little soul searching Rosell determined that bikes were his life and started anew as XTR Pepo.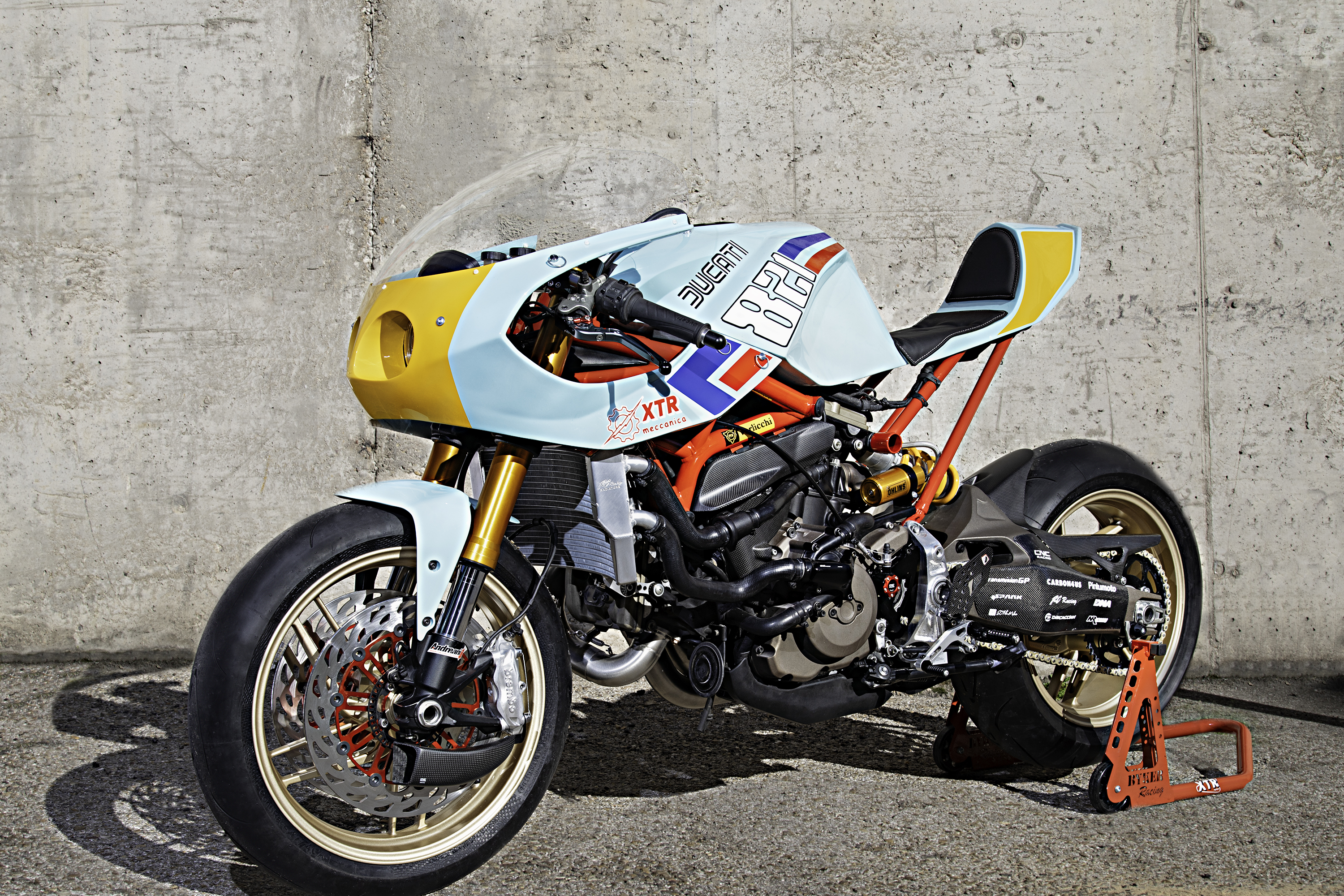 Our previous post was of an original Ducati Pantah from he 80s, and when we saw Pepo's version of a modern Monster 821, I nearly spat my coffee all over the monitor. This is another spot-on job or Pepo doing what he does best; take a modern bike – typically a Ducati – and stripping it down, only o build it back into something more…Radical.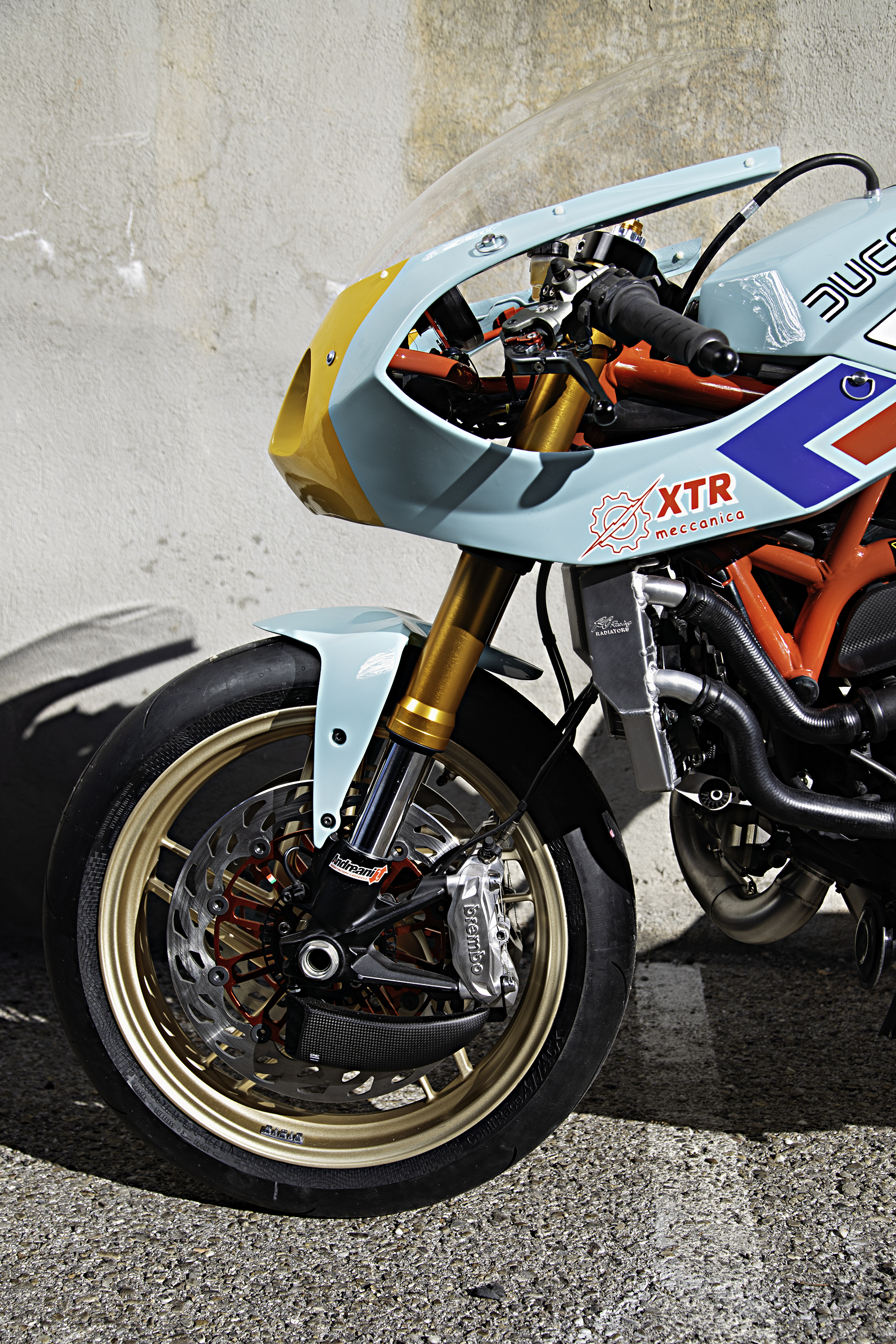 Tear it down, then make it better
That's just what XTR Pepo did. He stripped the M821 down to its bones, and tastefully added back some top-spec components and some beautiful retro-inspired bodywork and paint. In typical fashion, numerous parts are one-offs. From the front fender, to the rear subframe and seat, much of what you see is XTR. Clip-ons, fairings, windscreen, tank, solo seat and lighting…all done by the man himself.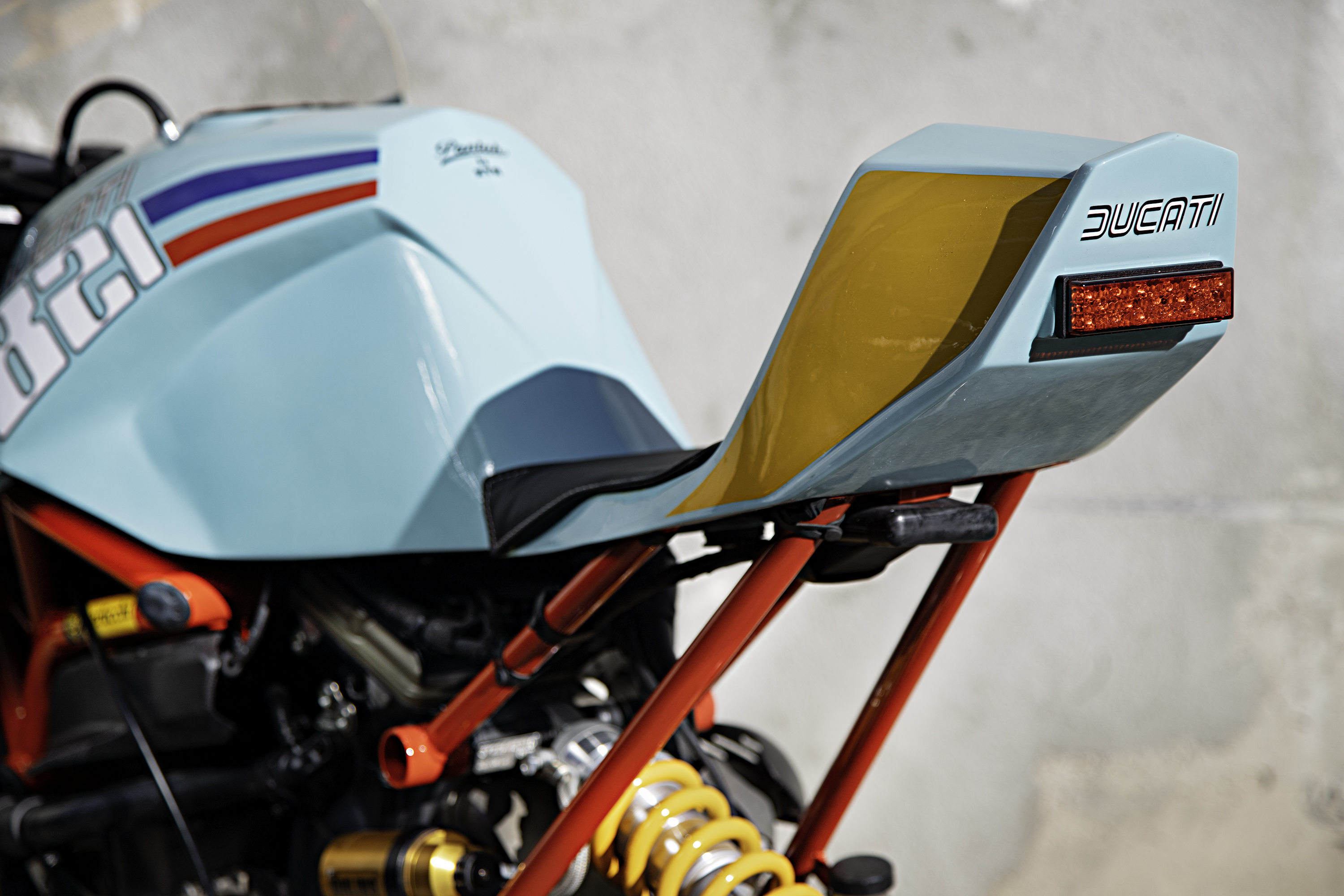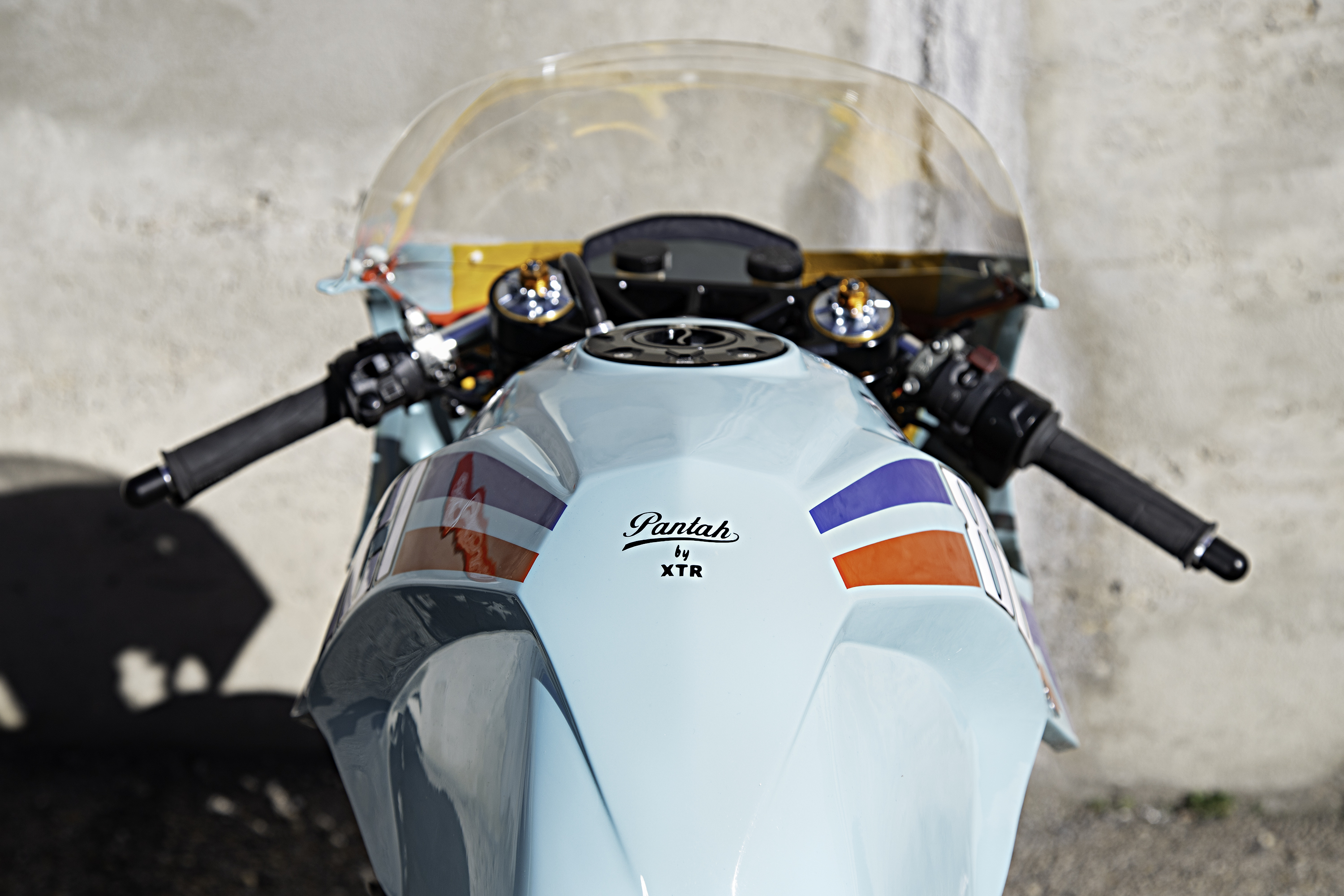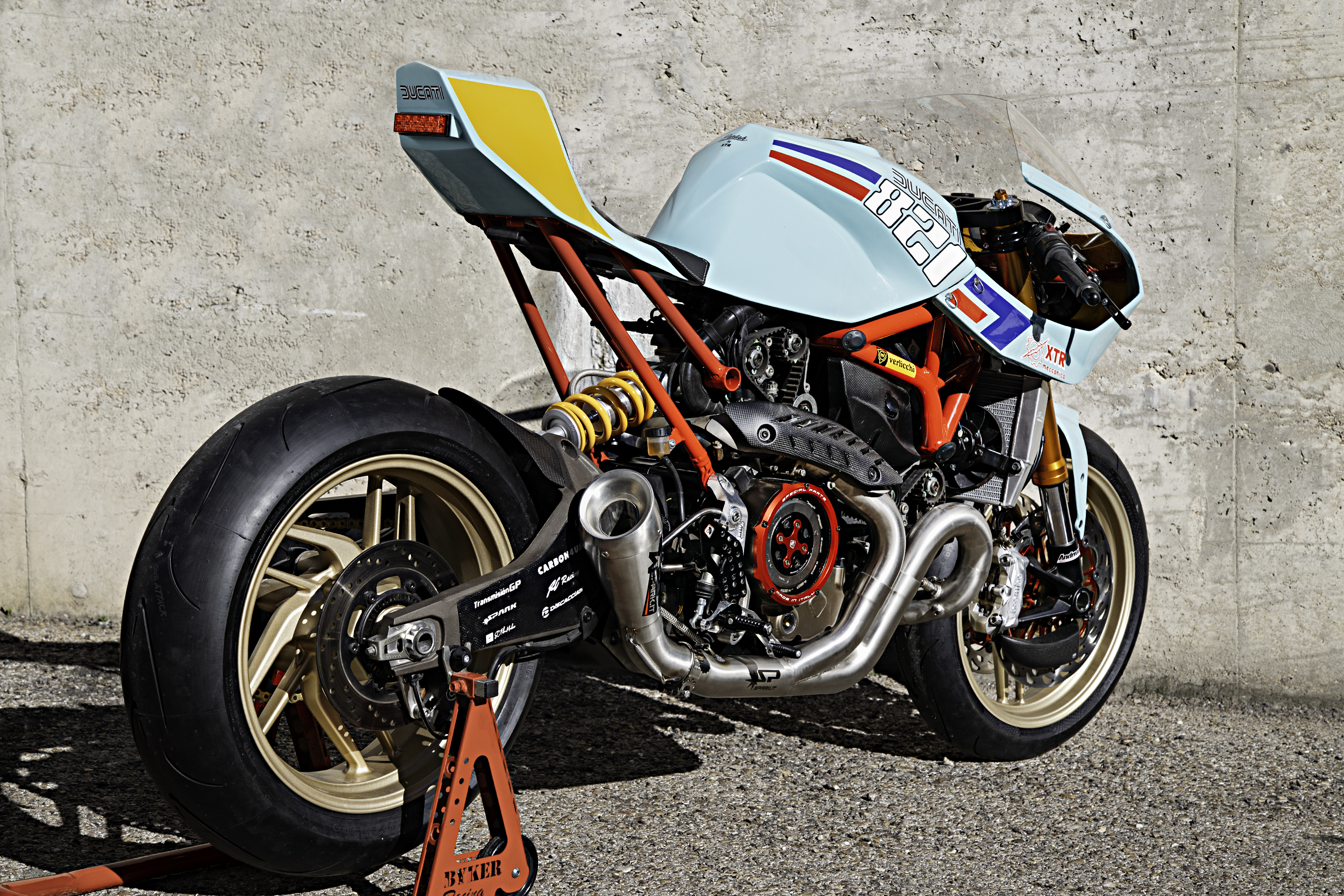 An Ohlins rear shock upgrades the original, non-adjustable unit. Front forks were retained, but reworked with Andreani (adjustable) internals and anodized gold. Ducabike rearsets and clear clutch cover add some nice bling to the bike while the Spark 2-into-1 exhaust surely add some bark.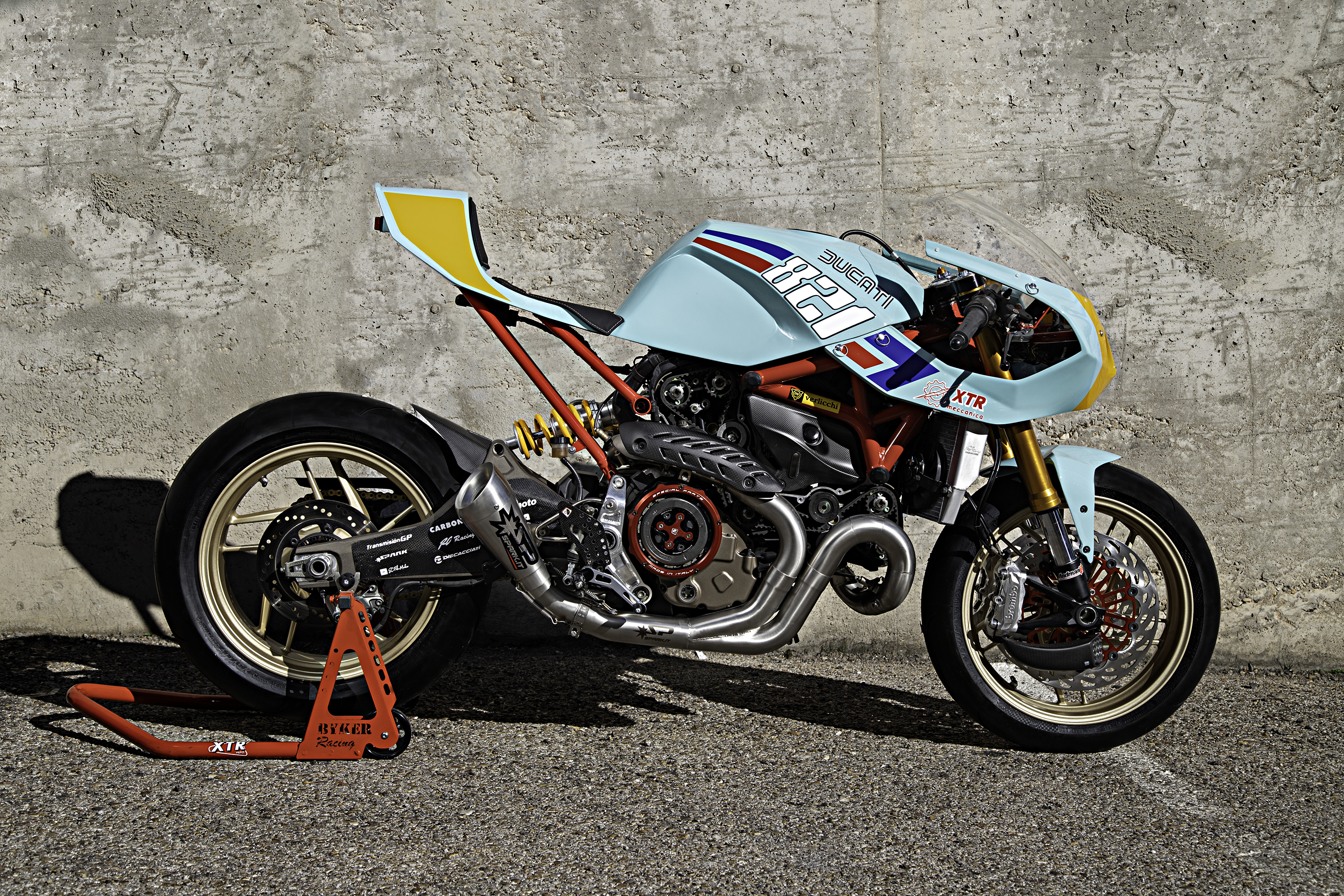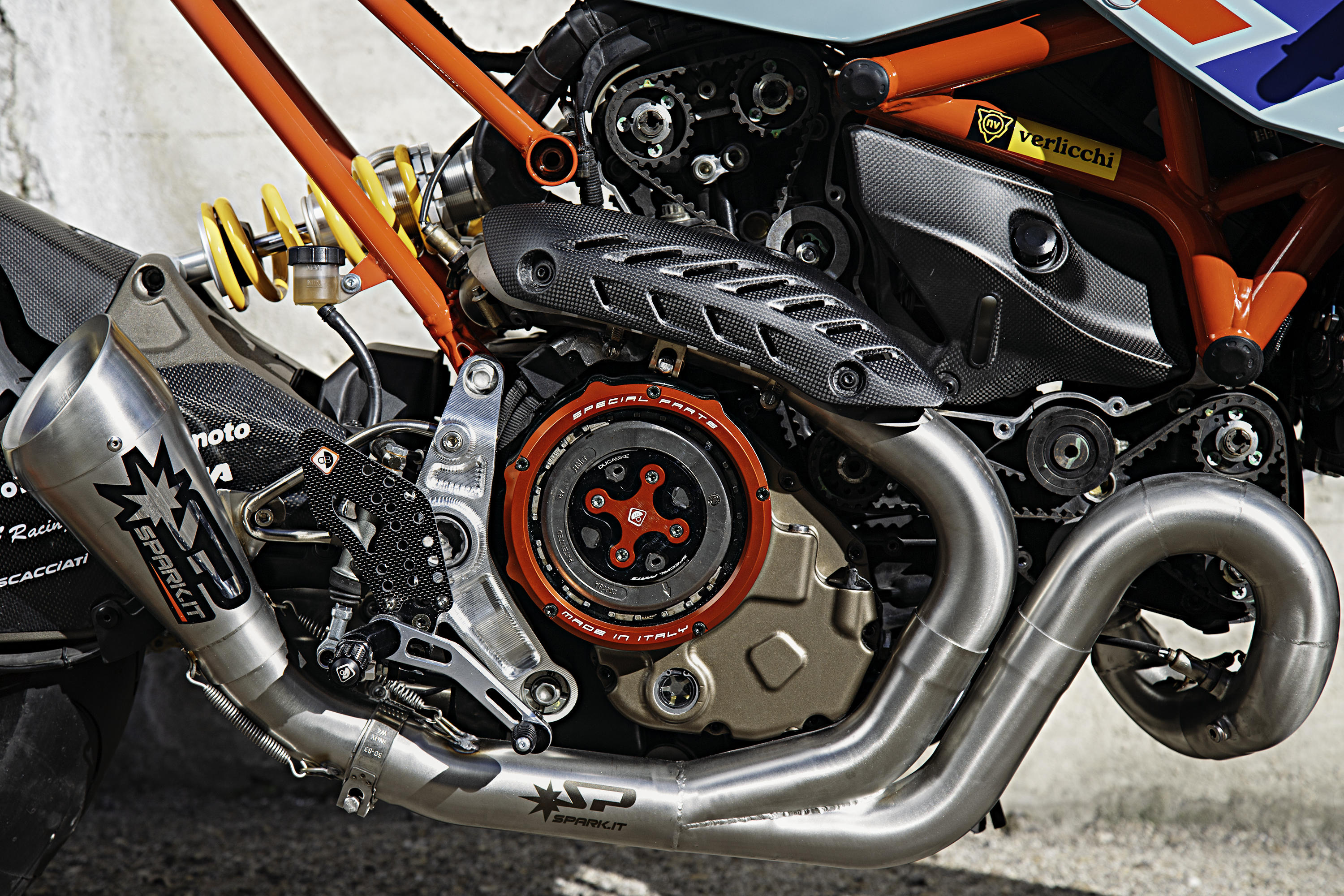 Sorry, we were just drooling for a minute there… Gobs of carbon, CNC parts, and loud exhaust makes us all kinds of happy.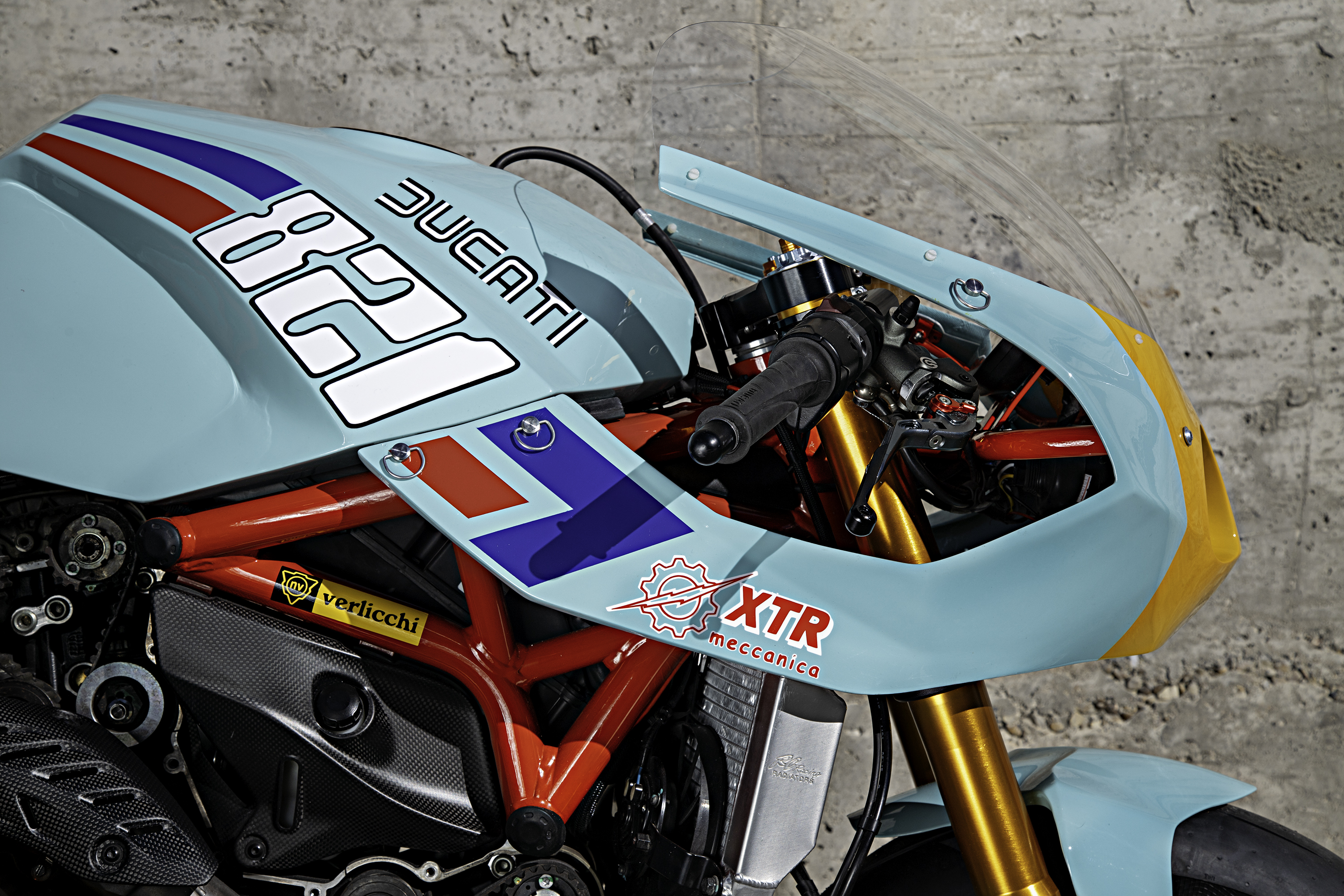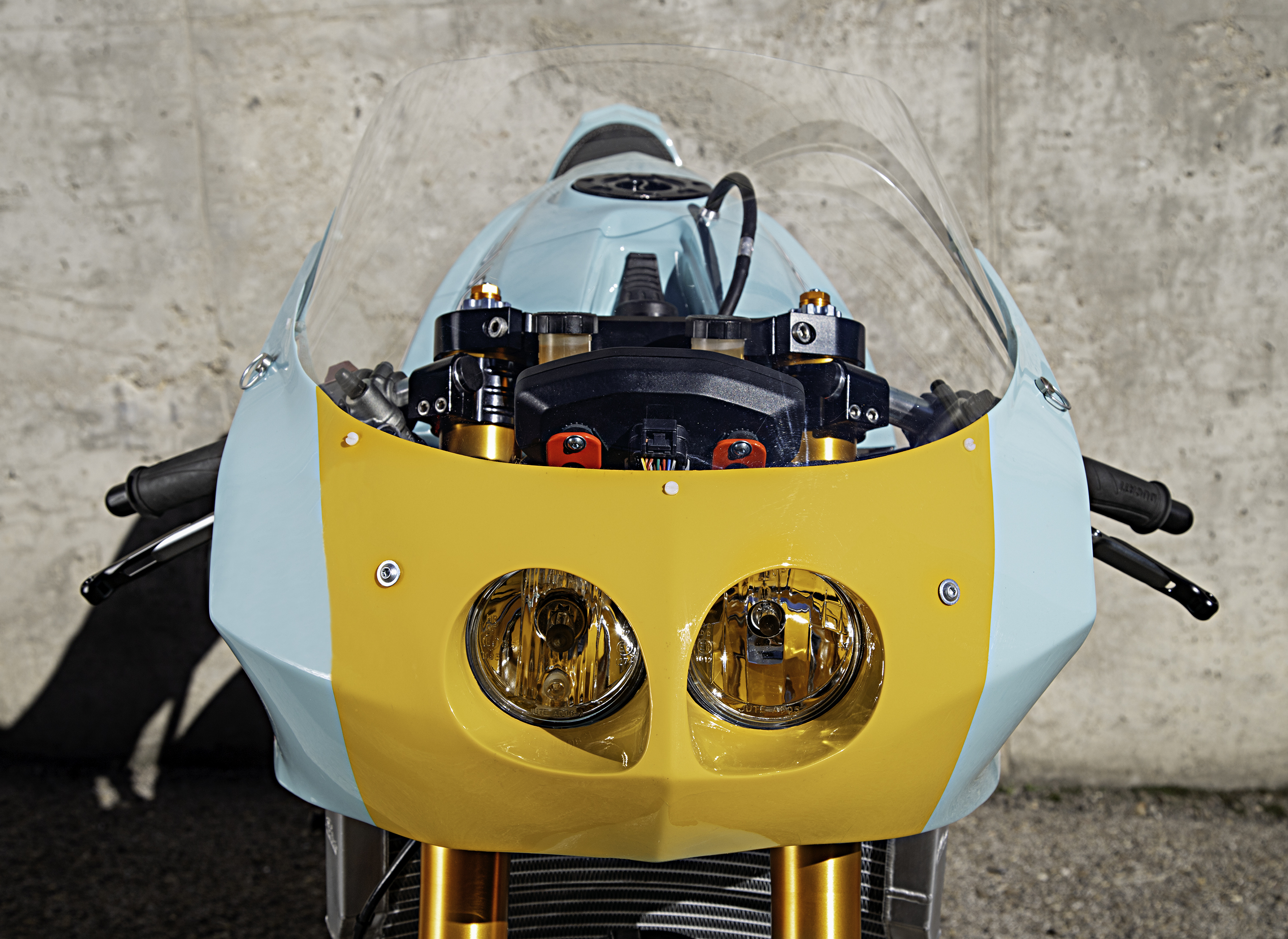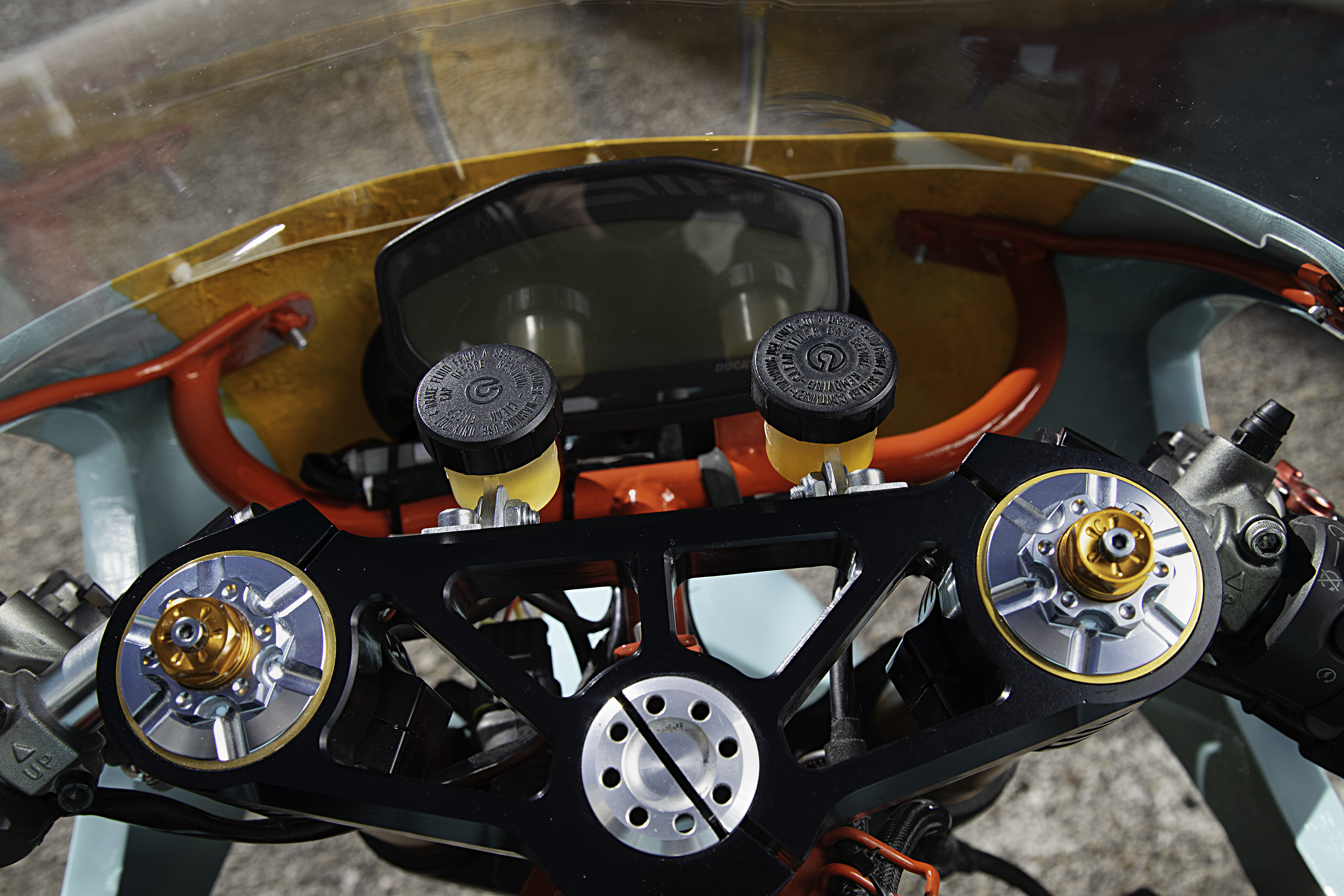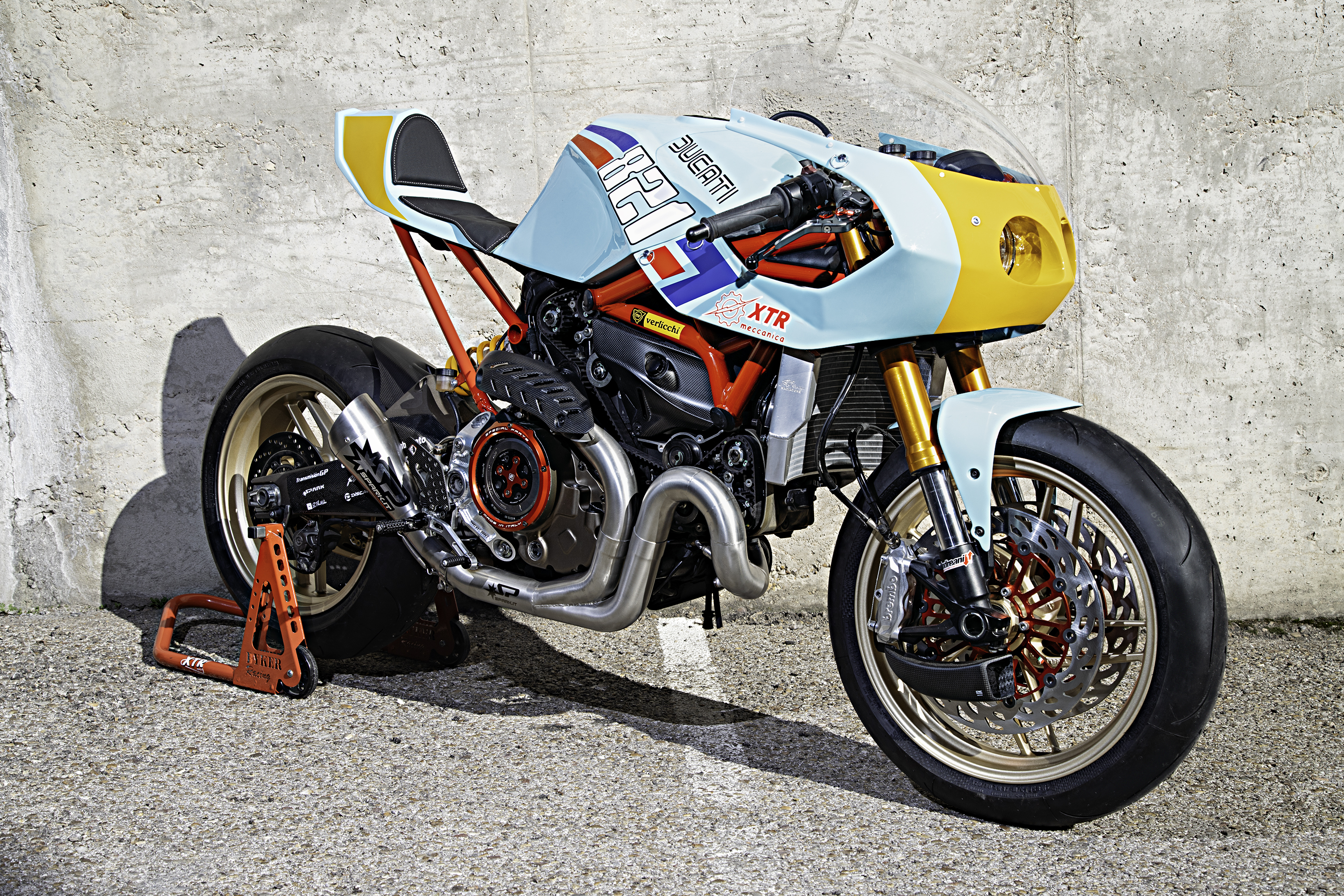 The execution on the whole bike is stunning. The mix of old and new is pulled off better here than most can. We had high hopes for our Bullitt 821, even had sketches of a faired, throwback look but those were thoughts on paper. Pepo put his money where his mouth is, swung for the fences, and knocked it out of the park. God bless you sir, you're doing the Lord's work. Ok, ok…maybe we should wrap this up before the bourbon takes over. Cheers to another feather in Pepo's cap. We'll drink to that!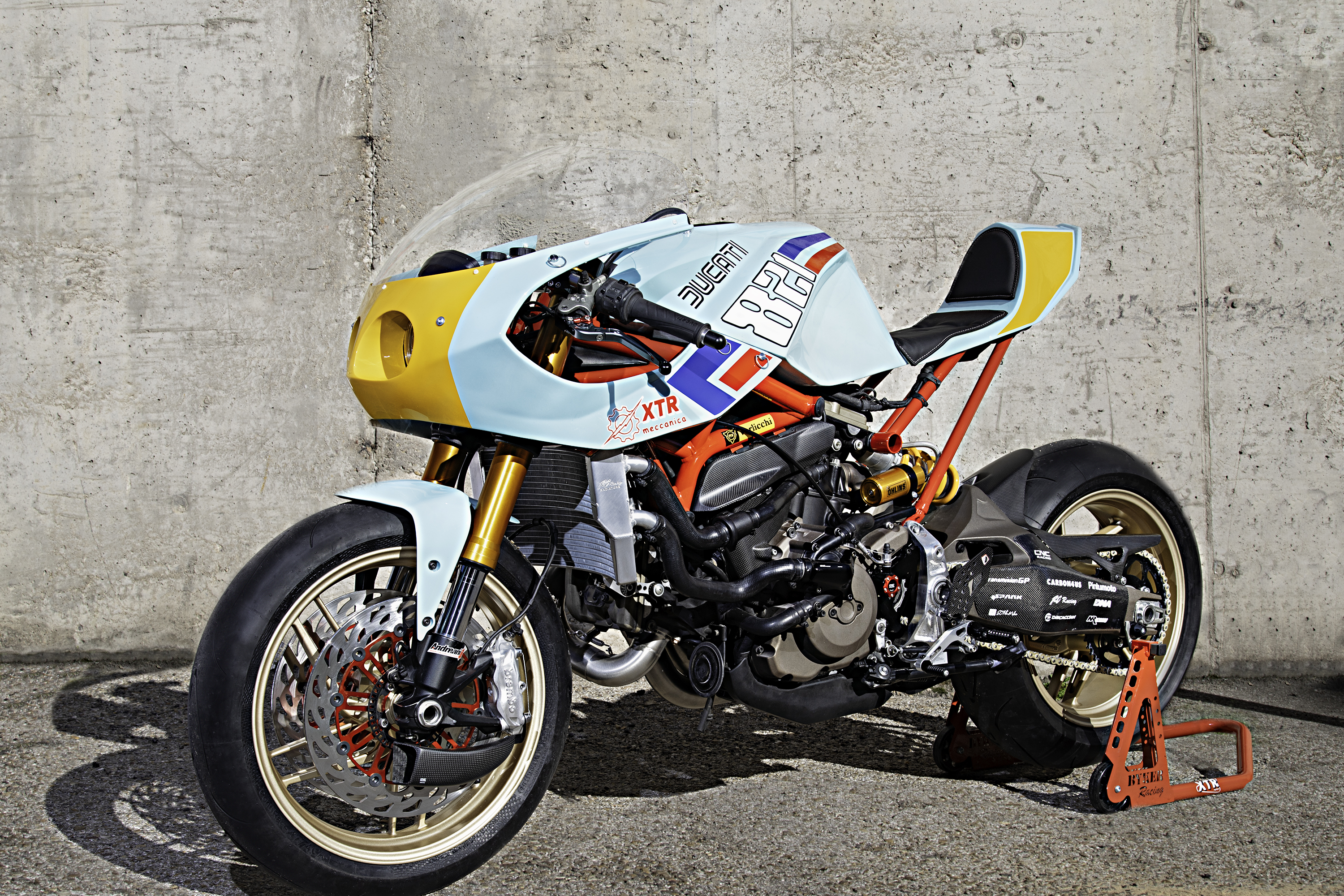 PANTAH by XTR (2019)
– Donor Bike : Ducati Monster 821 (2016)
– XTR front mudguard
– DISCACCIATI brake rotors
– SP CNC machined upper yoke
– XTR CNC clip ons
– XTR front bracket
– XTR regulable and foldable CNC machined clutch and brake levers
– Brembo clutch pump
– CNC RACING brake coolers
– Optimized OEM front suspension with Andreani internals
– Anodized fork tubes
– XTR front fairing
– XTR windshield
– XTR front lights
– XTR fuel tank
– CNC RACING quick open gas tap
– RC RADIATORS aluminum race radiator
– DNA Racing air filter
– SPARK 2-into-1 exhaust system
– SPARK megaphone
– LIPO Battery
– DUCABIKE regulable footrest and support CNC machined
– DUCABIKE hydraulic clutch conversión kit
– CNC RACING slave clutch
– XTR solo seat
– XTR rear light
– XTR rear subframe
– Ohlins rear schock
– Carbon4us carbon fiber reservoir cover
– Carbon4us carbon fiber exhaust cover
– Carbon4us carbon fiber coil covers
– Carbon4us carbon fiber rear mudguard
– CNC Racing pinion cover
– CNC Racing water pump protector
– PINTUMOTO painting
– Photos: Sergio Cardeña
• 24 Hours Project : The bodywork , front bracket, lights and rear subframe is a kit for mount plug and play in the Ducati Monster 821 /1200 and the new Supersport. Designed by Alberto Caimi.
• Special thanks to:
– SPARK for the exhaust
– CNC RACING for the nice CNC machined parts and brake rotors coolers.
– CARBON4US for the carbon fiber parts.
– NEUMATICOS RICHARD for the tires.
– RC RADIATORS for the astonishing handmade water radiator.
– SC FILMAKER/ CON OTRO ENFOQUE for the nice pictures and video.
– TRANSMISION GP for the LIPO Battery, Sprocket and chain.
– PINTUMOTO for the incredible painting.
– DNA for his performance air filter.