A Kenny Roberts Tribute
The Yamaha TZ750 was well known two-stroke race bike built by Yamaha 1970s. While the TZ750 is a well respected model, a much lesser known model, the TX750, was also built at the time. The TX750 was a SOHC parallel twin that seems like a model that we should all know. But why don't we? The TX750 was unfortunately plagued with engine reliability issues in its early production and even though Yamaha made several changes to solve the problems the bike was ultimately withdrawn from most markets after 1974 and production stopped in the home market after 1975. For custom builders, as more popular donor bikes get more expensive — like a TZ750, CB750, Bonneville, etc. — some of these less desirable models can be great options for a new project. That is, if you do your homework to make sure you're not getting a grenade, and are up for the challenge.
Recently we ran across Ron George, an Indiana-based shed builder, who has created a TX750 cafe racer that is right up our alley. Polished, handmade aluminum bodywork, a throwback Yamaha "speedblock" livery, and a keen attention to detail make for a stunning finished piece. We reached out to Ron for the feature and he kindly shared photos and details with us. Read below for the story of the build in his own words.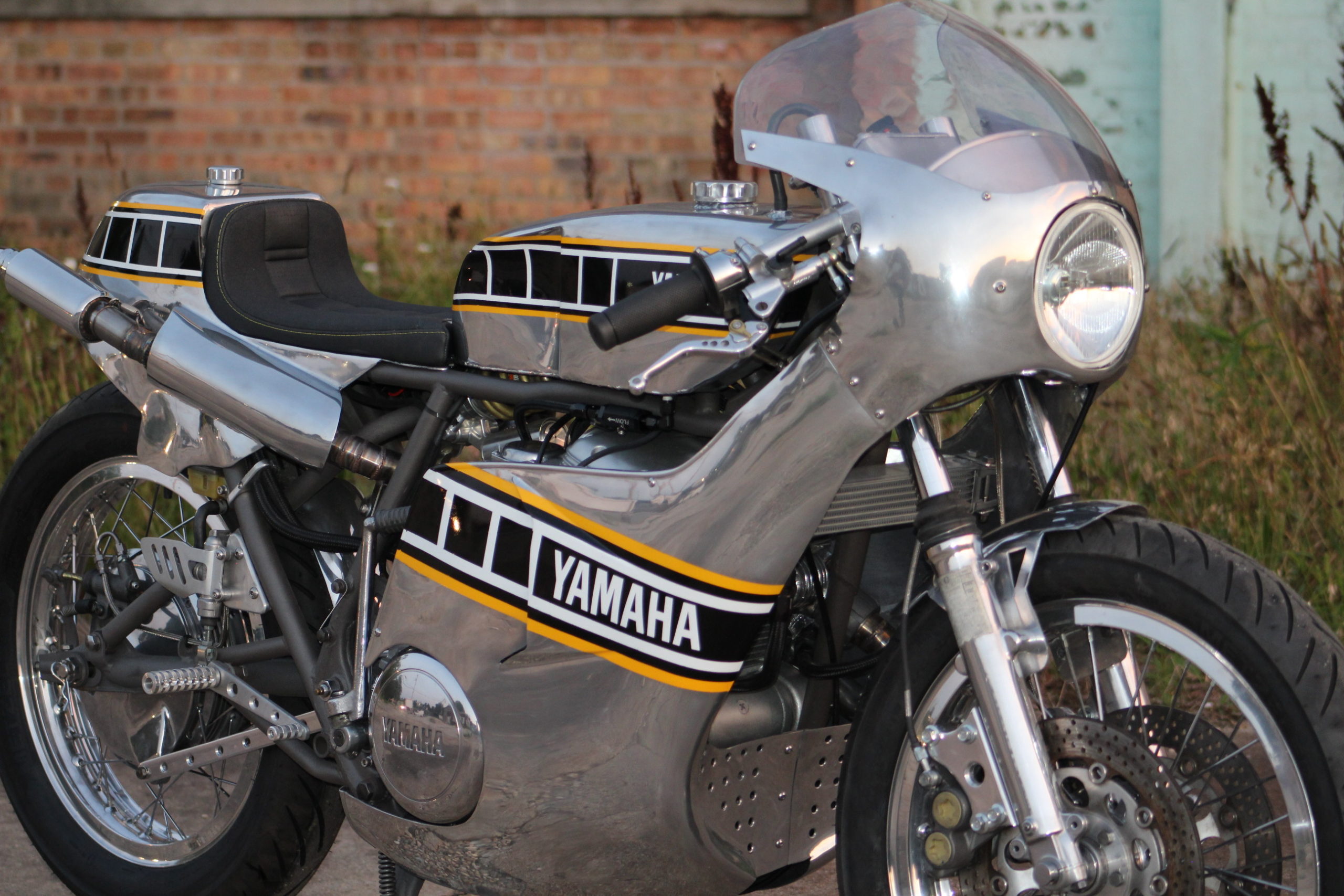 My name is Ron George, I'm a 37 year old family man from Hobart, Indiana (suburb of Chicago). I'm a husband and father to a 19 year old son. I work full time at a large steel mill in coke operations. My father was into motorcycles when I was growing up but my interests were more car related. I really got into motorcycles in late 2012. I work out of my 2 car garage at home. It's modest but I have most of what I need to get by. I try to do as much as possible without outsourcing.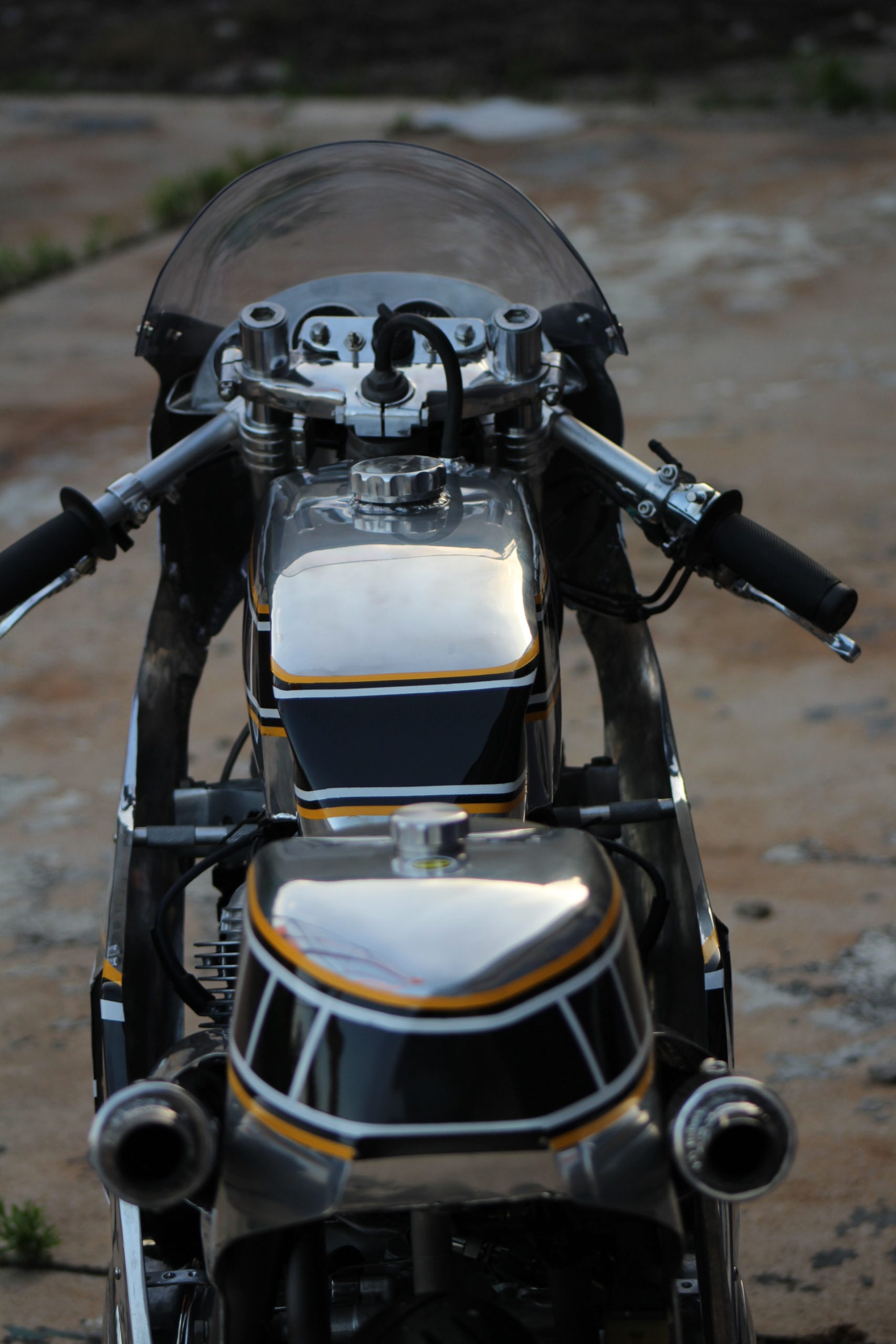 The build has taken just over 2 years now. I did all of it during my days off from work. I lost track of actual work hours though. This was just another personal build for me, with hopes to possibly sell in the future if the right buyer and deal comes along.
I received the bike as a gift from my buddy Aaron Collins. It was an abandoned project that he received but had no interest in. It was in very rough shape. It was the first one I'd ever seen in person and didn't know a lot about them. After learning more…I just had to give this thing some redemption. Anyone that remembers these knows that they have a bad history. They were a massive failure for Yamaha so I just had to see what I could do with one! Thankfully this was the updated model with all the fixes that plagued the original release. I was hugely inspired by the Kenny Robert's YZR500 for this build.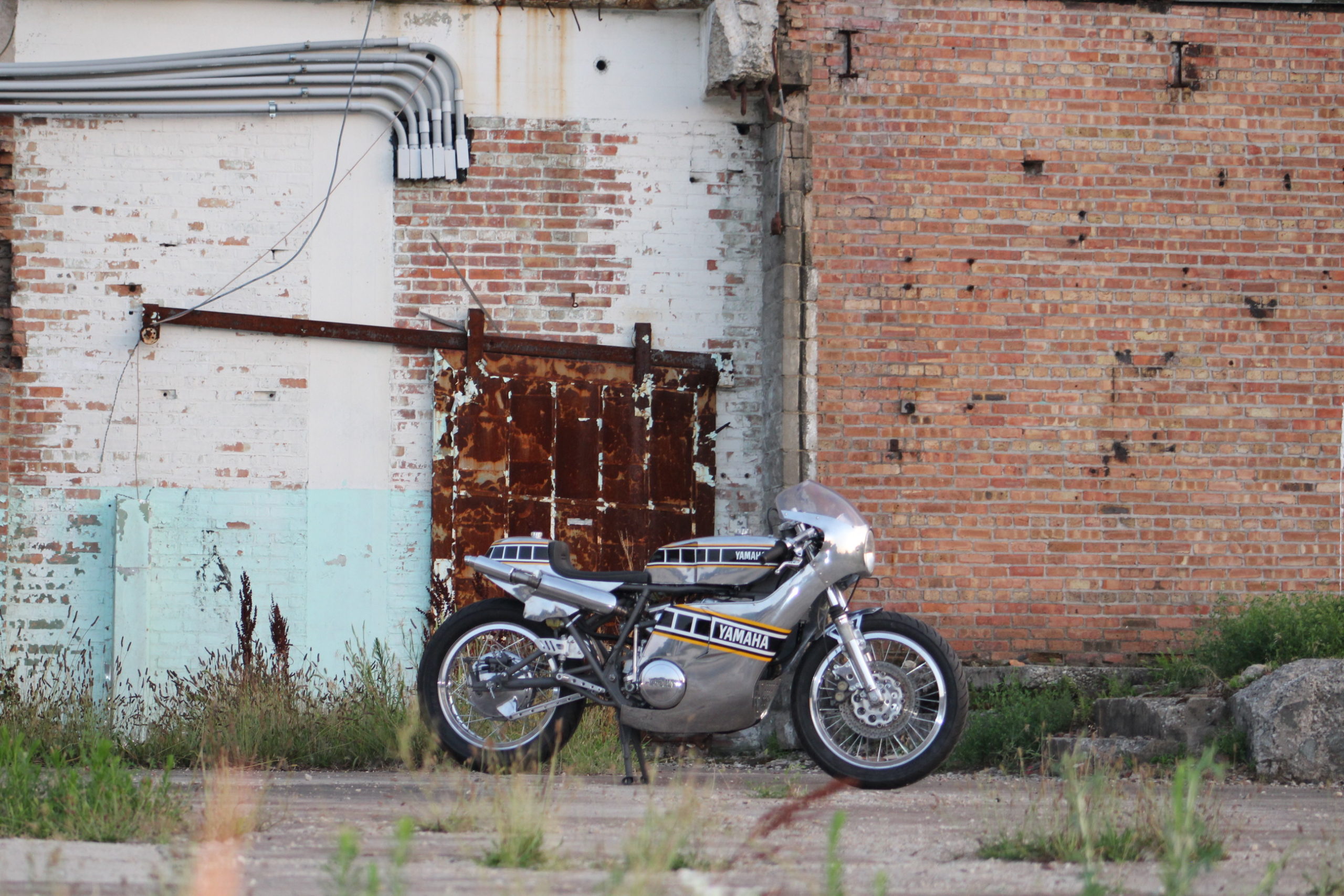 I don't sketch or do any computer renders. I get an idea in my head and go with it. The details usually change along the way but the main vision tends to remain. I really tried to improve some of the shortcomings of the original model while also just trying to add some good modern upgrades.
I started with designing a fully adjustable monoshock rear suspension. It was inspired by the Kenny Roberts TZ750. It utilizes a shock from an R6. Its height adjustable, as is the shock angle, in addition the stock's preload and dampening settings. Rebuilt forks up front with some GP quality Motul fluid. I also converted the front brakes to a dual disc using R6 axial mount calipers and some Suzuki rotors. I dreamed up an idea for a hydraulic rear drum brake to make up for the loss of leverage using rearsets. My past experience with rearsets and a rod acusted drum haven't been favorable. This setup uses an R6 master cylinder and moves a small slave cylinder. Vapor blasted the OE Mikuni Solez carbs and rebuilt them, plus added a handmade airbox. Re-laced and polished wheels with modern Metzeler rubber.
The engine seemed to be in good order so no internal changes were made. Just adjustments and normal servicing ad it had low mileage. I made a new oil tank and moved it to the tail area and it had custom AN and stainless hard lines up to an oil cooler. These had a strange and near unattainable oil filter design so I machined up an adapter than uses a BMW cartridge style filter. I also made a full TIG welded stainless 2-into-2 exhaust that exits through handmade mufflers.
Made a new wiring harness from scratch with modern connectors, lithium battery and modern reg/rec. An aluminum cockpit style gauge pod houses the speedo, tach, oil temp and oil pressure gauges, along with a Hella h3 headlamp.
I hand made all the bodywork from 3003 aluminum. The fuel tank, tail, fairings and fenders and then polished all of it (worst job ever). I also painted all of the Yamaha livery that was once again inspired by the Kenny Roberts race bikes of the day. The custom made seat was done to carry over the Yamaha speedblock design. It was done by Dane Utech.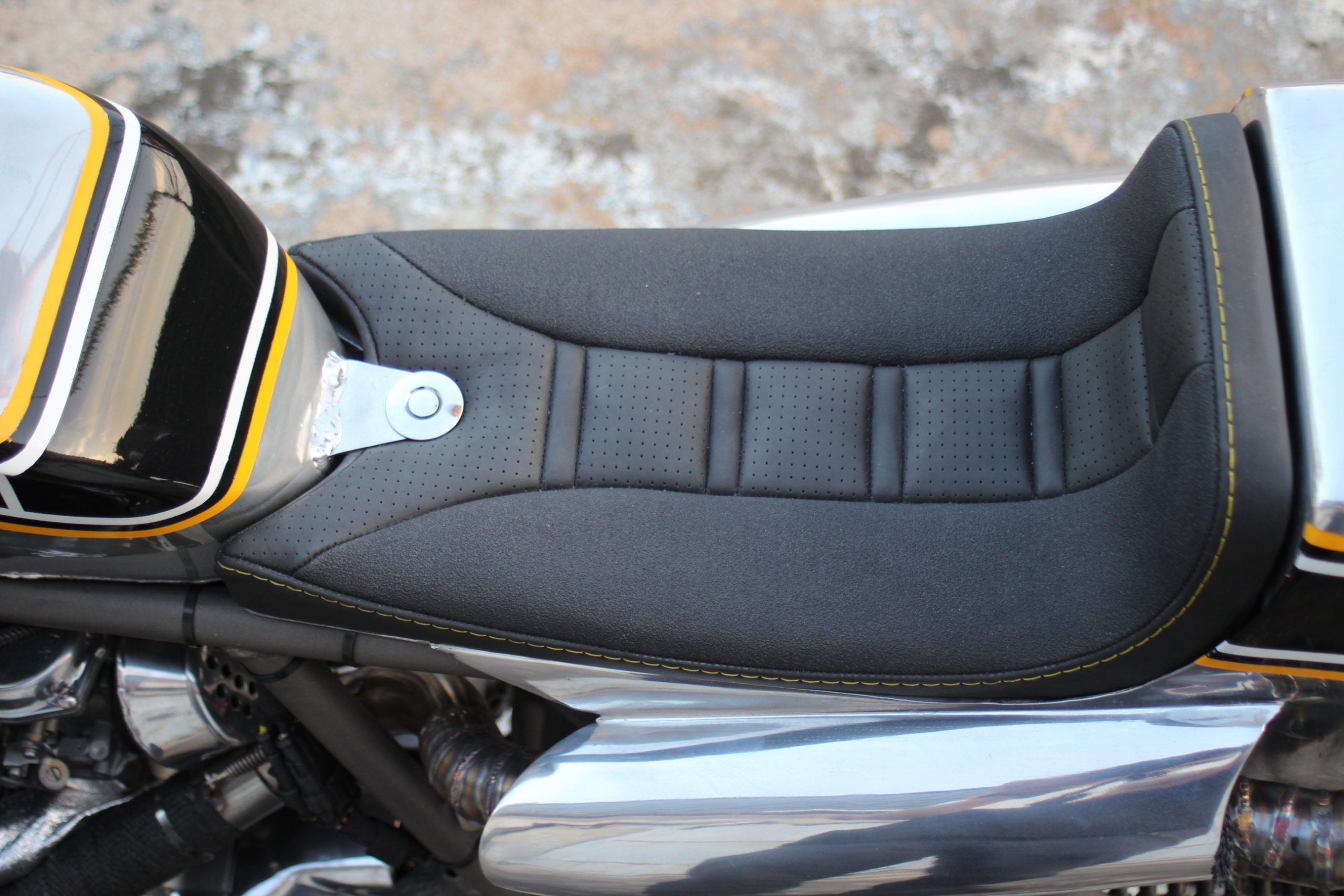 The whole build was challenging but I'd say all the metalwork was the hardest. As this was really my first time shaping aluminum,  I learned as I went along. I did every part of the build except for the seat…this build took a lot out of me.
I was one of the lucky chosen ones for an event called "The Greasy Dozen" held by Old Bike Barn. This build wouldn't have happened at this level or timeline without their help and the help of all the amazing sponsors. Unfortunately the Covid-19 pandemic cancelled the show but an online feature will still be happening.

1974 Yamaha TX750
All hand-formed 3003 aluminum bodywork
Painted on Yamaha livery
Custom made Speedblock design seat
Hand-formed aluminum gauge pod
6061 clip on handlebars with R1 controls and Motorex fluid
Fully adjustable monoshock rear suspension with R6 shock
Custom hydraulic rear brake drum with R6 master cylinder
Dual disc front brakes with R6 axial mount calipers and Suzuki rotors
Custom made stainless brake lines
Rebuilt front forks with Motul fluid
Re-laced and polished DID aluminum wheels with Metzeler Sportec Klassik rubber
Handmade stainless 2-into-2 exhaust with handmade mufflers
Oil cooler with custom AN and stainless hard lines
Machined oil filter adapter
Machined 6061 foot controls and fairing mounts
All new wiring harness with modern connectors,  Antigravity lithium battery and modern reg/rec.
Vapor blasted and rebuilt Mikuni Solex carburetors with handmade airbox and Uni filter element