A Modern-day Harley Davidson Cafe Racer
Words and photos by Blacktrack
We are excited to present our boldest build yet: the Blacktrack BT-03. Built around a monstrous Harley-Davidson power plant, the BT-03 is a contemporary café racer with low weight, sharp handling and quality components.
​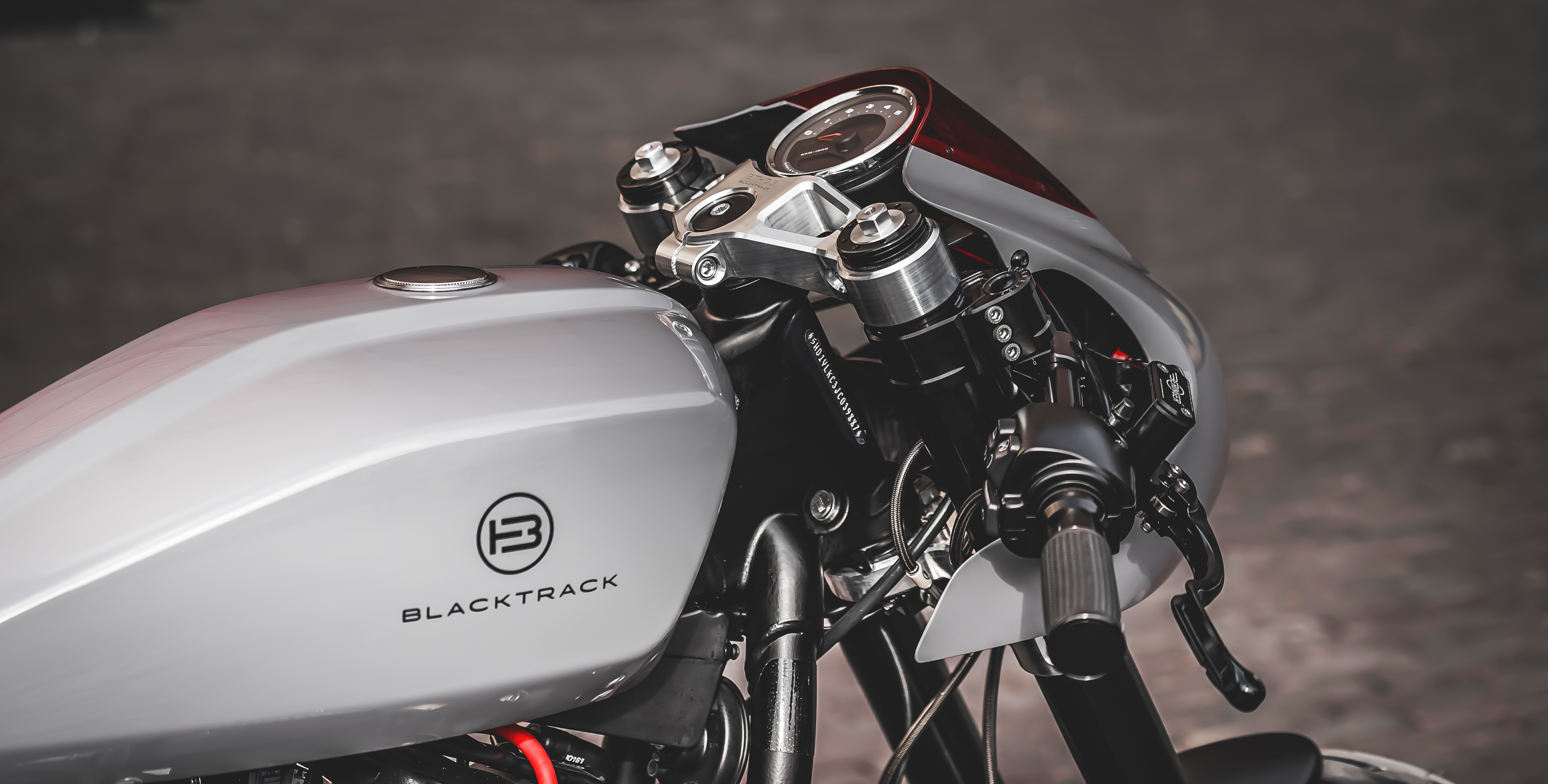 INSPIRATION AND STYLE
With the Blacktrack BT-03, our founder and lead designer, Sacha Lakic, continues the fine tradition of looking to the past for inspiration. "The inception of the Blacktrack BT-03 style study came from a bike that marked my childhood," he explains. "The Harley-Davidson XLCR."
"Produced between 1977 and 1979, it was the only café racer in the history of Harley-Davidson, with only 3,133 units made. I was spellbound every time I saw one on the streets of Paris."
The BT-03 isn't an exact replica of the XLCR. Instead, it simply seeks to capture the XLCR's design ethos. You'll notice hints of the XLCR's DNA in the BT-03's angular and elongated fuel tank and tail section, nose fairing and classic seven-spoke wheels.
Similarities aside, the BT-03's overall aesthetic is contemporary and fluid. It cuts a sharp line, with a stance and proportions that give it an unmistakable race vibe. This is further emphasized by the solo seat and radically committed ergonomics. The BT-03 is a pure café racer—designed and optimized for maximum riding pleasure.


BASE MODEL
We picked the new Harley-Davidson Softail Fat Bob 114 as the base motorcycle for the BT-03. Equipped with H-D's 114 ci (1 868 cc) Milwaukee-Eight power plant, it produces 155 Nm of torque in stock form, packaged in a stiff and responsive chassis. 
"The moment I saw the Fat Bob, I realized that this was the ideal platform," says Lakic. "The Fat Bob is the most exciting Harley Series to ride. The wheelbase is certainly a bit long, but the geometry is well thought out, and allows you to roll turns faster than any other Harley so far."
There's not much left of the original Fat Bob though. We kept only the motor, transmission and frame—replacing everything else with custom and upgraded components.


TECHNICAL CHANGES AND UPGRADES
The BT-03 features a number of bespoke aluminum and composite parts. These have been designed to not only look good, but to significantly reduce weight too—ultimately improving handling and acceleration.
Each and every aluminum part is designed in the Blacktrack Motors studio, before being CNC-machined by a trusted technical partner. Most crucial is the rear frame assembly—which acts as an interface between the Fat Bob's original frame and the BT-03's custom bodywork. Other parts include the upper and lower triple trees, rear set foot controls and front fender brackets. 
Composite parts include the front fairing, front fender, fuel tank, tail section and a cover plate for the rear shock absorber. The seat features premium leather upholstery, and the fairing's adorned with a low profile red windshield.
The Fat Bob's main frame and geometry remain unchanged. But the running gear has been upgraded with Öhlins suspension, Dymag forged aluminum wheels, and Beringer brakes. Blacktrack Motors have also installed a performance air filter and a custom-built stainless steel exhaust system, with a new fuel mapping to match.​


WEIGHT SAVINGS
Replacing bulky OEM parts with Blacktrack items, has resulted in a 40 percent weight saving on parts alone. The complete rear assembly weighs a mere 8.5 kg (5.5 kg lighter than stock), while the front end totals 27 kg (18.5 kg lighter than stock). In addition, the BT-03's changes reduce the Fat Bob's unsprung mass by 13 kg.
That brings the BT-03's dry weight to 248 kg—a huge improvement over the original bike's 296 kg. The result is a custom build with an excellent power to weight ratio, and dynamic handling.


TECHNICAL PARTNERS
We would like to thank their technical partners for their talent, skill and support: Sacha Lakic Design, Acor, Allio Group, Beringer, Dymag, Gilles Tooling, Vision Machine, HEL Performance, Jekill & Hyde, Michelin, Öhlins and SQP Motors.

ACQUIRING A BT-03
The Blacktrack Motors BT-03 is now available on special order, with a manufacturing time of six months. True to our philosophy of creating limited edition motorcycles, only four BT-03's will be produced. Each will be unique, and can be adapted to the customer's personal tastes (within preset parameters).
Exclusive design, quality and rarity are Blacktrack's hallmarks. Like the BT-01 and BT-02 before it, the BT-03 is designed to run efficiently and reliably, with high levels of performance and safety. It will undoubtedly become a collector's item.
Blacktrack Motors: Web | Facebook | Instagram
Photos by Sébastian Nunes