Our take on the Ducati Monster 821
We recently wrapped up our Ducati Monster 821 build, dubbed the "Bullitt 821". Building something you love and then letting it go isn't as easy as you'd think. After spending countless nights in the garage; planning, mocking up, tearing down, coating, and milling over details…the bike somehow becomes a part of you. Memorizing the lines, tweaking, obsessing. That first ride is usually something special. Having friends and other riders dig your work ispretty cool, but even cooler, is seeing it get noticed by other great sites like Pipeburn, where the Bullitt 821 was recently featured.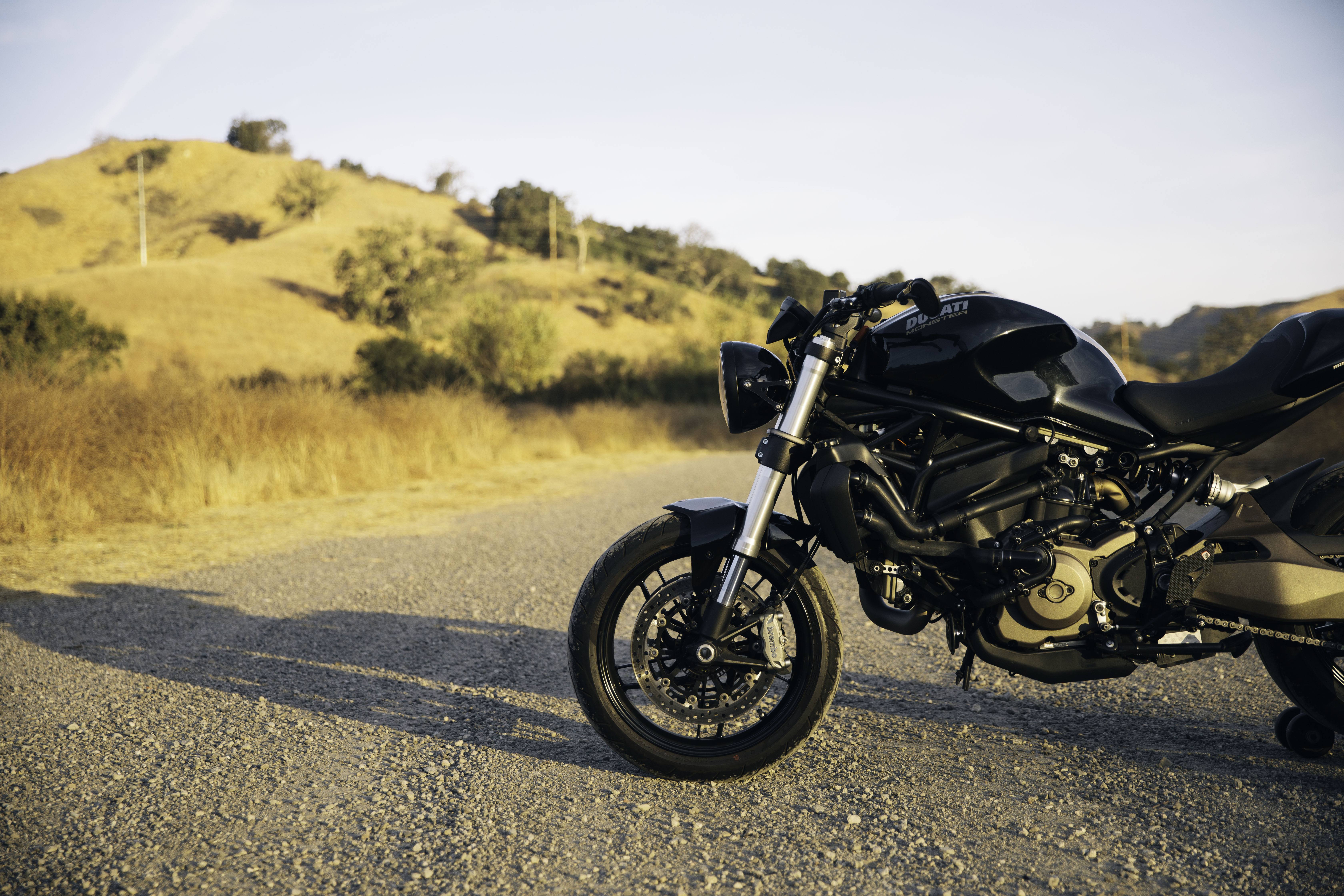 Our Bullitt OG was featured on Pipeburn in the past, even taking the #3 top build of 2015. To see the Bullitt 821 get some love was great. Here's a little quote from Pipeburn's piece:
There's one blog that has taken the step of downing their laptops and manning the tools – California's The Bullitt. We featured their amazing Triumph Bonneville build back in mid-2015, and now they're back with this mildly modded yet majorly sexy Ducati Monster 821.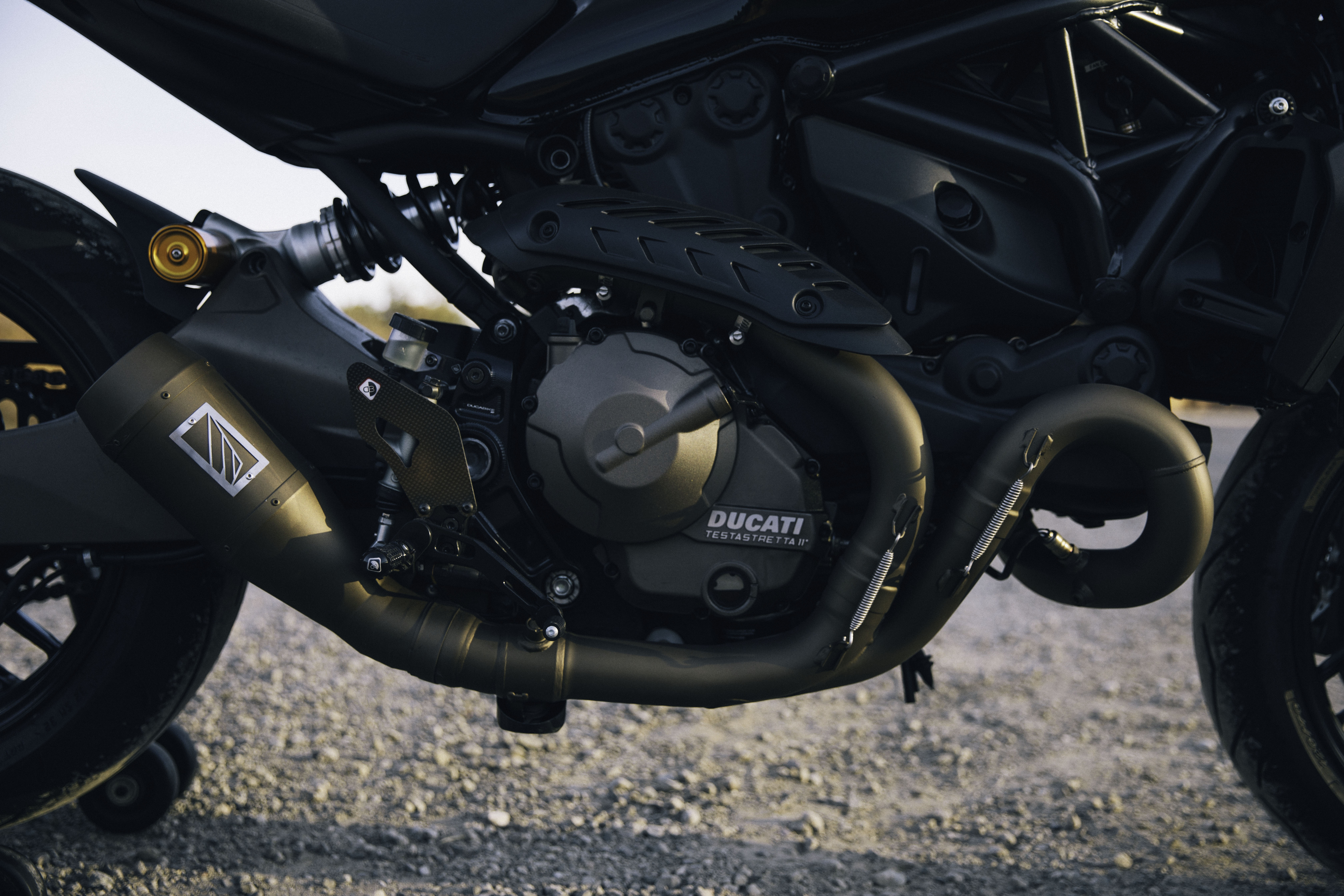 I debated getting the Monster 1200 R but decided I loved the 821 motor. The initial plans for the bike were to build an "821 R". I was going to Panigale R tank, cut it in half horizontally and mate it to the bottom of the Monster tank. Deciding to ultimately stick with the classic Monster shape, I enlisted my painter-buddy, Ronnie Simmon's, help and stripping the tank completely bare, and then applying the Panigale R paint scheme. Opting for black over red, the accents put back in were in a bronze to match the engine and swingarm. DUCATI shows through in peek-a-boo steel. A similar treatment was done to the tail cowl and fender with the closely matched silver to replicate the exposed steel on the tank.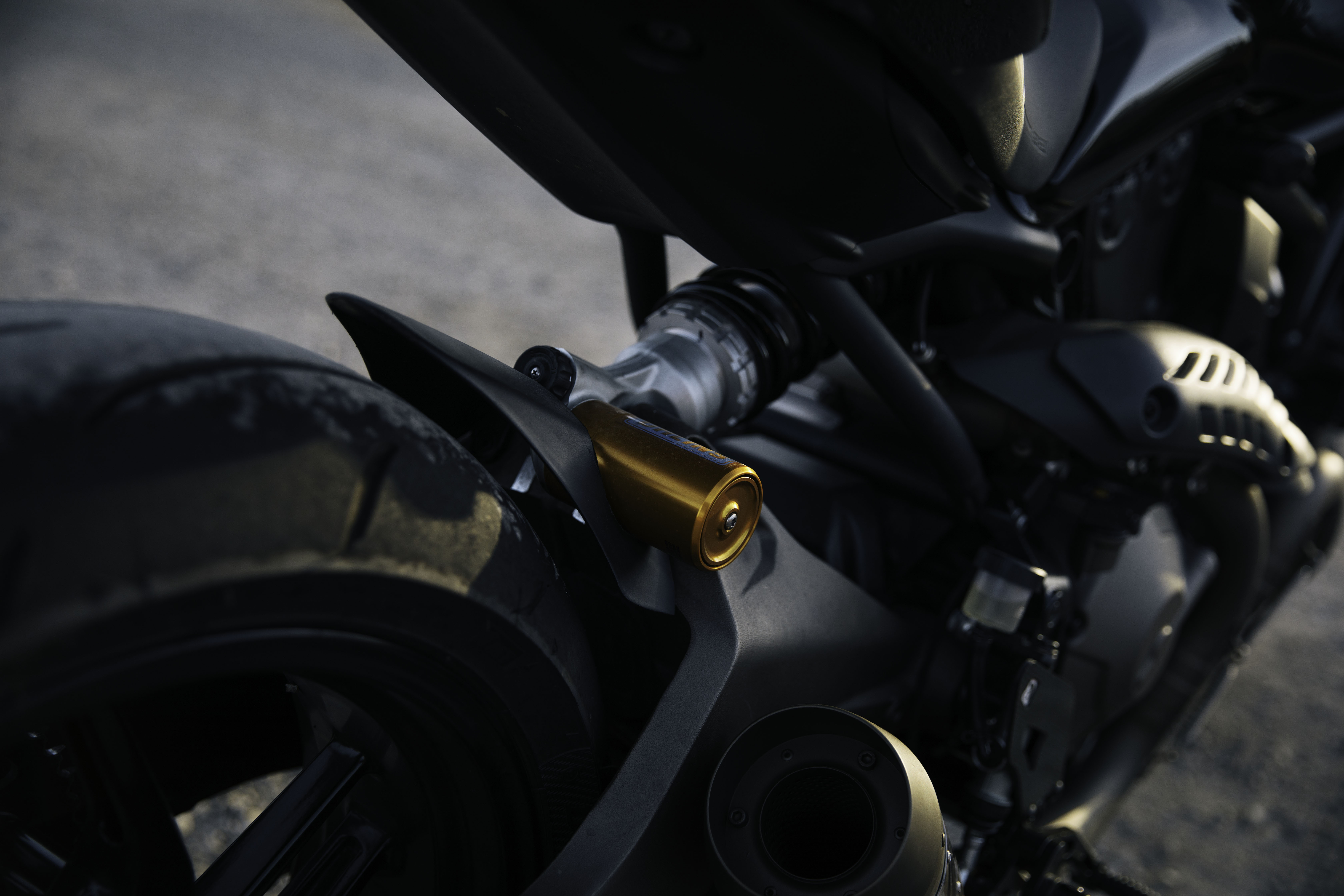 A Competition Werkes exhaust slip-on was debadged and ceramic coated in a 'burnt bronze' along with the headers to match the swingarm and engine cases as well. I no longer had any red on the bike and didn't want to put the original Comp Werkes badge so I worked with them and got a custom badge I riveted in place. A rear Öhlins shock was acquired and added out back. I ceramic coated the spring black – as I do to all my Öhlins. A quick Dremel hit to the rear hugger and she was in place.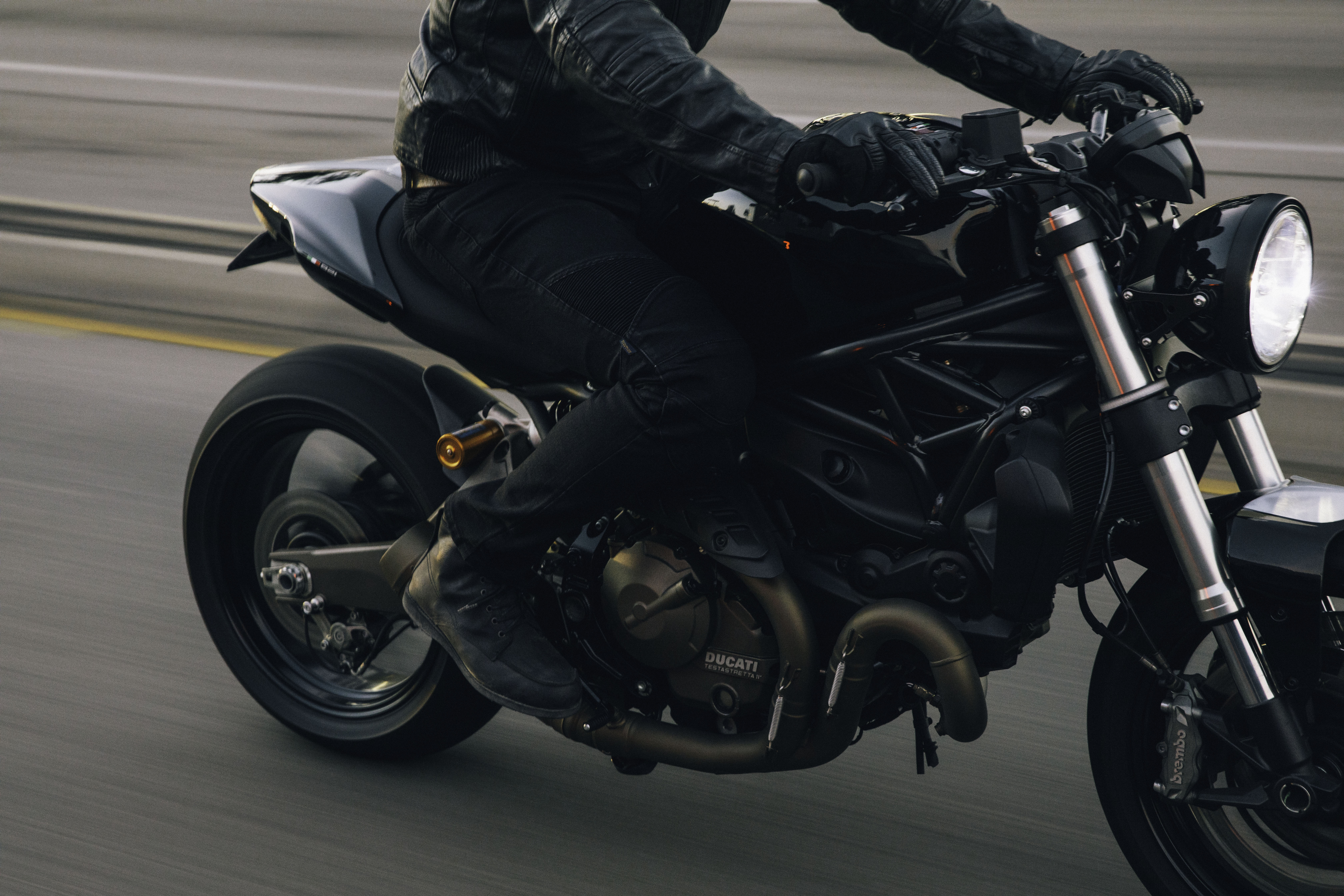 I was really into Motodemic's headlight conversions for some time and though the Bullitt 821 was a great candidate. Working with Motodemic's owner, Brad, we made a custom solution utilizing a round Triumph bucket. I really wanted the bigger bucket and think it looks killer. The bucket is gloss black and the rim is a semi gloss. The contrast works well with the other components on the bike.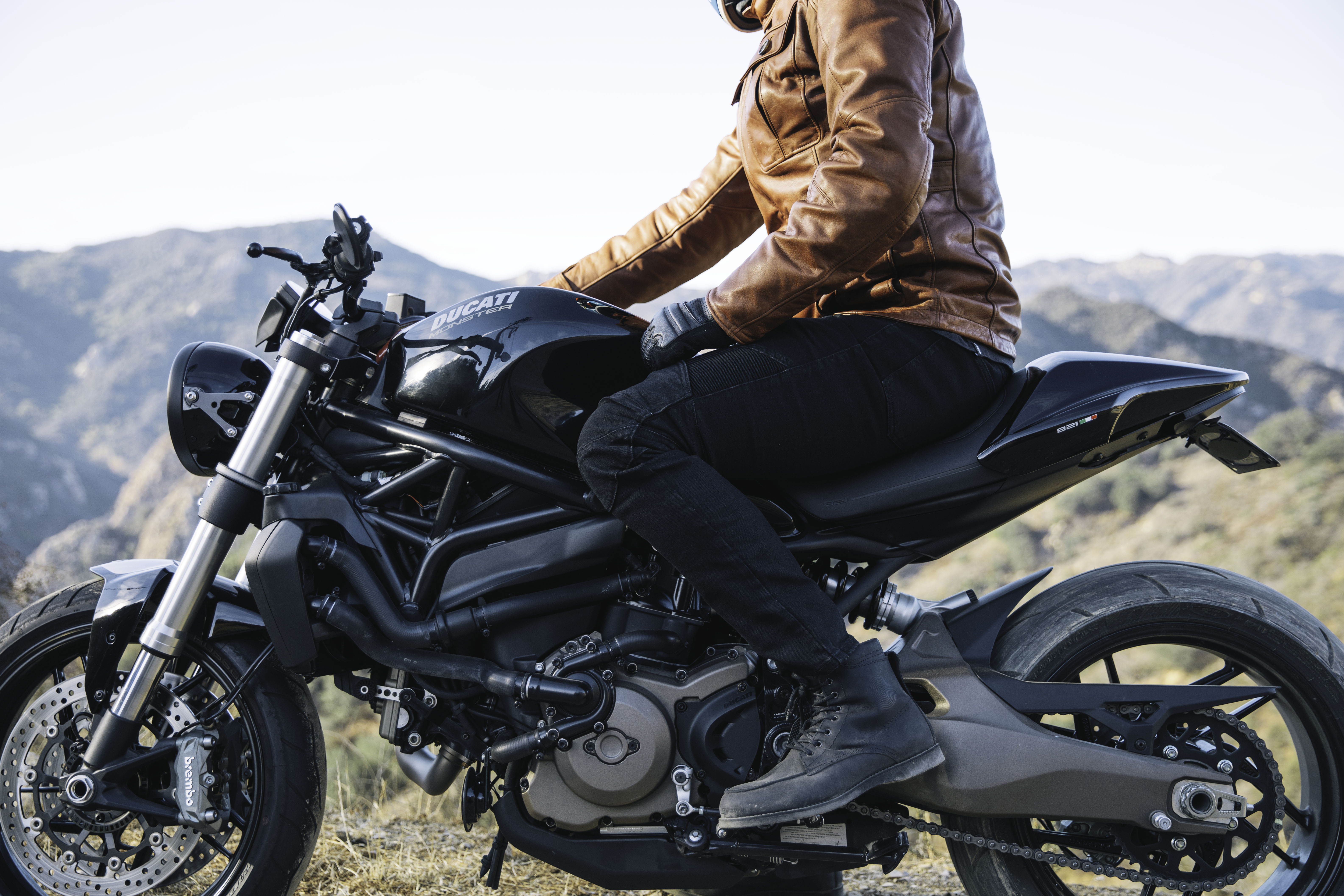 Beautiful Ducabike rearsets were installed and the passenger pegs were deleted. The rear brake reservoir was shortened and relocated to keep things tidy. Not being a fan of blinkers in general, I've run lots of bikes without them altogether. With this being my daily driver, I needed something discreet. New Rage Cycles provided just what I needed! I have their fender eliminator kit out back and their snap-on blinkers on the forks.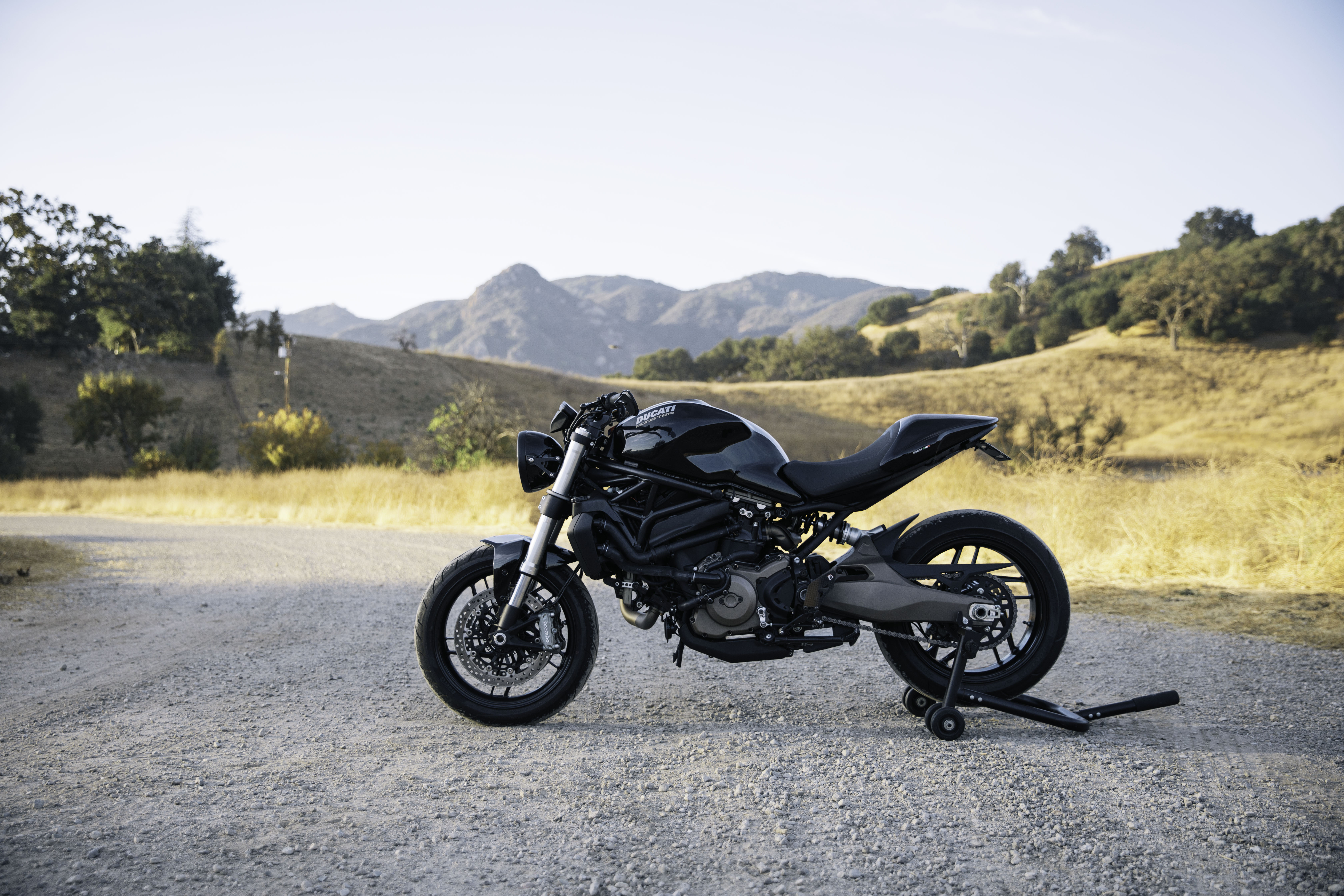 I was debating on dropping in some fork cartridges and anodizing the tubes black but after looking at the bike and ripping the bike through the canyons, I realized that the set up was pretty damn solid as is. I'm happy with where it is, and ended up falling for raw forks, which compliment the raw steel in the tank.
"Ooh, baby, I like it raw!" – ODB
Bullitt 821 Specs:
2016 Ducati Monster 821 Dark
Custom paint by Ronnie Simmons
Ducabike rearsets with carbon fiber heel guards & passenger pegs deleted
Ohlins rear shock from M1200S with spring powder coated black
Burnt bronze ceramic coated exhaust
Competition Werkes slip-on w/ custom badge
Motodemic headlight conversion – Triumph Bonneville bucket
Black powder coated bars
Black powder coated gas cap
New Rage Cycles fender eliminator
New Rage Cycles snap-on front blinkers
Bar end mirror
Mileage: 1,500
Clear title
Valid CA registration
Interested in seeing the Bullitt 821 in your garage?
Drop us a line here and; we'll get back right away.
Photos by Shaik of The Mighty Motor