A modern cafe racer MV Agusta Brutale 800RR by Deus Ex Machina
The Deus Emporium of Postmodern Activities in Venice, California released a killer MV Agusta build last year, the Ago TT. Motorcycle design director, Michael Woolaway, built this custom Brutale 800RR, commissioned by MV Agusta, as a homage to the marque's rich racing heritage capturing the spirit of Tourist Trophy racing of the 60's and 70's. The bike is aptly named after the great motorcycle racer Giacomo Agostini who won 13 Grand Prix championships and 10 Isle Of Man TT's between 1966 and 1973 astride the MV Agusta marque. This is a modern cafe racer embodied!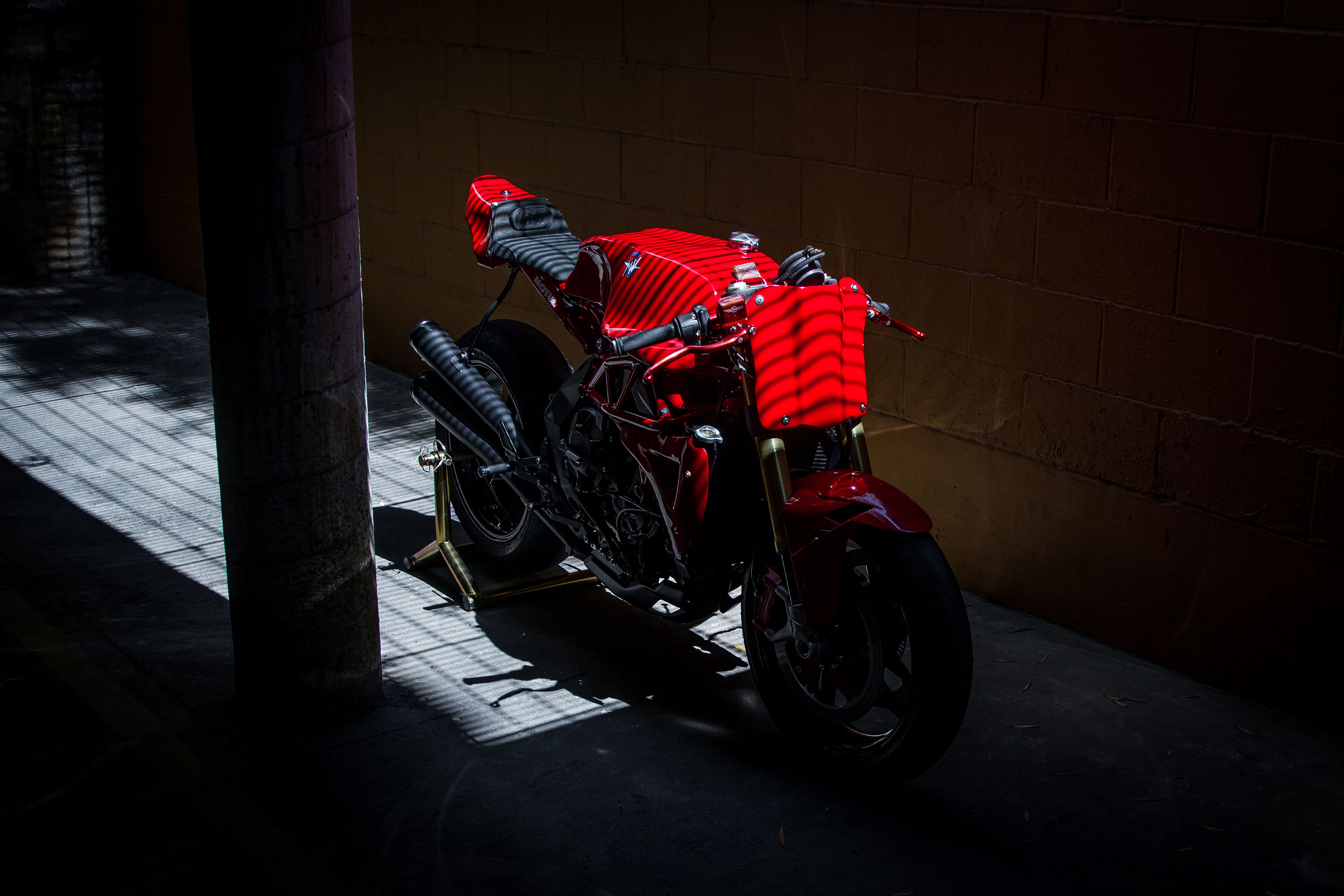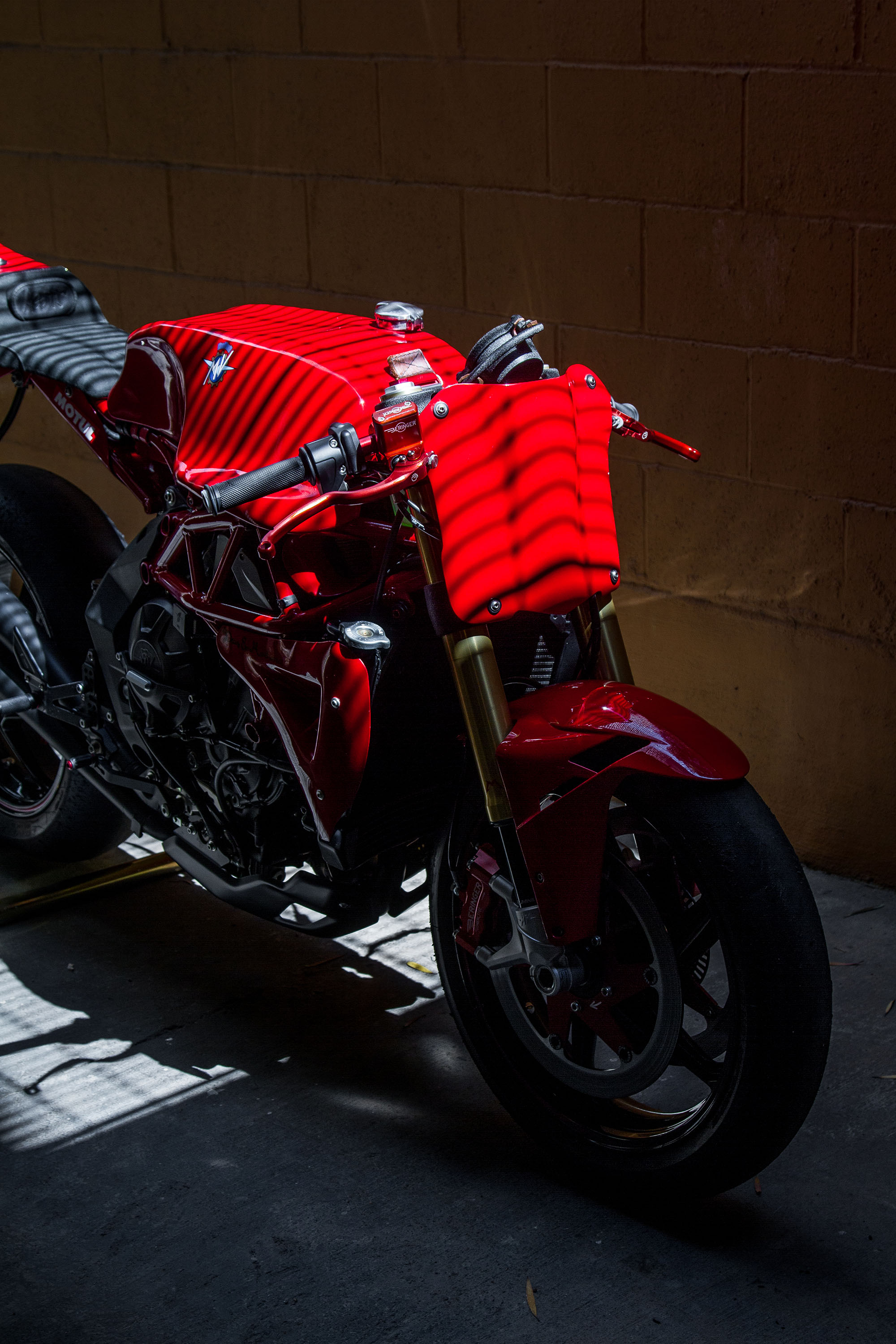 "MV's were not only the best looking motorcycles ever built, but they were also the ones to beat because they had the most amazing motors and a secret weapon — their tinsmith Primo Selotti," says Woolie, recalling a conversation he had with fellow aluminum shaper Evan Wilcox. "Selotti was from the airplane industry and was revolutionary in his gas tank shapes that not only looked great but were super aerodynamic with ergonomics to fit the rider. They were only meant to go fast." The Ago TT implements these functional style cues from the distinctive shapes of early small displacement Italian race tanks with dished in sides and top and pronounced edges. The tank's shell ended up being 7 separate pieces of Aluminum.
"This was the most difficult tank I've ever made due to the negative curve from the top to the back," says Woolaway.
Getting aluminum to shape this way without it creasing is a tricky process. "I had to throw away the first version of the tank I made for this bike"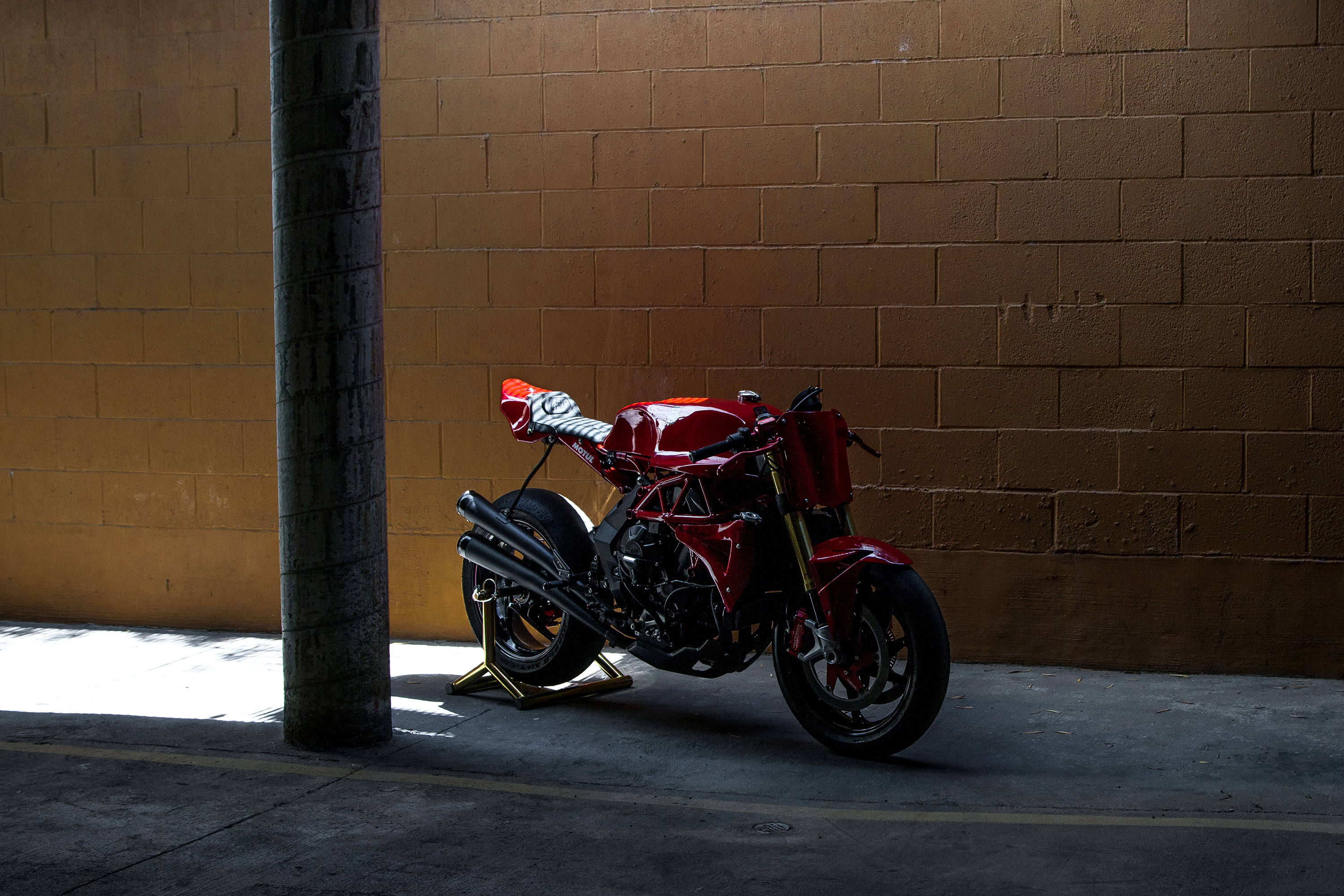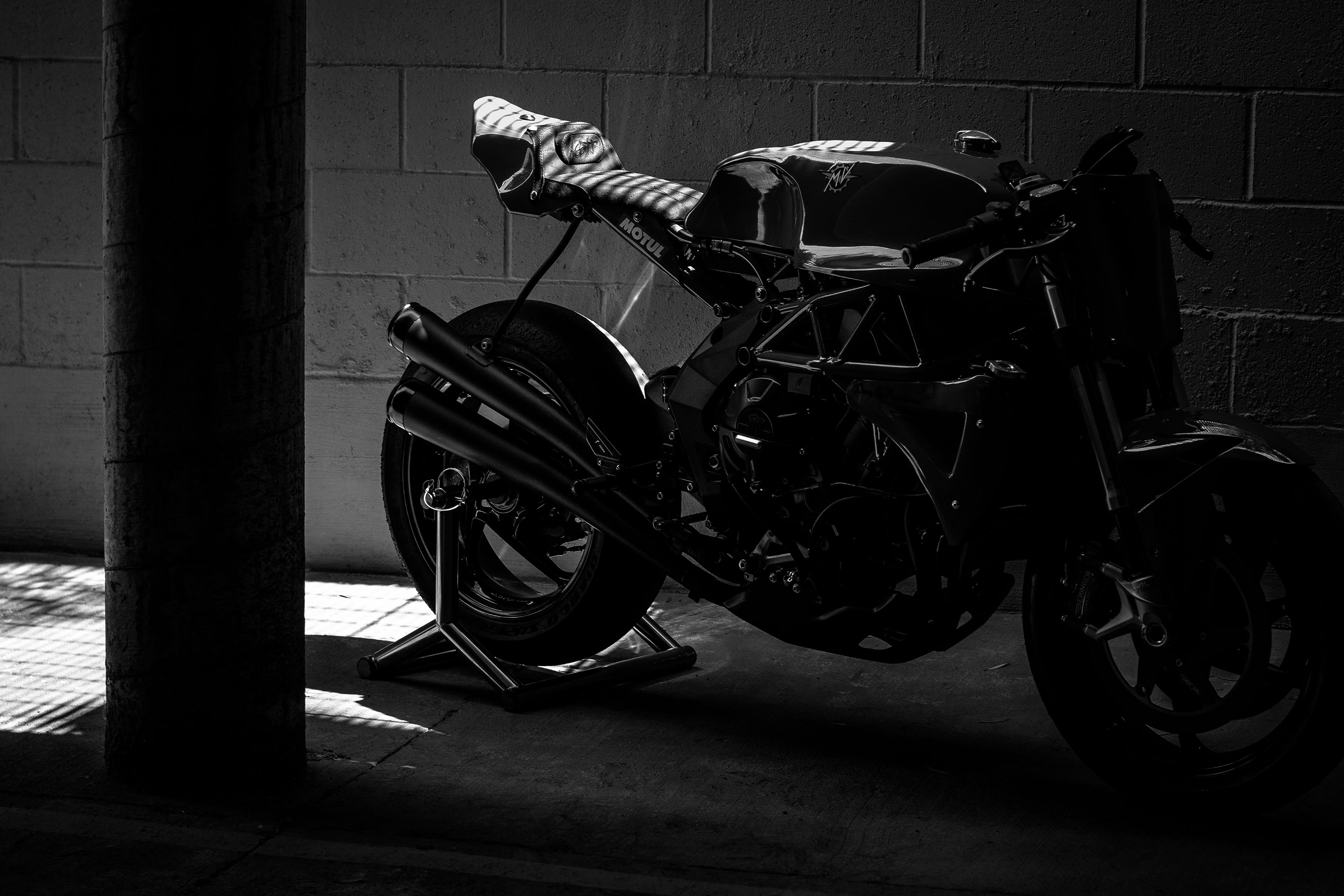 The sweeping curved pipes are another distinguishing feature of vintage MV Agusta race bikes in the 70's that Woolie used on the Ago TT, sourcing a set of 27 inch megaphones from Cone Engineering.
"To get the right curve, I cut out about 30 small slices and brazed it all back together,"
says Woolaway, who finished them off with a flat black ceramic coat and end cap baffles from Roland Sands Designs.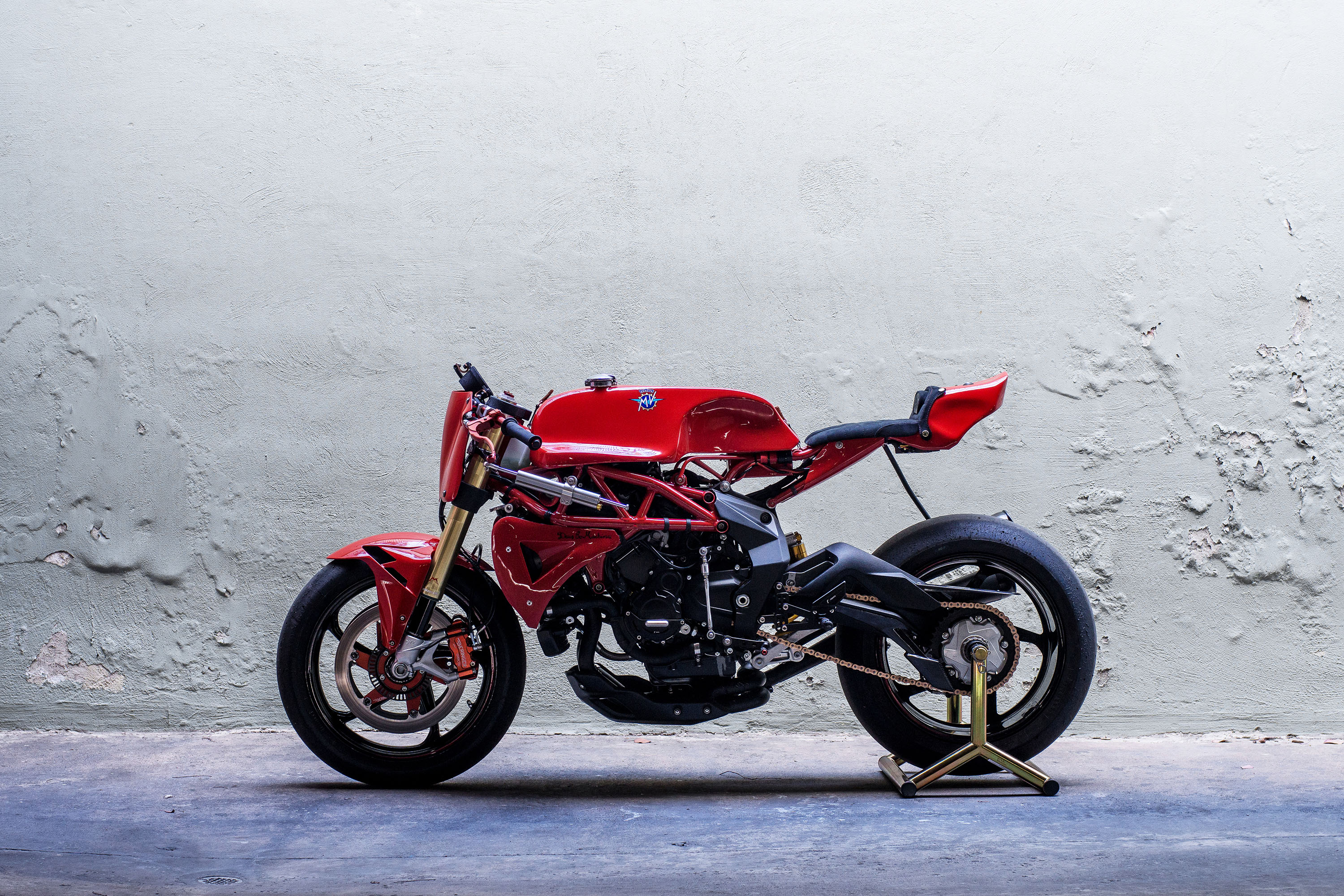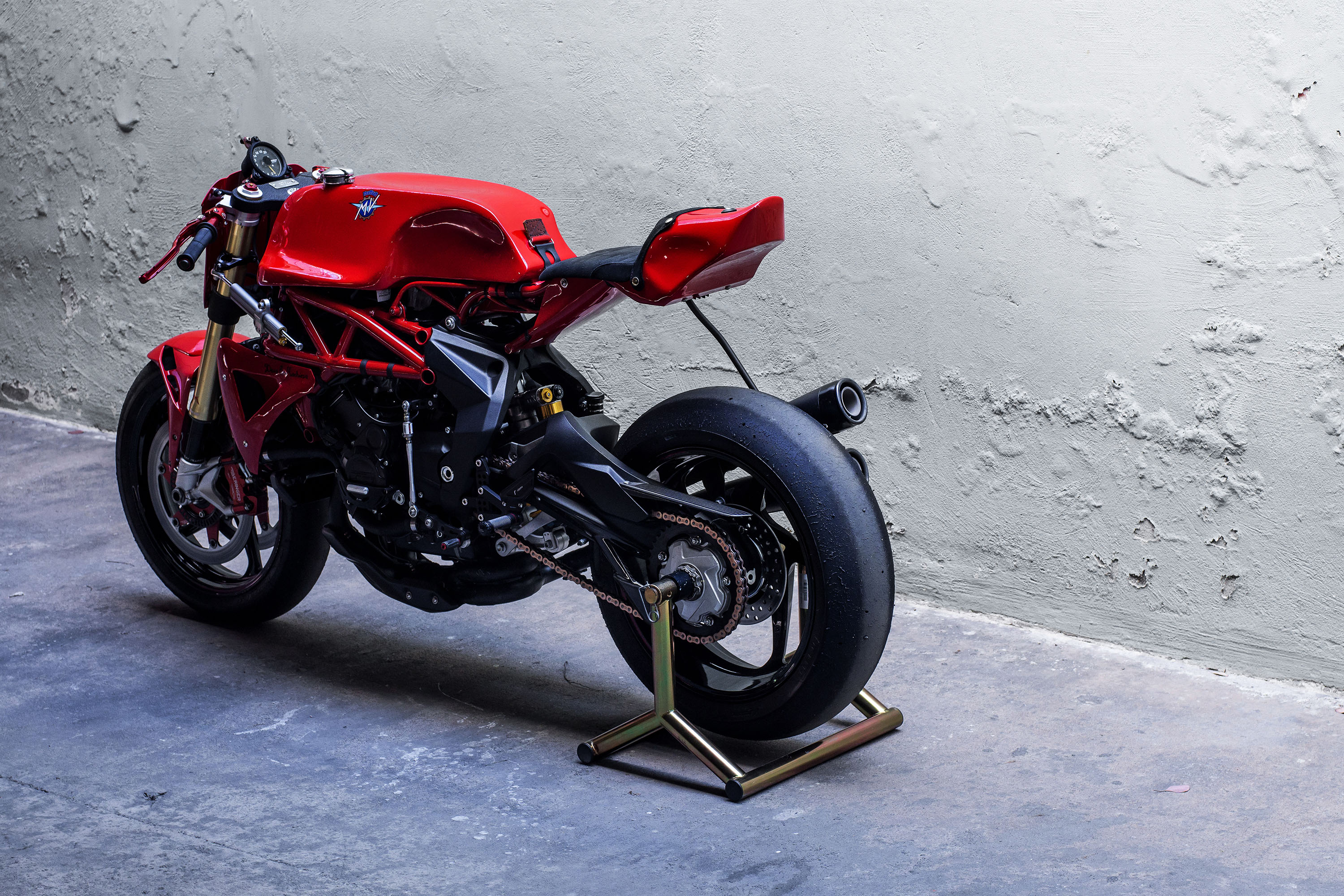 No headlight, no turn signals, no license plate, no nonsense. Woolie has built a bike for the track and the racing slicks are properly gummed up from some track time at Laguna Seca and Willow Springs raceway.
"It feels like a Grand Prix bike, laser-straight and very responsive," says Woolie. "While testing it on the track, I didn't want to go back to the pits."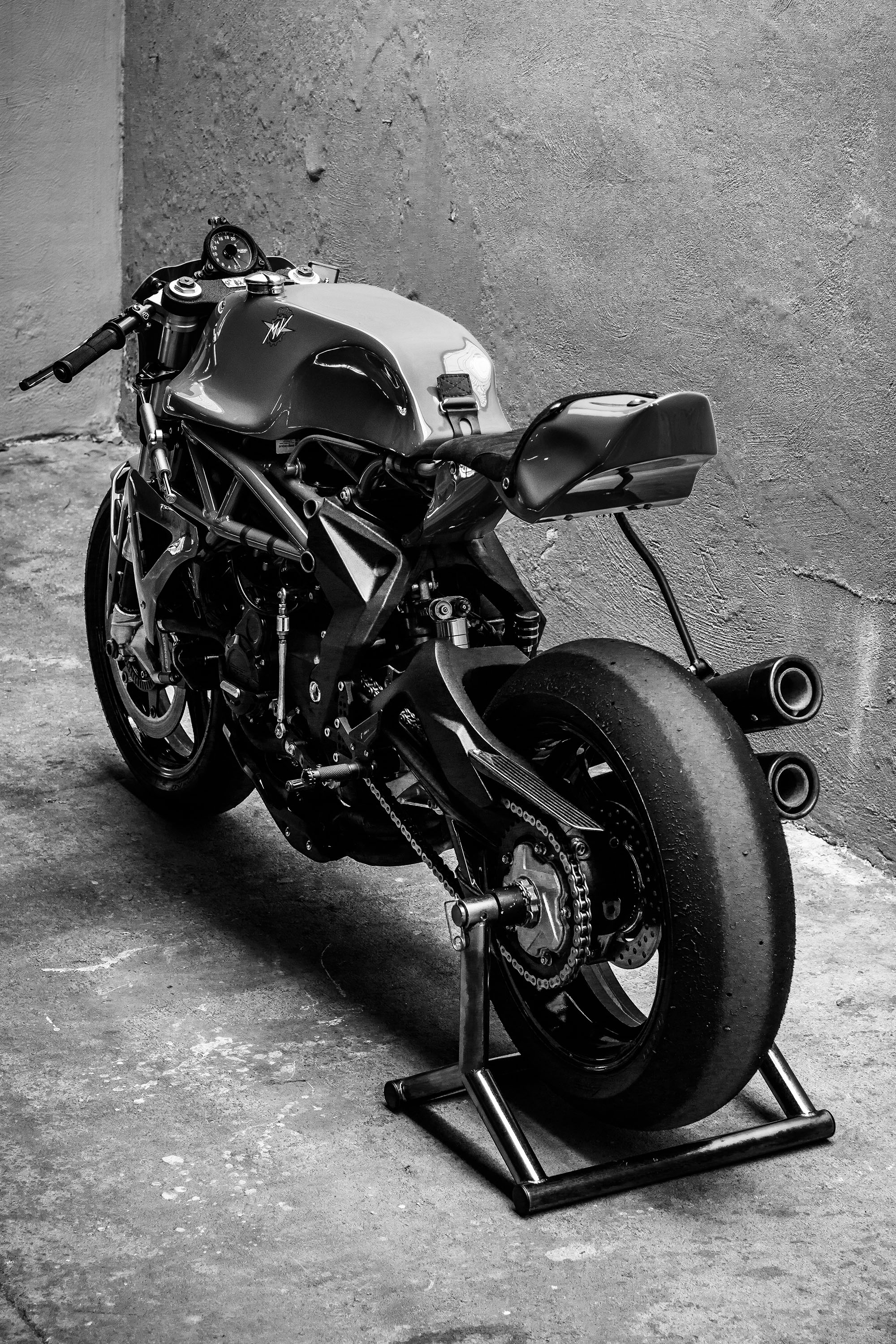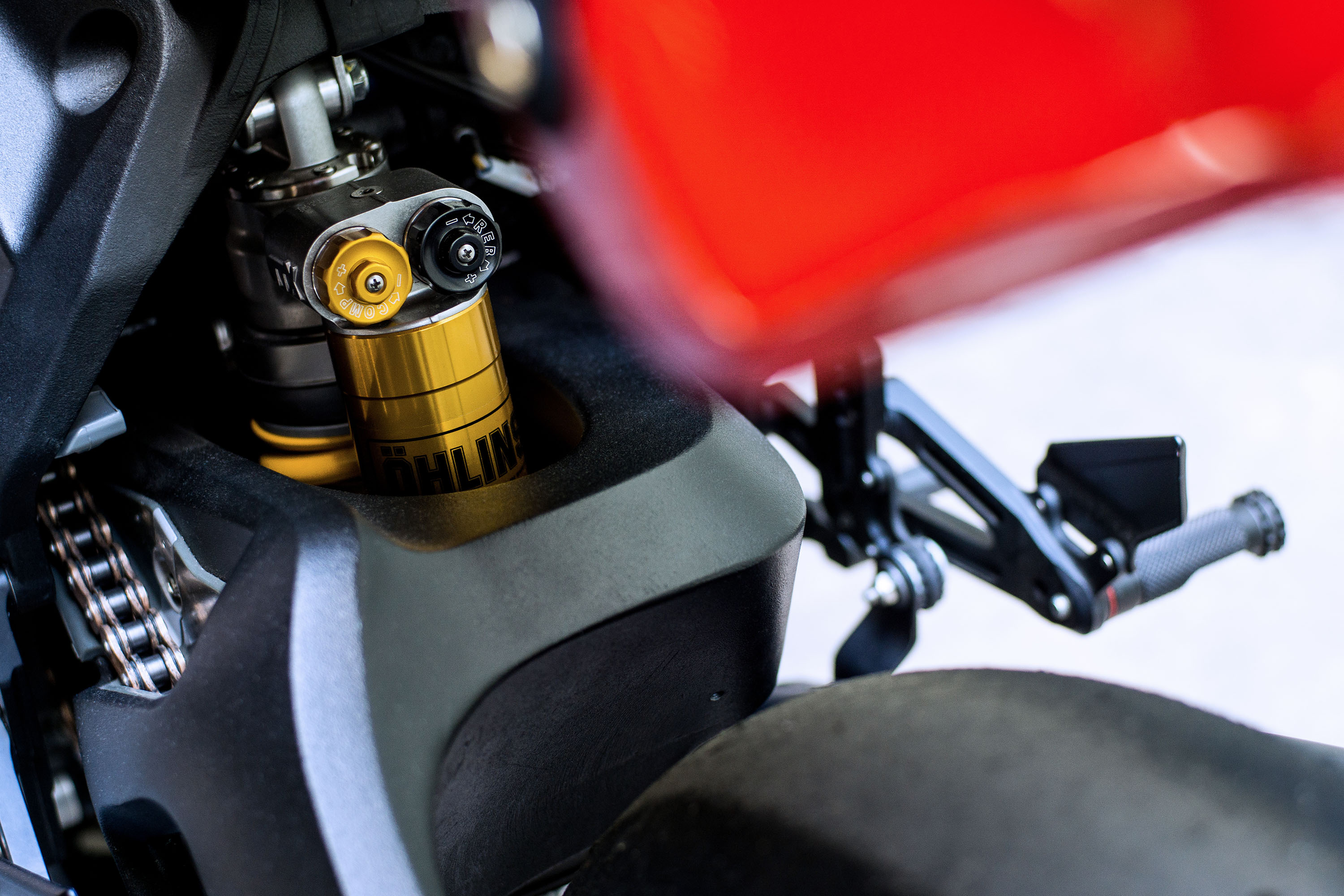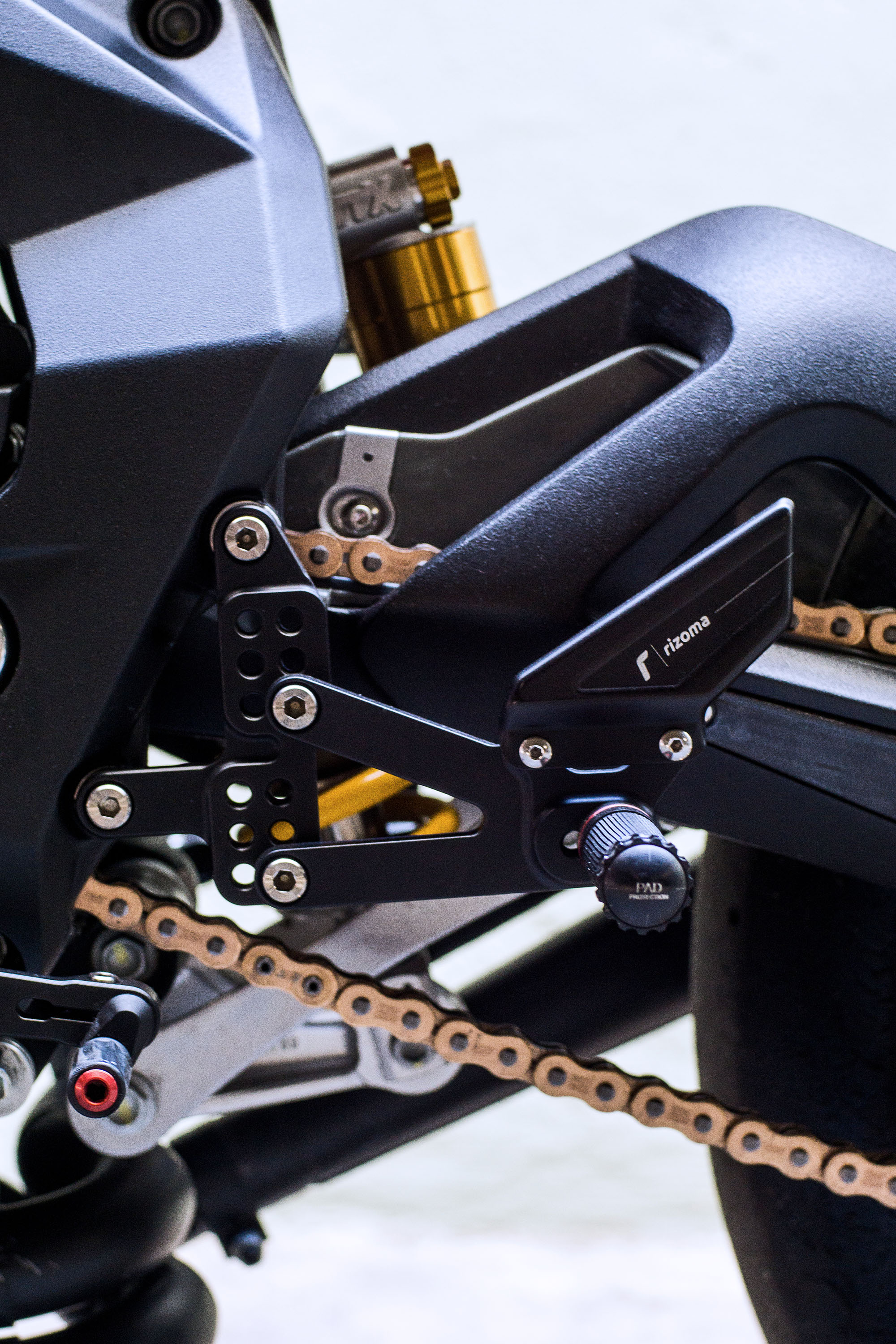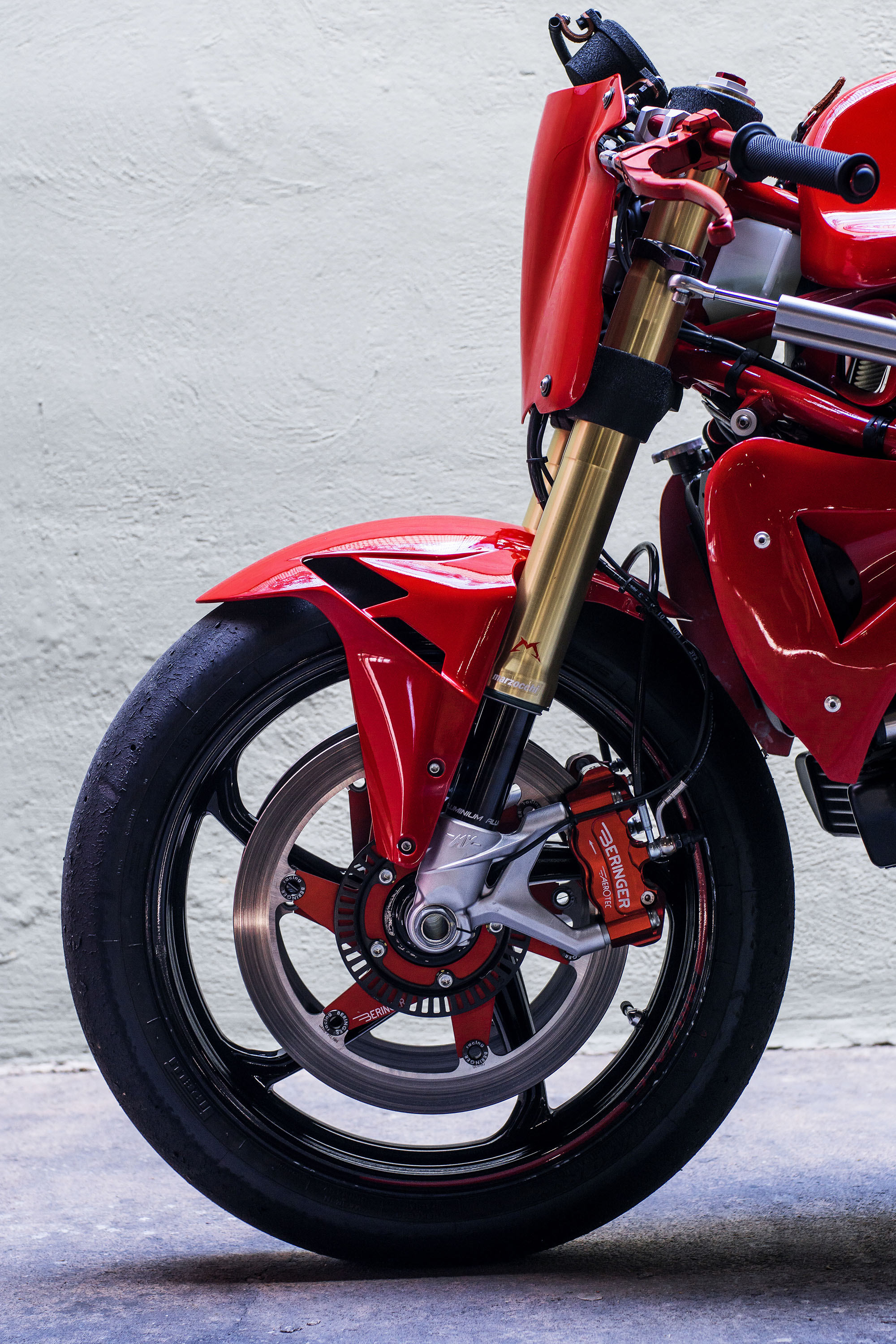 The goal was to reference old race history while maintaining the modern precision that MV Agusta is known for today. We may be biased, but we think it turned out pretty killer!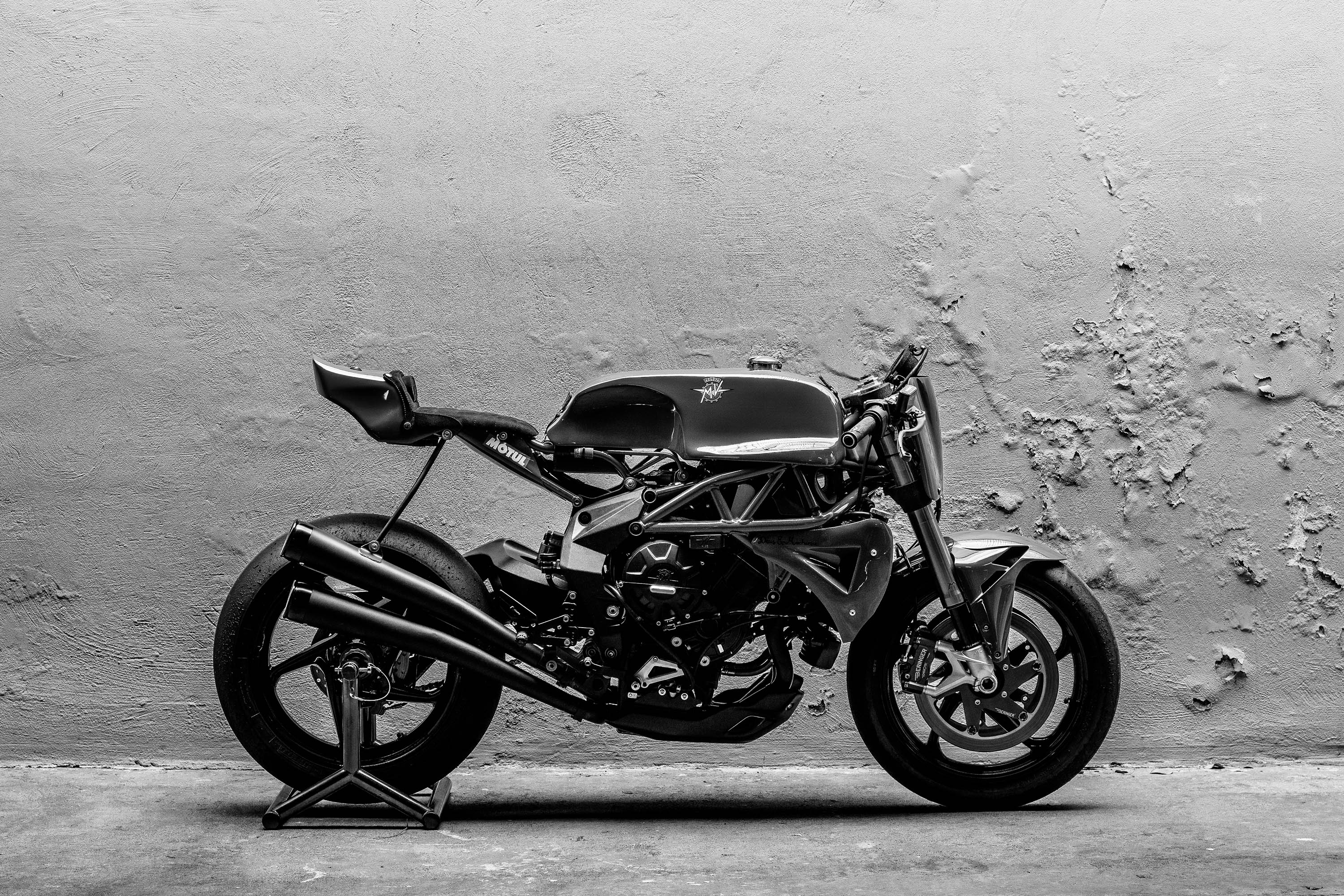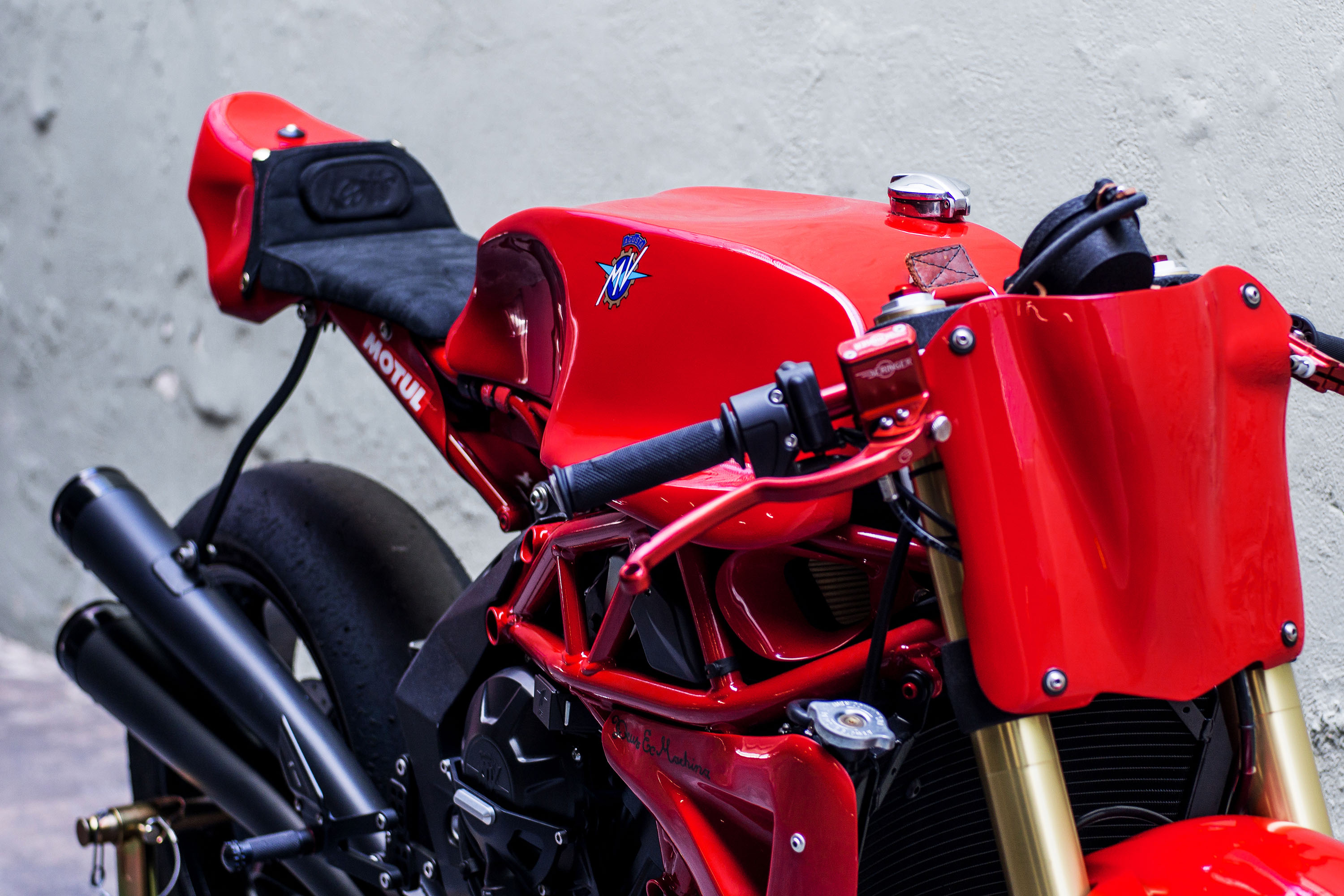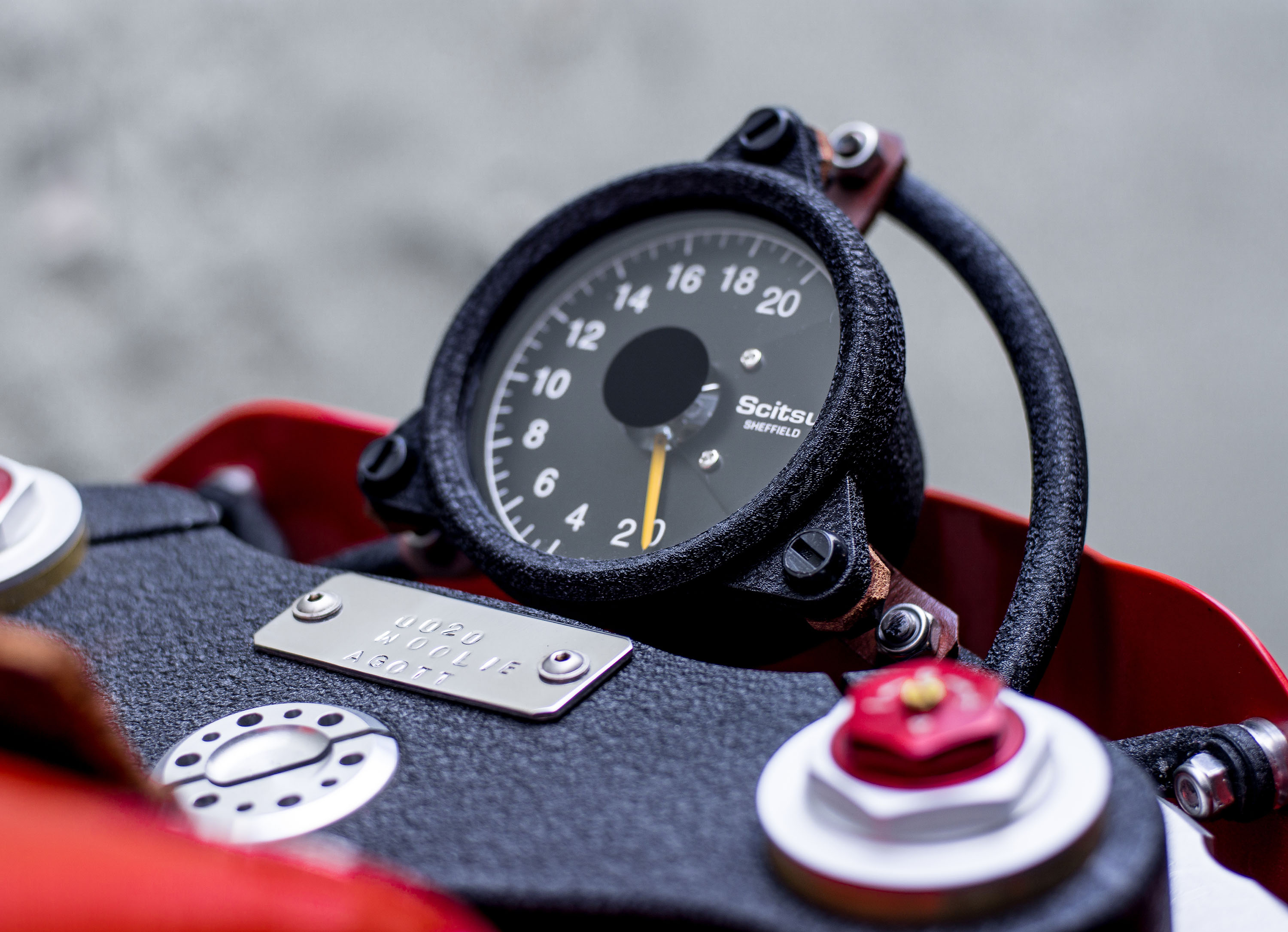 Specs:
-Custom chromoly subframe
-Handmade aluminum tank with vintage Monza vented gas cap
-Handmade aluminium tail section housing the electronics
-520 final drive conversion
-Scitsu tach
-Hand made triple clamps by Durelle Racing
-Modified Cone Engineering exhaust with SPD tubing
-Roland Sands Designs exhaust baffles
-Öhlins USA rear shock custom made for this bike
-Pirelli slicks
-Full Beringer hand controls and brake system with cast iron rotors
-Rizoma rear brake reservoir
-LSL clip on bars from Spiegler
-Rizoma rear sets