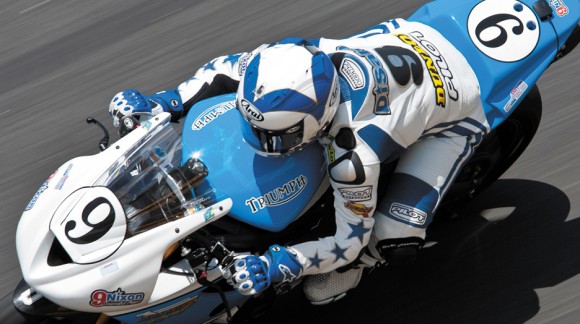 On August 5, 2011, the world of motorcycle road racing lost one of its most iconic and celebrated champions in Gary Nixon.
For one week only, starting Friday, July 27, visit eBay to bid on the one-of-a-kind Gary Nixon replica leathers, helmet, pit shirt and Daytona 675R bodywork, as used by Team Latus Motors Racing at the 2012 Daytona 200. Fully approved by the Nixon family, 100% of the auction proceeds go to the Gary Nixon Memorial Fund. Set up specifically to help aspiring racers fulfill their dreams, the Gary Nixon Memorial Fund is a fitting continuation of the racing spirit that Gary Nixon lived every day of his life.
To honor the memory of Nixon, on March 12, 2012, AMA Pro Road Racer Jason DiSalvo took the grid at the Daytona 200 wearing specially-designed Gary Nixon replica leathers and helmet. His Team Latus Motors Racing Daytona 675R also featured custom Gary Nixon replica paint and graphics, inspired by Nixon's 1967 Daytona 200-winning Triumph 500. Even the Team Latus pit crew got in the act, sporting crew shirts styled after those worn by the 1960s Nixon Triumph teams.
Despite grueling heat and a crowded field, DiSalvo ran an extraordinary race that day, making up nearly 26 seconds in only 25 laps and ultimately finishing second in a photo finish. DiSalvo was quoted after the race as saying the memory of Nixon was with him the whole way, pushing him to the finish line.