Welcome back to another installment of Behind The Bars, The Bullitt's celebration of the humans behind the machines we love. If you are a regular reader of this column you know we are generally bullish on the overall state of affairs within the moto industry simply because, well, we're like you and are addicted to the sound, smell and sensation of riding. Plus, The Bullitt is located in SoCal which feels like the epicenter of motorcycle culture – we tend to only see the good and ignore the haters, industry articles and social media mentions about the flatlining of the motorcycle industry. Recently, we decided it would be fun to profile some of the people who inspire us, challenge our point of view on design, or in some cases, just one up themselves and the industry as a whole.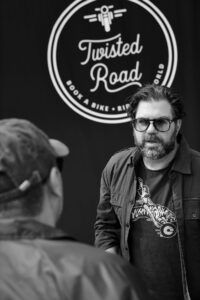 There are many of us out there who would never consider allowing anyone to swing a leg over their motorcycle let alone allow them to ride it. As the joke goes, "human beings are replaceable, but bikes cost bucks." Plain and simple – we just don't trust anyone. Not to mention, starting an older bike is like, well, getting things started in the bedroom with your partner. It helps to have an understanding of where one can make the appropriate tweaks and adjustments to ensure a fun, smooth and exhilarating experience. Right? Right. Luckily, there are thousands of people out there who don't treat their motorcycle like it's their spouse, and skipping over any polyamory jokes, they want you to ride their bike. (And I mean that literally.) I am grateful for these people and because of them, our next BTB profile has a thriving and viable business called Twisted Road. So yes, this is the "Airbnb of motorcycles" and if Austin needed any validation he was onto something, its thousands of happy customers who use his network. Austin was also nice enough to offer me a free day of riding, and said he do the same if anyone read this post and emailed him here.
The world just got big again.
Name:  Austin Rothbard
Company:  Twisted Road
Tell us a little about yourself. Maybe a fun fact or something not commonly known.
I've worked in corporate America for 20 years and have run four large companies before Twisted Road. In fact, I've been fortunate enough to lead teams of up to 1,000 people all over the planet, and have run companies with up to $500M in revenue. Twisted Road was the first company I've led that didn't have any sales!  And a fun fact, I've been to 46 states (Alaska, Nebraska, Mississippi, and North Dakota are on my list).
Where are you from, and where do you live now?
I grew up in northern NJ, right near NYC. Since then, I've lived in Boston, Florida, Upstate NY, and Southern California. But for 18 of the last 20 years, I've lived in Chicago.
What do you do for a living?
I run Twisted Road. I started the company in 2017 in my kids' playroom, and now we have five full-time employees and many other freelancers. Oh – and I've left the playroom for our home office.
What was the first bike you bought and why did you buy it?
Moto Guzzi v7 Classic. It seemed like a versatile entry-level bike with tons of character and style.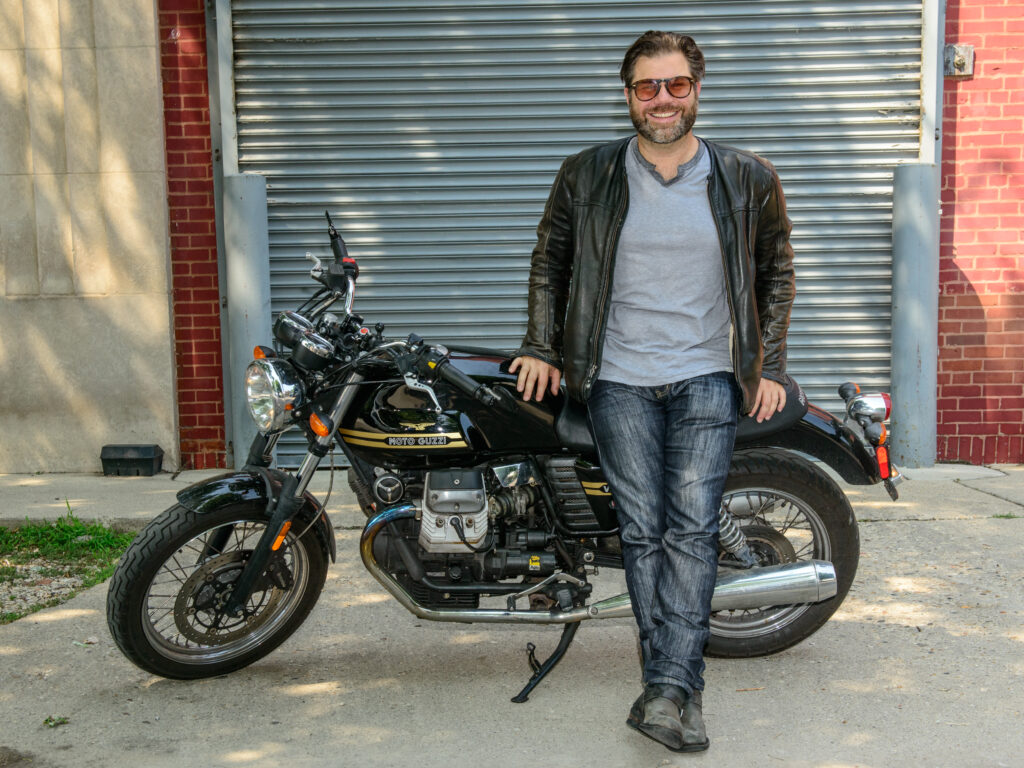 What one person has influenced your interest in these machines – what about them helped form your ideas on this sport?
There isn't a single person who has influenced me, but hundreds of riders, dealers, and builders have shaped my views on riding and community.
You just found out you have one week to live. That gives you a few days to squeeze in 1-2 days of riding. What bike, and where do you go?
Alaska is one of the four states in the US that I've never visited before, so riding the Dalton Highway to Prudhoe Bay would be the ride I'd take!
What's a life lesson you learned from motorcycles?
Be in the present and fully enjoy the world around you.
Have motorcycles helped you discover some aspect of your personality and/or have they helped you understand your purpose?
Motorcycles transformed my life from being a corporate executive to an entrepreneur. This is my purpose. So the answer to that question is "hell yes."
You have $10k and one hour to buy a bike…. Go.
Well, I just bought a 2013 Moto Guzzi Griso for $6,500 last month. So I'd keep the money and go to Vegas. Maybe I'd ride there…
When you're not wrenching or riding, what else keeps you busy these days?
Work, work, and work. Always. I can't turn it off.
Gear is a big part of this sport, what is one thing you cannot live without when riding?
That's easy. A Brake Free Brake Light. If you don't have one, get one.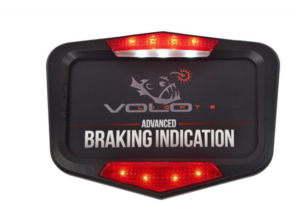 Name a designer (or individual), not in the moto space, that influences your work.
I was the president of Baker Furniture for three years, where I learned a ton about design, composition, and aesthetics. As a luxury brand in the furniture world, their designs are really unmatched. I think that the influence of these world-class designers (such as Barbara Barry and Thomas Pheasant) honed my eye for good design.
What's next for you? What project has your attention?
My one project is clear. Unlock the motorcycles of the world so more people can experience life on two wheels.
You're editing your own moto video – footage of you riding with best friends. What song opens the video?
Baby Got Back. (Editors note: apologies for using Brian Williams instead of Sir Mix Alot, but this was too good not to share).
We're in this industry because it brings us joy. What was your most joyous day on a motorcycle to date?
The week after I got my endorsement, I was riding to a motorcycle shop and I rode on a small bridge over a river in Illinois. The view was so incredible that I remember losing my breath and just saying "oh wow". This was the beginning of experiencing the beauty of the motorcycle world. I was inspired.
Extra Credit #2 – Please nominate one additional personal that you think we should feature in "Behind the Bars". Bonus points for females.
J. Shia from Madhouse Motors. She is the best builder in the industry.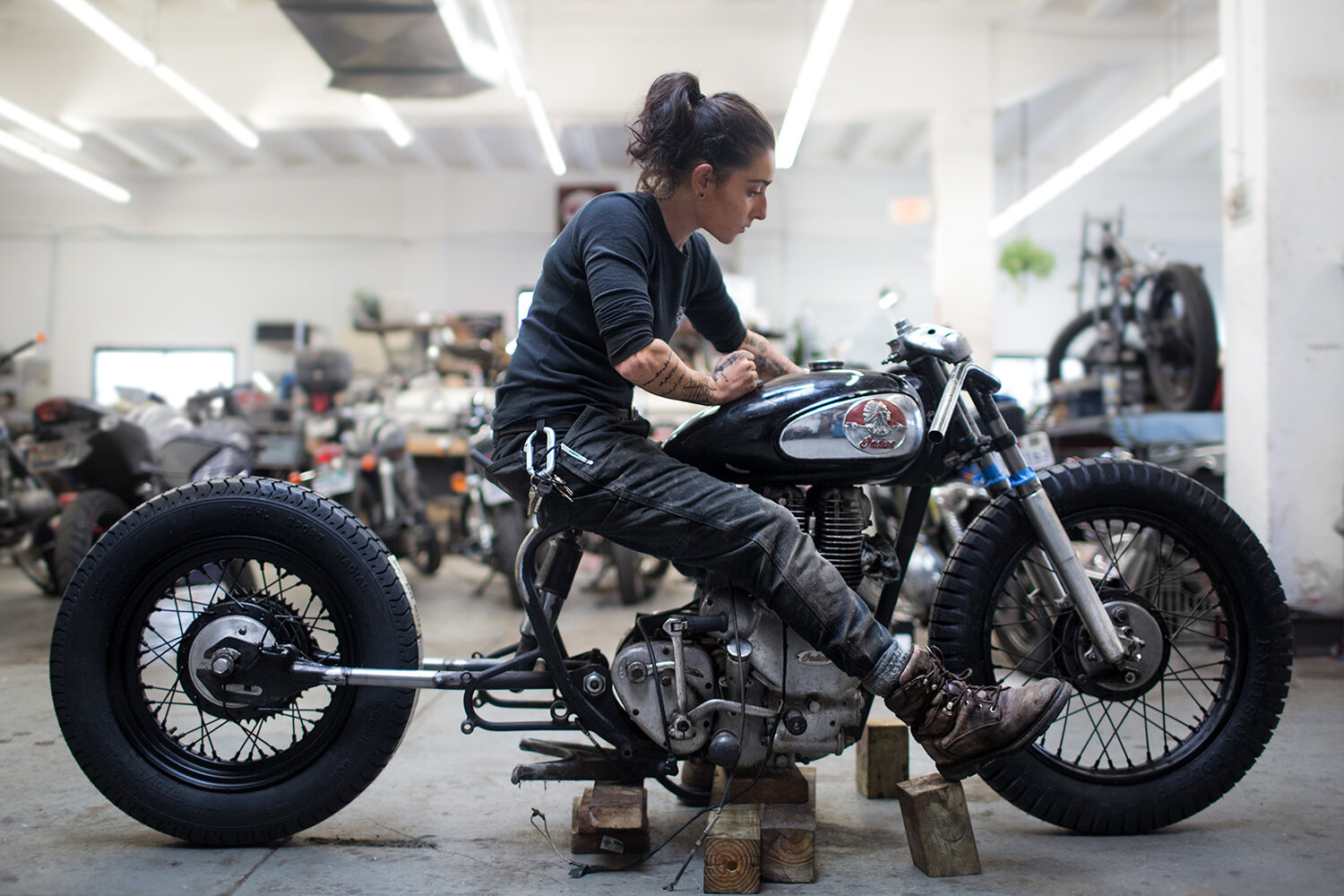 Twisted Road: Web | Facebook | Instagram | LinkedIn | Austin's personal IG