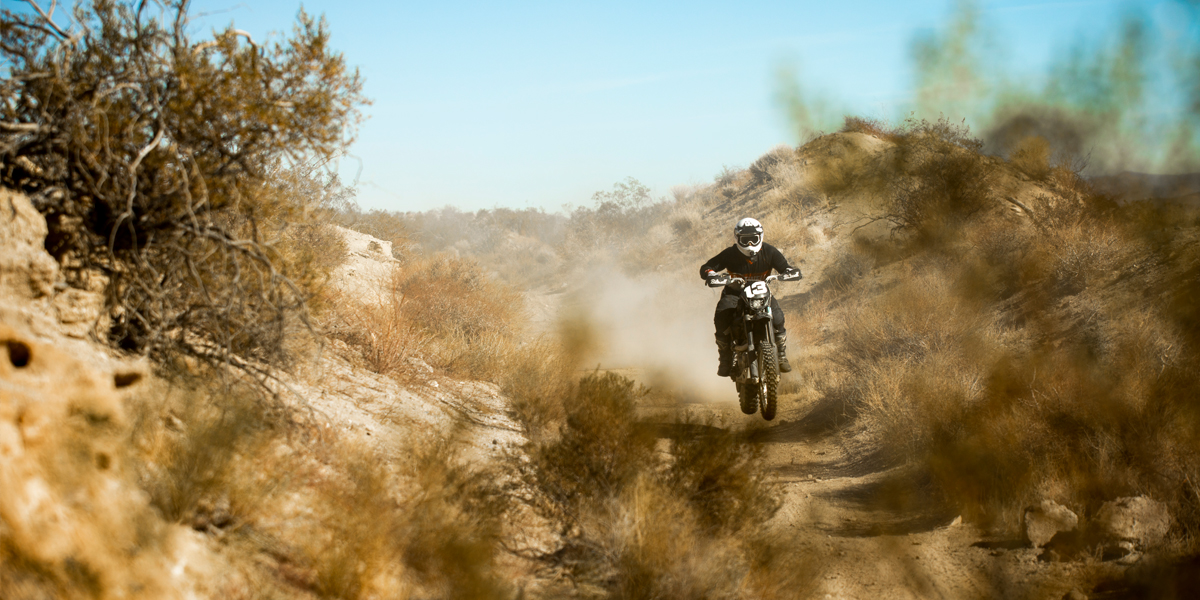 The 2021 (race?) season opened with a bang and a crash earlier this month in Ridgecrest, CA, with 100 riders gathering to spin their wheels in the newly minted Biltwell 100 Desert Race. In true Biltwell fashion, the outliers were the real stars of the show.
Freshly cobbled together Harley Hooligans stacked ahead of a full class of vintage desert sleds, electric dirtbikes with enough charge for a single lap, and a pair of pull start Coleman mini's bringing up the Misfit class in the rear of the grid. Misfits indeed. Just the way we like it! There were easily more first time racers than are generally encouraged in sanctioned races, though a better opportunity for "good times, not lap times" would be hard to find.
Located off the CA 395 and stationed at Dirt Diggers Spangler Hills OHV, the team at Biltwell found the perfect backdrop for sandy shenanigans. Out there, we found seemingly endless trails that felt remote, but still close enough for a quick drive into Ridgecrest for supplies, and a breakfast stop in the Randsburg ghost town on the way out of town made for an effortless weekend for new and seasoned racers alike.
Each class in the Biltwell 100 had a varying number of laps to complete, with the expert classes racking up 4 laps to complete the full 100 miles. Novices and Vintage required 2-3 laps and Misfits just one single 25 mile run. No one was exempt from excitement on the course, with a few spectacular crashes (we've all seen the drone footage by now, right?) and a handful of unfortunate mishaps lead to bikes being towed unceremoniously across the finish line. That being said, not a single rider came back disappointed. True sportsmanship shined through the dust, smiles cracked as easily as the next beer, and plenty of post race commiseration guaranteed the antics were thoroughly enjoyed long after the engines cooled. You'd have to work really hard to have a bad time around these hooligans.
With 26 women lined up in various classes (and a WIDE range of experience levels) you'd be hard-pressed to find a more eager group of ladies ready to rip into the Ridgecrest race course. Standouts include Nicole A, who had only ridden on trails twice before this race (and placed 7th in her class!), Avila A, who podiumed in the Misfits class with a solid 53 minute lap on her KTM Freeride electric dirtbike, Tamara R pilot of the 1975 Triumph TR5MX and the only woman brave enough to take on the vintage class, who got to take home the 1st, 2nd and 3rd plaques for her efforts. And leading the pack, Taylor D taking home the 1st in the Ladies Novice class.
Men's classes were stacked with the usual suspects, with a suspicious number of Baja and NORRA 1000 seasoned racers turning up in the novice class (leave some sand on the course next time, boys!) and a pretty well deserved buzz hovering around those in the Hooligan class. Not many would willingly choose to drag a 600lb V-twin beast through 100 miles of sand. And as expected, that class produced some of the more wild race tales that surfaced (seriously, go watch that drone footage!) with Mark the Butcher quickly taking and holding the lead in the Hooligan class, to the surprise of absolutely no one. A browse through the Hooligan class roster shows that only 7 brave souls of the registered 22 muscled their bikes through all 4 required laps.
Additional notables- #775 Richard A. who ran the Yamaha TW200 in the Men's Expert Class, Marty "Party" Malana from BA Moto who broke 3 bones in his foot and still snagged 2nd in the Vintage Class, and first timer Brett F who surfed a Triumph Tiger 900 through the hills to snag himself a fantastic place on the podium.
Extra special mention for the two dudes on the Coleman pull-starts, who I swear had a beer in hand while they passed me at mile 17.. Y'all are the real MVP's of the Biltwell 100.
I think I can speak for all of us, when I say that this was a fantastic start to what will hopefully be a staple in the SoCal moto-event schedule… Endless sandy trails, tasty brews, (wild?) range of clapped out motorcycles, friends new and old gathering to cheer on anyone with the guts to haul themselves up to that rubber-band starting line… what more could we really ask for?
Cheers to Biltwell for giving us a great reason to get drunk and dusty with our friends!
Story by our newest member of the team, Cait Maher. Welcome aboard, Cait!!