For the street and the track
Along with Triumphs, Nortons are some of the most quintessential cafe racers ever. The Norton Motorcycle Company, based in Birmingham, England, started making motorcycles way back in 1902 (though they had French and Swiss engines in the early years). In 1907 a Norton with Peugot engine, ridden by Rem Fowler, won the twin-cylinder class in the first Isle of Man TT race, beginning a sporting tradition that went on until the 1960s. Winning the first ever IOMTT is kind of a big deal if you ask us. Not to mention, the Norton Manx racers of the 1950's were so stylish, so fast, and just so damn cool. Their legacy and racing pedigree make vintage Nortons still so highly sought after and respected.
If you're looking for a custom Norton these days, there is one place to look; NYC Norton. Whether you're looking for a full Commando restoration, a one-of-a-kind Special, a world-class race bike blueprinted from the crank up, a Grand Prix chassis, or a top spec motor or gearbox rebuild, NYC Norton corners the market. NYC Norton not your standard roll-in service shop but a high-end dedicated workspace, streamlined for the sole purpose of producing and restoring our beloved bikes and assembling their associated components, which are either built in-house or sourced from the best suppliers in the world.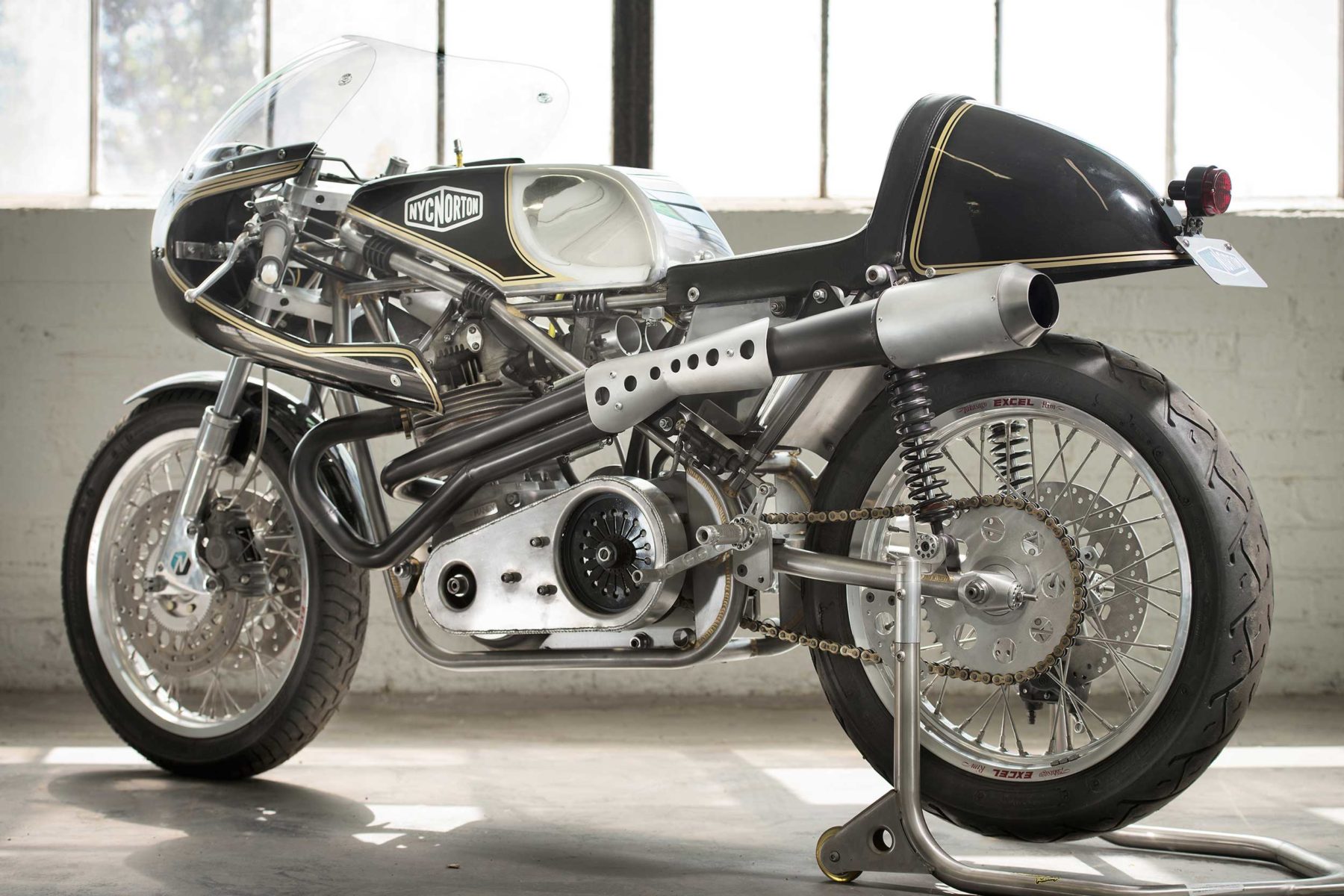 The NYC Norton Seeley Commando is an absolute wolf in wolf's clothing, built around a Titchmarsh Seeley MK2 Chassis with a Norton twin motor punched out to 1007cc. Initially conceptualized and commissioned by our good friend John Magyar, the original NYC Norton 1007cc was designed with the sole purpose of becoming the most feared machine on the big city streets. The bike twirled the dyno up to 90s at the rear wheel, and spun up quicker than any Commando we've had in our hands. With a total weight of just under 300lbs, careful use of the throttle was necessary.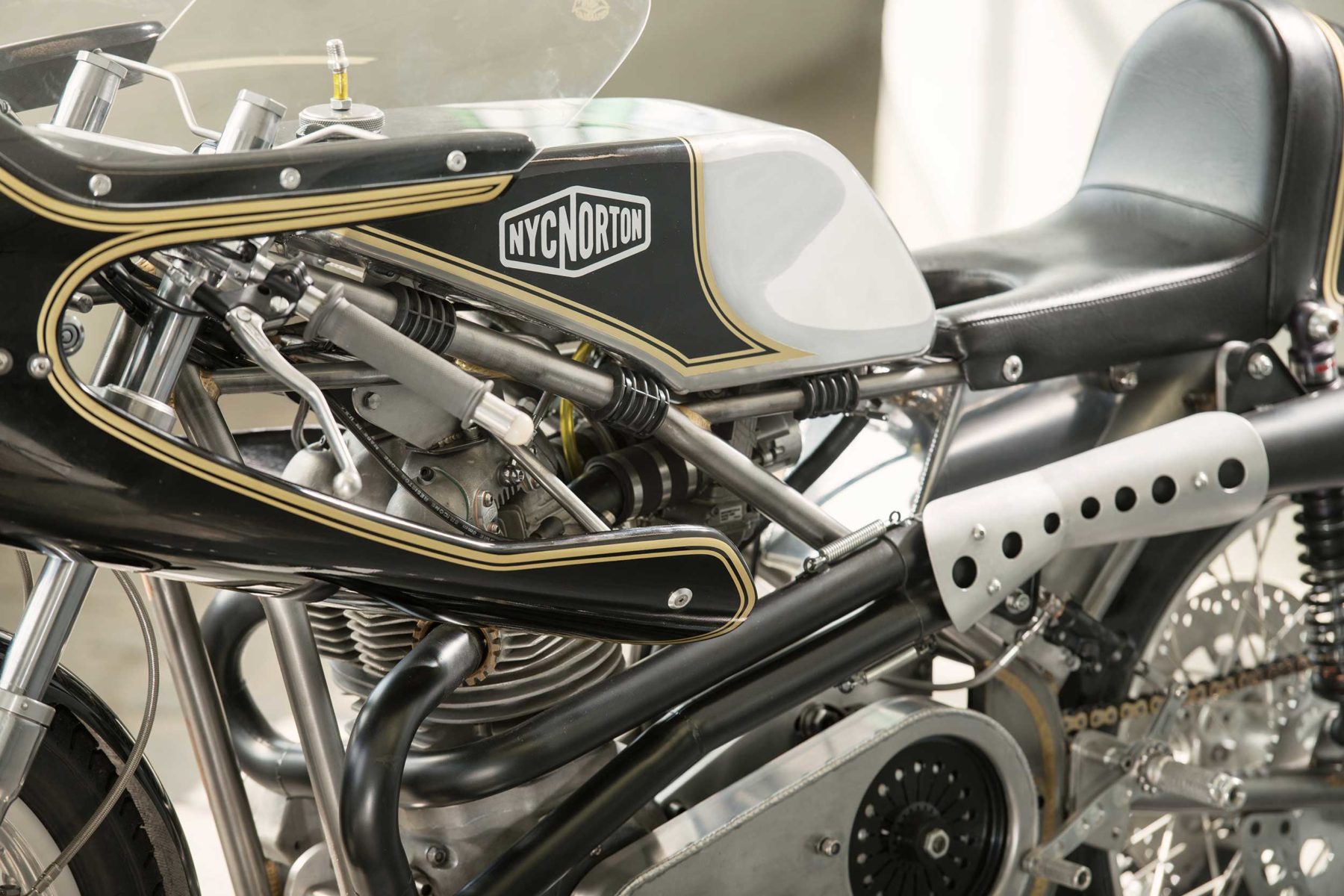 Later, an NYC Norton 1007 caught the eye and became the muse for world-renowned artist Sebastian Errazuriz's own unique vision on function vs. form. A new bike was built, adorned in Sebastian's alloy trim (known as "Time Lapse"), was featured at the legendary Art Basel Miami show in December, 2013, and sold within 20 minutes of the VIP preview, before the doors even opened to the public; a testament to the desirability of both form and function. The Time Lapse bike is now on display at The Carnegie Museum of Art.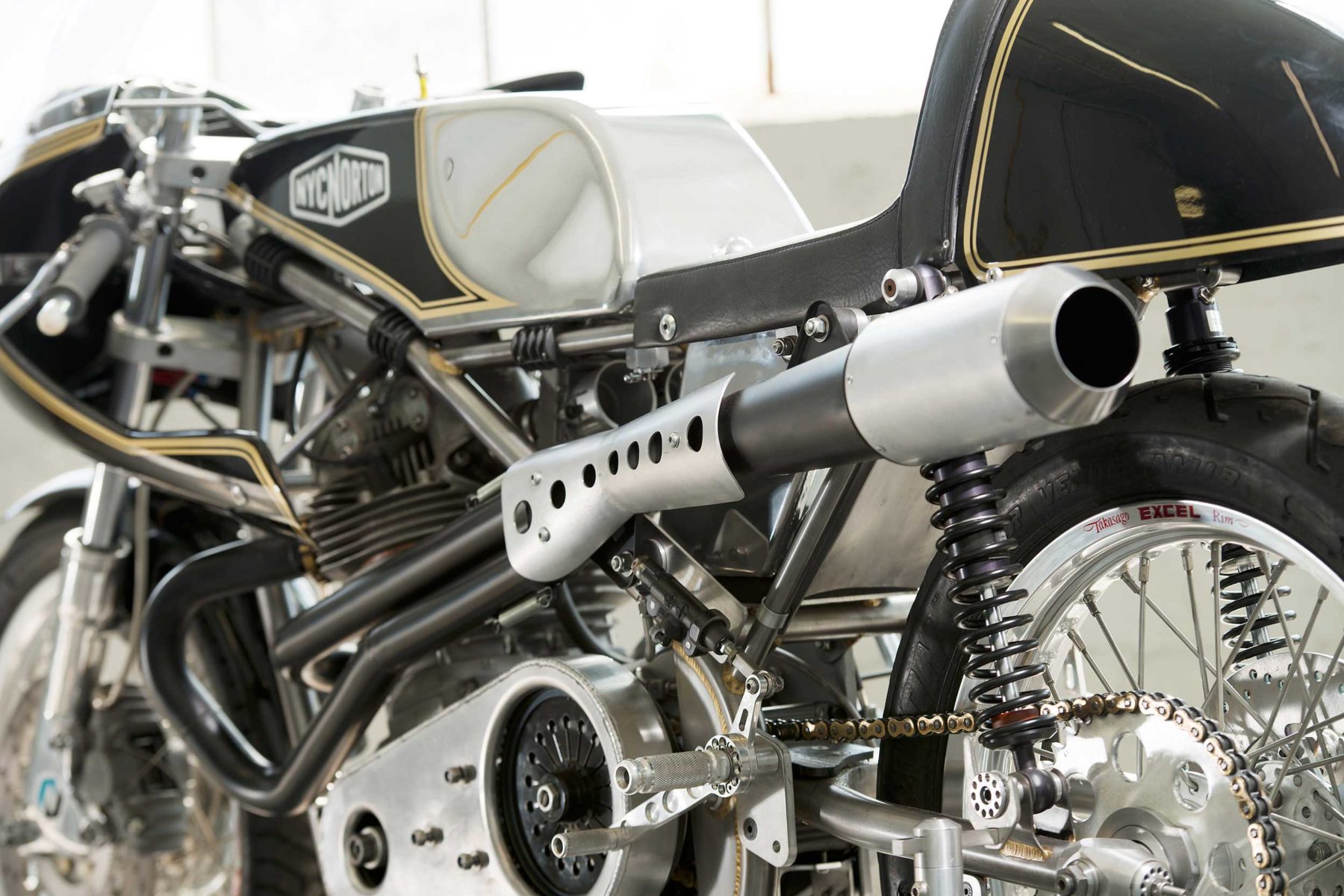 Now with more in production, the 1007 platform (pictured here) has proven to be more than a one-off pipe dream, combining the highest-performance AND reliability of a road-going Seeley Norton to date.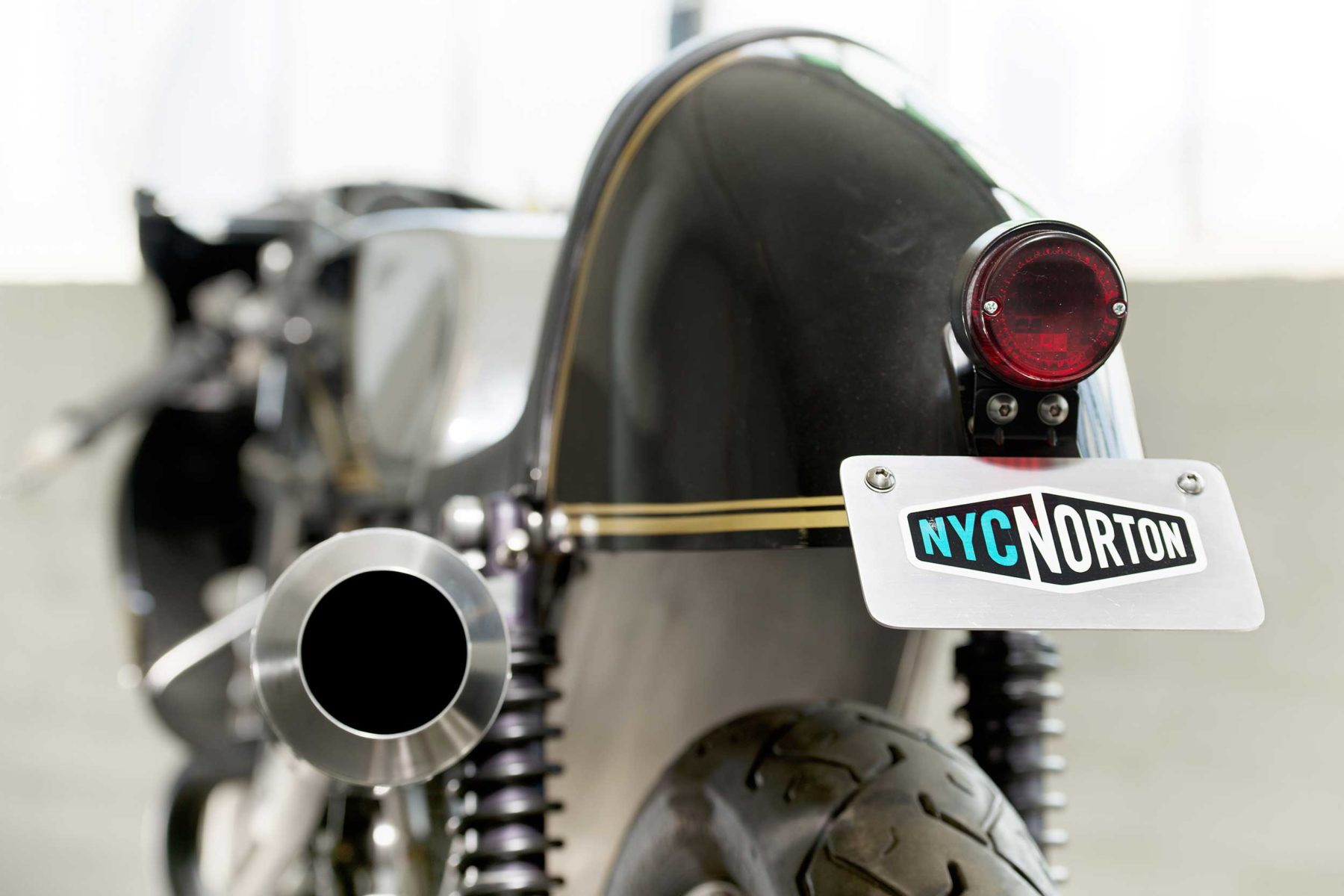 These bikes are available in 750cc, 850cc, 920cc, and 1007cc all in street-legal trim. NYC Norton Seeleys have won numerous championships and races the world over, but the Grand Prix chassis is a very rideable platform for custom street-bike specials. Their Seeley builds have been featured on TV and in print, displayed in museums and international design shows, and the centerpieces of some of the most exclusive motorcycle events around the world. These bikes are a highly technical, exclusive special, built around a replica of the famous Colin Seeley chassis, with subtle additions of modern componentry that make this exotic beauty as surprisingly tractable on the city streets as it is on the racing circuit. And, form following function, it is probably one of the most magnificent machines you'll ever see.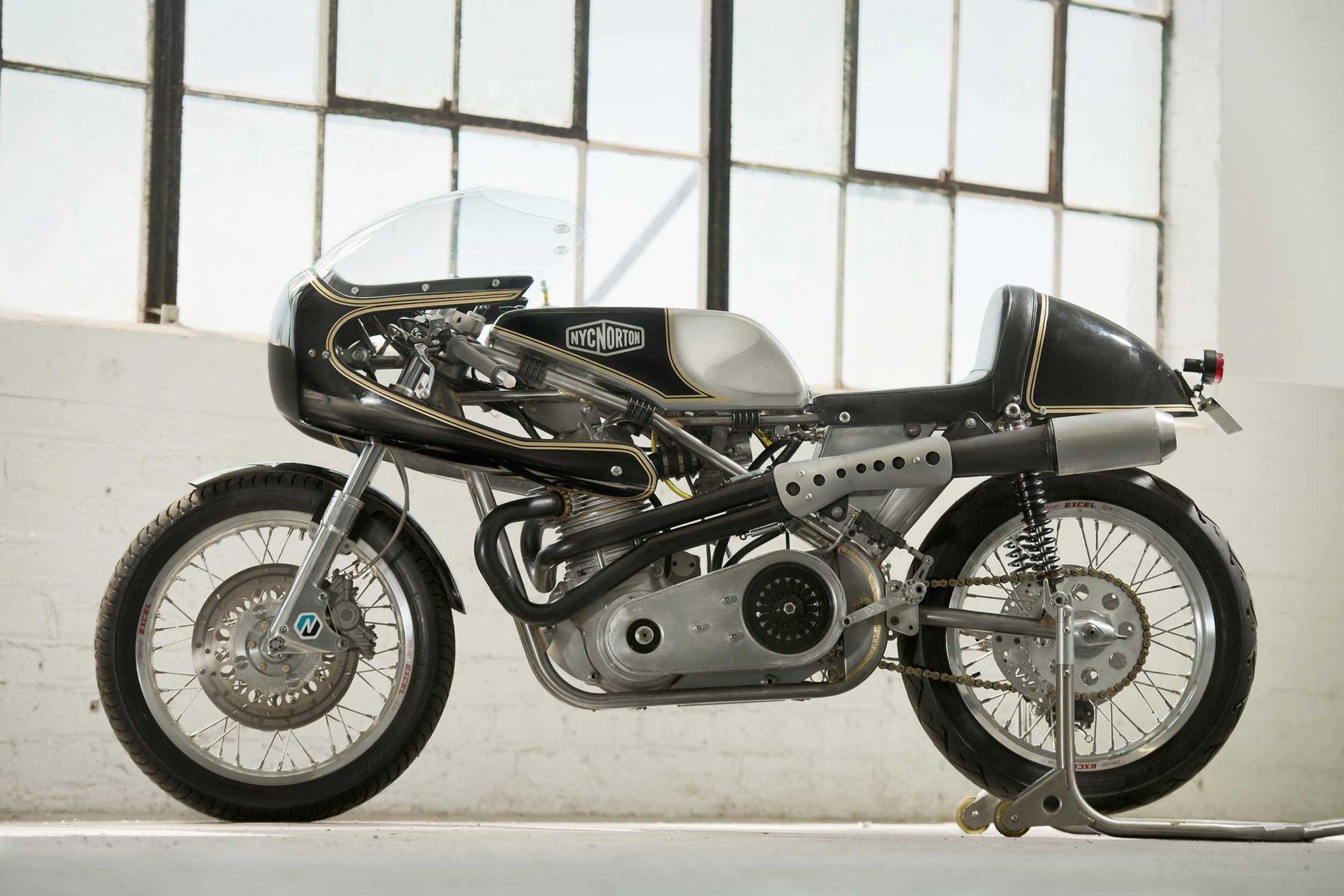 Photos: Douglas MacRae
Contact NYC Norton for pricing and availability