Moto Guzzi excellence
We featured Untitled Motorcycles award-winning custom back in 2017. One benefit of being personal friends with builders and photographers is that we sometimes get access to special projects or collaborations. In this particular case, I am friends with both the builder and photographer. I had been sitting on these stunning photos from Erik Jutras, aka @mrpixelhead, for some time now. Typically we wouldn't feature the same bike twice, but the photos are killer and Hugo Eccles' 1975 Moto Guzzi 850T 'Supernaturale' warrants a second look.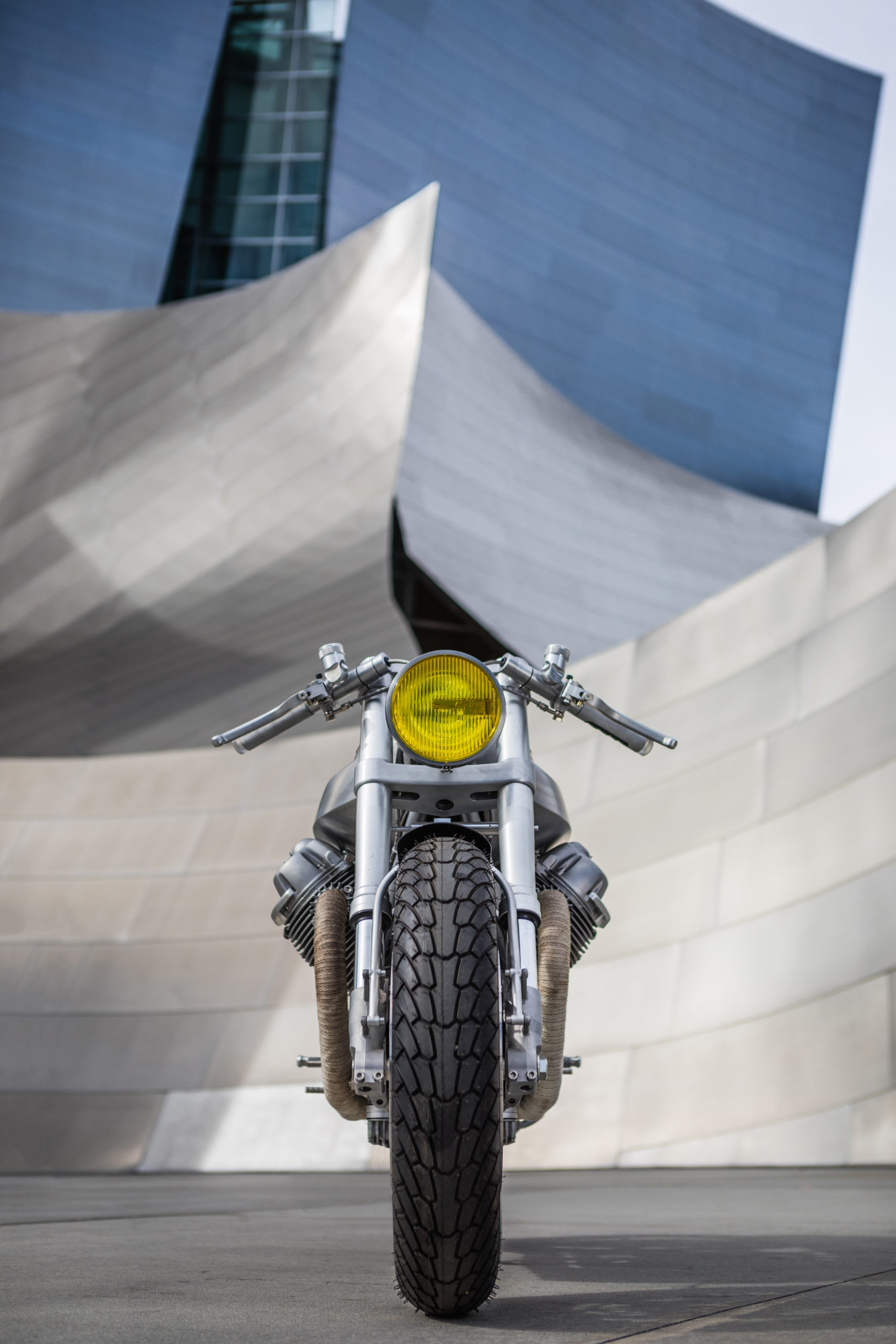 UMC-023 SUPERNATURALE
1975 Moto Guzzi 850T
A minimalist café racer, the Supernaturale is 23% lighter than its original 1975 donor and the same dry weight as a Suzuki GSX-R750 superbike. The hand-formed aluminum fuel tank is a contemporary reinterpretation of the classic LeMans and encloses a state-of-the-art electrical system. Custom-engineered brackets and controls house an internal throttle system, integrated master cylinders and hidden switches.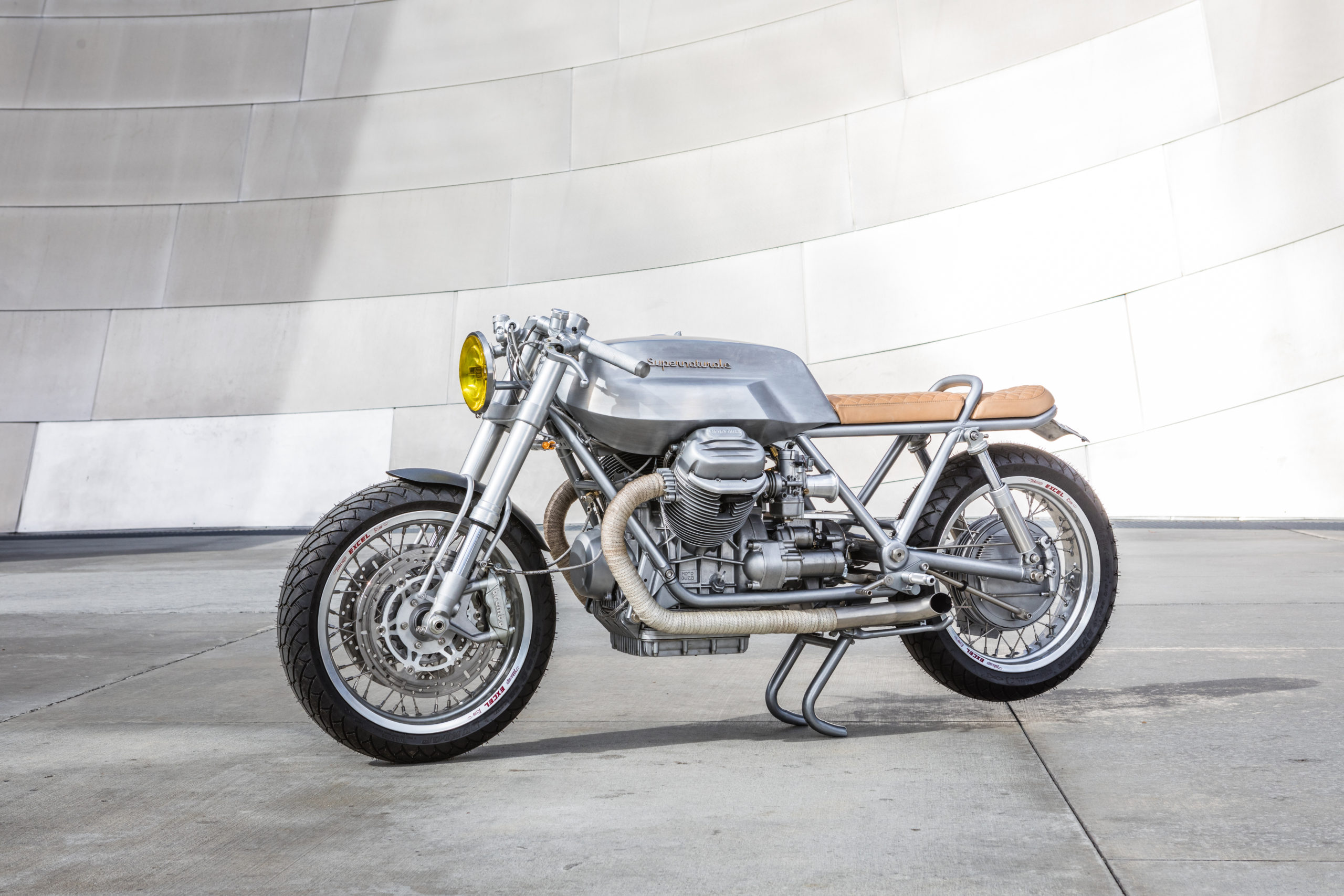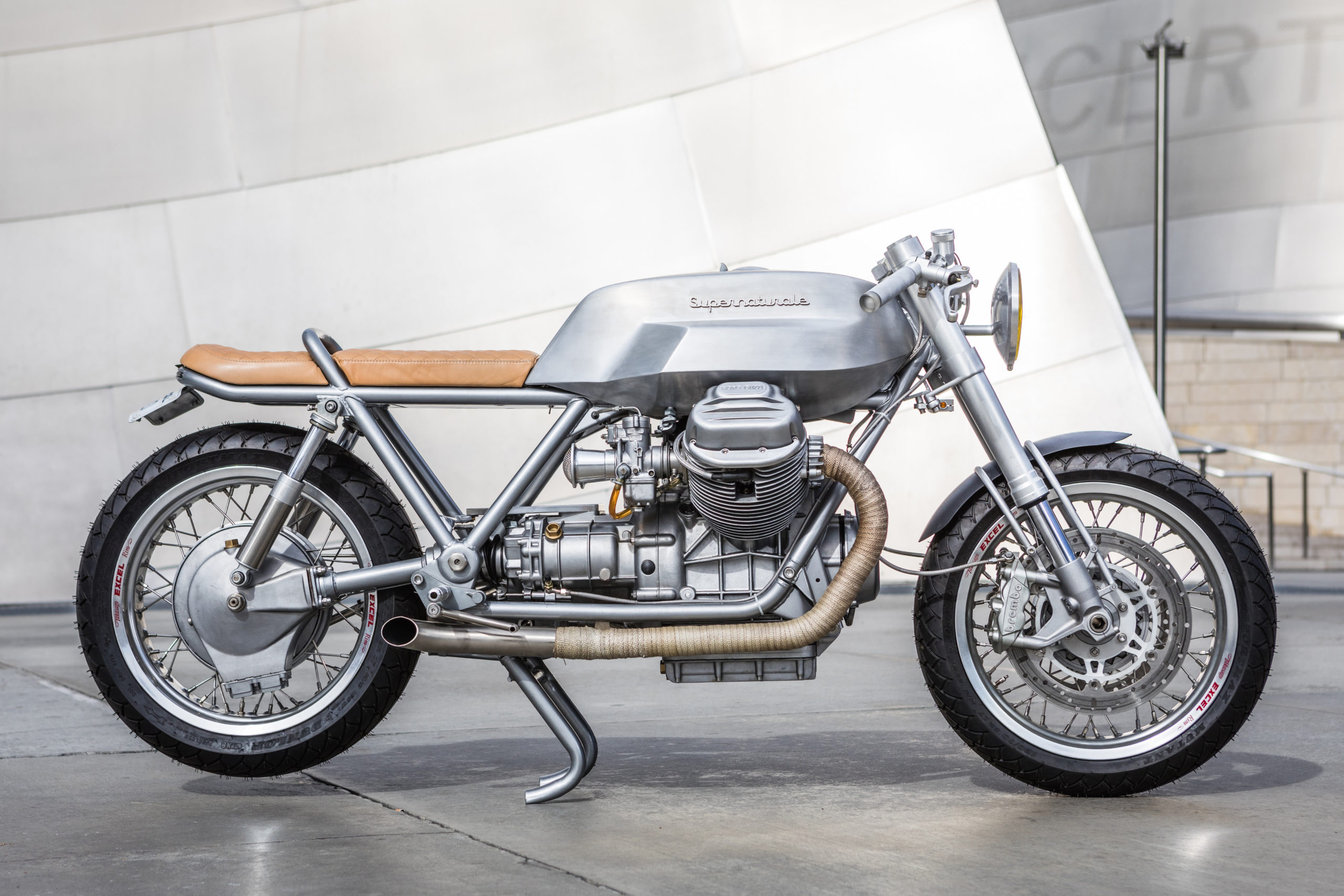 Bodywork
• Custom handmade aluminum tank, designed by UMC
• Laser-cut aluminum tank badges, gold anodized, hand-finished
• Vintage Enots 'Monza' alloy flip-top gas cap
• Paioli vintage-style petcocks
• Custom seat, upholstered in raw leather
• 1960s Cibie 45-Iode rally lamp, customized by UMC
• Custom front fender and bracket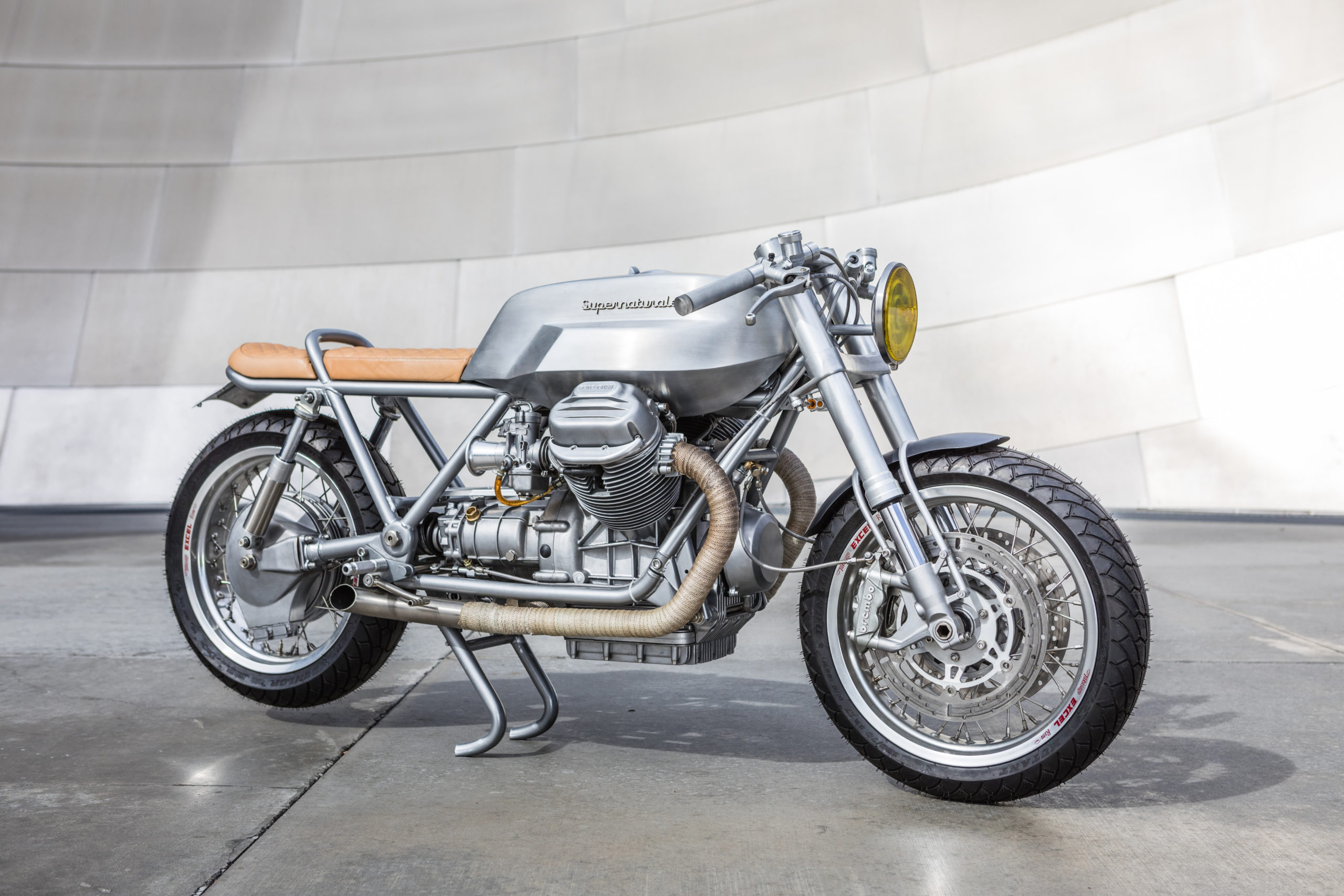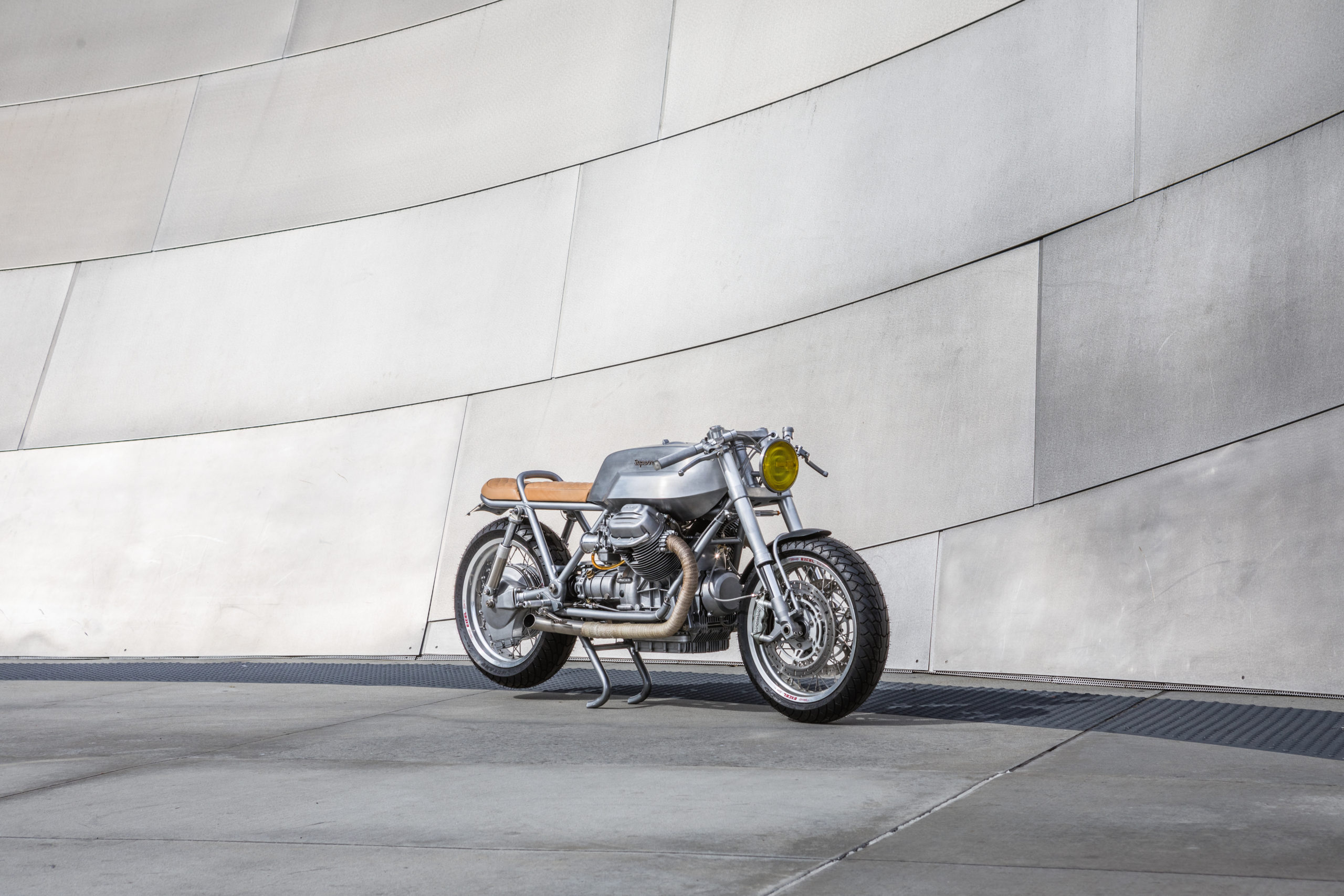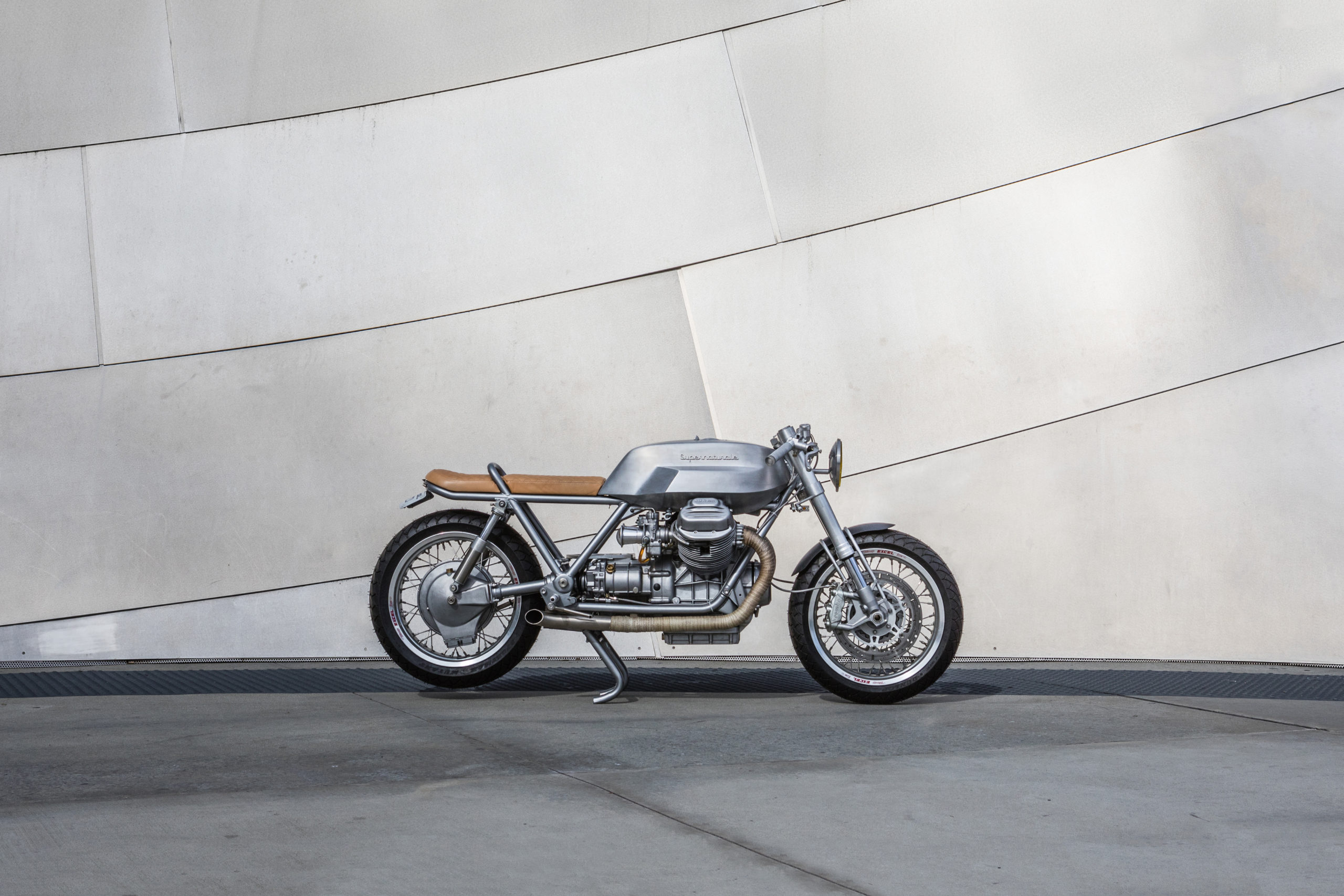 Electrics
• Custom top bracket with integrated LEDs: left blinker (amber); neutral light (green); oil temp (red), hi-beam (blue); program button; right blinker (amber)
• Custom wiring loom, designed by UMC
• Custom bar-end turn signals, designed and engineered by UMC
• Custom Dynamics LED tail light and turn signals
• Fuzeblocks fusebox
• Motogadget m-Lock RFID keyless ignition
• Antigravity AG-801 lithium polymer battery, hidden under gas tank
• Twin Dyna coils, hidden under gas tank
• Dyna III electronic ignition
• Magnum Shielding custom braided spark leads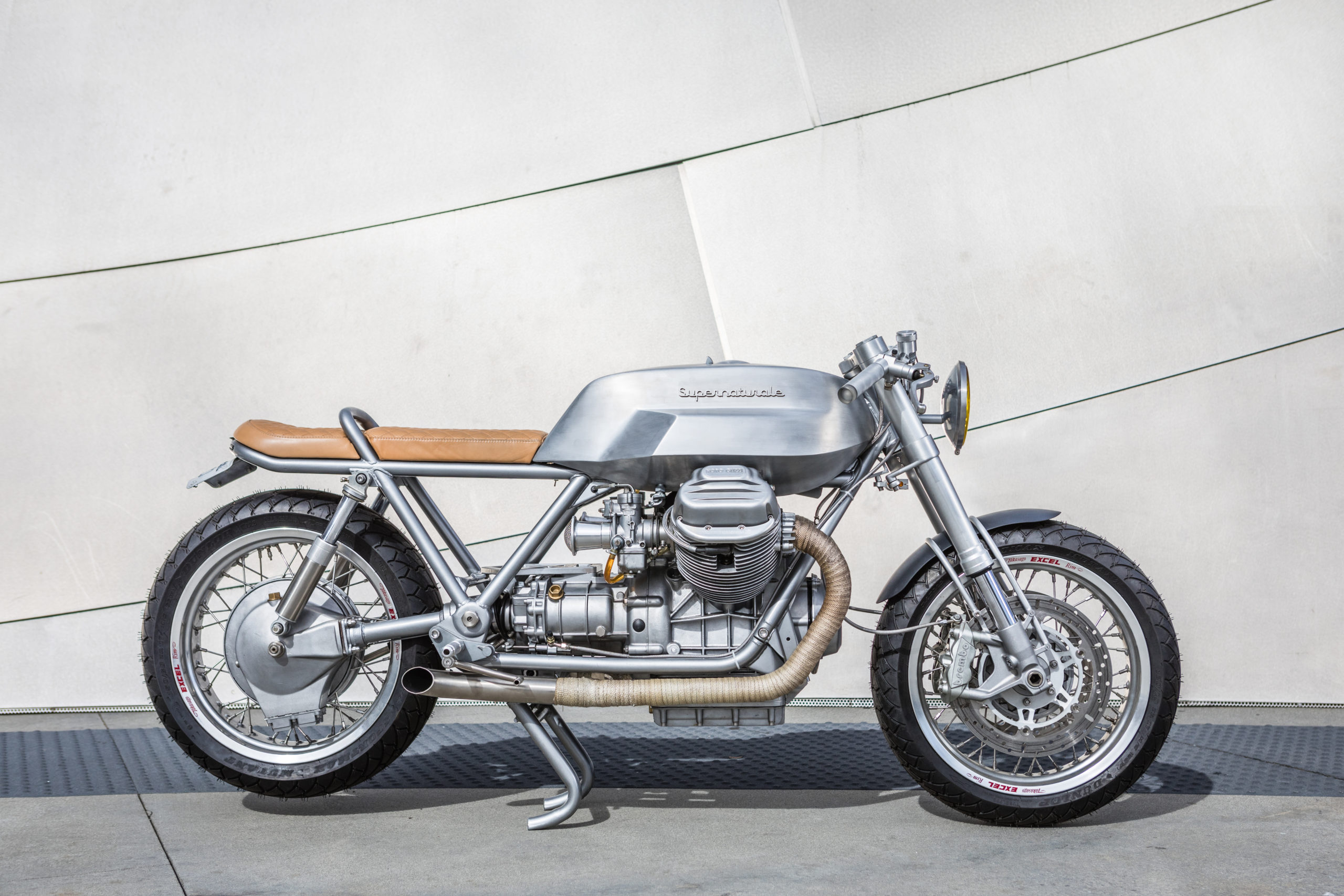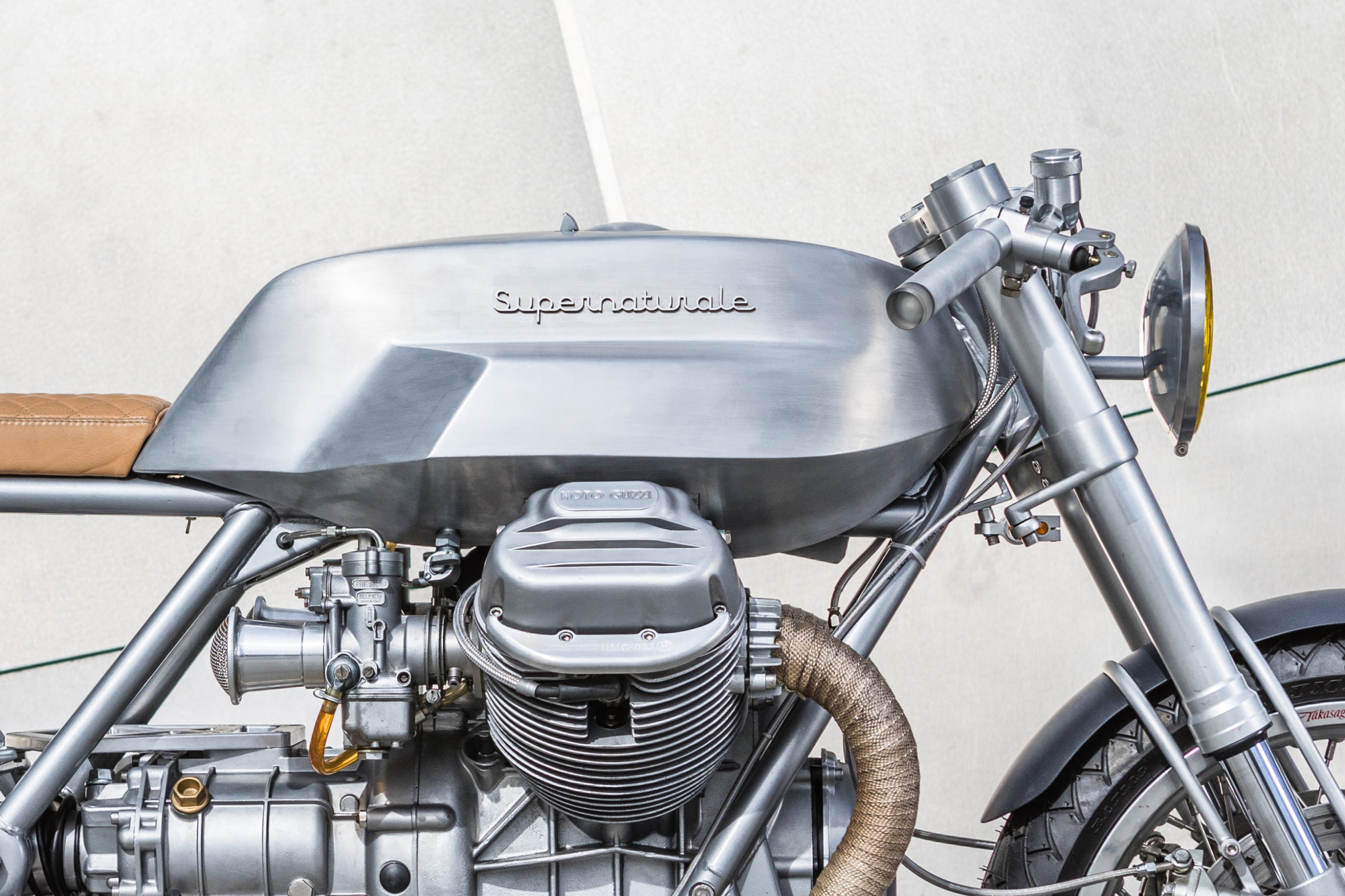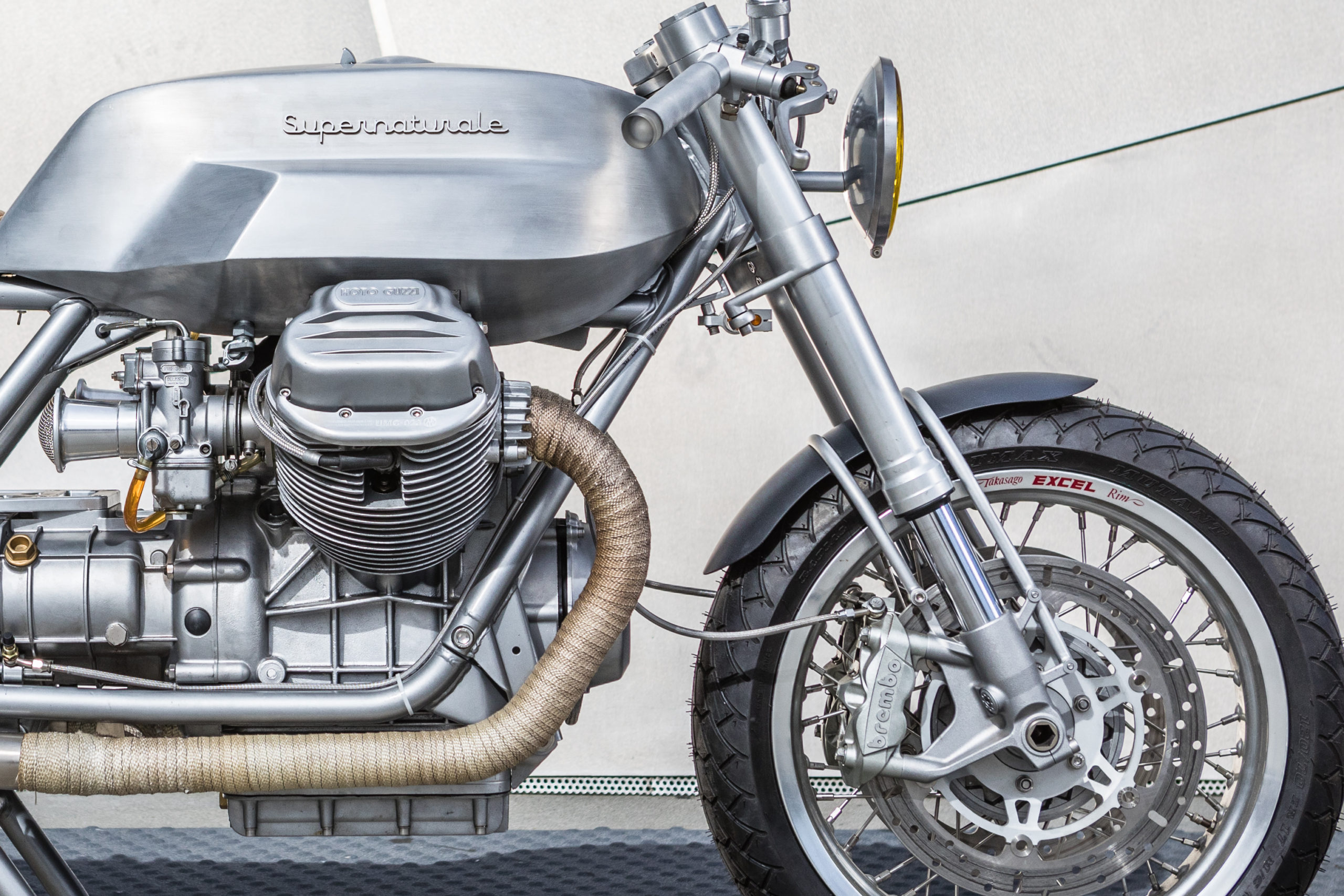 Frame & Suspension
• Original Moto Guzzi Tonti frame, modified by UMC
• Ohlins SD001 steering damper, custom brackets
• Original Moto Guzzi rear drive shaft, modified by UMC
• Custom rear hoop with LED channel, LED plate light
• Custom seat rail
• Integrated rear fender
• Fournales 'Air Twin Vintage' rear gas struts, imported from France
• Moto Guzzi Lemans 4 centre-mount side stand, modified by UMC
• Showa 53mm BPF forks, stripped and re-anodized
• Original 1975 Moto Guzzi hubs
• 17″ aluminum Takasago Excel rims, stainless steel spokes
• Brembo monobloc brake calipers
• Custom 310mm EBC semi-floating brake discs
• Dunlop Sportmax Mutant tires (120/70-17 front, 150/60-17 rear)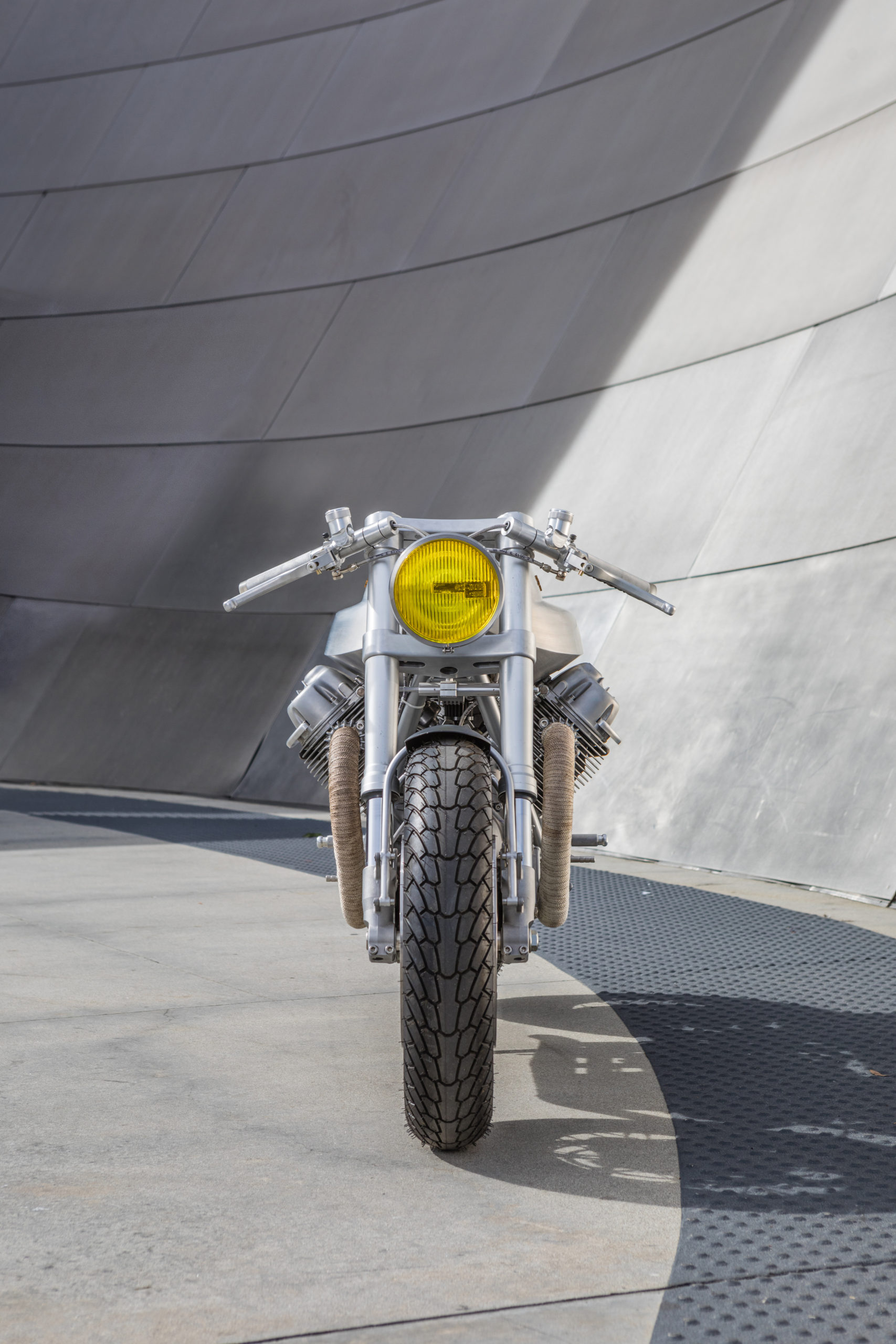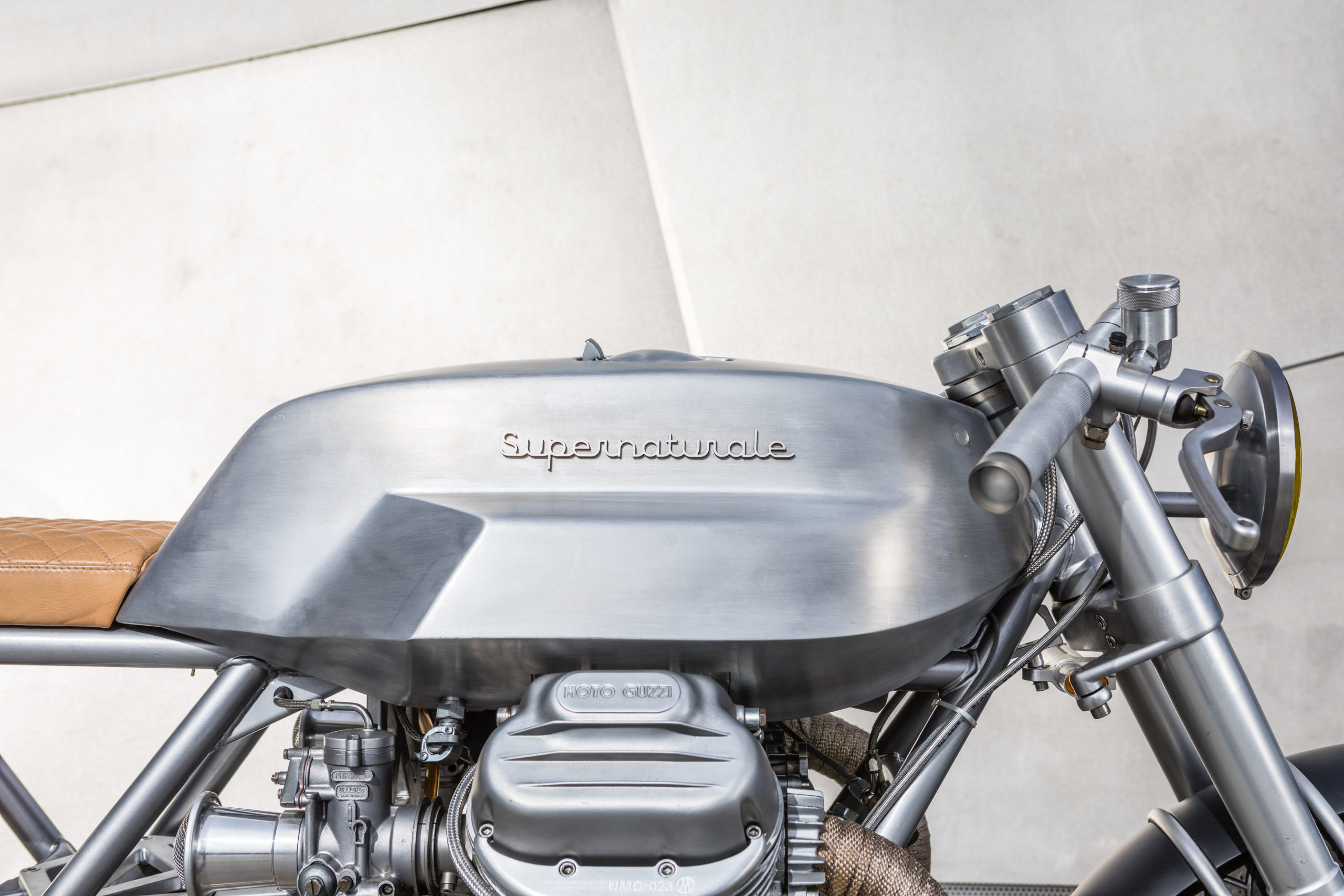 Drivetrain
• 844cc V-twin motor, stripped and overhauled: polished and balanced crankshaft
• New main bearings, new conrods, conrod bearings
• Nikasil-lined cylinders (nickel silicon carbide coating)
• 5-speed gearbox with upgraded clutch plates
• Lightened flywheel
• Dellorto PHF-36 carbs with CNC'd caps
• Malossi spun aluminum carb trumpets with mesh guards
• Custom stainless steel inlet manifolds, designed by UMC
• Dyna III electronic ignition
• Stainless steel exhaust header, wrapped with tan insulation
• Internal removable drag baffles
• Custom exhaust tips, nickel-plated
• Braided stainless steel oil lines
• Stein Dinse internal oil filter upgrade kit
• Custom crankcase breather with K&N filter, designed by UMC
• Custom CNC'd engine guards, designed by UMC
• Custom CNC'd aluminum engine braces, designed by UMC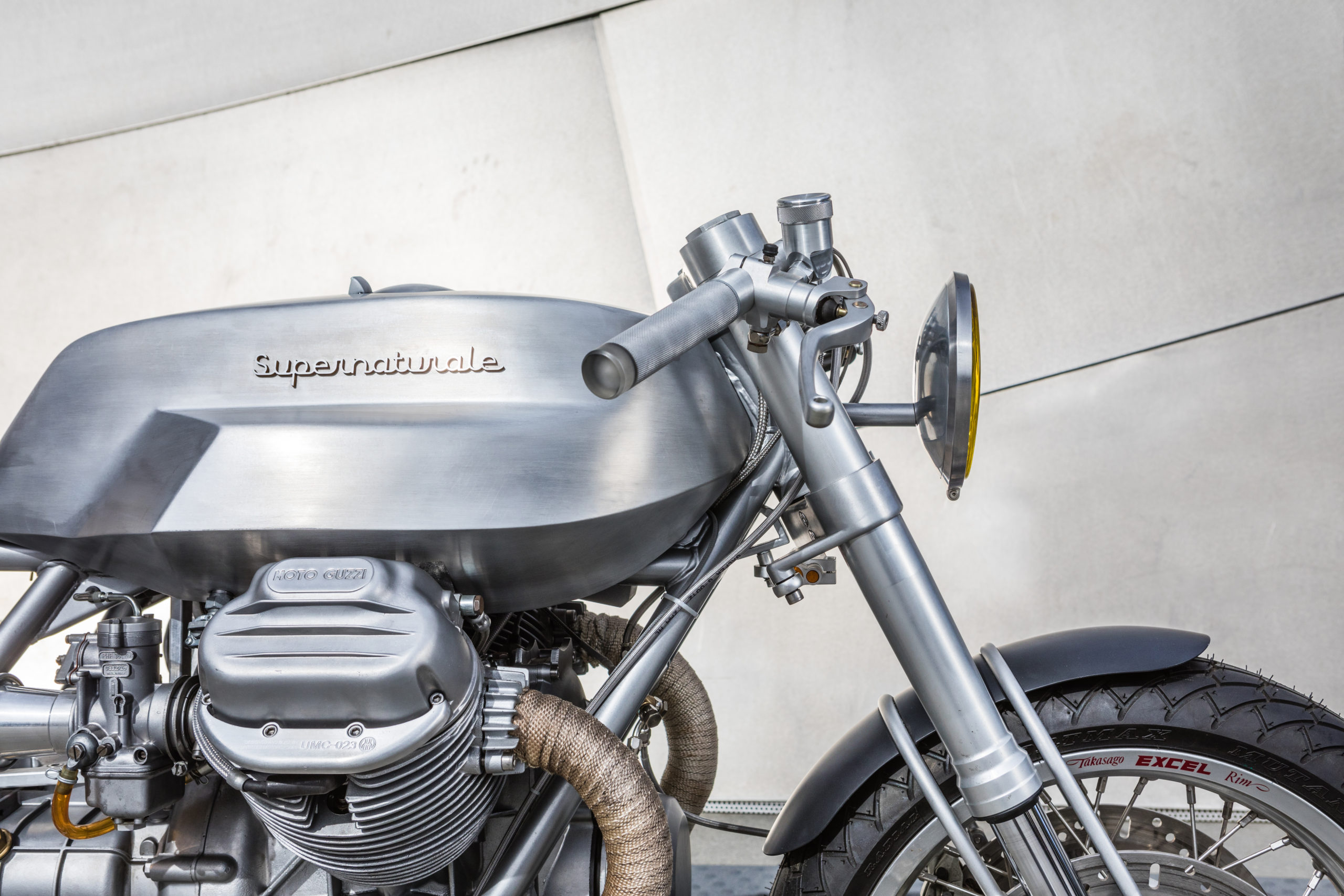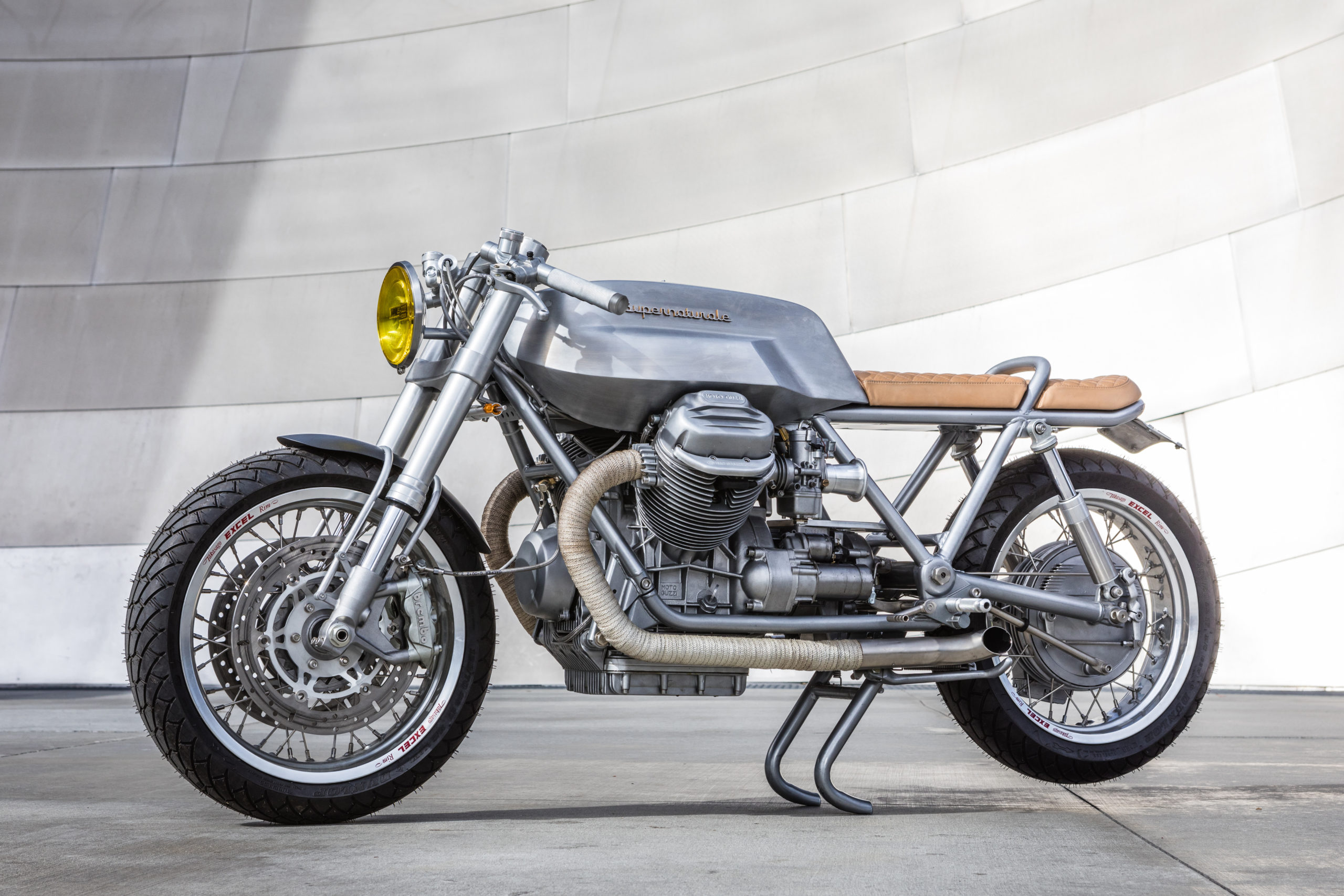 Controls
• Custom top bracket with engraved markings: SIN (left); FOLLE (neutral); OLIO (oil); LUCE (hi-beam); DIGI(digital); DES (right)
• Motogadget Motoscope Mini (speed, revs, trip, odometer)
• Custom hand controls with knurled grips, designed and engineered by UMC
• GripAce hidden fingertip-activated buttons
• Custom internal throttle mechanism, modified by UMC
• Custom Venhill braided stainless steel throttle cables
• Vintage alloy-body throttle cable splitter
• Magura 190 Series 16mm radial brake master, modified
• Custom Galfer braided stainless steel brake and clutch hoses
• Magura 190 Series 13mm radial clutch master, modified
• Hydraulic clutch slave
• Minimal reservoirs with custom-fabricated breather caps
• Motocicliveloce rearsets and foot controls, modified by UMC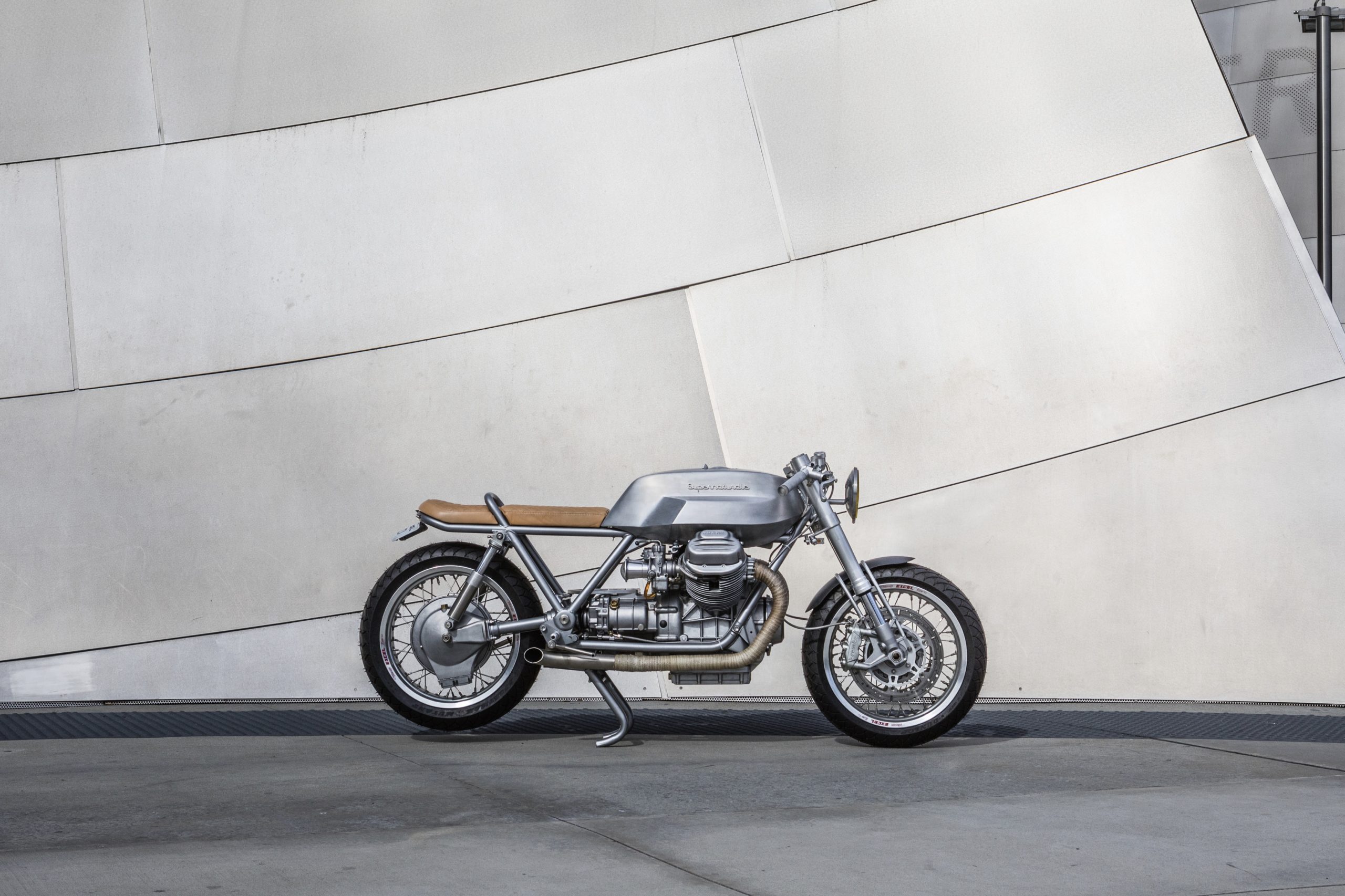 At first glance, Hugo's Supernaturale might look "stripped down" or minimalistic but if you peruse the specs above, it's clear that there's an insane amount of detail, cleverly tucked away in there. If the devil is in the details, it appears that Hugo Eccles has kicked the devil's ass, and tidied up his room along the way. We can't get enough of this Guzzi masterpiece and hope you enjoyed these stunning images as well.
Untitled Motorcycles: Web | Facebook | Instagram
Photography by Erik Jutras: Web | Instagram