A stunning (modern) desert sled
Riding a motorcycle, no matter the style or type, has is roots in escapism. Escaping the doldrums of everyday life and feeling the wind in your face. There's very few things in life that are more enjoyable to us two-wheel fiends. Images of a desert sled ripping a dusty trail epitomize that feeling to the fullest. You don't have to be Steve McQueen or Bud Ekins to experience the joy either. There are plenty of capable bikes out these days that will let you get out there and go smash some burms, but our friends at British Customs hit the nail on the head with their recent Triumph Street Twin Desert Sled.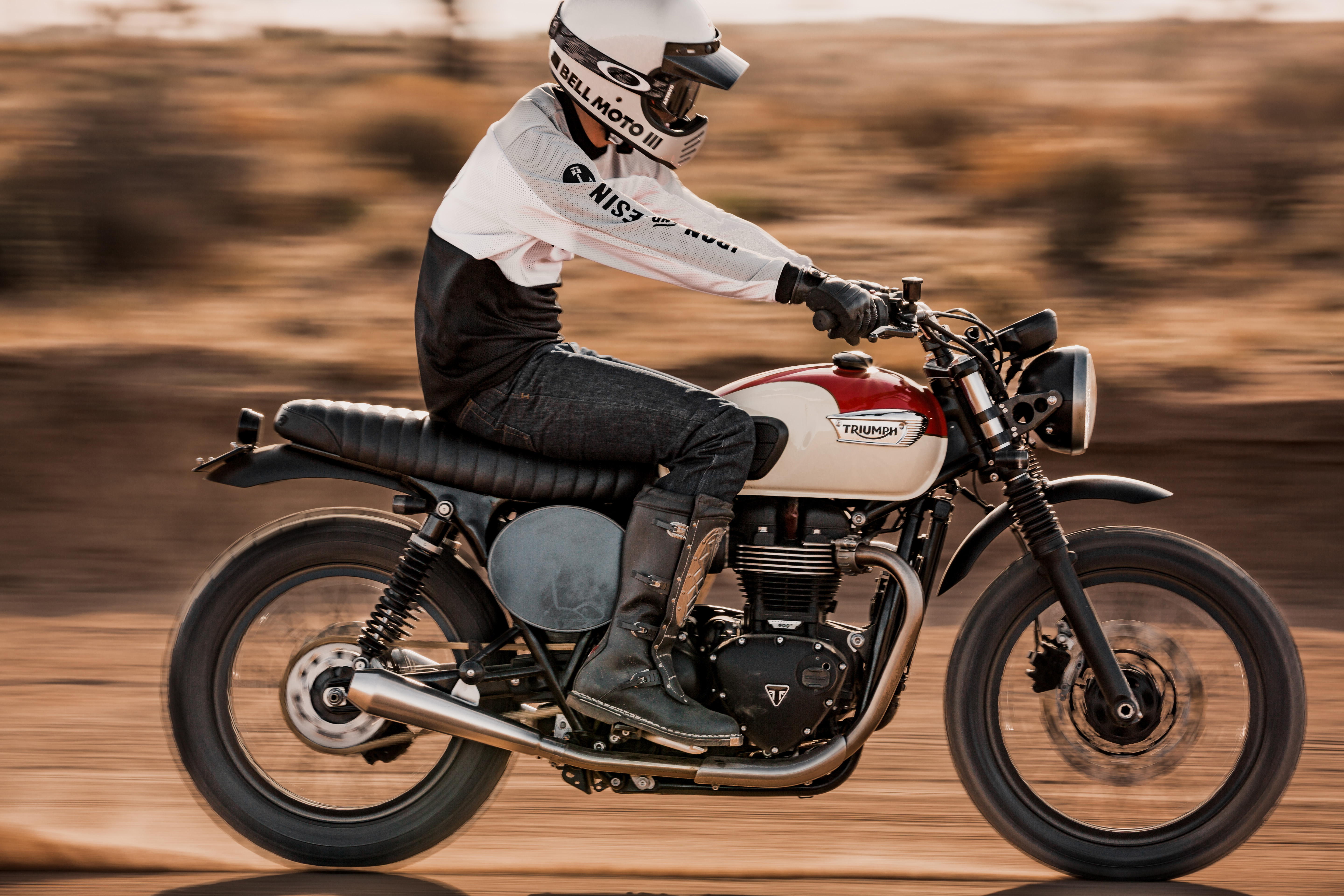 California-based motorcycle accessory makers, British Customs, have been helping Triumph owners transform their stock machines with bolt-on accessories into whatever style of bike they prefer for over a decade. Cafe racers, scramblers, trackers, bobbers, and desert sleds to name a few. British Customs made it possible for our Bullitt OG to come to life – as they have done countless others. Recently they've been upping their game not only producing a bevy complete DIY custom builds, but letting us mentally tag along on in their adventures with quality images in dream-worthy locations.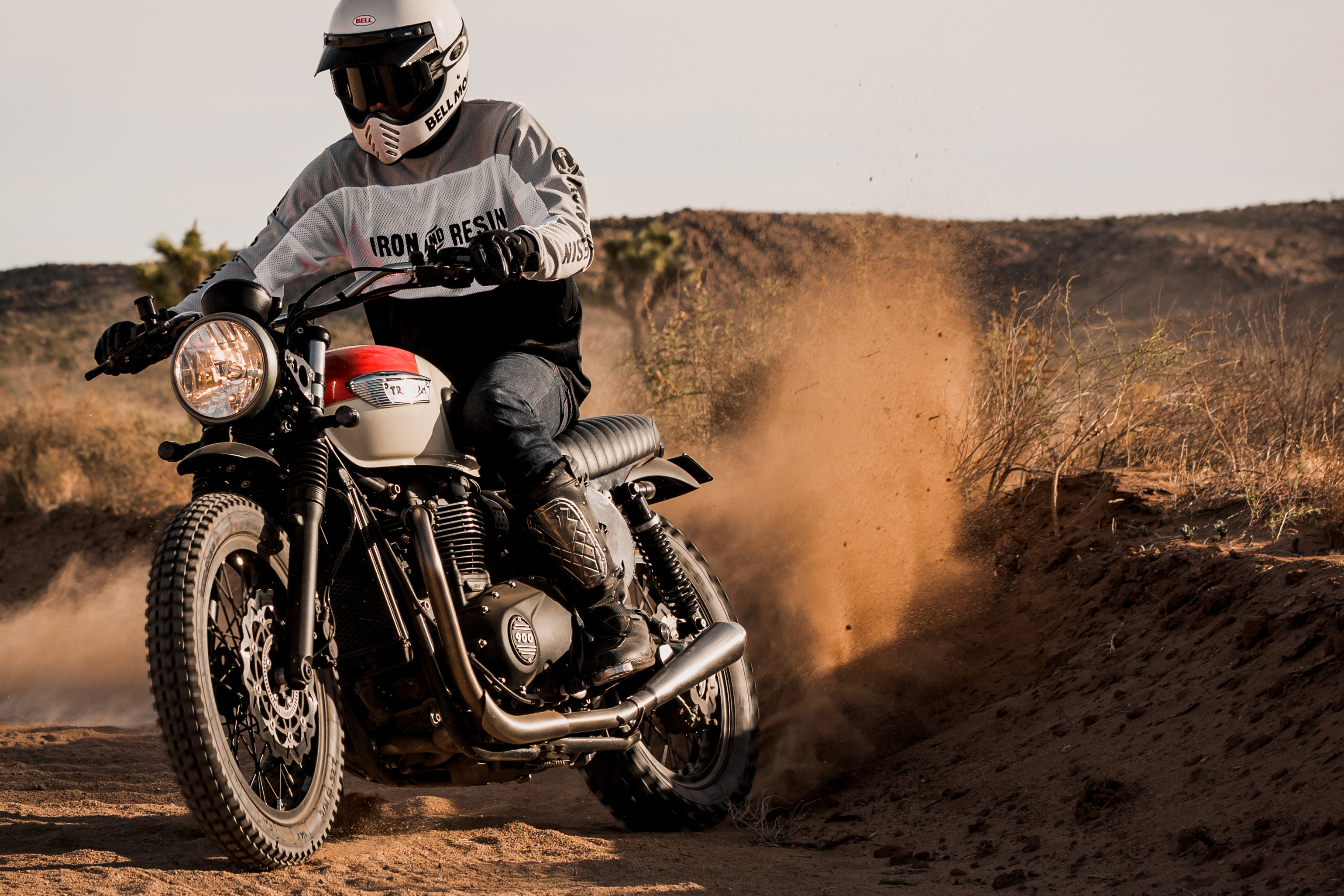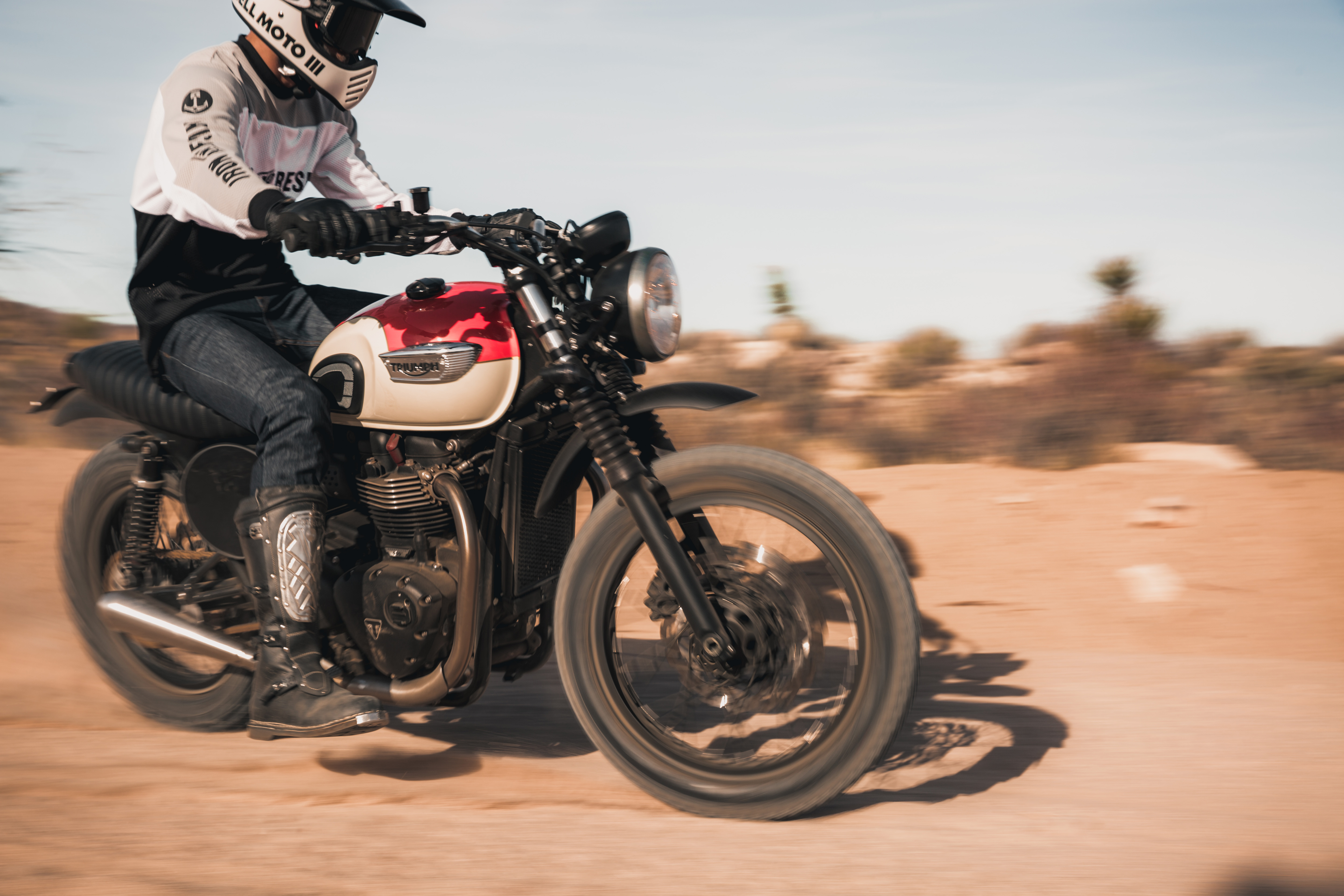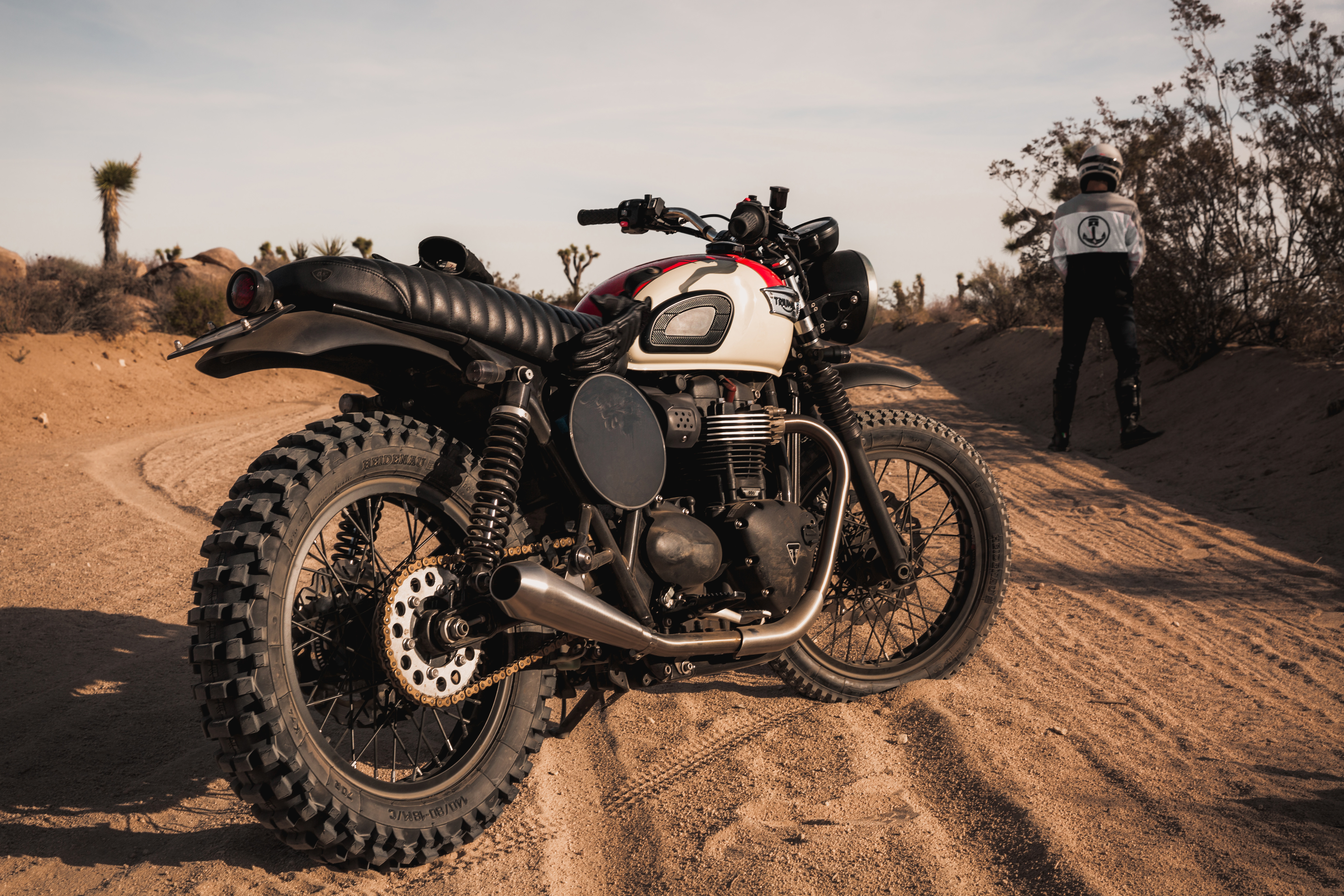 Their Street Twin Desert Sled, shot here in iconic Joshua Tree, CA, is exactly that. A killer bike, shot beautifully, that you – yeah YOU – could order the parts and build in your garage without grinding or welding. That kind of accessibility and freedom is good for motorcycling in general. Give us options. Let us put our own personal touch on bikes. We will all be happier for it.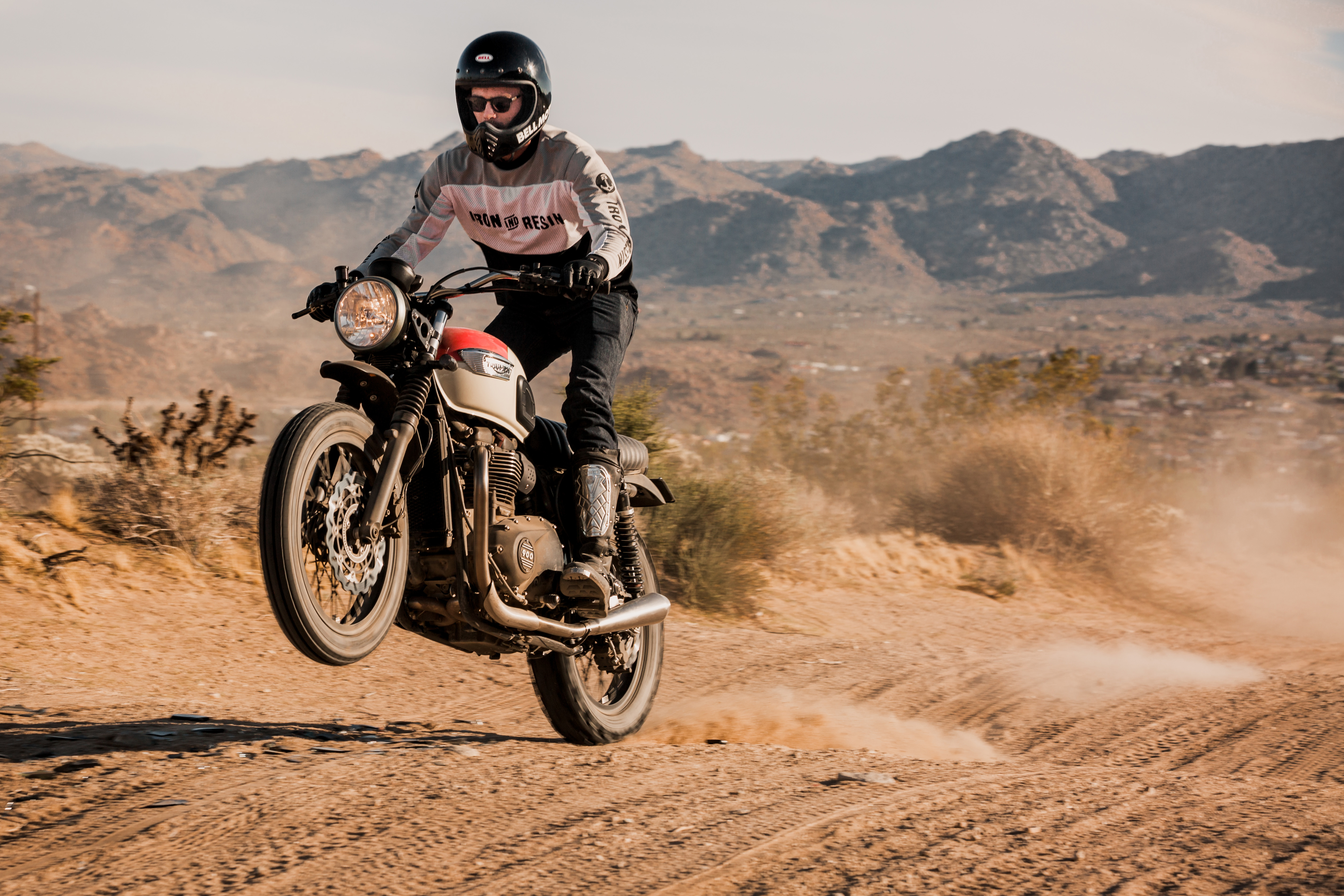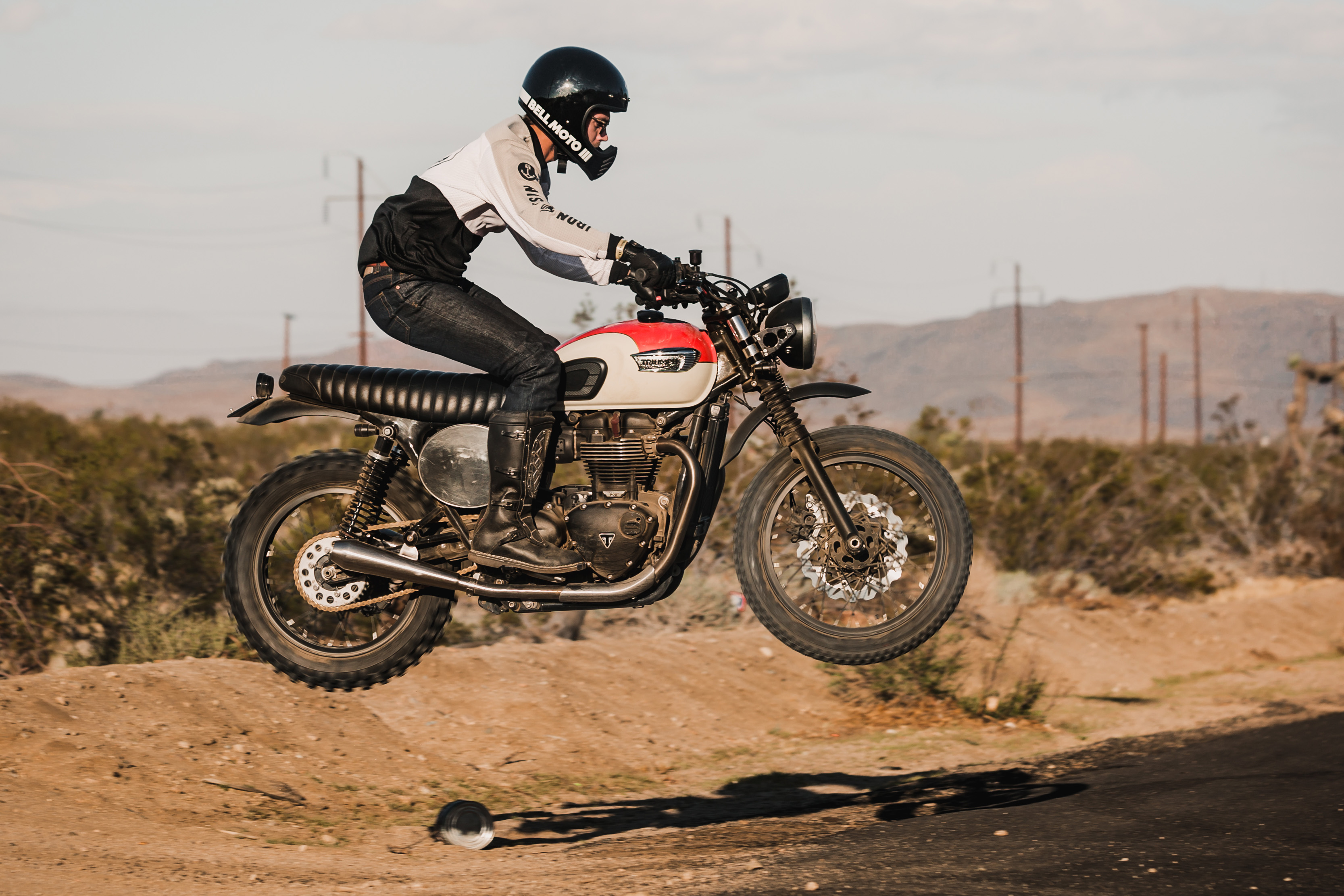 Their Street Twin Desert Sled came about as a result of their involvement with the Nowhere Motorcycle Show in Joshua Tree. The BC crew wanted to build something reminiscent of the Bud Ekins-built TR6C sleds from the mid 60s. They selected a Street Twin as the donor bike because it is already light (by Triumph standards) and had the right look for the build. They swapped the Street Twin tank for a larger capacity T120 tank with a classic two tone paint job and then swapped the stock mag wheels for an 18″ rear wheel and 19″ up front (classic sled sizes).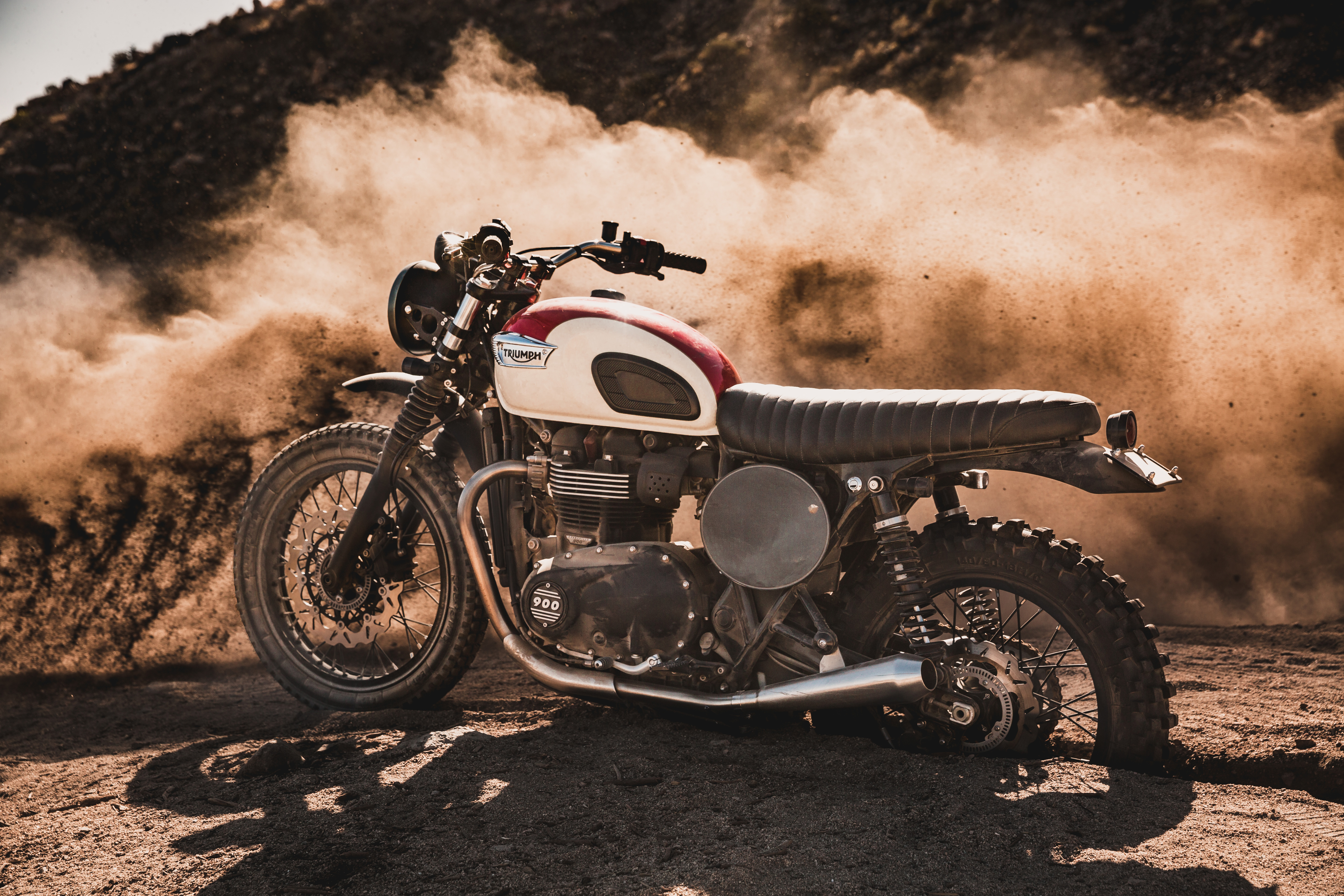 The bike features a prototype 3.5″ Predator Pro and a new suspension set up they're working on with Clark Jones from Noleen. He has extensive experience in the dirt world and his help has been invaluable to their development of the new system. To complete the stance their desert sled is running their Mule Tracker Bar based on a bend by Richard Pollock. The motor is stock but we found that the torque was there for what we were doing. While discussing the build with us, they say that bike exceeded their expectations and was a blast to ride. From the looks of it, they're not lying but we're going to have to judge for ourselves. We need to ride this thing soon!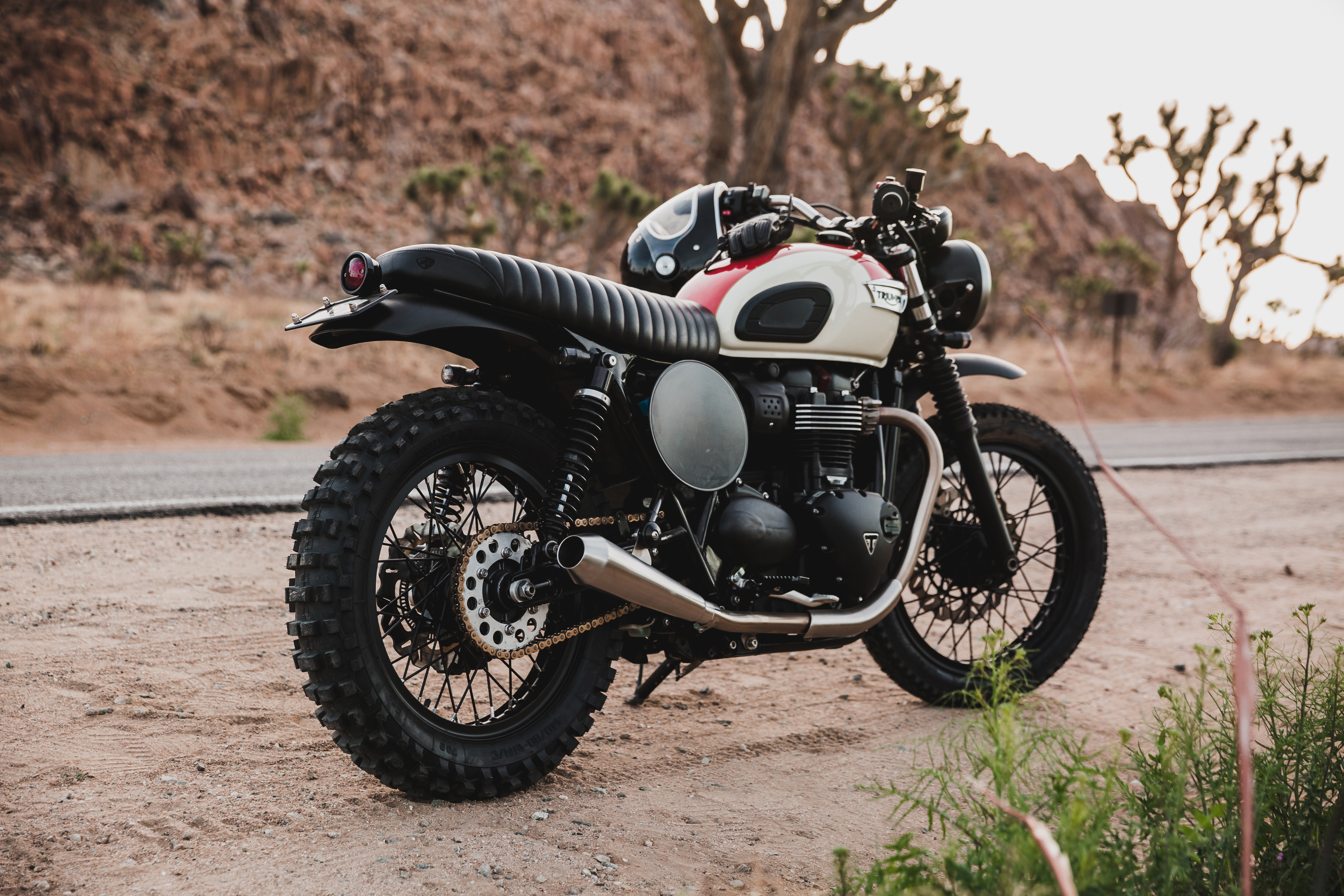 Model: Triumph Street Twin
Year: 2016
Performance: Predator Pro 3.5″ + Competition Header X-Pipe
Seating: Black Slammer Seat
Tail Light: Pan Tail Light
Turn Signals: Front and Shockmounted Retro Turn Signal Kits
Fender: High Fender Bracket + Shorty Fender
Shocks: BC x Noleen shocks for Street Twin
Shock Accessories: Shock Hardware Dress Up Kit
Front End Gauge area: Single Flat Gauge Kit for Street Twin
Handlebars: Mule Trackers
Mirror Accessories: Screw In Mirror Hole Caps
Grips: Biltwell Thruster Black
Risers: 7/8″ Handlebar Clamps
Reservoir: Direct Mount Reservoir
Levers: Pazzo 6-way Levers
Footpegs: Off Road Foot Peg Kit / Passenger Peg Block Off
Side Covers: Number Plates
Badges: Clutch Badge 900
Wheels: Canyon 19 / 18 spoked
Rear Sprocket: Rear Sprocket Retro in 41t
Front Tire: Heidenau K67
Rear Tires: Heidenau K74
Rotors: Galfer Standard Floating Front / Solid Rear
Pads: Galfer HH Sintered Ceramic Front / Sintered Rear