Ever needed to bug out of town in a hurry? Wanted to travel trails and terrain where even a motorcycle might not be totally practical? Well, you don't have to wait for the zombie apocalypse to get a bike that would prepare you for one. The Survival Bike by Motoped might be the ticket for you. Marketed as "your tactical blank canvas", it's a utilitarian, military-inspired motorized mountain bike outfitted with a customizable universal rack that accepts a various bolt-on mounts, harnesses, and fitments so you can pack what's necessary to you.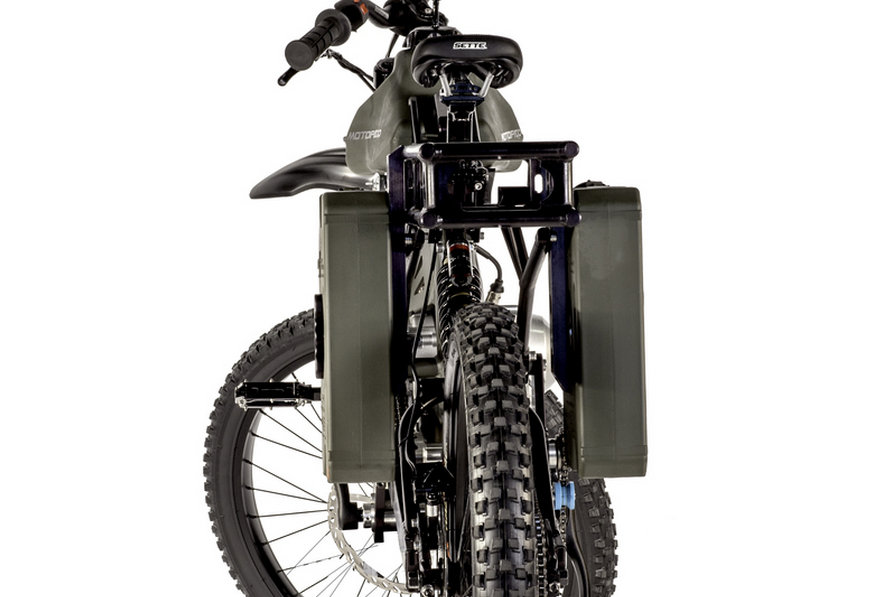 A primary fuel tank plus the added fuel from two side-mounted tanks will take you 400 to 500 miles without a fill-up. If you really do need to run from those blood-thirsty zombies having a range like that could be good. Or, maybe a bit more practical, if this was in the back of an RV on a Baja surf trip and you ran out of gas (we've done it before), this really could be a life saver.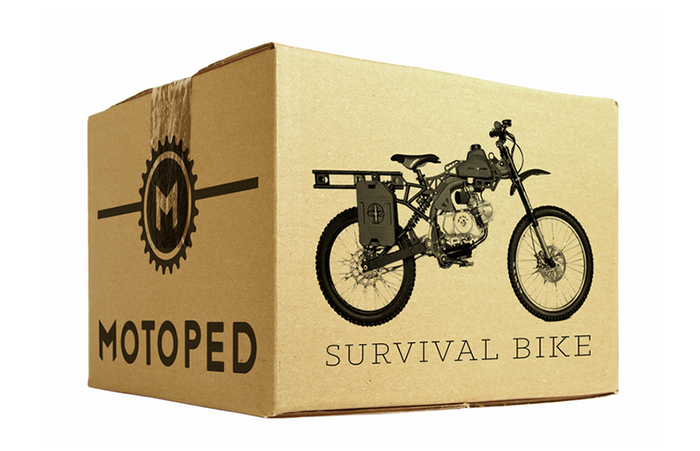 Each can be purchased as either a fully-assembled bike that's ready to ride (including stock 49cc engine), or as a partially assembled kit (supply your own engine), or as a KD box-kit you assemble yourself from the ground-up and bolt your own engine onto.

SURVIVAL BIKE SPECS
Engine Displacement – 49cc / 125cc Max Horsepower – 49cc – 2.41 HP @ 7500 RPM / 125cc – 7.78 @ 7500 RPM
Max Torque – 49cc – 1.70 ft-lbs @ 5500 RPM / 125cc – 6 ft-lbs @ 5000 RPM
Starter Type – 49cc – Electric / 125cc – Electric & Kickstart
Front Suspension – Adjustable DNM USD-8 Forks (8″ travel)
Rear Suspension – Adjustable DNM Burner – RCP2 Shock
Brakes – Hayes Prime DH Hydraulic Forged 4 – Piston Calipers. Hayes 224 (9″) Rotors
Rim Size – Alex Rims 26″ Front & 24″ Rear
Tire Size – Front: 24 x 2.6 Rear: 24 x 3
Wheelbase – 52″
Bottom Bracket Height – 10″
Seat Height – 35″ (Adjustable)
Max Speed – 24 MPH
Unit Weight – 132 lbs.
FEATURES
• Patented Jacksaft Pedal Drive System
• 165mm Square Tapered Aluminum Crank Arms
• DNM Adjustable Front and Rear Suspension (8" active travel)
• 4130 Chromoly Single Tube Frame (2.8" Wall Thickness)
• Double Heat Treated 6061 Aluminum Swing Arm
• 22" by 6" Aluminum Rear Rack (50 lb max load)
• Hayes Prime DH Hydraulic Forged Mono-bloc 4-Piston Calipers Front & Rear
• Hayes 224mm (9") Rotors Front & Rear
• Custom Motoped® Alex Rims 26" F & 24" R 36H 13 gauge spokes (Wider, thicker dual wall design)
• 1 Gallon Storage Tanks (x2)
• Custom Motoped® performance rear hub
If the Survival Bike isn't for you, maybe the Tarus 2, a Russian-built 2×2 Armageddon Motorcycle should be your vehicle of choice. Check it out here.