Exploring the custom scene in Portland, OR
The One Moto show is a testimony to the extraordinary power of the creative itch. The show, held last weekend in an old manufacturing facility in Portland, Oregon was 20,000 square feet of individual stories. Each bike, helmet and piece of art on the rustic walls told a tale of rising from an idea to existence.
Far from the columns of copy-and-paste hard tails and lookalike café racers, the show is regarded as one of the nations best for genre-bending builders, artists and adventurers seeking to pay homage to their creative drive.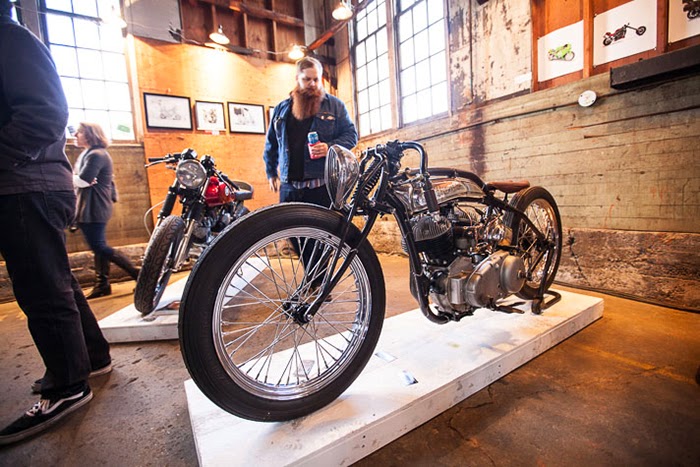 This focus on the individual and creativity over cliché is reflected in the show's name and the mission of its promoter and curator, Thor Drake, who believes that a bike means more to someone through stories and experiences. If show attendance is any indication, Drake is spot on.
A persistent line of people 3 abreast extended around the block for the 3 day show. Over 13,000 visitors came to see what can happen when artists and builders give way to their creativity. The diversity of builds made it impossible for anyone to walk away unsatisfied. Battle worn adventure bikes having made the journey of a lifetime stood as equals among intricate builds brought to life one hand-formed piece at a time.
Big names among the new wave motorcycle scene like Roland Sands, Deus Ex Machina and Ronin meshed with one-off builders from far and wide to fill the building with inspired works. Some exalted form over function, others allowing form to follow function. None seemed to shy away from being bold.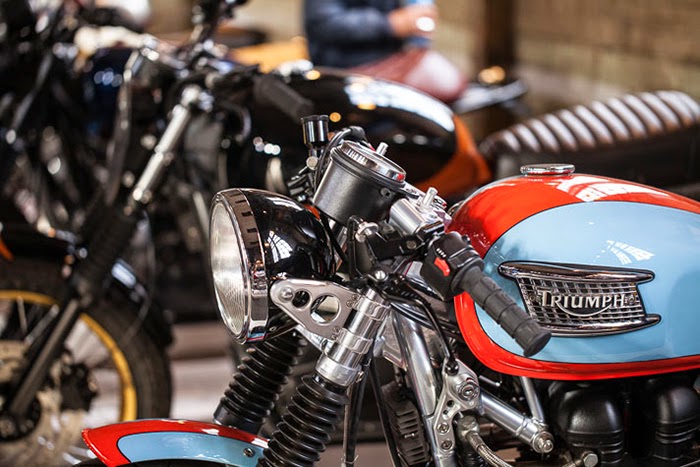 Larry and Carol Romestant of Northridge, California drove 18 hours straight to display their hand-crafted BMW K1200. "It was a pretty big ask because it's a long way and expensive to get here. But we knew this was important. There's some big names here and we knew we needed to be here.", he says of the shows draw. The Romestants used the BMW K aka "The Brick" as an unlikely platform for a café racer style of bike that could have been produced by the factory.
"The K engine didn't start production until 1983 and it missed the chance to be a part of the café craze of the 60's and 70's. So, I'm trying to give it that opportunity", Romestant says of his K'Agusta, a mixture of German engineering with beautifully crafted Italian styling.
More about the K'Agusta here
.
In keeping with the show's penchant for individualism, the accompanying 21 Helmets display took center stage, showing that you can make your lid a thing of beauty. Artists from around the globe were given a Bell Bullitt helmet to decorate any way they saw fit. Noted Los Angeles based artist
Ornamental Conifer
's work featured a painted visor, something he's caught some grief over.
"One of the old Bell helmets, the Drag helmet, was really cool because it had a small slot and they're really hard to find now. I kind of paint my visors like that and they work great." he says of his inspiration. "But people are always like, 'you've ruined a perfectly good helmet, can't even see out of it, stupid art on helmets..', but it's fully functional. The Bullitt is pretty deep and you can see better than if you were wearing goggles."
In typical
Portlandia
fashion, there was no shortage of coffee drinks to be had. Title sponsor
See See Motor Coffee Company
had the crowd sipping all organic lattés and Americanos from paper cups during the day and beer filled can koozies during the afternoon hours. Add to this the organic Bratwursts and other extraordinary hand-held cuisine and there just didn't seem to be any reason to leave the building.
That is, unless you wanted to try your hand at mini-moto flat track racing. Yep, for a $5 donation you could strap on a helmet and take a few turns of bar-banging, flat track action astride a pit bike on a scaled down plywood track, complete with flagger and race announcer.
"This is probably one of my favorite parts", announcer and instigator Thor Drake says of the racing. "I love to call the races!"
Live music from inside the show crashed and echoed off of the surrounding industrial buildings keeping the vibe alive for revelers inside as well as for the hopeful participants surrounding the building making the wait a bit more bearable.
While Portland gets a bad rap for epic beards, coffee snobbery and GMOphobia, there's a vibrant space for creativity to thrive. It's creativity that draws people from long distances. They come not exactly sure what to expect, but knowing that they'll likely not find it anywhere else. In the case of The One Moto show, they're right on target.
____