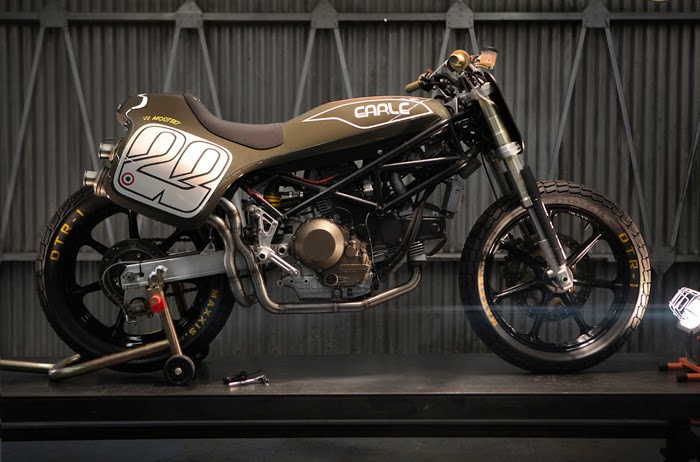 Wondering what to do with his aging Ducati Monster, automotive designer Alex Earle of Earle Motors wanted to build a taller "more bad-ass bike". Blending inspiration from Mert Lawwill in the original On Any Sunday film and bodywork reminiscent of the old Meyers Manx dune buggies, he was able to create something stunning and boldly unique. Earle was really into the look of flat trackers, saying they're a "perfect blend of classic Southern California cool, robust, deep suspension, urban ruggedness and meaty tires". The end result is a unique and classy little Ducati tracker. You can decide for yourself, but we think Earle hit the nail on the head.



His plan was to produce kits for builders. The current kit fits first gen Monsters and could be altered for fit Harley XR 1200's or Triumphs. The concept is relatively simple but wasn't it surely wasn't a small task to accomplish. The fiberglass body kit fits on a slightly modified, street legal, Monster frame and comes with fuel tank, wheels, exhaust and headlight assembly.
 


Alex Earle's Tracker has a seat height 3" higher than a stock Monster and is said to feel like one is riding "on top" as apposed to sitting behind the tank. A non-skid seat and and high wide bars make for a seemingly comfortable riding position.
Custom 1-3/4" stainless headers mated to cored S2R mufflers


For more on his entire process and team utilized to create this stunning machine, head on over to the Earle Motors site.

The bodywork is impressive but for us, the font end might be the prettiest angle.

'Il Mostro' Ducati Monster M900 Specs:
Seat height: 33.5"
Front wheel: 19" Kawasaki
Rear wheel: 19" Harley, widened to 3.5"
Front Tire: Maxxis DTR-1 (27.5×7-19) CD-3
Rear tire: Maxxis DTR-1 (27.5×7.5-19) CD-5
Battery: Ballistic 8-cell
Headlamp: Baja Designs Squadron, yellow lens
Tail lamp: Mad DoctorSpeedo: Knog 12 function wireless, waterproof
Drive: 14TSprocket: 42T
Pegs: Solos Nos Ducati Performance
Bars: Renthal Far Bar, ATV rise, 31" wide
Brakes: Stock caliper/rotor, Brembo radial, shorty levers
Tank: custom-made, approximately 3 gallons