Carbon, magnesium and…carbon
The Ducati Monster is an iconic naked motorcycle and can certainly be the gateway drug for many into the custom cafe racer scene. The Monster has been tearing up city streets for over 20 years now – 2013 marked the 20th anniversary for the Monster – but even with all of those Il Mostros produced, few have struck me with as much simplicity and beauty as Ducati North America's Marketing Director Arrick Maurice's custom 2009 Ducati Monster 1100S.


Shortly after joining Ducati, Arrick swooped up a 2009 Monster 1100S and started customizing it. Like how most of our builds go, the customization started off light and quickly turned into a full-blown custom. As you can see from the spec list below, this beauty is teeming with high-end, high-performance parts that took an already capable bike and turned it into a real fire-breathing monster.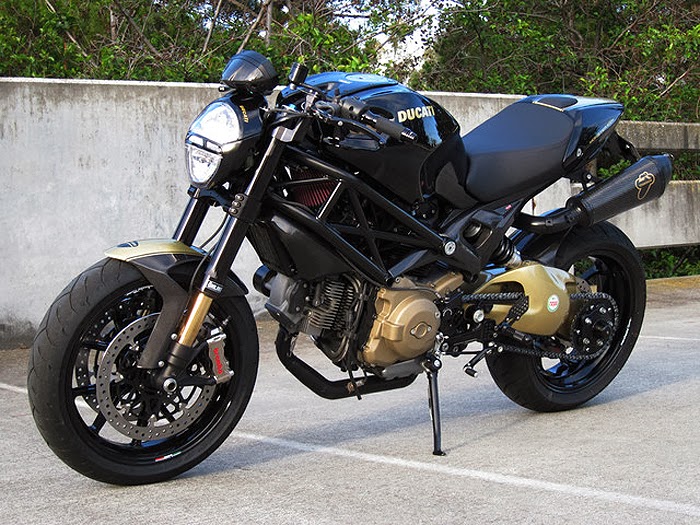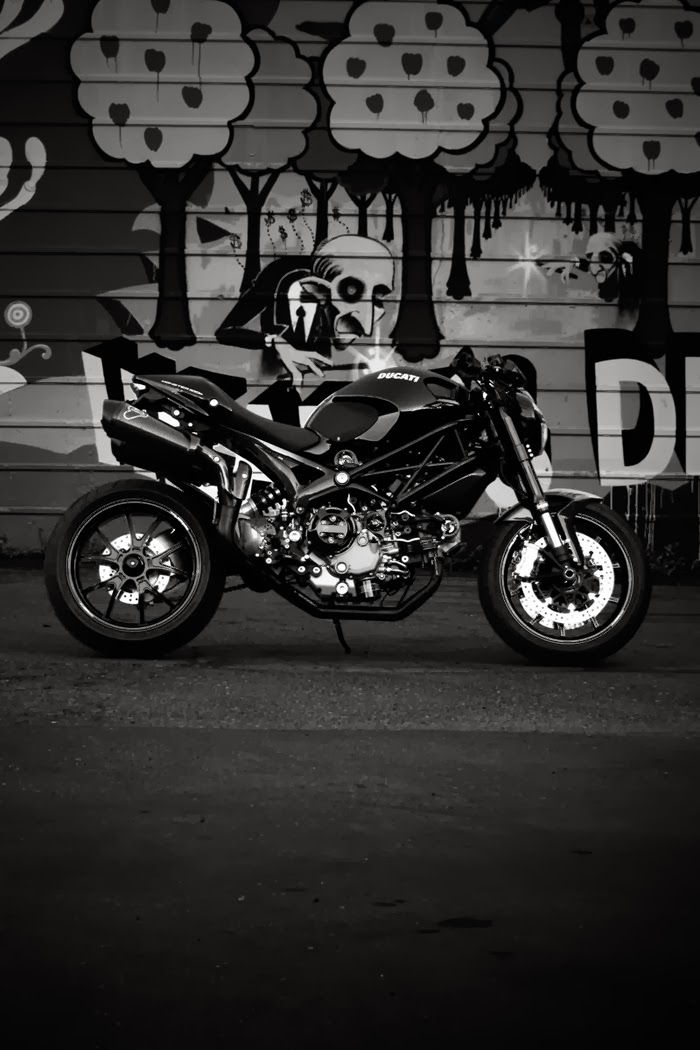 List of Modifications
Ducati Performance Magnesium Engine Side Case
Ducati Performance Magnesium Alternator Cover
Ducati Performance Billet Clutch Slave Cylinder
Ducati Performance Ventilated Clutch Pressure Plate
Ducati Performance Carbon Fiber Open Clutch Cover
Ducati Performance Rear Sprocket Flange
Ducati Performance Steering Head Nut
Ducati Performance Bar Ends
Ducati Performance Carbon Fiber Front Fender
Ducati Performance Carbon Fiber Rear Fender
Ducati Performance Carbon Fiber Instrument Cover
Ducati Performance Carbon Fiber Air Intakes
Ducati Performance Touring Seat
Ducati Performance Short Tail Guard
Termignoni Full Exhaust System (Ceramic Coated Black)
Brembo Machined Nickel Plated Front Calipers
Brembo Machined Rear Caliper
Brembo T-drive Rotors
Brembo RCS Brake Master Cylinder
Brembo RCS Clutch Master Cylinder
Marchesini Forged Magnesium Wheels
Ram Italia Magnesium Swingarm
Ram Italia Carbon Fiber Subframe
Speedymoto Upper and Lower Triple Clamps
Speedymoto Tall Boy Clip-ons
Speedymoto Leggero Belt Covers
Speedymoto Leggero Front Sprocket Cover
Speedymoto Stainless Clutch Springs
Rizoma Rearsets
Rizoma Racing Pegs
Rizoma Sport Line Grips
Rizoma Front Brake Fluid Resevoir
Rizoma Clutch Fluid Resevoir
Rizoma Rear Brake Fluid Resevoir
Rizoma Rear Axle Slider
Rizoma Spy R Mirrors
Driven 520 Front Sprocket
Driven 520 Rear Sprocket
Driven 520 Rear Sprocket Carrier
RK 520 Chain
Duc Shop Velocity Stacks
K&N Air Filters
Light Werkes Integrated Tail Light
Power Commander V
Fren Tubo Brake Lines
Anodized Black Ohlins Forks
Powder Coated Black Ohlins Rear Shock
Custom Paint by Finishing Touch from Monterey, CA