New tech coming through! 
Commuting to and from work on a motorcycle has its obvious advantages, especially here in California where lane sharing is still legal.  While skimming through traffic and squeezing into that super tight spot up front can be convenient, riding a bike can have its fare share of disadvantages and inconveniences too.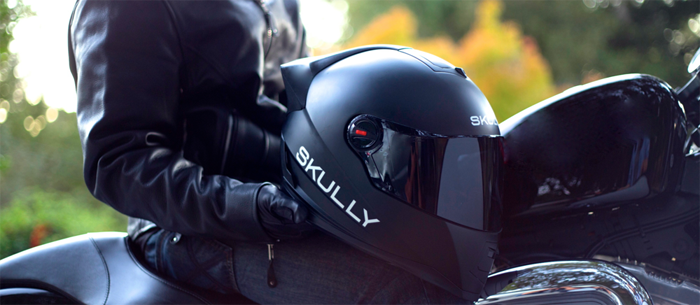 Have you ever wanted to double-check your directions at a red light and not had time to pull your phone out of your pocket, or felt your phone vibrating while you cruise down the open road? Another thing we can't do on a bike is to check our rear view mirror. Sure you can check your side mirrors, assuming you have two mounted (and you really should), but what about directly behind you? Wouldn't it be great if you could have a rear-facing camera in your helmet where you could safely keep your eyes on the road in front of you while still being aware of incoming threats behind you? Admittedly, I have been talking amongst my friends of 'inventing' exactly that, but it seems someone has beaten me to the punch. Enter Skully Helmets.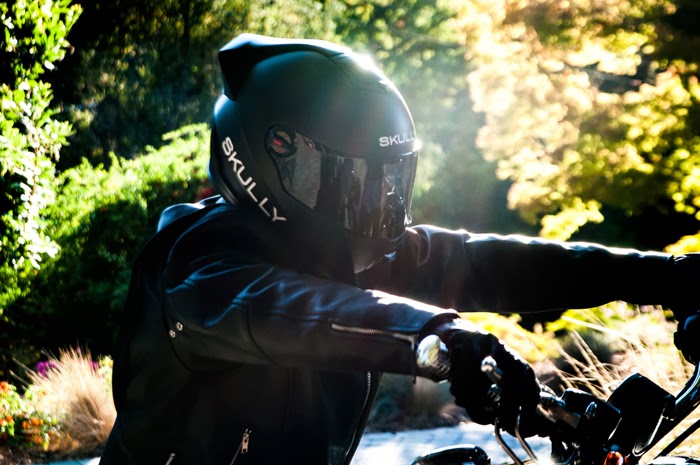 Founded in the Silicon Valley of California, Skully is pioneering advanced Heads-Up Display (HUD) technology solutions for the head protection industry. The Skully P1 is the first vertically integrated smart HUD motorcycle helmet for consumers and will boast DOT/ECE Certifications.
After watching the teaser video below, I was blown away.  This really is the future of motorcycle helmet technology.  We will be able to voice commands to our helmets, play music, receive calls and safely navigate to our destinations all while keeping our eyes on the road.  Sure, there will always be an old school pudding bowl helmet in my garage, but having a Skully for my daily commute would be amazing.  Stay tuned here for a review of the real deal soon.
Skully details and specs:
Focus. SYNAPSE(TM) INTEGRATED HEADS UP DISPLAY.
Welcome to the new era of motorcycle helmets. With Synapse(TM) integrated Heads-Up Display (HUD), Skully provides you with an advanced situational awareness system, showing navigation and blind spot data, allowing you to stay focused on the most important part of your ride – the road.
Perspective. 180 DEGREE REAR VIEW CAMERA
Skully P-1 has a patented integrated rear view camera system with a 180 degree viewing angle. Similar to the way our maps are displayed in front of the rider, the rear view camera feeds video to the HUD to provide you with complete situational awareness. The Skully P-1 watches your back (and sides) so you can enjoy the ride.
Navigation. GPS MAPPING
Life is too short to retread the same steps. With Skully Nav the world is your track. No need to plan your route or to pull over for directions. Just ride. When you are ready, Skully will show you the way back with HUD GPS maps.
Connection. SMARTPHONE INTEGRATION
Introducing Bluetooth pairing and voice control for Skully helmets. Pair your phone to the helmet, and unlock the connectivity potential of your mobile device while riding. The Skully P-1 allows you to control the interface with your voice. You can control your music, send texts, make calls, and change your destination all hands-free. Never before has riding been so connected.
Key Features
Lightweight, aerodynamic, tricomposite shell
3D laser-cut foam for a perfect fit
Fully adjustable flow-through ventilation
Anti-fog, anti-scratch, anti-glare face shield
Quick release chin strap and visor
Synapse(TM) Heads Up Display system
Visual GPS navigation
180 degree wide angle rearview camera
Bluetooth connectivity with voice control