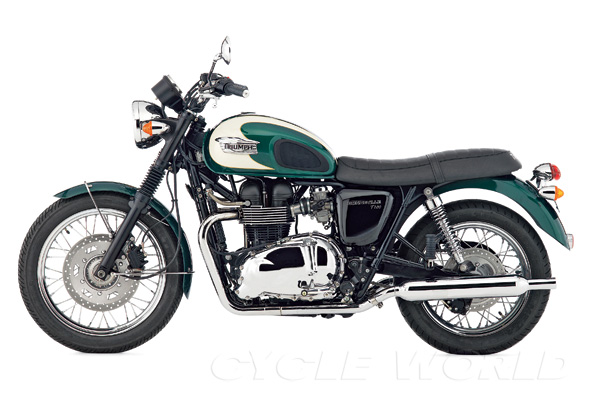 Who can forget Sy Sperling's tv commercials confessing: "I'm not only the Hair Club president, I'm also a client!" That's exactly how I feel when reading through Cycle World's recent article on how the Hinkley Triumph Bonneville is a great value when considering a used motorcycle. Well, "Not only am I an advocate of the Triumph Bonneville, I'm also an owner". I have convinced countless friends to purchase a Bonnie, Thrux or Scrambler. Hell, I've even pulled a handful of my sport bike riding friends to make the switch to a modern classic. Cycle World made the case for why these bikes are so great, and I have to agree. Here is what they said:

Triumph Bonneville – Best Used Bikes


A faithful replication of the beloved Bonnies of the 1970s.
Years sold: 2001-present
MSRP new: $6999 (2001) to $10,499 (2012)
Blue Book retail value: $3795 (2002) to $9390 (2012)
Basic specs: A retro-styled, dohc parallel-Twin displacing either 790 or 865cc, depending upon year and model. The Bonneville was introduced in 2001 as a lone 790cc model, had the America cruiser version added in '02, followed by the Speedmaster faux dragbike and upgraded T100 in '03. The first 865cc model, the Thruxton 900, came in '04, and the T100 and Speedmaster got that displacement bump the next year. The high-pipe, 865cc Scrambler was added in '06. All the Bonneville-based models became 865s in '07, and all were then switched in 2008 from carburetors to fuel injection using throttle bodies cleverly designed to look like carburetors to retain the classic appearance.
Why it's desirable: Visually, the Bonneville is a realistically faithful replication of the beloved Bonnies of the 1970s but built with modern technology and manufacturing, and offering increased engine performance, more sophisticated suspension and better braking. Despite the numerous improvements and upgrades the Bonneville and its various offspring have undergone, the basic motorcycle has adhered to the original vision that produced the 2001 model. The result is a range of satisfying, pleasurable rides that even most fans of the original have come to love. Besides, retro bikes currently are enjoying a cool trend that keeps growing, and these Triumphs are authentic, turnkey retros.
Useful resources: If you type "Triumph Bonneville" in any web browser, you'll be assaulted by so many related sites that you could go blind trying to view them all. Forums, test reviews, videos, accessory vendors, tech information, dealer sites, photos of customs and personal Bonnevilles—you name it, and you'll find it there.