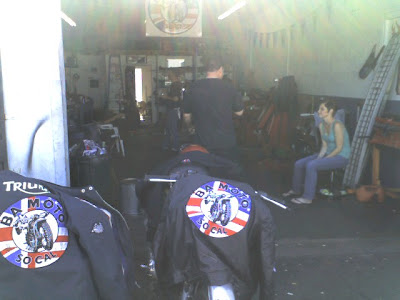 So I headed over to the BA Moto headquarters and pulled the mufflers off last weekend. I was stoked to find a group of younger guys in So Cal that have the same love for British iron, loud machines and general mayhem as I do. The guys at BA Moto really have a good thing going on with bike nights @ the Pike in Long Beach, and they also organize some badass rides. . I wish I could get down on their upcoming ride…Long Beach to Yellowstone and back (about 2,700 miles). You can keep up with them here; ba-moto.com
After kicking tires for a while and just hanging out, head wrench Jamie helped me out with a rejet. All is good except with the new set-up except I still have some of the emissions sh!t on there. It kind of burps and spits at the moment but should be an easy fix. I really dig the sound.
I haven't found my perfect exhaust solution so for the meantime, header tape….and running wide open. Who knows…it might even stick.
BA MOTO HQ (top secret location)