A spotless 1974 Laverda 750 SFC
Peter Boggia is a native New Yorker and operates a small motorcycle workshop called Moto Borgotaro in Brooklyn. The name, Borgotaro—which comes from the village in Italy Boggia traces his family tree to—is a nod to the Old World sense of value and tradition the shop aspires to. Boggia's level of restorations (or customs) is simply amazing.
I was at a Union Garage event a few years ago celebrating "Italian Sporting Bikes" of the seventies, and as Moto Borgotaro conveniently shares a wall with UG, they had their space open too. I was gobsmacked at the level of detail of every completed bike there. A MV Agusta 750 America, a Laverda SF2, a MV Agusta Magni 861, Ducati 900SS, Mike Hailwood, a Moto Guzzi V7 Sport Telaio Rosso… all looked as if they rolled off the factory floors. It was clear that Peter was obsessed with getting every detail right, and I love him for it.
I knew it was time time feature one of his builds and realized we have never covered a Laverda here. Not only did Boggia have a stunning 1974 Laverda 750 SFC cafe racer to share with us, it's also for sale too.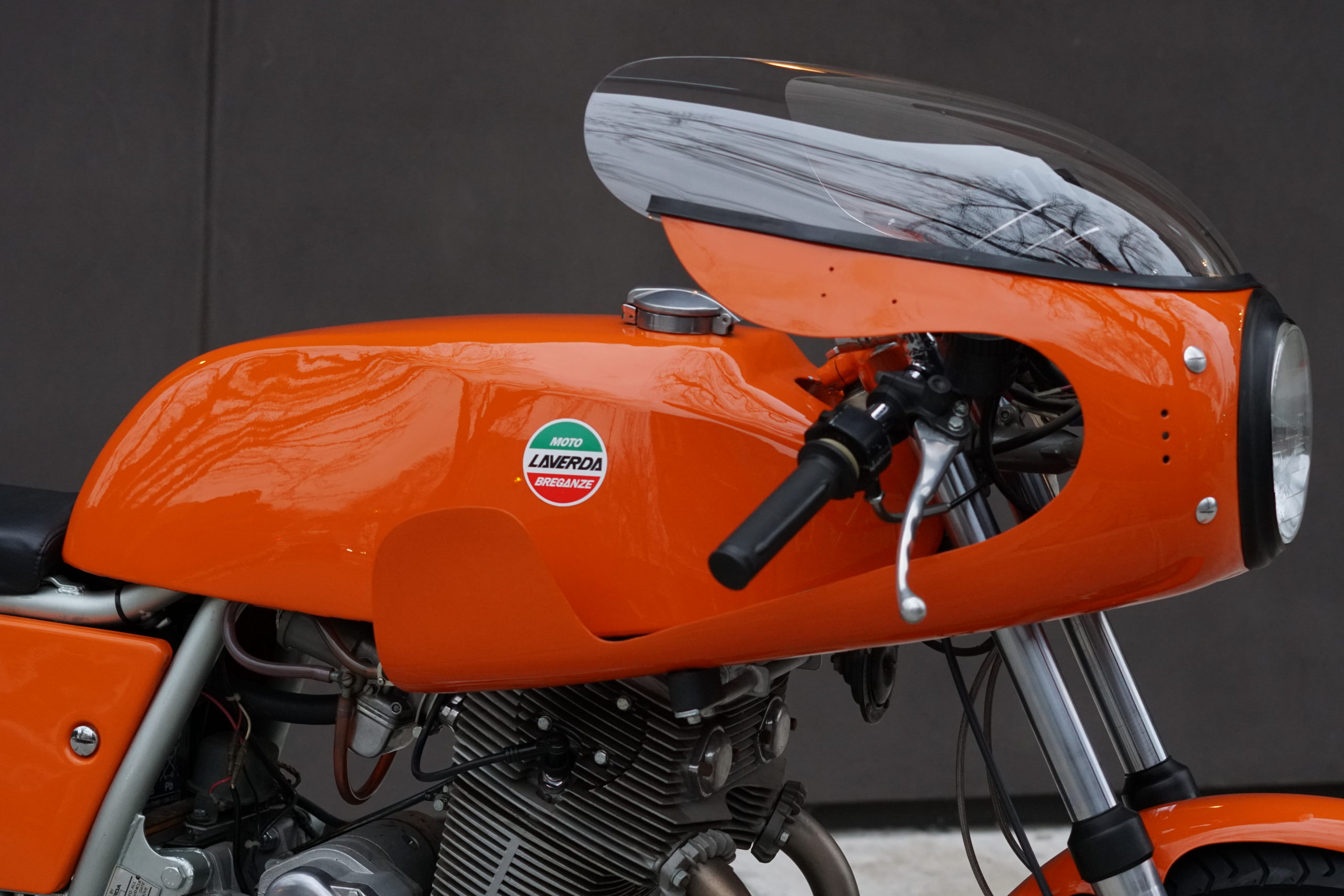 "INCORPORATING MANY DEVELOPMENTS OF THE 1973 FACTORY BIKES, THE 1974 750 SFC WAS ONE OF THE OUTSTANDING SPORTING MACHINES OF THE ERA."

— IAN FALLOON, FALLOON REPORT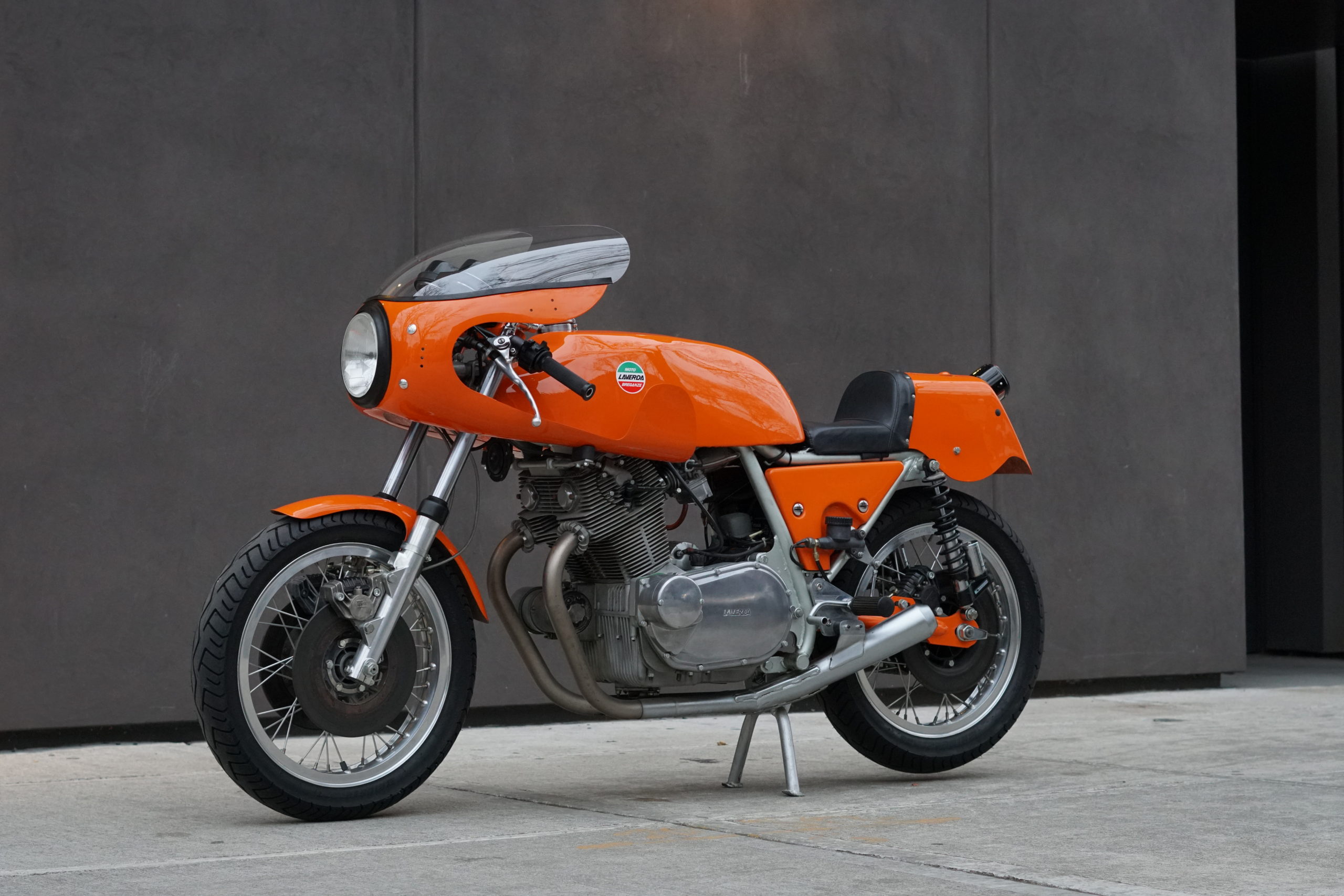 The background on the 1974 Laverda SFC, told by Moto Borotago's owner Peter Boggia:
At only approx 541 units produced, the Laverda SFC is one of the best bikes for the buck you can collect and ride! This is a street legal factory race bike that pumps out approx. 70HP, it's fun, fast and vicious– to me the SFC is the pinnacle of 70's Italian sport bikes, it hits all the marks and its built like a tank. This is the closest bike in feel to a Lamborghini Miura.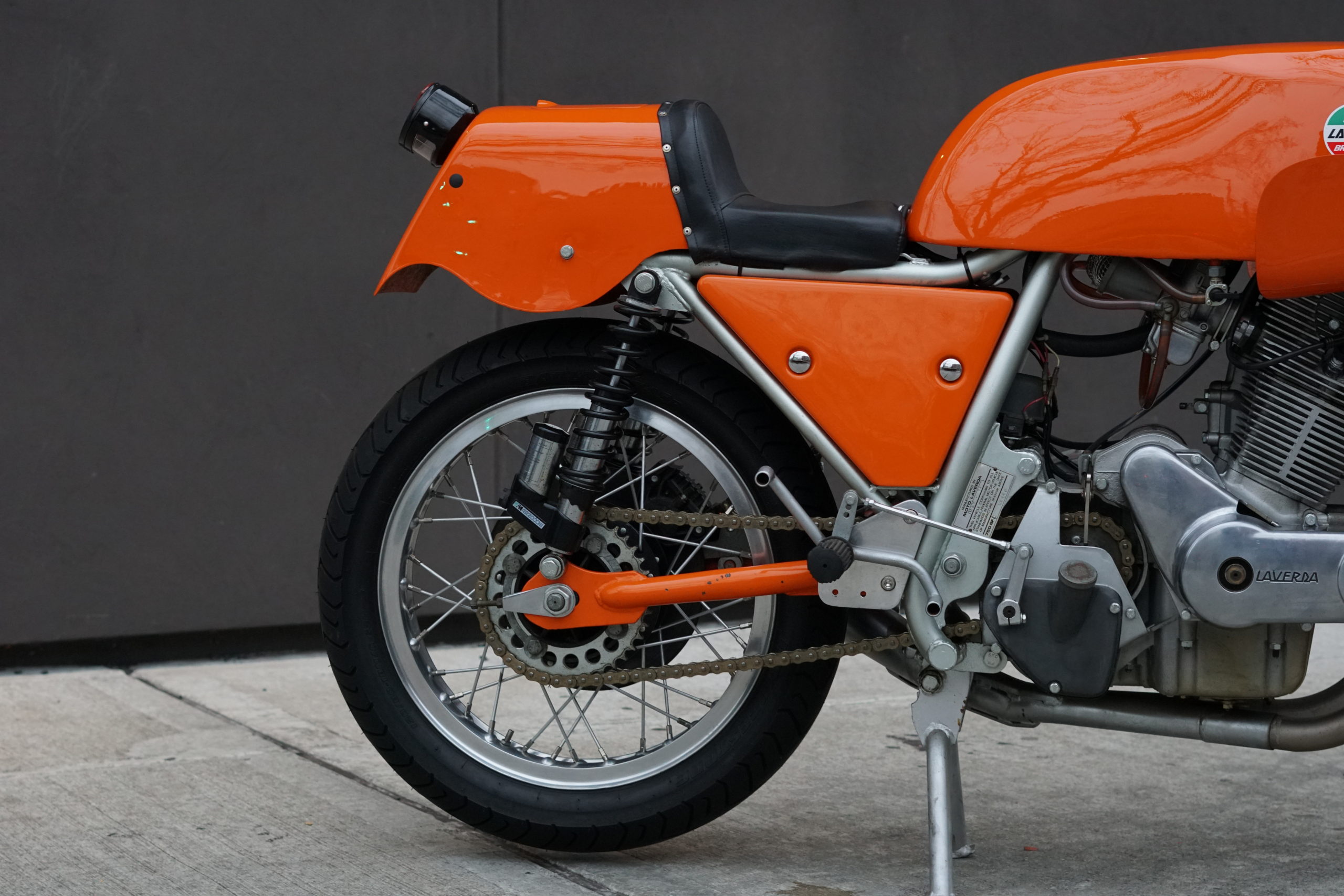 At this point I can say with some authority, that I have owned, bought and sold more SFC Laverda's then just about anyone in the US, if you look in previous sales, this bike is just 12 bikes later than the last SFC that came through the shop.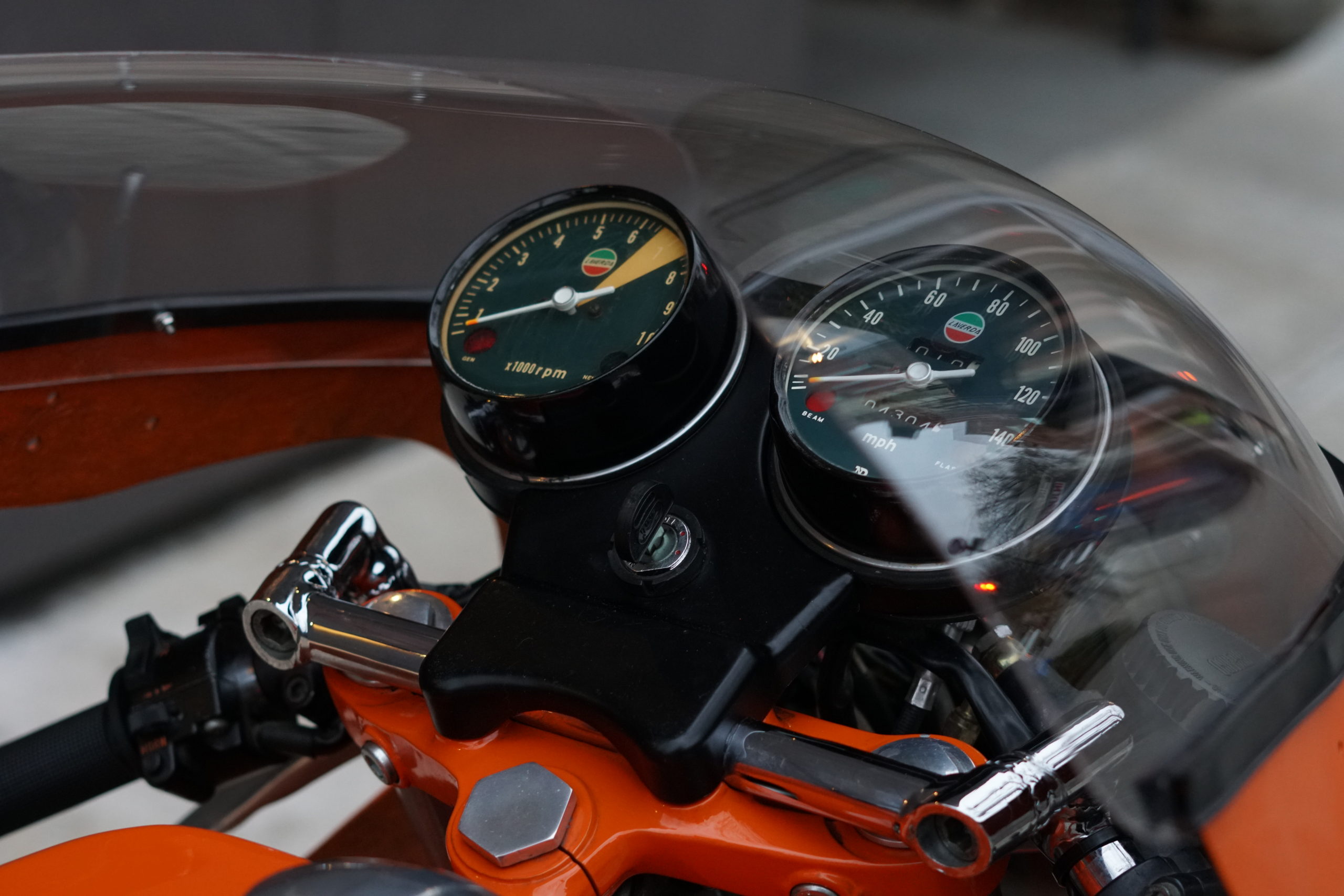 Every SFC is slightly unique, every bike has a story. This particular example has been in private ownership for the last 10 years, the current owner had the noted Laverda craftsman Scott Potter do a complete frame up rebuild with the intention to ride her on the beautiful California coastal roads. At this point a new Steel tank was acquired and paint matched to the rest of the bodywork, new parts were used as needed and the rear shocks were upgraded.
As the bike had been sitting, I decided to give her a once over and clean and replace the jets, set the points. After putting in some fresh fuel, this BEAST roared back to life. The time and money spent on the rebuild was obvious as the quick pull of the throttle felt the parallel twin whip the bike back and forth, the feel of the SFC is unmistakable. BUY, RIDE, COLLECT.
Representative of the second US specification batch (with numbers between 17110-17166), we introduce you to #17160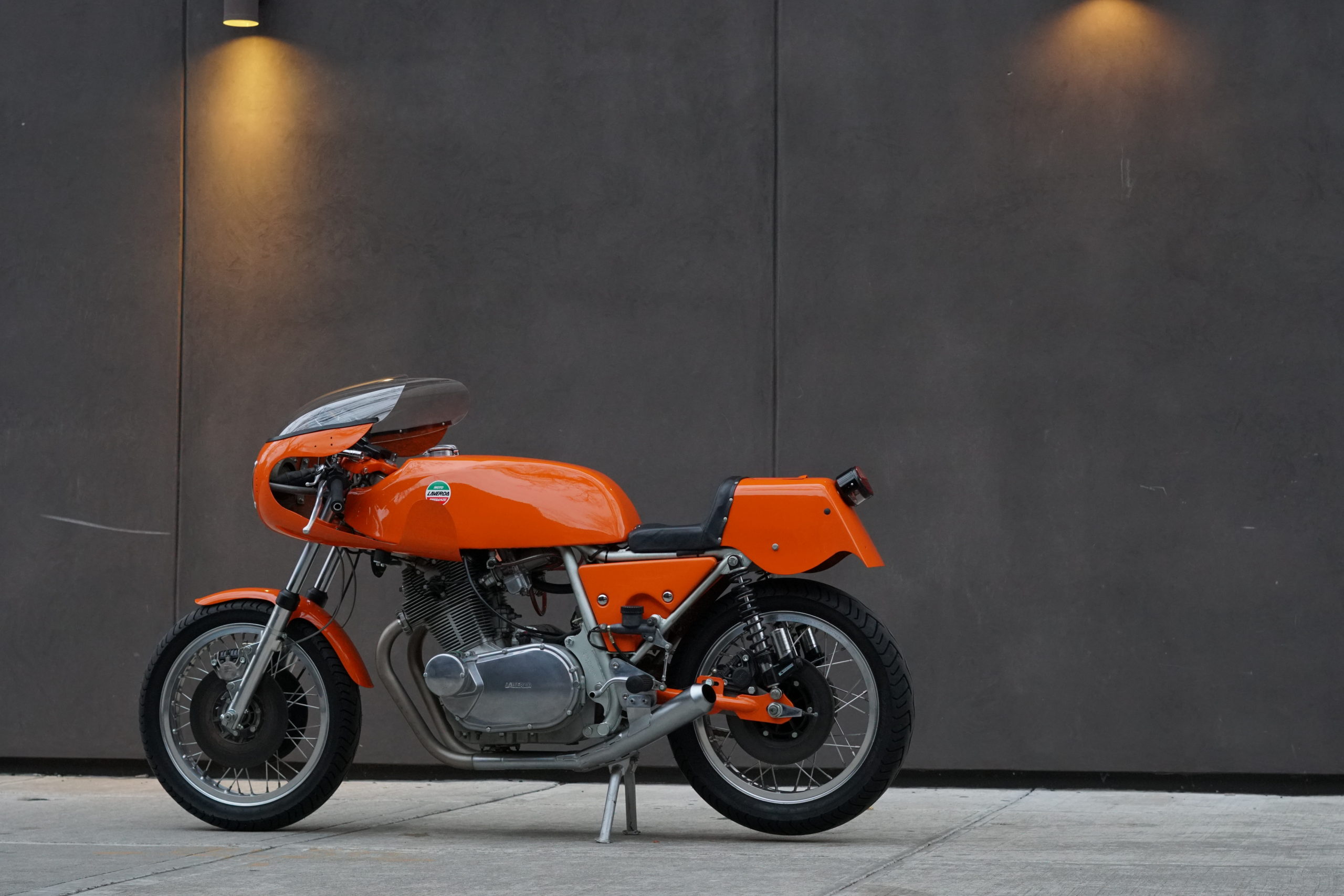 "WITH A LEFT SIDE GEARSHIFT MANDATORY ON ALL MOTORCYCLES BUILT AFTER SEPTEMBER 1974, THIS WAS THE FINAL SERIES 750 SFC READILY AVAILABLE IN THE US"

— IAN FALLOON


1974 LAVERDA SFC DETAILS
Frame #17160
Engine #17160
Dell'Orto PHB 36mm carburetors
Borrani aluminum wheel rims
Ceriani suspension * rear is Marzocchi
Electron rear hub and sprocket carrier
High quality aluminum replica gas tank
Nippon Denso instruments
Smaller European taillight
Original parts included
The US-17000-series 750 SFC included 3C Nippon Denso instruments and switches, and adjustable Tommaselli handlebars.

The US-17000-series 750 SFC included 3C Nippon Denso instruments and switches, and adjustable Tommaselli handlebars.

Twin bleed Brembo F08 series rear disc brake and Electron rear hub and sprocket carrier.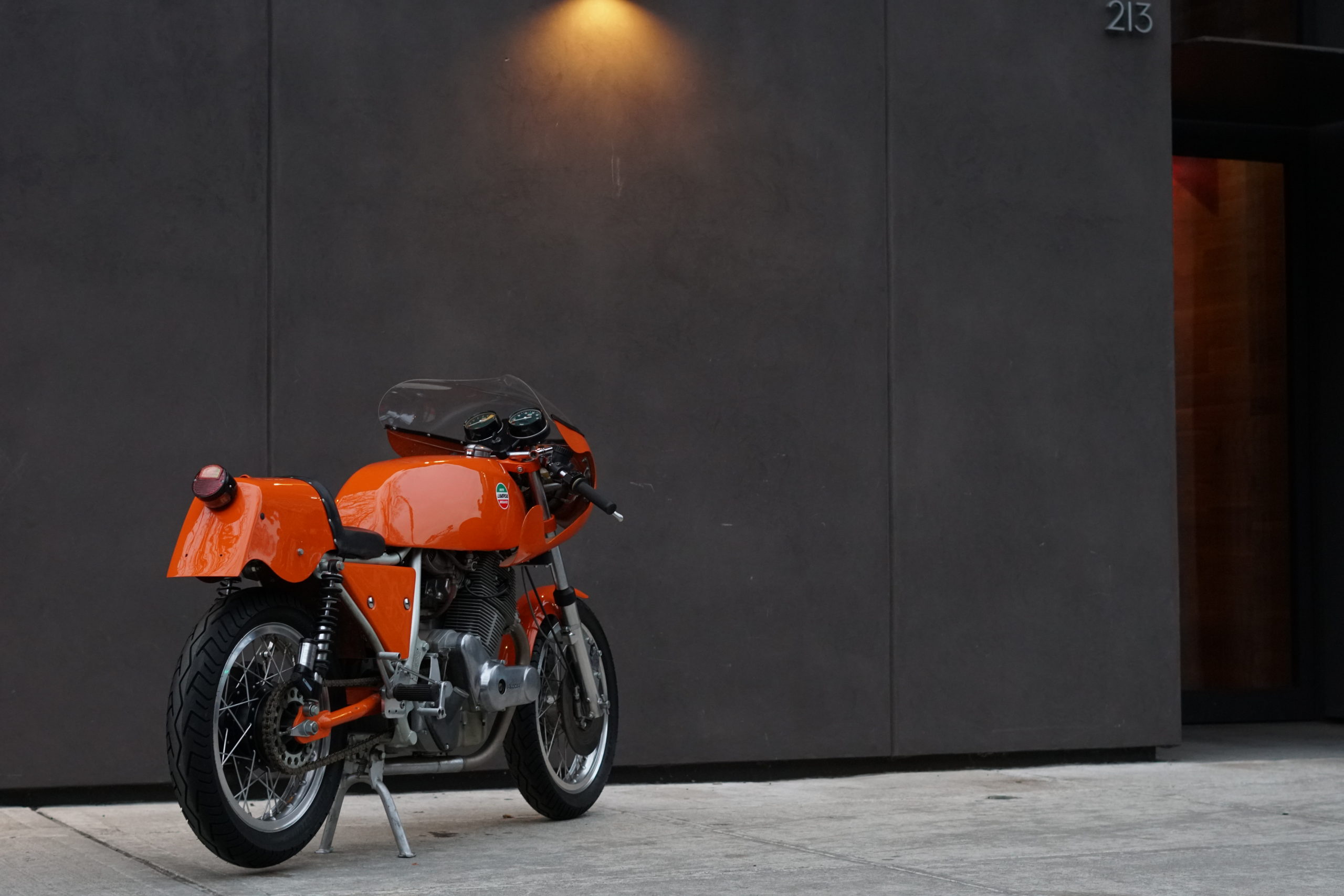 Moto Borgotaro: Online | Facebook | Instagram
Photography by James Tyler Reed