A racebred franken-Ducati
Michael "Woolie" Woolaway can build some sexy bikes. As the Motorcycle Design Director of Deus Ex Machina USA, he has built some stunning custom bikes for celebrities and lucky regular Joes too. Woolie is also an avid racer himself and I've had the pleasure of sharing the track with him on a number of track days. The dude is fast, and passionate about building machines that can rip your arms off. Woolie built his own race bike last year to take on the famous Race to the Clouds. He did a great job last year, taking 2nd place in the exhibition class with a fast time of 11:40.742. He decided to come back even stronger this year and built a new bike. Affectionally known as "The Beastie", this Ducati medley is expertly blended into a proper race weapon. I was bummed to not be on the mountain this year to see it in action, but am pleased to share it with you all here.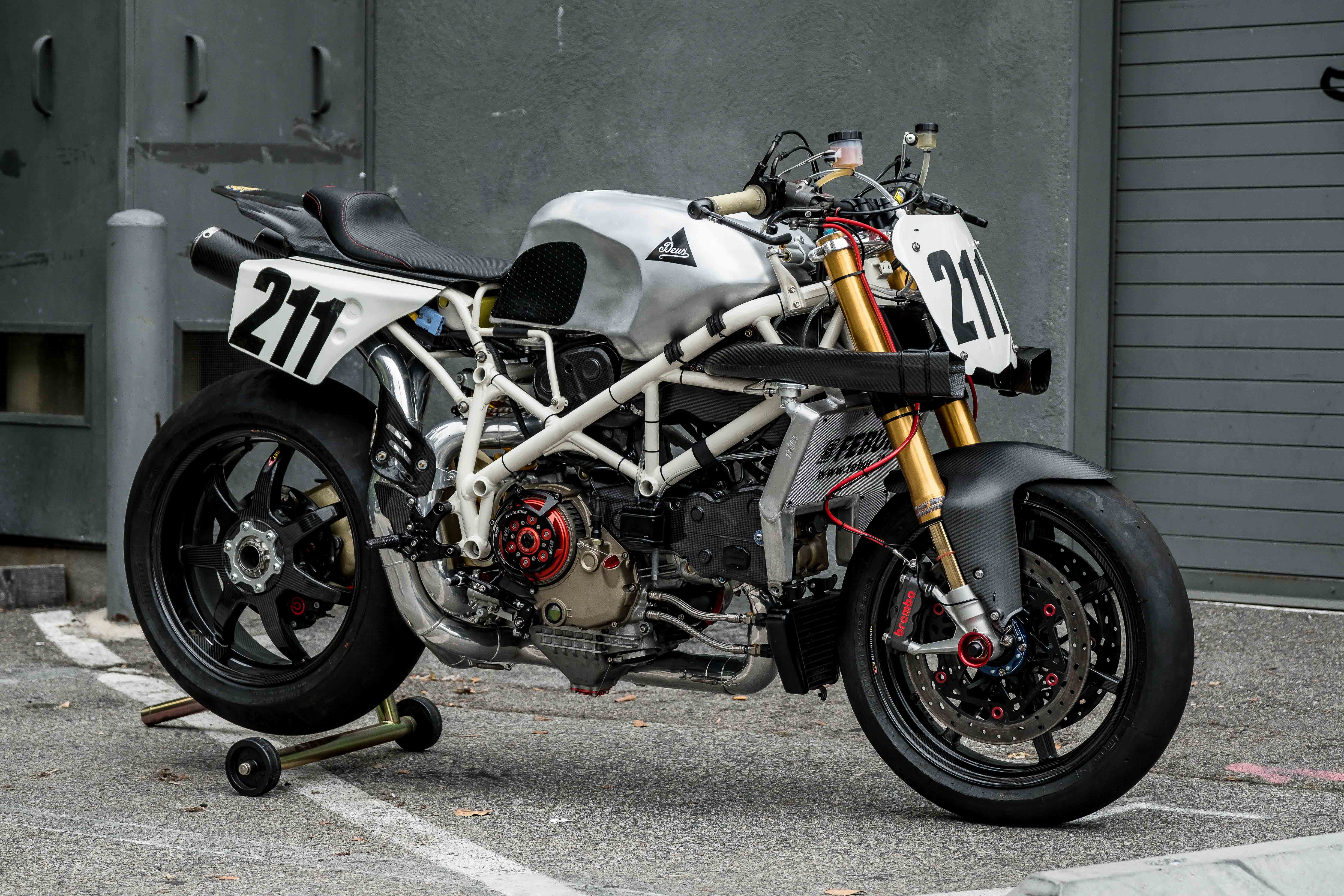 Words below from Deus Ex Machina
Woolie took everything he learned from his Pikes Peak experience last year and has set his sights on returning to the mountain with an even better build for the 97th annual running of the Pikes Peak International Hill Climb (PPIHC), set to take place June 30th. Woolie made his Pikes Peak debut last year turning a lot of heads with a 2nd place finish in the exhibition class with a fast time of 11:40.742.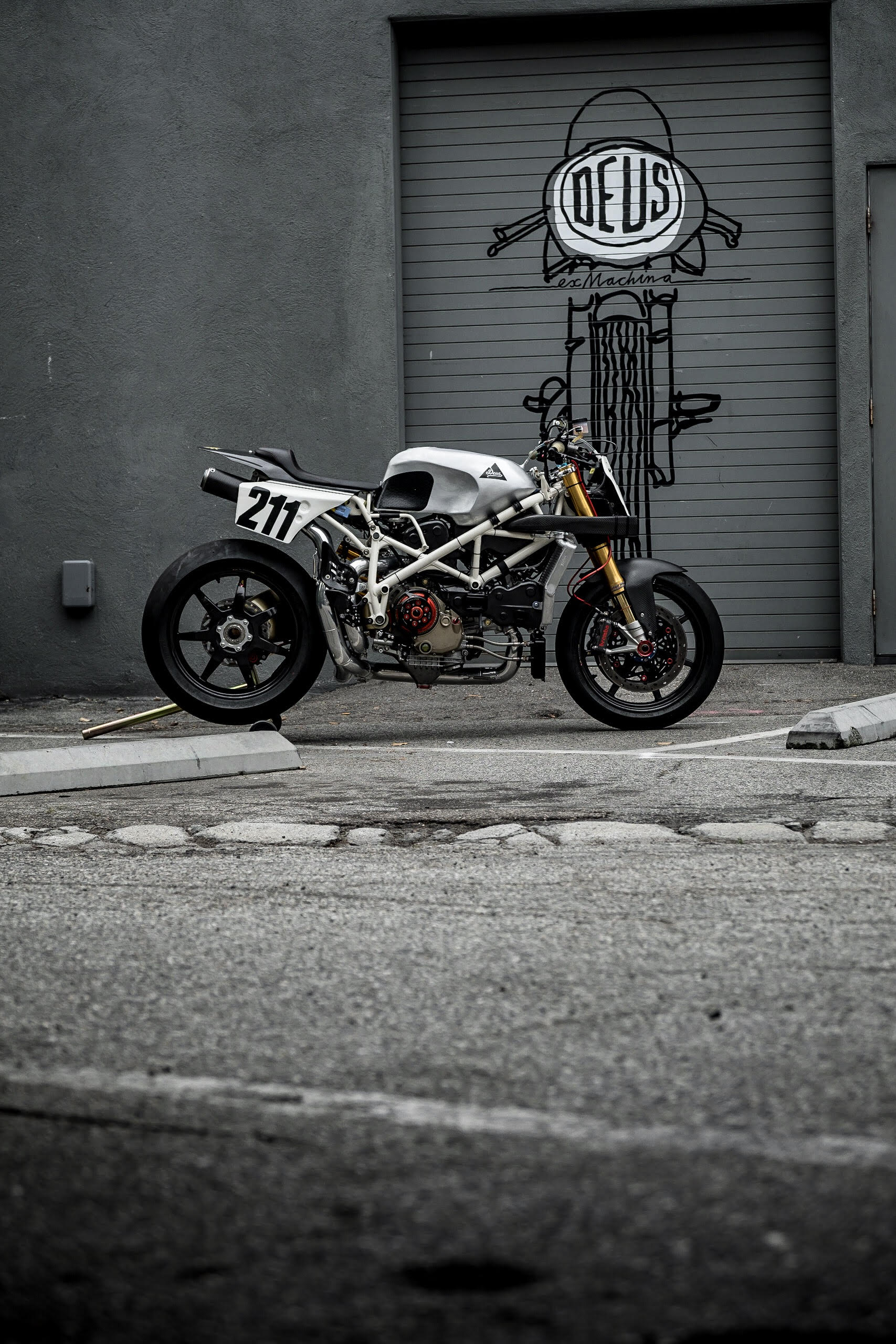 This year Woolie returns to the mountain with an even better build and an eye on the top step of the podium "After making it through the Pikes Peak race week last year and struggling with the bike we built, I asked Deus if they would be ok with me cranking out a new bike. As soon as they agreed I jumped on the job as it was all fresh in my head." Said Woolie.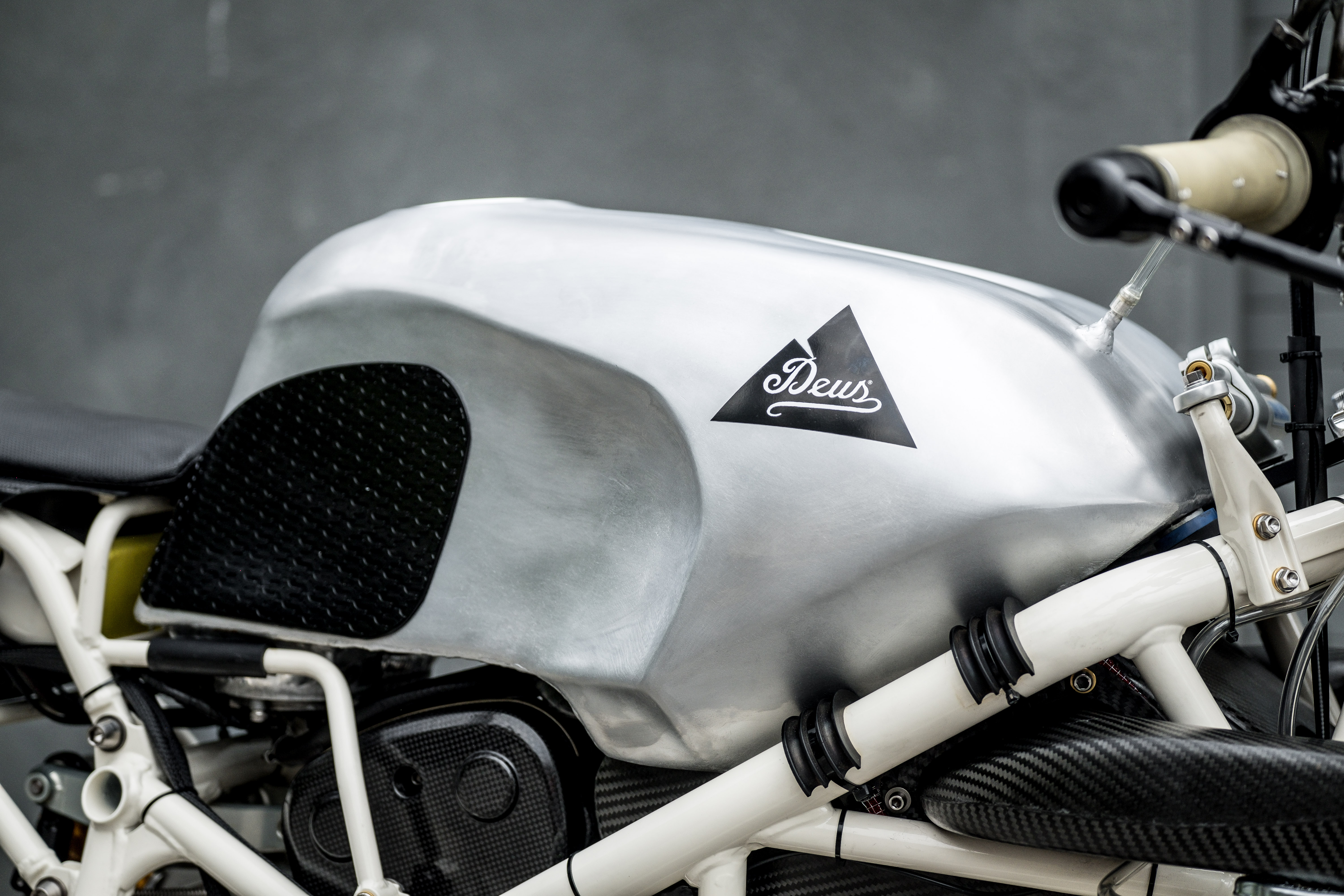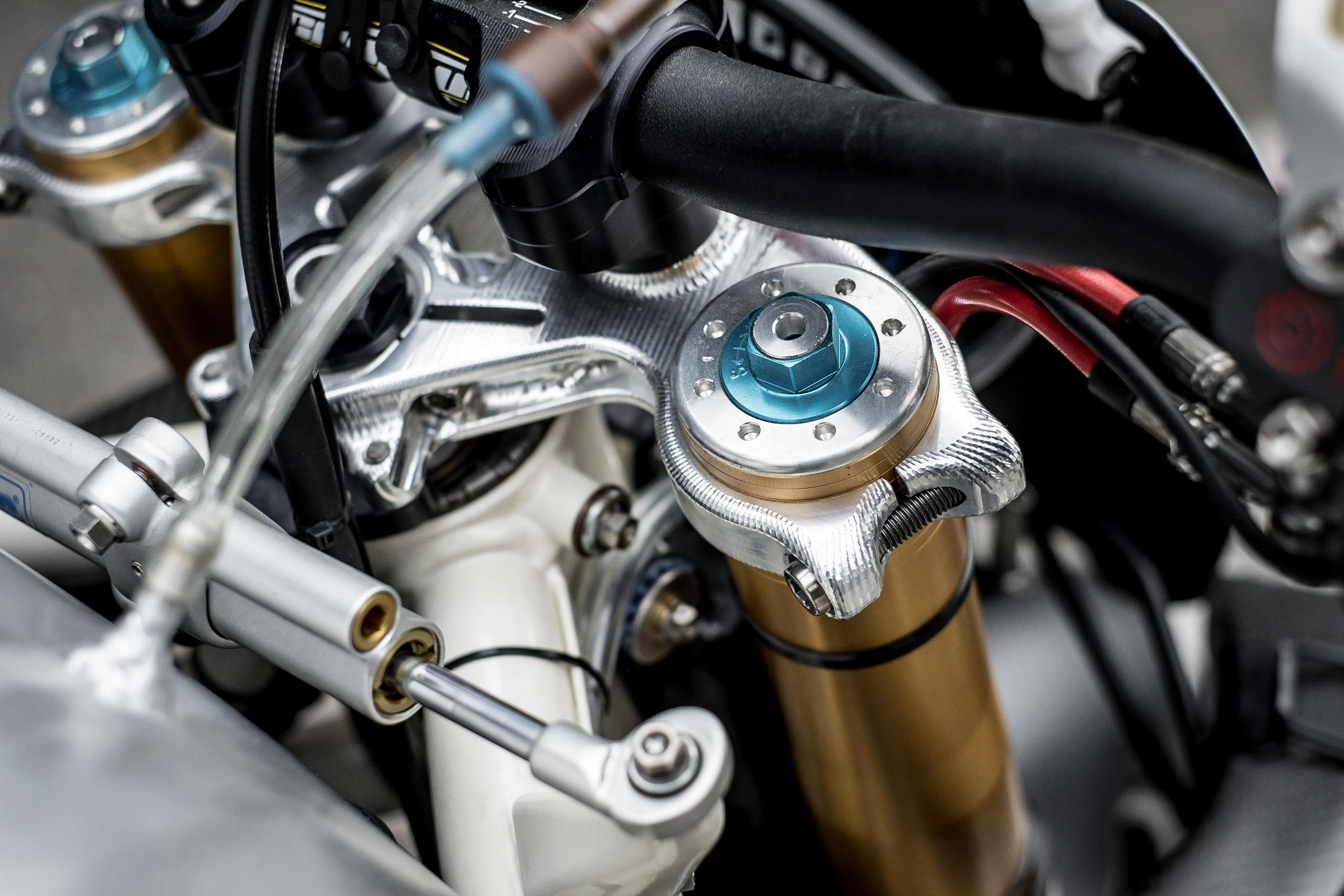 Last year's bike started as a Ducati Hyper SP. The only parts from that bike that made it to the new build are the front number plate and the seat section, front wheel and electronics. The internals from last year's motor were put into a set of sand cast cases from a 1098R used for the Homologation of the World Superbike spec 1098's in 2007. A Nova gear box was added. First gear is as tall as last year's second gear and the gears are a closer ratio making for way better acceleration.  The Hyper SP frame was swapped out for a Ducati Street Fighter with a welded-on head tube from a 999. The biggest change and what Woolie feels will give him a bigger advantage over last year's bike is the longer magnesium swing arm and the World Super Bike pivot link with a shorter shock and adjuster. "I got it wrong last year as I did not realize how tight the Pikes Peak course was, so I had to mussel the bike around a lot. The goal this year was to build a light fast bike that was comfortable to ride and turned well and more importantly finished turns with ease." Added Woolie.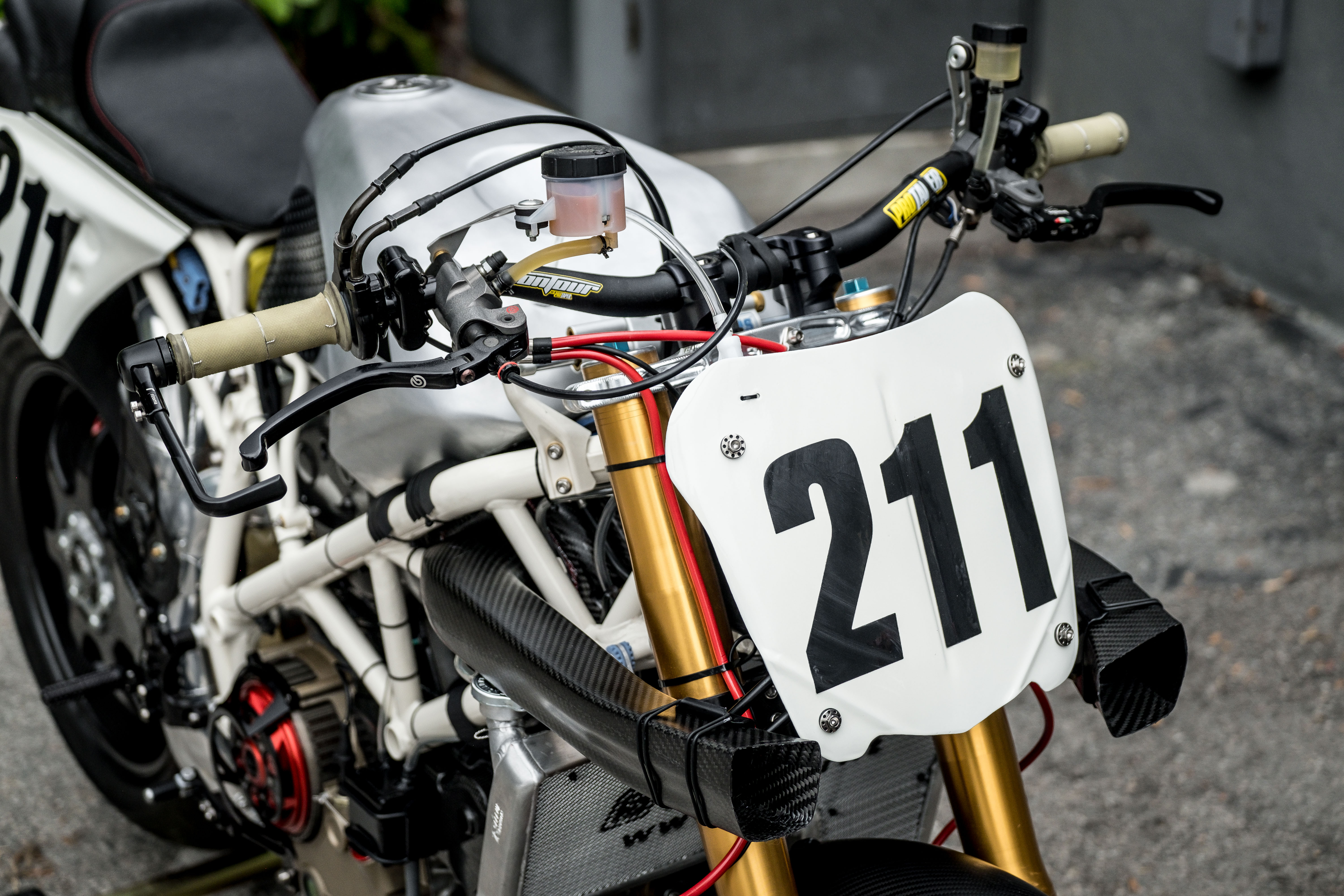 The new bike looks nothing like last year's build and sits some 4 inches lower and sports a custom c.30 Chrome Moly subframe. The gas tank; modeled after Mark Marquez's Honda GP tank holds just over 3 gallons and is made of 1100 O Aluminum. "I wanted the gas tank to be skinny and feel like it wasn't there, this bike is all about minimalism if I don't need it, it isn't there!"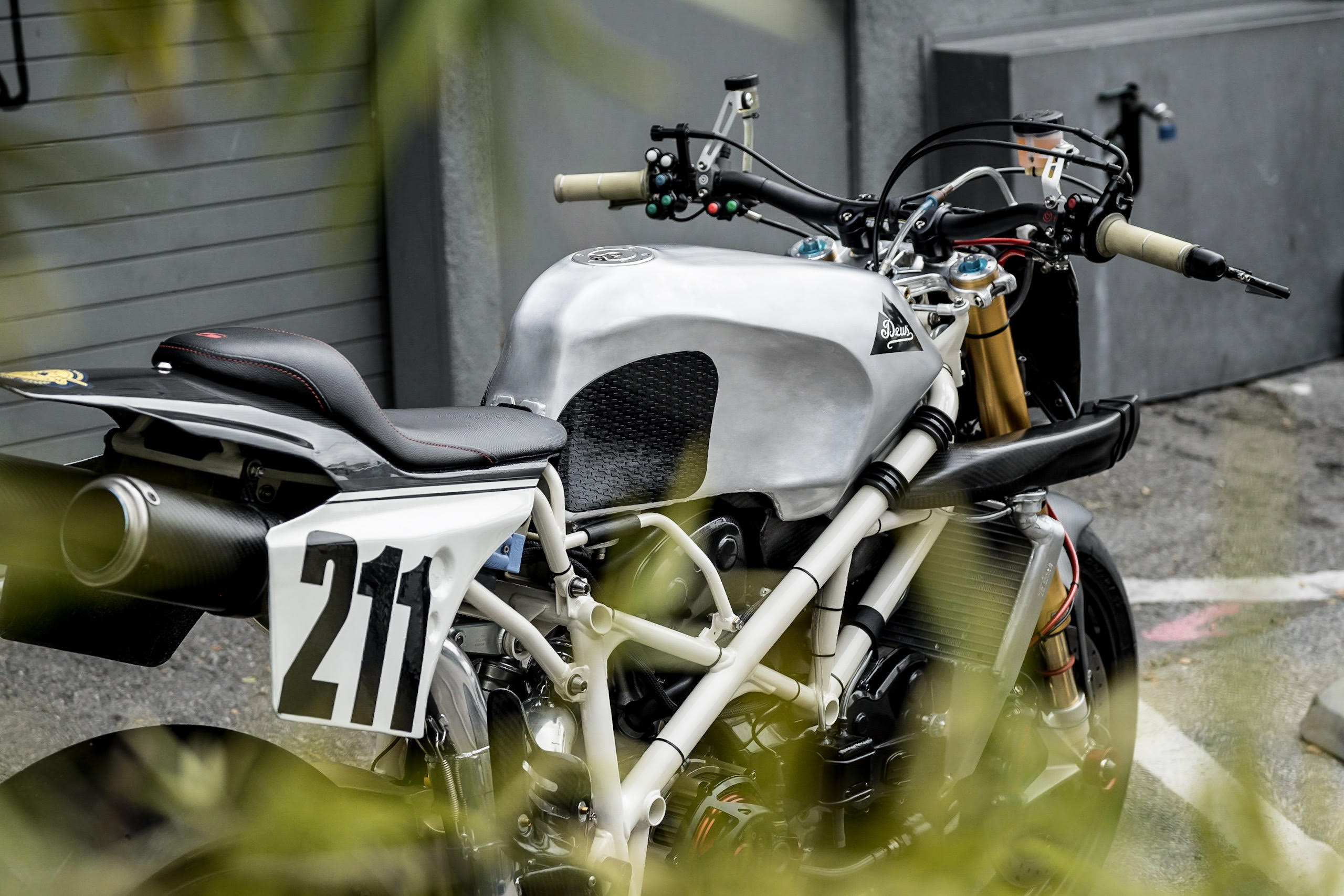 The motor was tuned by Mark Sutton as he is known to be one of the best in the US with the 1098 motors and is making over 180hp at the wheel at 340 lb's wet. The bike also has no rider aided electronics, so it's all up to Woolie. "Last year I learned so much and it would be like writing a book to explain it all, it's like no other in the word and if I was to make a comparison to it I would say it's more like mountaineering in the sense that it is just brutal but after you are left with so much sense of accomplishment even if you got it all wrong.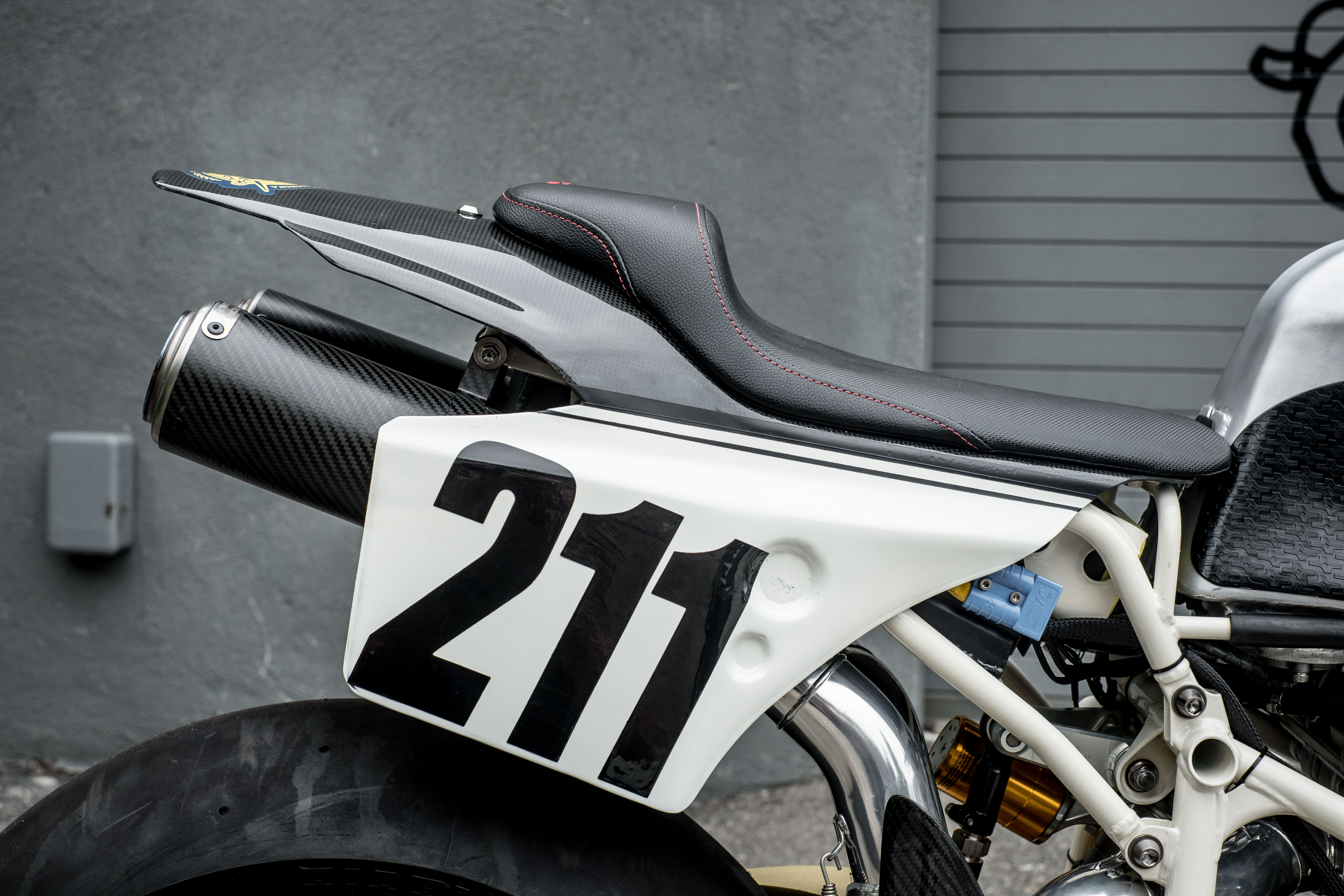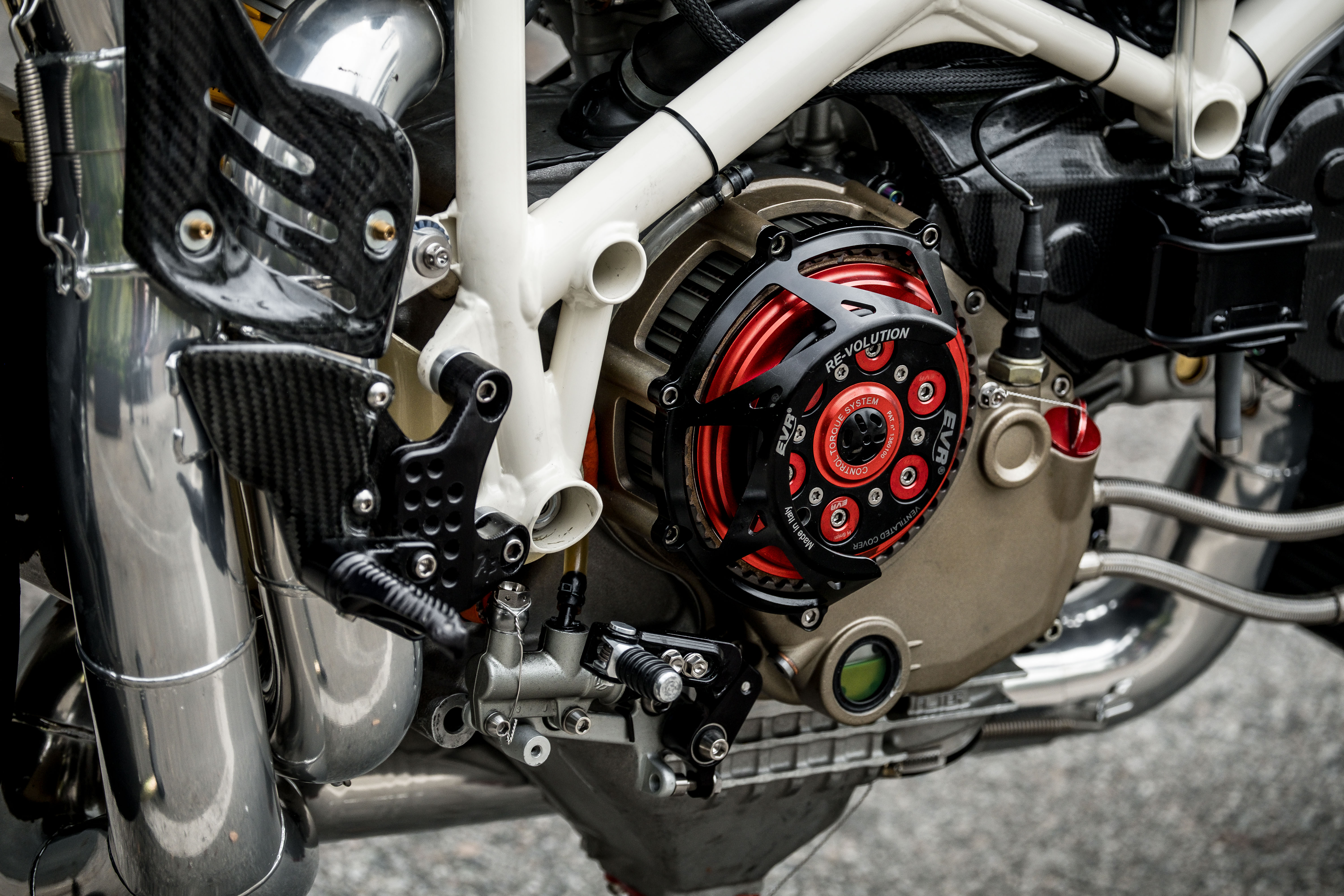 The Pikes Peak International Hill Climb was held on Sunday, June 30. Over the span of 12.42 miles, racers partake in 156 turns to reach the 14,115-foot summit. The first PPIHC was held in 1916 and continues to be one of the world's most challenging road races.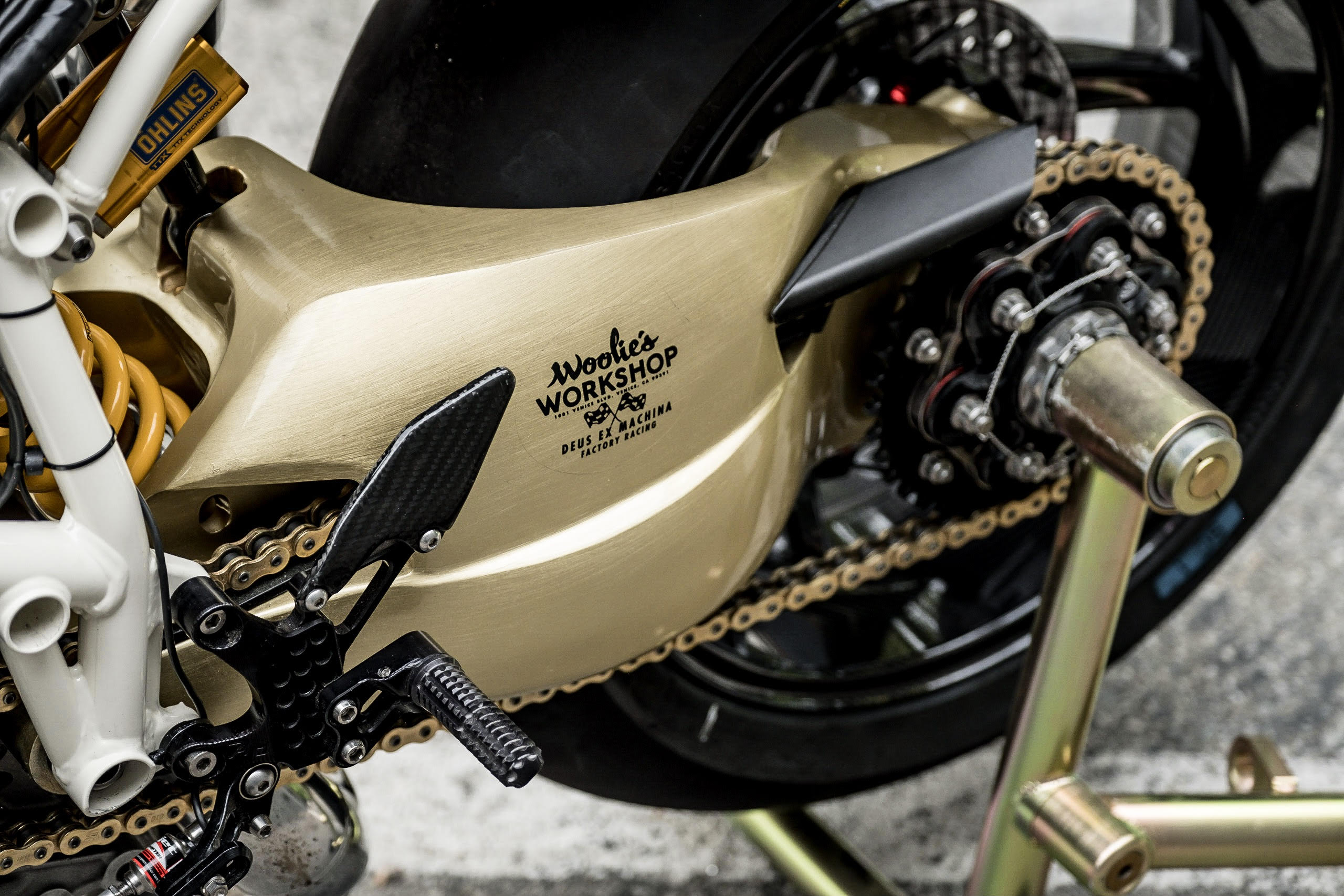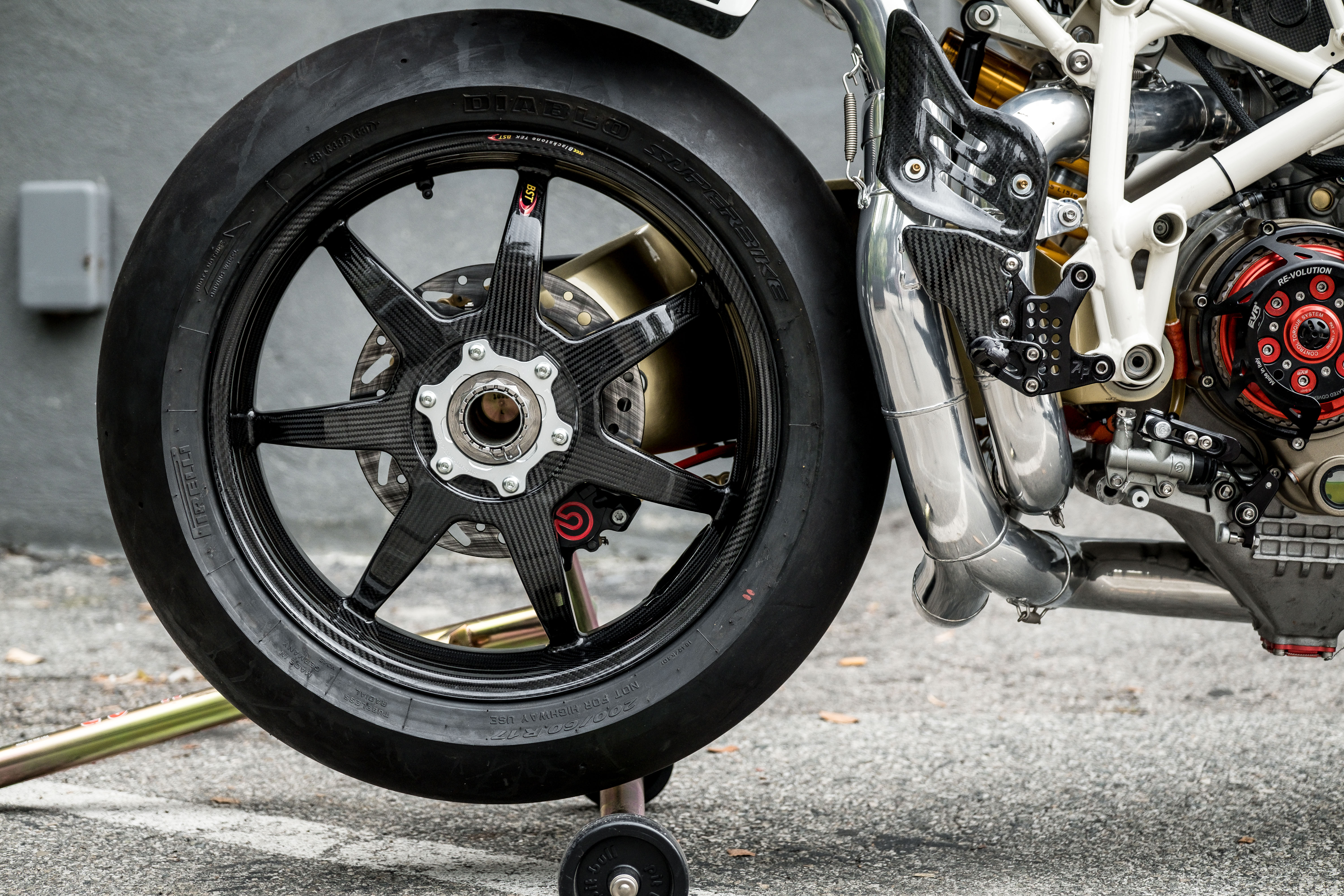 The debut of the Woolies new Deus Ex Machina build "Beastie" will showcase the race proven craftsmanship Woolie puts into all his builds.
Specs
Motor: Ducati 1198R
Gear Box: Nova close ratio gear box
Swing Arm: Ram magnesium unit from Italy
Wheels:  BST Carbon Fiber
Fork: Öhlins with an international kit
Shock: Öhlins TTX sorter then stock unit with different valving for the longer swing arm and different link. All World SBK spec.
Breaks: Brembo with full footing rotors from break tech
Rotors: Break Tech
ECU: Micro Tech
Exhaust: Ceramic coated Headers with twin carbon SC cans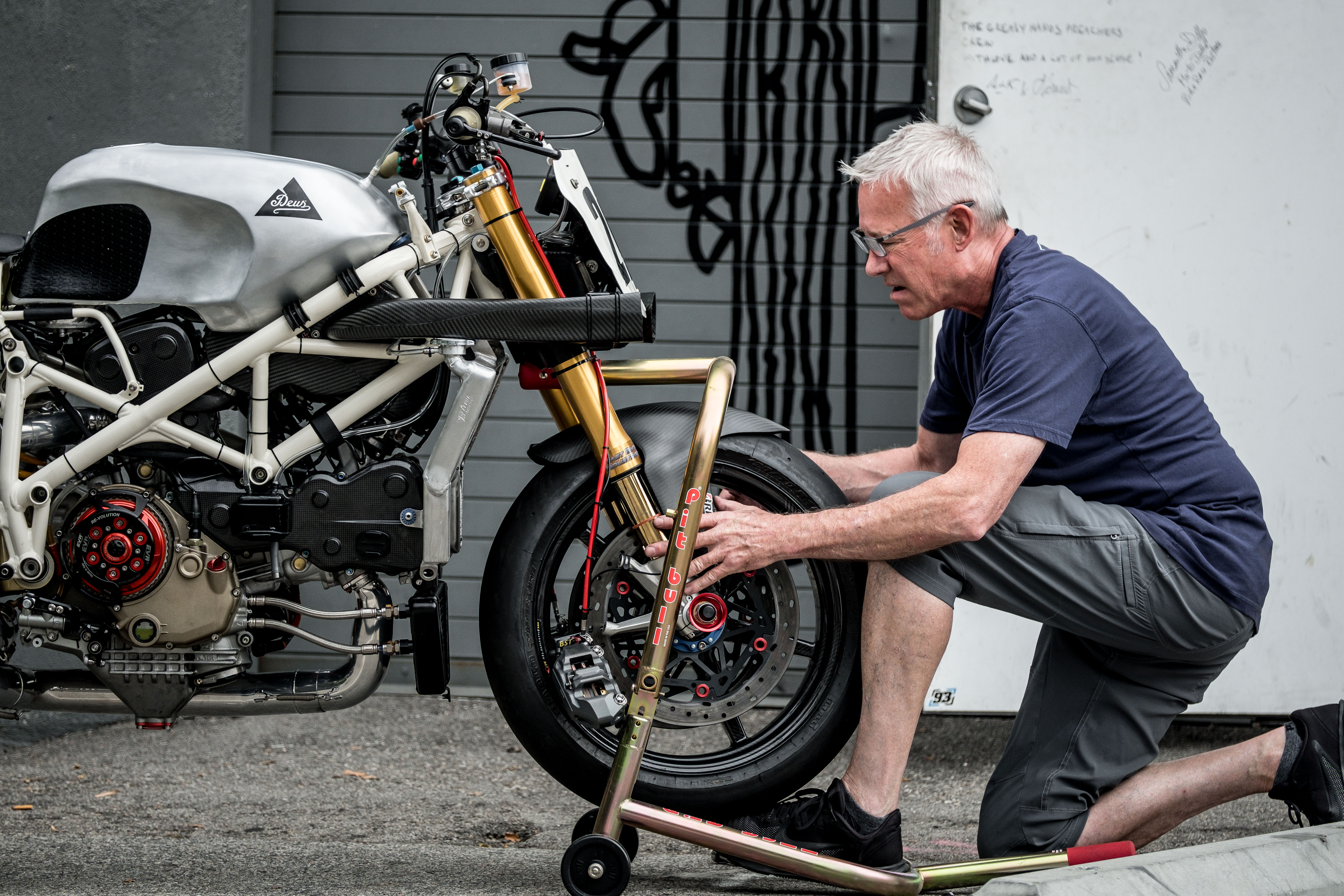 Deus Customs: Web | Facebook | Instagram
Photos: Sam Bendall