Lean, Mean and Green
Bryan Fuller is a master builder, designer, TV personality and author best known for his work on cars. Starting his career, Fuller did a two-year apprenticeship with So-Cal Speed Shop and then worked under renowned artist, designer and fabricator, Chip Foose. Two legit places to get your feet wet! In the past few years Fuller has turned a focus towards two wheels – he still works on cars too – and has been churning out some amazing machines like the 1968 Norton 'Misty Green' cafe racer you see here.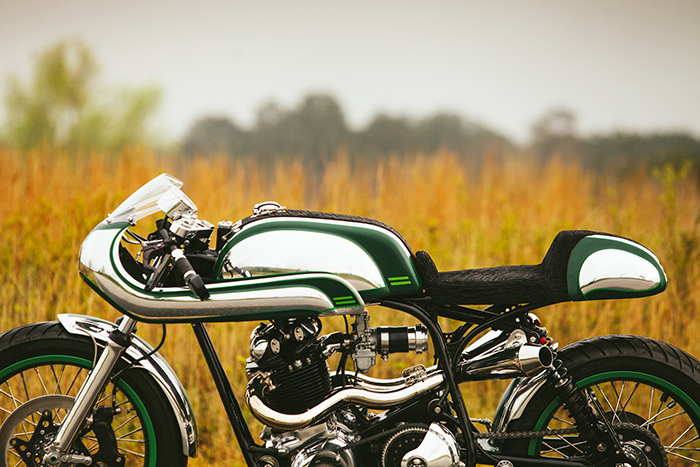 The story of the Misty Green started out when a customer brought in a 1968
Norton
Commando 750 that he inherited from his uncle. He liked Fuller Moto's cafe racer style and let them get to work. The FM crew stripped it down to the frame, even replaced the backbone, and built her back up leaner and meaner than ever before.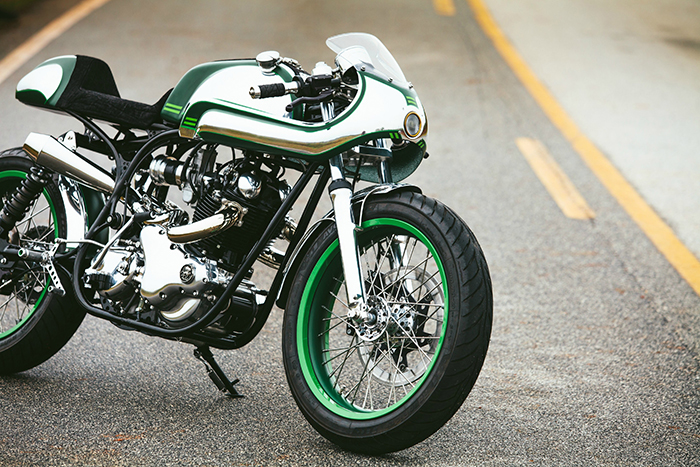 The swingarm was lengthened 2″ out back and a set of Fox Racing Shox adjustable shocks keep the rear wheel planted. Up front, the stock Norton forks were replaced with CB550 forks and new North triples.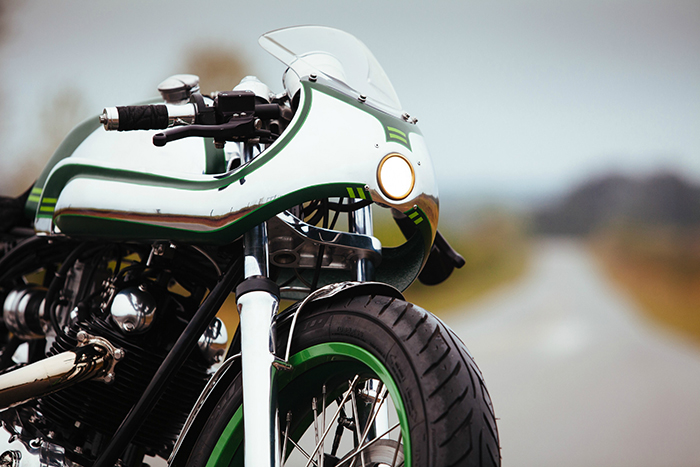 For the bodywork, Fuller took a welding rod and Lincoln 180 Power MIG to create a buck with a shape reminiscent of the old Manx racers but streamlined for more style. Windshield is a cut down reproduction Ducati Double Bubble.
Once the design was done he made Hammerforms out of MDF to create the bubbles on the tank, tail, and fairing. This works well to get a sharp line and makes for easy symmetry. A big dead blow roughs them in well and then he used the JET English Wheel and Planishing Hammer to finish. Tops and sides are trimmed, rolled, and metal-finished. Voila!! You get a tank, tail, and fairing.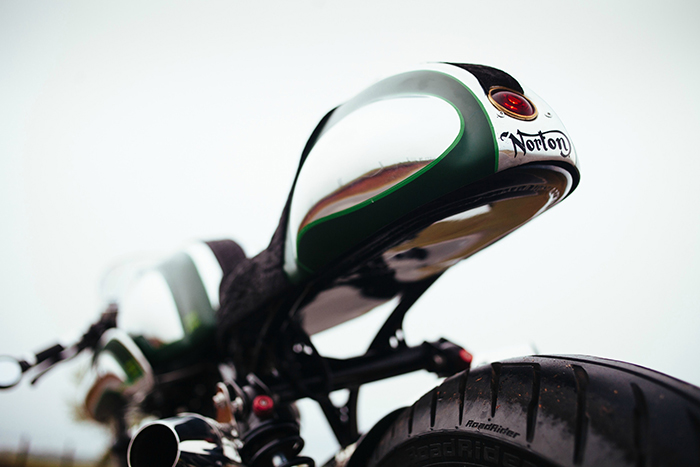 English bike expert, Beno Rod, dialed in the motor and tranny for them. The motor wasn't in too bad a shape, he did a basic ring, hone, valve and port jobs. He put it together with custom ARP studs and nuts they made special for them.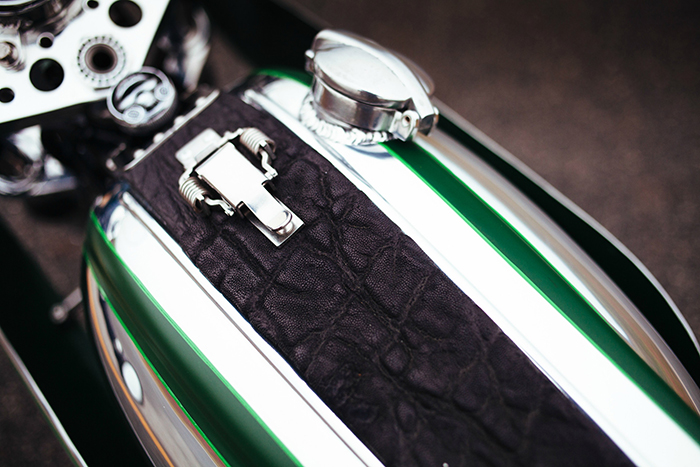 Bryan Heidt aka "Super B" cut the original cover into a cool shape that covers the Stator a bit and protects the owner's foot from the open belt at the control. The Fuller badge is a nice touch too!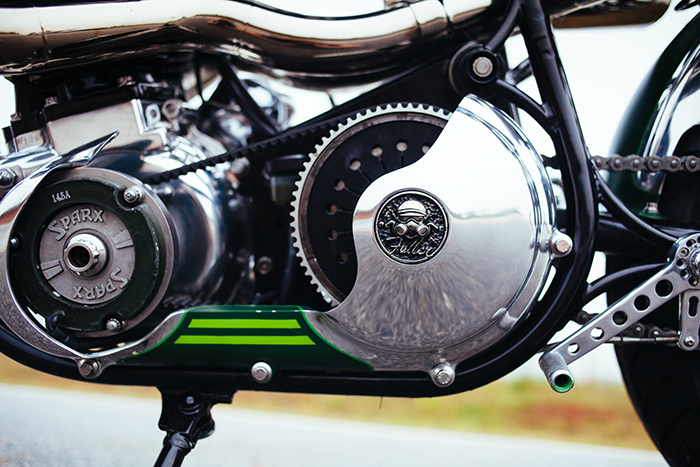 Dirt bike hubs were set to Buchanan, where they were laced up to Aluminum rims 18" in the rear and 19" in the front. Berringer brakes, reanodized in a satin black, will help slow things down when needed.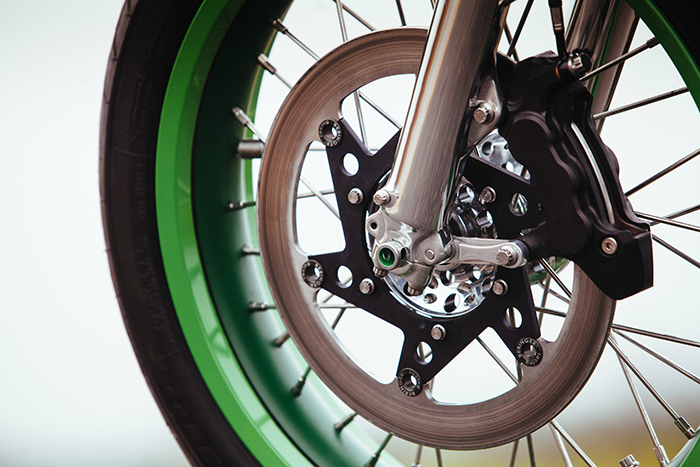 There's clearly a lot that went into this build and plenty of more info and fun facts like where the bike got it's name. For the complete story, check out the Fuller Moto site here.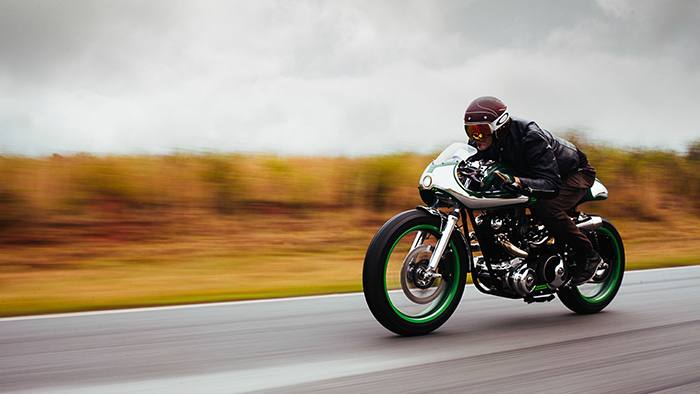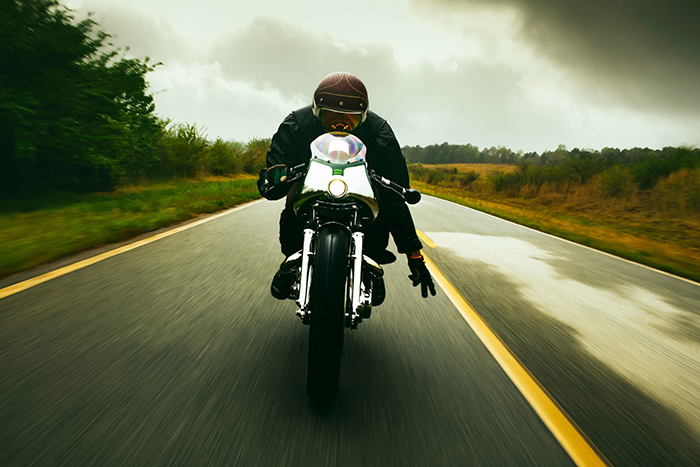 Fuller Moto: Web | Facebook | Instagram
Photos by Matthew Jones: Web | Instagram