Motorcycle Helmets as Art
Style, art and safety are three disciplines that seem to run parallel tracks with precious few exceptions. Each discipline with its own merit seems incapable of bending to meet the other. Thor Drake believes otherwise. Thor (pronounced 'tore', like your jeans when you crash in the gravel…) is the proprietor of See See Motor Coffee Company in Portland, Oregon. He's also the organizer, curator and host of "21 Helmets", a show of historic and current motorcycle helmets that have been customized by a mix of local and international artists in the new-wave motorcycle scene.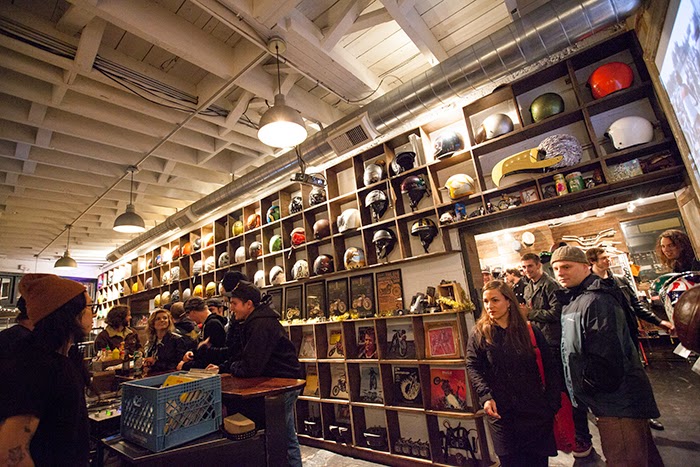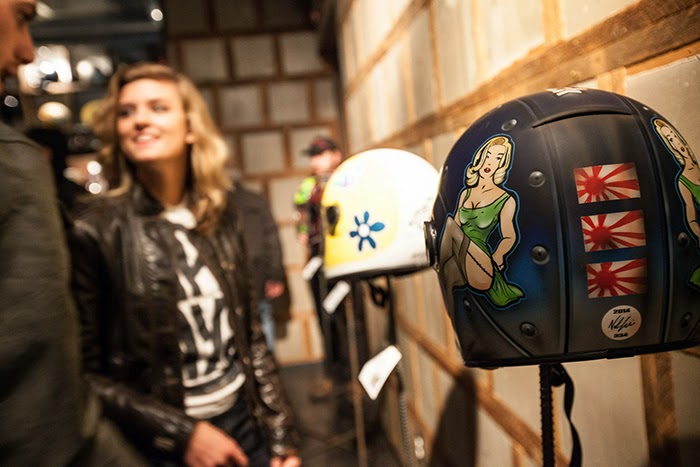 Originally intended as a compliment to the already successful 
1 Moto Show
, 21 Helmets is a kind of symmetric creative vent to artists reaching beyond spokes, handlebars and carburetors. "What I saw at the time was a lot of really bad 'factory' graphics on helmets, I didn't want to wear one, so I figured others were like me.", explains Thor. "I wanted to make a show where artists of all disciplines used different mediums and techniques to come up with wild new ideas and be excited about them. After all it's the nature of motorcycling to modify or customize.", he adds.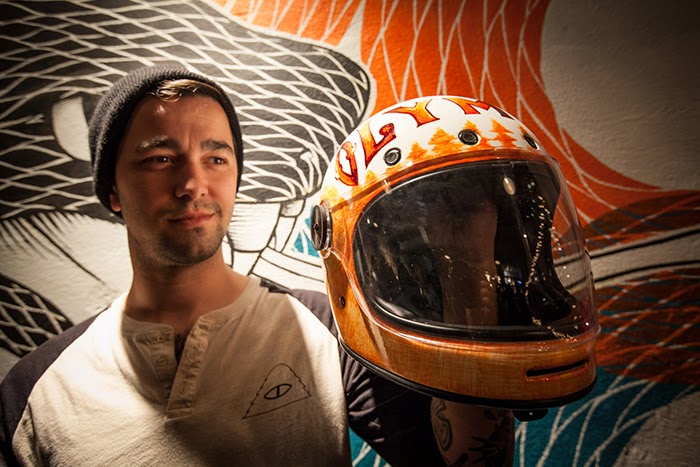 Finding the intersection of identity, style and safety is something that Thor is hoping more riders will find. "Well, I guess thats the point of the show, doesn't really take a lot of effort or skill to customize a helmet." Thor says of the inspiration behind this one-of-a-kind show. "When we first came up with the show we wanted to inspire people to be excited about something that could save their life in an unfortunate situation." "[People]…think its hard, or it has to be 'professional looking'. Its all about the rider. That's what I want to see. I painted my moto lid kind of in an old school manner and I really like it.", he says.
With The 1 Moto show still several weeks away, Thor decided to hold a 'sneak peek' of some of the helmets just before Christmas. "I figured, hey, it's Christmas and this seemed like a good reason to throw a holiday party", Thor says with a cheerful smile while spinning vinyl from behind See See's barista counter. "These are just a sample of some of the helmets we'll show."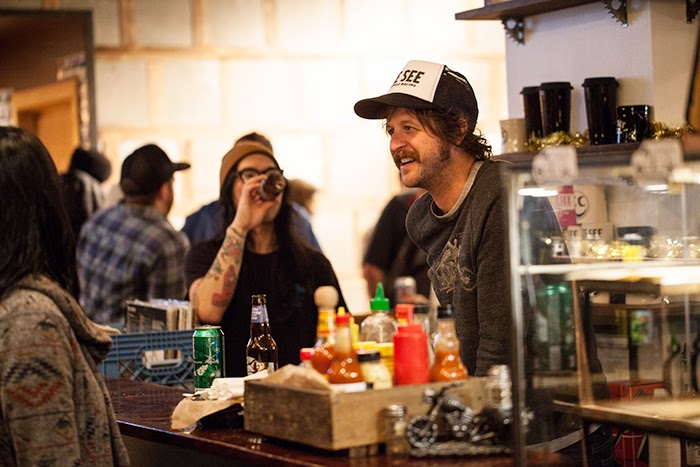 Many of the lids making their sneak peek debut in the tightly packed urban coffee shop were customized by artists local to the Portland area.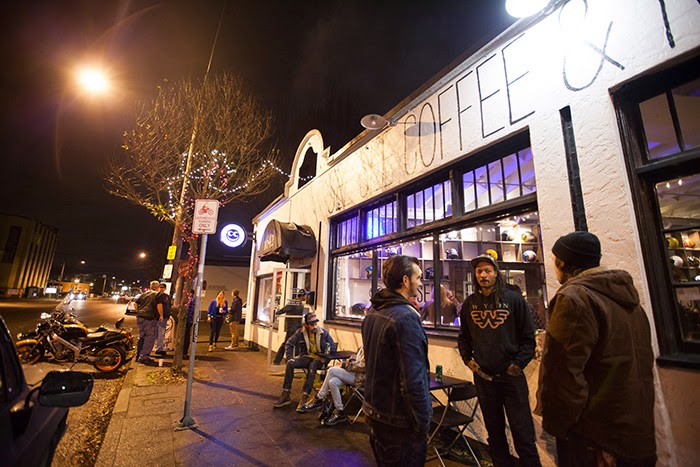 Ben Hacke is one artist who's helmet made a significant creative journey before gracing one of the stands at the show. "I kept the helmet on my art table for a few days. I knew what I wanted to do. I put the pen to the helmet and everything changed. Then the clear coat just dissolved all my work and I had to start over", he explains.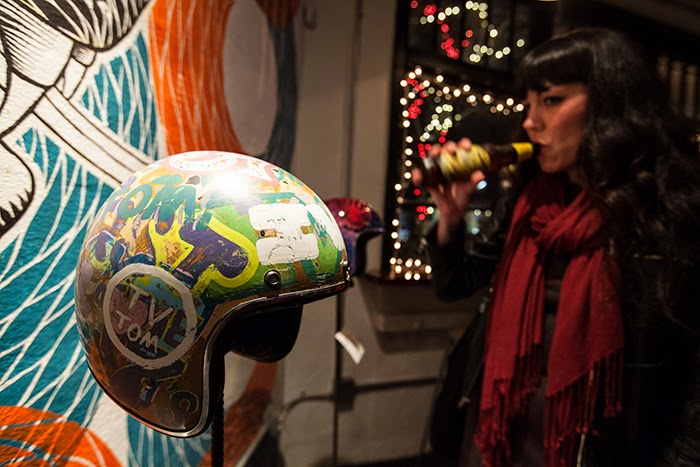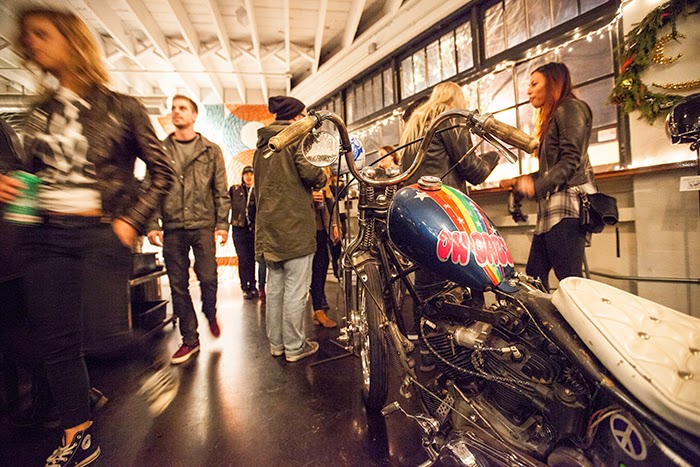 Overcoming the canvas seems to have been the biggest challenge. "It's hard to work on a round surface. The light is wrong, trying to get your pen at the right angle… Then your arms get tired and you bring it close to your body and it smears on your shirt. It's hard.", says Dillon Turner who manages the See See Coffee Shop. A combination of his role at the shop and his name played into the brined cucumber inspired art.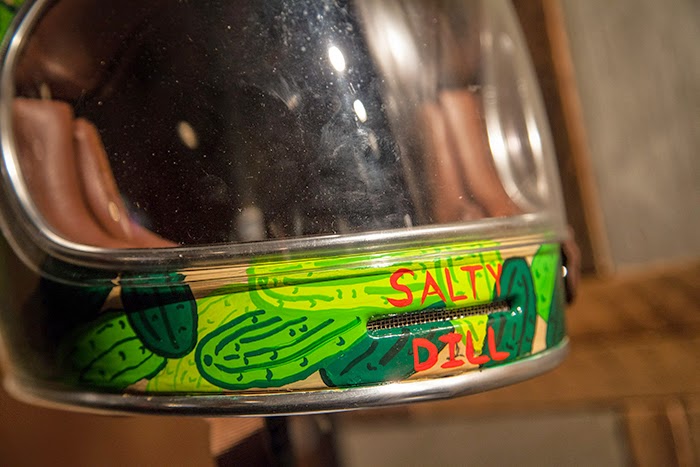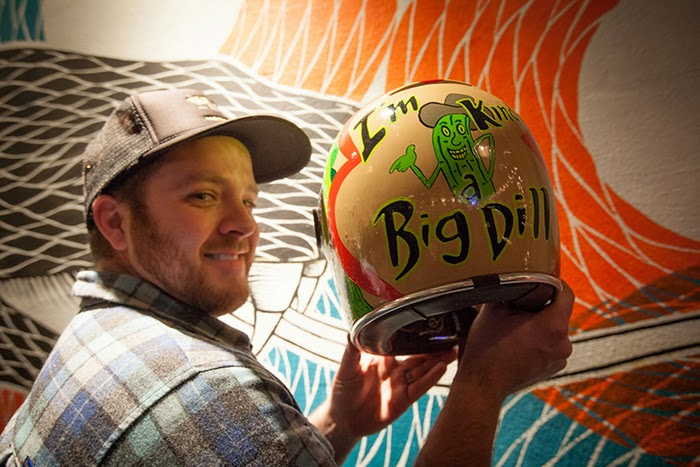 "The pickle was like, well, with a name like Dillon, you know, it comes pretty easy. I'm a manager here at See See and so I'm like, 'The Big Dill'… So that's how I got the idea for the back of the helmet.", he says.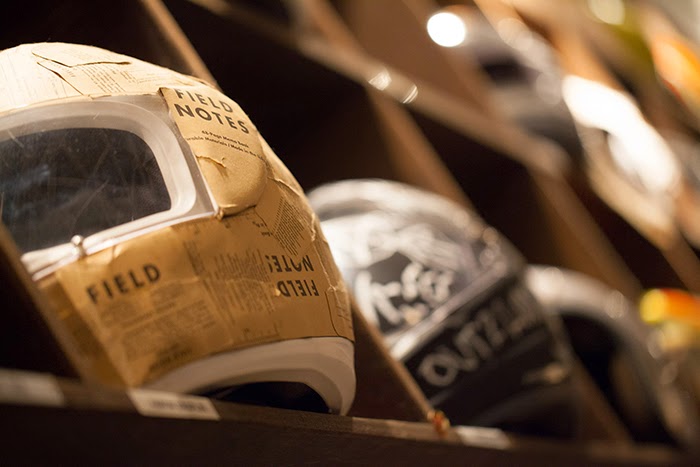 The designs, themes and their execution on the canvas are almost as varied as the number of helmets on display. Tooled leather, paint, pen work, metal work, LED lighting and layered multimedia all play out in different ways displaying a generous dose of talent and craftsmanship.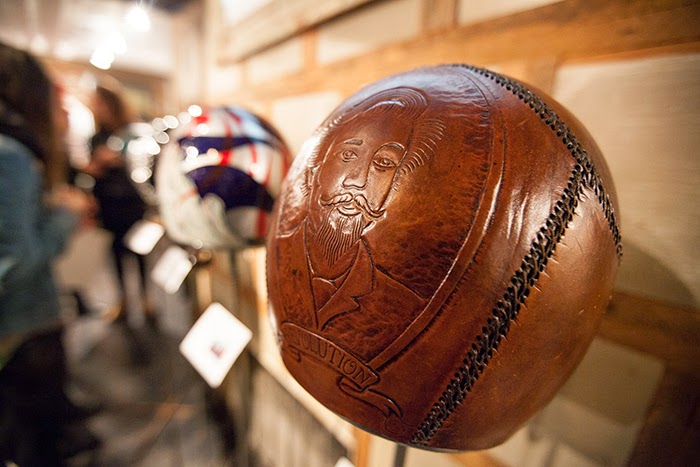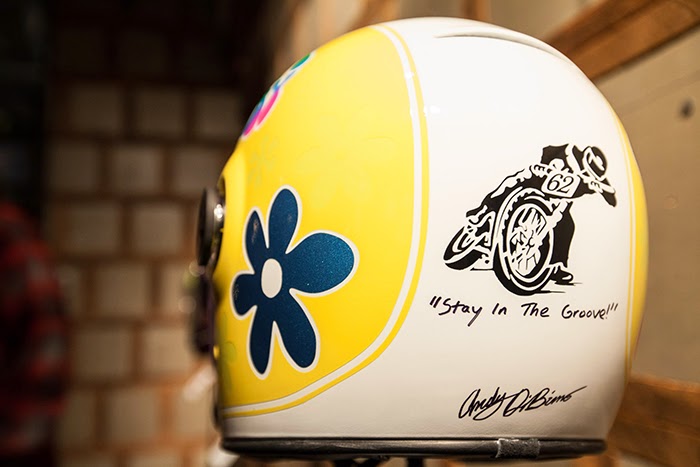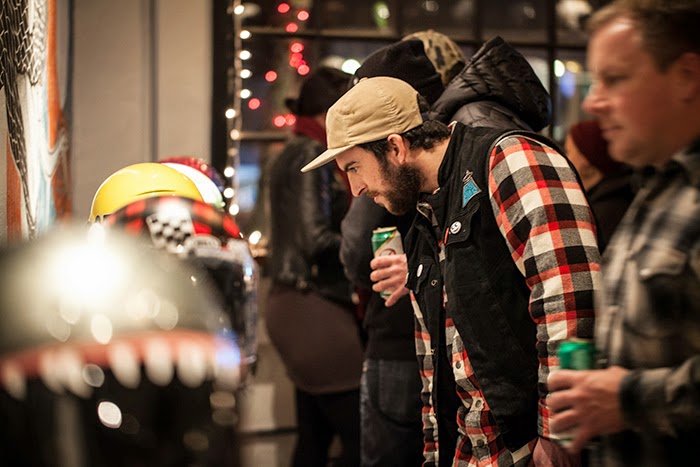 There's no doubt that putting on a show of this kind fell to the right person. Thor Drake has a passion for motorcycle culture that extends well beyond his skinny jeans, trucker's cap, and Fu Manchu mustache. In addition to curating two successful shows, Thor operates the coffee house, a motorcycle repair and customization shop, runs a retail motorcycle gear establishment, sponsors motorcycle racers and races flat track on the weekends.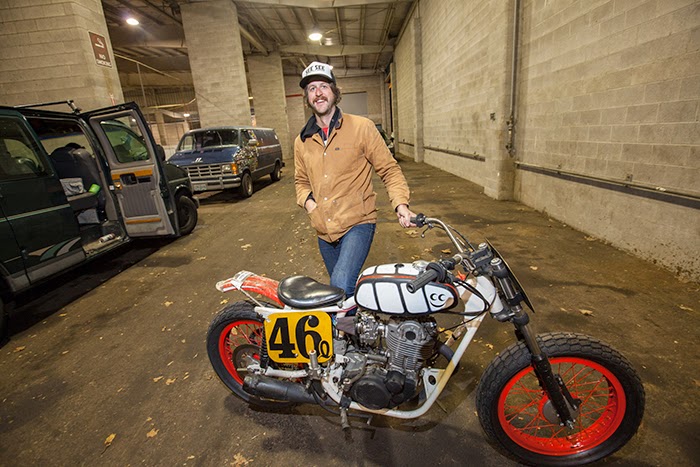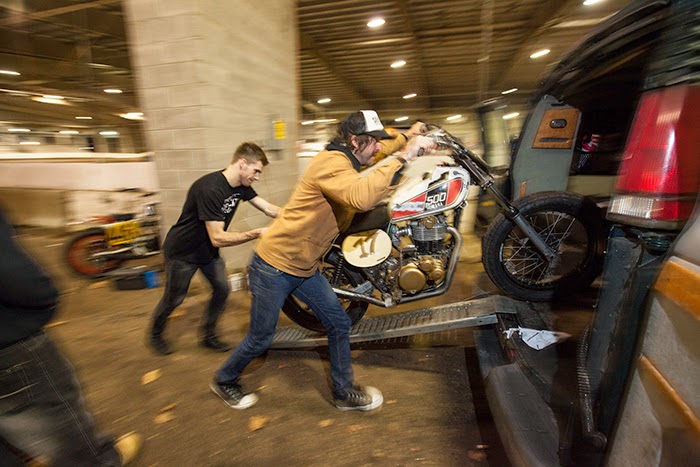 At a recent race it becomes clear why Thor is good at finding a crossroads of unlikely disciplines; he's able to span social groups, age brackets and interests. As the evening's race winds down a 10 year old boy approaches Thor, "Hey, nice race." the boy says to Thor. Thor engages immediately, "Thanks, how did you do?" he asks earnestly. The two talk for a while and part ways as friends.
"We sponsor a lot of riders and hand out goodie bags to the younger riders. They're cool bags too. There's some pretty good shit in there. I go around and try to get the good stuff for these guys", he says as he prepares to load bikes into the back of his van for home.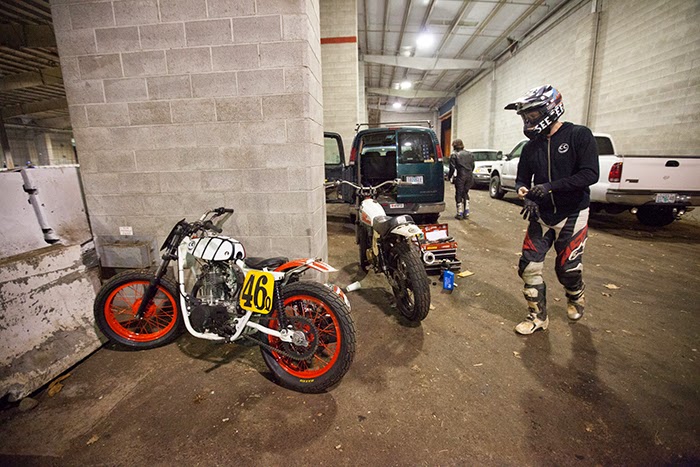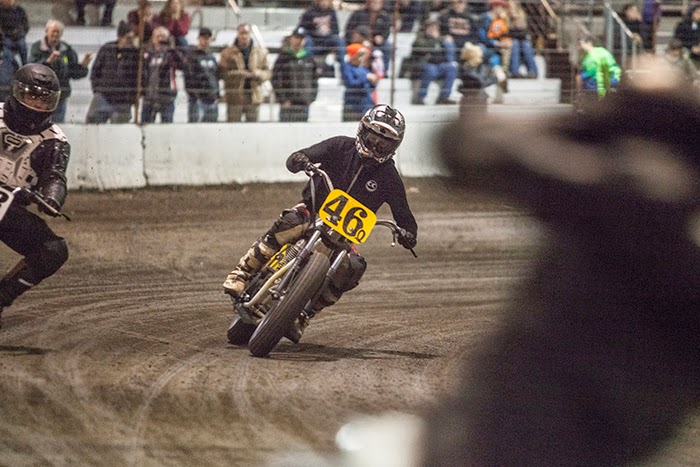 As the front wheel of his bike touches the ramp, Andy DeBrino, a young road racer-turned-flat tracker lends a hand. At 20, Andy rides with the See See jersey on the circle dirt when he's not road racing. "Last year was my first time on the flat track. Thor took a video and I saw it on the See See website so I called him up. Now he sponsors me.".
What's more, Andy is a graphic designer when he's not straddling an engine. "Thor asked me if I would do a helmet for the show and I said 'yes'." Andy's 1970's inspired helmet on display in 21 Helmets exemplifies the spirit of the show. Riders, artists, creators, lovers of motorcycle culture all brought together under one roof by a guy who loves bikes and looks for ways to make unlikely alliances.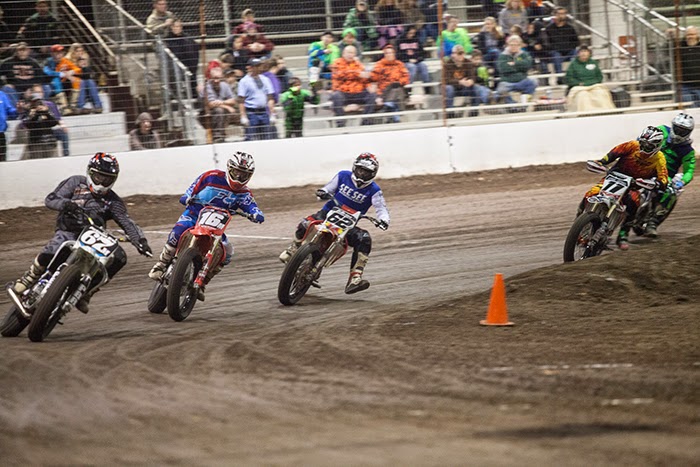 If you find yourself in the Pacific northwest, swing by See See Motor Coffee Co. and pull up a seat. Helmets from previous shows are displayed prominently in the shop and there's an air of equality about the place. Riders from all walks of life darken the door of See See, so don't be shy.
Can't make it out the the American left coast for the 21 Helmets show? Stay tuned, Thor is hoping to take the show to Sturgis in 2015.
_____