British Customs just came out with a clean and comfortable seat for your modern classic Triumph cafe racer. It retains the original seat height and has foam sculpted to keep you and your passenger from sliding forward. The seat allows your legs to be in a more natural riding position and evenly distributes your weight.

Designed to mount without a rear fender, the seat kit contains a British Customs Fender Under Plate to prevent debris from entering the battery compartment. License plates can be mounted on any of BC's three flat or curved plate holders. There are three styles to choose from: curved or flat Side Mount Plates, a Shock Mount Plate and an undertail License Plate.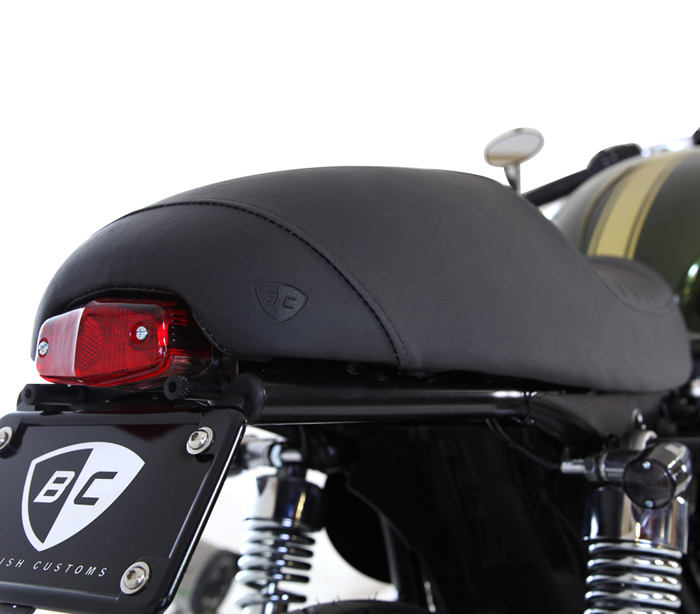 Included in the Café Racer seat kit is an LED version of British Customs' Lucas Style Tail Lamp, available with a red or clear lens. It integrates perfectly with the Café seat and is connected to a plug-and-play harness with quick-release connector for easy removal. The taillight and saddle are sold together as in this kit and available individually.

Kit includes:
• British Customs Café Racer Seat
• British Customs Fender Under Plate
• Mounting hardware
*Please note: This kit does not include a license plate

Features:
• Creates a stunning visual transformation on Bonnevilles, Scramblers and Thruxtons
• Retains original seat height
• Narrower than stock at front
• Foam features patented gel technology
• Weight distributed evenly across the entire seat
• Artfully trimmed sides expose a bit of the bikes' frames
• Seat pan is made from hand-laid, marine-grade fiberglass
• Synthetic leather cover styled in a tuck-and-roll design
• Classic cafe hump is 12 inches wide, 6-1/2 inches tall and tapers down to 3 inches out back
• Optional: Lucas Style LED taillight with quick-release plug-and-play harness

Taillight Availability: The Clear Lucas Taillight is available to ship immediately. The Red Lucas Taillight will be available to ship on June 17th.