I had the pleasure of meeting Eric Bostrom at Lossa Engineering during the course of this build and was amazed at what an all-around nice guy he was. After kicking the tires and discussing his build, "Number Nine", he wanted to talk about the Bullitt OG. He was genuinely interested in my bike and was very personable. Eric set off to build a cafe racer from a modern four-stroke Z1000 to pay tribute to Gary Nixon's famous KR750 on which he finished second overall in the 1976 Formula 750 world championship. The build was ambitious and had it's fair share of challenges but I'll let Eric tell you in his own words below.

Eric Bostrom for Cycle World Magazine:
"Welcome to the magic of the café-racer era, a time when a single model, the Vincent Black Shadow, held the production motorcycle speed record for nearly a quarter-century. If you were a tinkerer, this was your moment in the sun. Bolt-on performance parts were in their infancy, leaving enthusiasts to ponder, "What does speed look like?"
For café enthusiasts back in those days, a low gas tank and humped seat were compulsory. But how much steel could you remove from that slug sitting in your garage? What could be drilled out or replaced with aluminum? Bolt on those modified heads, fit up some bell-mouth carbs, hang that megaphone exhaust and, most importantly, get rid of those upright bars so you could lie flat on the tank—time to do The Ton.
Inspiration for my café-racer project was simple: capture the memory of my friend, hero and legend, Gary Nixon. Number-one requirement was a strong powerplant, but I wasn't out to replicate a 50-horsepower Triumph. No, I was instead headed in the direction of one of the biggest, baddest, fire-breathing engines of its time, a two-stroke Triple built by the company that broke Vincent's speed stronghold—Kawasaki. Yes, I'm talking about the famous Erv Kanemoto-tuned KR750 on which Nixon finished second overall in the 1976 Formula 750 world championship. But, because I couldn't use a rare, decades-old, competition-only machine, I started with a modern four-stroke Z1000.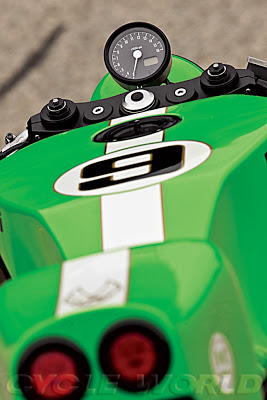 No surprise, my project was declared "ambitious" by famed café-racer builder Jay LaRossa of Lossa Engineering. As the "Café Racer" TV cameras began cranking, the transformation began in my garage with parts flying and the cutting wheel spinning. How could I turn this big, 1000cc inline-Four into a compact likeness of a two-stroke 750cc Triple? Everyone—including me, the eternal optimist—had their doubts.
Bike stripped to its bare frame, measurements were taken, and Lossa Engineering went to work on a custom gas tank, seat pod, front fender and 17-inch mag wheels. LeoVince got ahold of the bike and busted out an unorthodox 4-into-3 exhaust system, utilizing canisters intended for a KX250F motocrosser. Meanwhile, my oldest brother, Torsten, welded up a subframe and mounts for the headlight/tachometer pod, fender, radiator and battery box.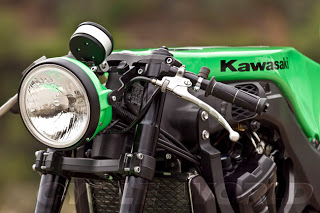 Build Day approached like a Midwestern thunderstorm. Toiling to find the best way to hide the many wires present on a modern-day machine, Torsten and I had been up for nearly a week straight, and the Z1000 was barely more than a motor and chassis. But the show must go on, and the cameras were rolling when the Lossa crew finally arrived with their many custom parts. Those guys looked a lot like we did—exhausted! Would the new parts fit? A track test at Willow Springs International Raceway was scheduled for the following day. Would we fail?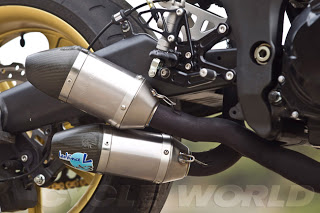 Maybe it was luck, but the parts fell into place beautifully. Even the '70s Tomaselli clutch perch and Grimeca master cylinder fit, bled and stayed in place, a miracle in itself. The café gods were smiling on us. The final look is long, low and compact, with the exposed motor clean and sleek. When I pressed the starter button, the engine roared to life, a low, calm grumble that became screechingly two-stroke-like at high rpm. We did it! "Number Nine" is her name.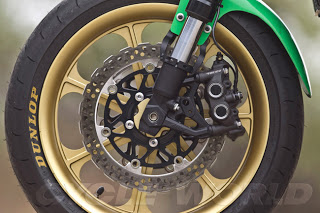 Your idea of a café racer will no doubt differ, as will your starting platform, be it a diminutive Yamaha SR500 Single or a behemoth six-cylinder Honda CBX. But if you're a motorcyclist, this is a spiritual pilgrimage you owe yourself. It's your vision, your personality, your image of victory—your café racer.
You can see the original article HERE.