Not too practical, but so much want!
Here at The Bullitt we're a little obsessed with 2-stroke cafes at the moment.  There's something so fun about a torquey, lightweight machine spewing smoke that reminds what riding is all about.  This bike here is built by FMX'er and Smoking Seagull, Drake McElroy.
Drake transformed his battered jump bike into a '60s-style café racer, spending as little money, and recycling as many old parts, as possible.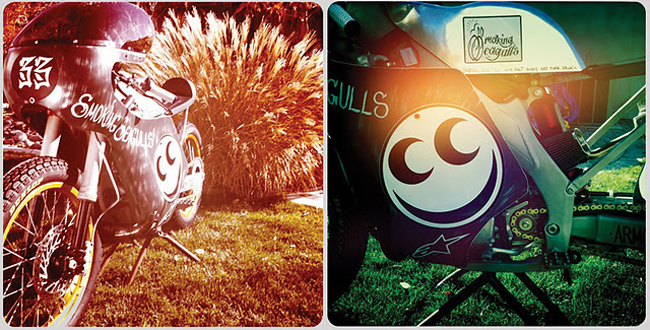 The frame and swingarm are stock, and the long-travel suspension was cut down 6 inches with the help of Ronnie Williams at Race Tech. Wheels are 19-inch Excels fitted with vintage-looking K70 front tires from McElroy's sponsor, Dunlop.  Another sponsor, FMF, contributed the exhaust. The Ducati single bodywork is from AirTech, rattle-canned and hand-sanded by McElroy to create the desired denim effect, then lettered by hand. McElroy says he has less than $1500 invested in the build, which is probably easy to do when you're sponsored.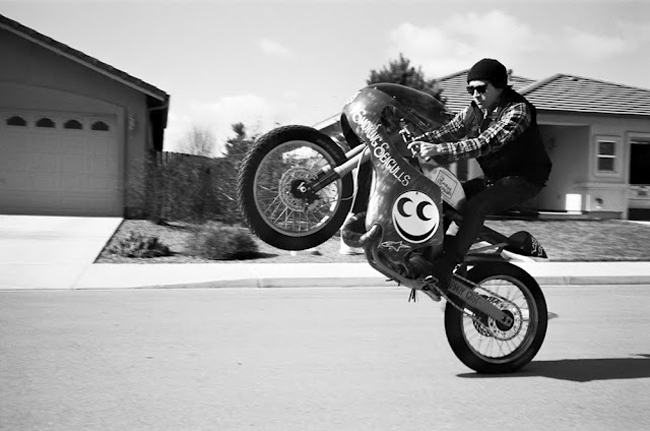 Check this previous Bullitt post to see a video of Drake and Roland Sands ripping around on two Smoking Seagulls singles.