Wiring fun with the Bullitt OG
After setting up the LEDs in the front, I gave them a test…. we're all blinking at once…shit! I figured I had crossed a wire somewhere which must be the cause of the blinking. After exhausting every wiring possibility I realized that the flasher relay worked perfectly when I had only two LEDs installed but with all four, something else was going to be needed.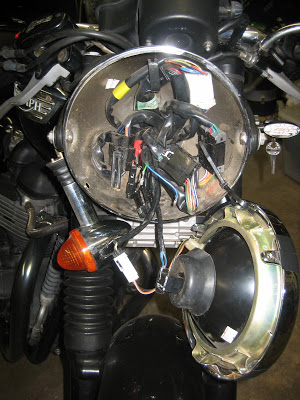 I got some inline resistors from NewBonnneville.com and spliced them into the wiring harness in the rear. Apparently this is necessary to properly dissipate the appropriate amount of electricity. We drilled a couple of tiny holes into an appropriate point on the frame and zip-tied the relays where they would have minimal contact. They can get as hot as bulbs and melt stuff if the blinkers are left on.