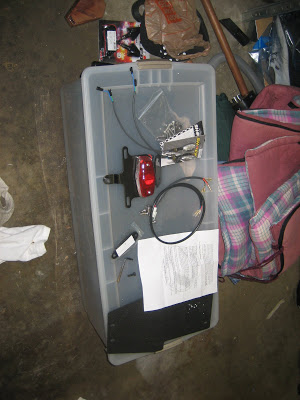 There are many warnings and cautions out there discourage us from switching out our incandescent blinkers to LEDs. I am by no means a savvy electrician but figured after doing some research and getting a general idea of what is necessary, surely I could manage. Eventually I will, whether or not it kills me.
This job was done in stages, with the rear-end being done first. I ordered a custom made kit from NewBonneville.com and had them wire-up a harness to the blinkers of my choice. I thought with this being done, all would be straight forward. As it turns out, there were more steps then originally hoped.
The kit came with a plastic plate to cover up the exposed undertail section, 4 mini LED blinkers, a wringing harness, blinker relocation brackets and the additional flasher relay I added on to accommodate the LEDs. The flasher relay that is supposed to be the solution for many LED conversions, convincing the blinkers to flash regularly. A simple "plug and play" swap was all it took there. The air box had to be loosened and dropped down a few inches to allow the plastic plate to fit under the tail. The rear shock bolts are removed and a plate slips on allowing the mini LED rear blinkers to be relocated back. All in all, with a little elbow grease and patience this wasn't too bad. Here is the kit pre-install:
I tested the blinkers and "bingo!"…so far so good. The front-end is a whole other story….
Here is a crappy picture in the garage, with bad lighting. Better pics to come.