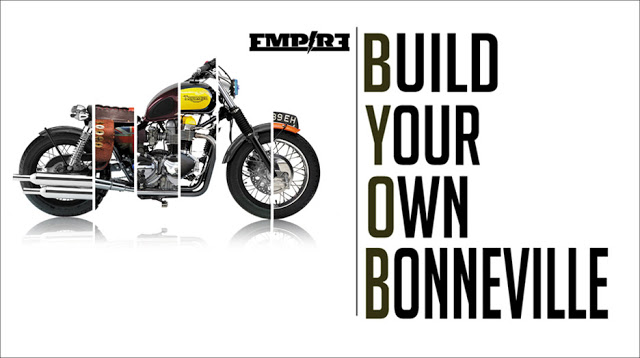 I first heard about this from Jason of British Customs and it definitely sounds interesting. Triumph has given stunt riders Nick Brocha and Ernie Vigil new Bonnies and a $2,000 budget to personalize their bikes however they choose. These guys definitely know how to ride the hell out of these bikes, but can they build? I can't wait to see these bikes in person at Barber next week. Here's what Triumph says about the build on their blog, Ride a Triumph:

Two stunt pros are creating the Bonnies of their dreams
Team Empire's Nick Brocha and Ernie Vigil are at it again, but it's not their usual two-wheeled hijinx. This time, the guys are setting aside their Street Triple R stunt bikes and Speed Triple drift bikes to get creative building the bikes of their dreams using the classic Bonneville. With a $2,000 budget and only a few weeks to work with, Nick and Ernie can customize their Bonnies in any way they choose – and it's all a secret. Neither of them is sharing with us or each other how their work is coming along. But don't worry; we'll find out at Barber Vintage Festival Oct. 12–14. That's when the guys are revealing all their hard work, and we can't wait to see the final products! Be sure to get your Vintage Festival tickets early so you don't miss out on the reveal.