Three of my buddies from BA Moto took off for a one-week ride from sunny Long Beach, Calif. to Alaska aboard three modern classic Triumphs – two Scramblers and one Bonneville. Their trip has been noticed by the Triumph HQ and posted on their Ride a Triumph blog and more recently reposted by Bike EXIF. Getting noticed to say the least.

Their story and photos are below:

This is the story as published by Triumph:
Nathan Hudson of BA Moto in Long Beach, Calif., tells the story of his Alaskan adventure on his Triumph. 4,457 miles later, he and his bike lived to tell their epic tale.

"I have one week and need to ride somewhere epic." That is how it started. I called up my friend Joseph "Arlo" Audette, and he responded without delay: "I think we could do Alaska." Shortly thereafter a third member, Fez, joined the group. Three modern classic Triumphs riding in the wind to The Last Frontier. The Adventure was on.
Most people might take several months planning to ride 4,000 miles; we took three days. We brought our three bikes – two Scramblers and one Bonneville – to the BA Moto shop in Long Beach, Calif., for major service and new tires. We packed up our camping gear, gathered some tools and items for roadside work, and briefly planned out the major stops on our route. The next morning we set off from Long Beach to Hyder, Alaska.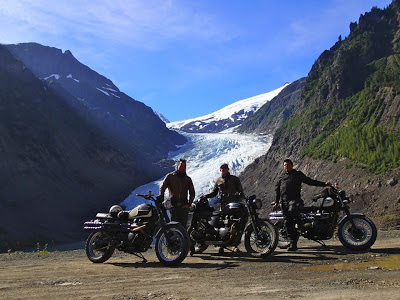 Heading north, we camped in the High Sierras, stayed at a friend's luxury condo in Seattle and rode the beautiful sea-to-sky highway in British Columbia. Arriving in Alaska on day six, we ate fresh fish and chips, hung out with the many neighborhood black bears, got Hyderized (look it up) and hung out with some great locals. Heading home a day behind schedule, we took the 15-hour ferry ride from Prince Rupert to the northern tip of Vancouver Island and rode seven hours through the 38-degree night to catch the morning boat from Victoria to the U.S. The final leg to Southern California was the only time we saw rain the entire trip. Total miles ridden: 4,457.
Averaging over 400 miles per day, our Triumphs ran like champs and never let us down, even when we explored off-road trails and a few river crossings. No support vehicle needed, just an open road and a destination! The trip was exhausting, but it was never meant to be a vacation for these three hosers. It was an unbelievable experience we will remember forever. You don't need an adventure bike to have an adventure.
– Nathan Hudson