Triumph's Street Triples are naked, fast and light. What more could a ton-up boy ask for in a platform for a great cafe racer or flat tracker?! That being said, seeing customized Street Trips is a relatively rare thing…especially good looking ones. Lately not one but two fun looking Street Triples have graced the "pages" of BikeEXIF.
Back in June of this year we saw the Triumph Hellfire – a

flat tracker conversion kit from the

German Triumph dealer

Motorcorner

. Much of the actual mechanics are left stock – aside from body panels, they swap in more aggressive wheels and tires and upgrade the exhaust. Pricing is estimated at

£12,000 (US$17,300)

so though it may not be cheap, I'm sure she'd be a good time.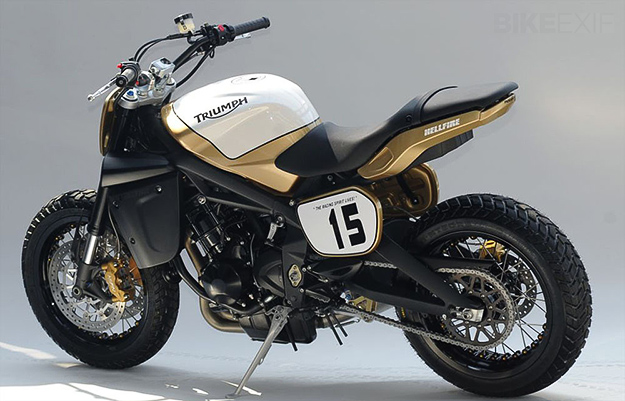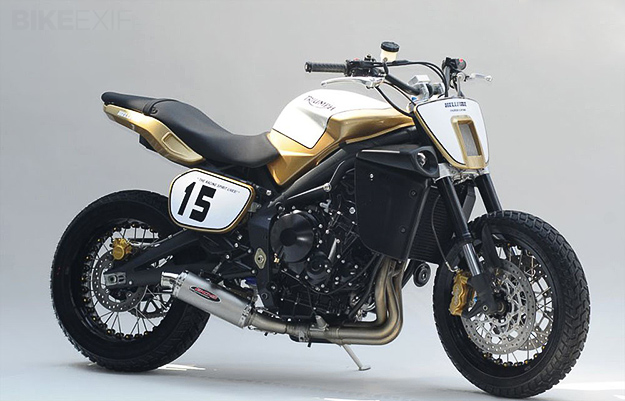 Earlier this week came the Ace 675CR Street Triple Special. Jack Liley, a West London Triumph Dealer since 1959, is building customized Street Triple R's that bear the Ace Cafe insignia. Mods are minimal and tasteful to the already tuned bike including a single 7″ headlight, custom graphics, Arrow cans, heat tape for the exhaust and loads of LSL bits like clip-ons, rear sets, mirrors, and their 'tail tidy' kit. Liley's only building 10 and they're going for £12,999 (around US$20,700). Get 'em while they're hot!